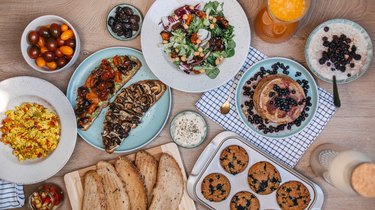 We get it — mornings are busy. Some days, grabbing a coffee and muffin to go might seem like it's your only option, but you can get a decent amount of protein into your breakfast with only a few ingredients.
So forego the bagel and butter for something that'll keep you full until lunch. To help you, we've rounded up 11 high-protein breakfast recipes that only call for 5 ingredients or less.
How to Make a High-Protein Breakfast
Most Americans get enough protein, but some people, like older adults, athletes and people who rigorously exercise tend to require more protein to fuel their muscle recovery and growth. Older adults may require more protein since muscle mass declines with age.
Most adults should aim for 5- to 6.5-ounce equivalents of protein per day, according to the Academy of Nutrition and Dietetics. One-ounce equivalents of protein-rich foods include:
1 ounce of cooked meat, poultry or fish
1/4 cup cooked beans
1 egg
1 tablespoon peanut butter
1/2 ounce nuts or seeds
The general rule of thumb is 0.8 grams of protein per kilogram of body weight, which usually equates to 15 to 30 grams of protein per meal, per the Mayo Clinic.
High-Protein Breakfast Ingredients
Cereal, toast and baked goods are classic breakfast foods, but they're not exactly the highest protein options. To amp up the protein in your breakfast, try adding the following high-protein ingredients or make them the star of your dish:
Eggs
Lean meats
Fish, such as smoked salmon
Cheese
Grains, such as oats and teff
Nuts and seeds
Nut butter
Tofu
Protein powder
You can make scrambled eggs, omelets or quiches with eggs, meats like shredded chicken or ground turkey and veggies for a breakfast high in protein.
For something more on the plant-based side, try overnight oats or teff topped with nut butter, seeds (such as chia or flax) and fruit. For the quickest possible breakfast that doesn't skimp on protein, you can't go wrong with a protein shake or smoothie.
10 Simple High-Protein Breakfast Recipes
1. Easy Breakfast Casserole
If meal prep is your thing, make this high-protein breakfast casserole ahead of time and divide it up throughout the week. It makes 12 servings per batch with each serving offering an impressive 17 grams of protein and 203 calories.
It's powered by animal protein sources, such as eggs, ham and cheddar cheese, but it also has hashbrowns, which give it some fiber and carbohydrates.
Eating eggs is a great way to start your day off thanks to the protein and another important nutrient called choline, which plays a role in brain health. Eating eggs has been tied to improvements in brain function, according to a January 2017 study in ​‌The American Journal of Clinical Nutrition‌​.
2. Peaches and Cream Protein Smoothie
Hectic mornings call for quick breakfasts on the go, and there's nothing faster or more travel-friendly than a shake. Add your favorite fruits and protein sources to a blender, blitz it up and head out on your way.
Surprisingly, you don't have to rely on a scoop of protein powder to make this protein smoothie recipe. This one is made from a simple base of fiber-rich peaches and a cup of 2 percent cottage cheese.
On its own, a cup of cottage cheese has 183 calories, 5 grams of fat and 24 grams of protein, according to the USDA. This dish gives you two servings with 186 calories and 17 grams of protein each — not bad at all for a recipe that only calls for four ingredients.
3. Protein Overnight Oats
Setting your clothes out the night before a big day goes a long way to make your morning that much smoother. Prepping your breakfast ahead of time has the same effect.
Oats are traditionally simmered in water or milk until they're fluffy, but you can also soak them overnight. Grains will soak up the liquids, so they fluff up without the heat. Plus, oats are a great source of protein — a half-cup of cooked oats has 6 grams of protein, per the USDA.
With everything combined, this recipe offers an impressive 28 grams of protein per serving.
This overnight oats recipe is made with a few protein sources that offer other nutritional benefits, including oats, protein powder and chia seeds. Top yours with nuts or nut butter for even more of the muscle-building macro.
4. Blueberry Protein Pancakes
Pancakes are a beloved breakfast staple, but the mixture of flour, sugar and syrup leaves something to be desired nutritionally speaking. This recipe uses nutrient-rich ingredients creatively to yield the fluffy texture of pancakes you know and love with more fiber and protein.
You'll mix egg whites, mashed banana and protein powder into your pancake batter. If it's too thick, use a little almond milk to thin it out. Top or mix in fruits like blueberries for some color, fiber and antioxidants.
In the end, you'll have a steaming plate of fluffy pancakes with 23 grams of satiating protein and 8 grams of fiber per serving. Yum!
5. Banana Nut Teff Parfait
Grain lovers — oats aren't your only option. And eating it warmed and from a bowl isn't your only option either. This teff parfait recipe is quite unique with its layers of yogurt and banana slices, but don't let that fool you.
It's delicious, hearty and full of beneficial nutrients with 22 grams of protein and 8 grams of fiber per serving. Not to mention, it only calls for four ingredients and comes together in a pinch.
If you're new to teff, it's a fine grain that many people enjoy in the form of porridge. It's a great source of plant-based protein, iron, zinc and antioxidants, especially compared to other cereals, according to a December 2017 review in ‌Plant Foods for Human Nutrition‌.
After you taste this teff breakfast recipe, you'll see why teff is growing in popularity.
6. High-Protein Brownie Batter Overnight Oats
If you enjoy a chocolatey sweet treat, try this brownie-inspired overnight oat recipe. It not only satisfies your chocolate cravings but also gives you 16 grams of protein per serving.
You'll need oats, chocolate milk, Greek yogurt, cocoa powder and hemp seeds. Combine, cover and refrigerate overnight. In the morning, you'll have ooey gooey chocolate-y oats.
There are many reasons to eat pumpkin on a regular basis, not just during the fall. During your next grocery trip, grab a few cans of pumpkin puree to incorporate into smoothies and smoothie bowls for an added dose of nutrients.
Pumpkin adds a distinct flavor along with some sweetness, creaminess and a ton of nutrients and antioxidants. These bright gourds are potent sources of vitamins A, C and E and minerals like potassium, according to the Cleveland Clinic.
This pumpkin smoothie bowl recipe illustrates how easy it is to incorporate pumpkin into breakfast. Blend nutrient-rich ingredients like pumpkin, banana, cashew butter, protein powder and hemp seeds into a creamy smoothie bowl and top with ingredients of your choice. Each serving gives you an impressive 29 grams of protein.
8. Coconut Flour Pancakes
Adding a few spoonfuls of coconut flour is a simple and flavorful way to up the protein content in your smoothies, oats and other breakfast foods. Along with eggs and egg whites, this pancake recipe gets more protein from the coconut flour. In fact, each serving has 15 grams of protein along with 11 grams of gut-friendly fiber.
You'll mix the ingredients to make a pancake batter and cook it on a skillet like you would regular pancakes. For added flavor or nutrients, mix in berries and nuts or add a drizzle of any nut butter you like.
9. Sausage and Hashbrown Breakfast Casserole
Many breakfast recipes are served cold — smoothies, cereal and parfaits are all chilled. During the cooler months, you may want something warm and cozy. Enter this sausage and hash brown casserole.
It combines a handful of classic breakfast ingredients: hash browns, breakfast sausage, eggs, cheddar cheese and milk. With all the animal proteins, it's no surprise that a serving of this casserole gives you 18 grams of protein. Plus, it freezes well!
10. Flavorful Silken Tofu Scramble
There's a huge misconception that it's difficult to get enough protein as a vegan or vegetarian. This recipe is proof that plant lovers can enjoy protein-rich breakfasts without animal products. It uses tofu as the star of the show to deliver 19 grams of protein per plate, and it's very easy to make.
This recipe calls for just tofu, veggies and spices. Once you've made a batch of tofu scramble, you can eat it on top of toast, in a breakfast burrito or in place of savory scrambled eggs all by itself.
link