If there's two things people harp on about after they visit Tassie, it's that the "air is just fresher" and "the food is superior". And look, they're not wrong.
If you want to lap up the cleanest air in the world, we suggest you hit these epic national parks in Tasmania. However, if you're keen to chow down on modern brekkies, local roasteries supplying a top notch caffeine hit, and bakeries slinging unforgettably buttery, pastry-filled delights—you've come to the right place.
Book your ticket and start off your trip right: read on for the best breakfasts in Hobart.
Sisterhood
Sandy Bay
Sisterhood is relatively new to the Hobart dining scene. Popping up on King Street in Sandy Bay, their pun-laden menu is as bright as its peach vibes smoothie, which you should kick things off with. While you're sipping, things get real interesting over on the food side: They've got all your staples, sure, but there's always a little something extra to get you tingling: the avo toast comes in the form of a mousse, with a party of labneh, plum, and pomegranate. Then there's the breakfast pasta. Yes indeed. It was a noble human that challenged the status quo and made our fave dinner an acceptable brekky option. This one keeps it bright and sunny, with charred zucchini, peas, ricotta, preserved lemon, and pecorino. There's also a baked bean and bacon jaffle for the "kids" (i.e. hungover you).
Born In Brunswick
North Hobart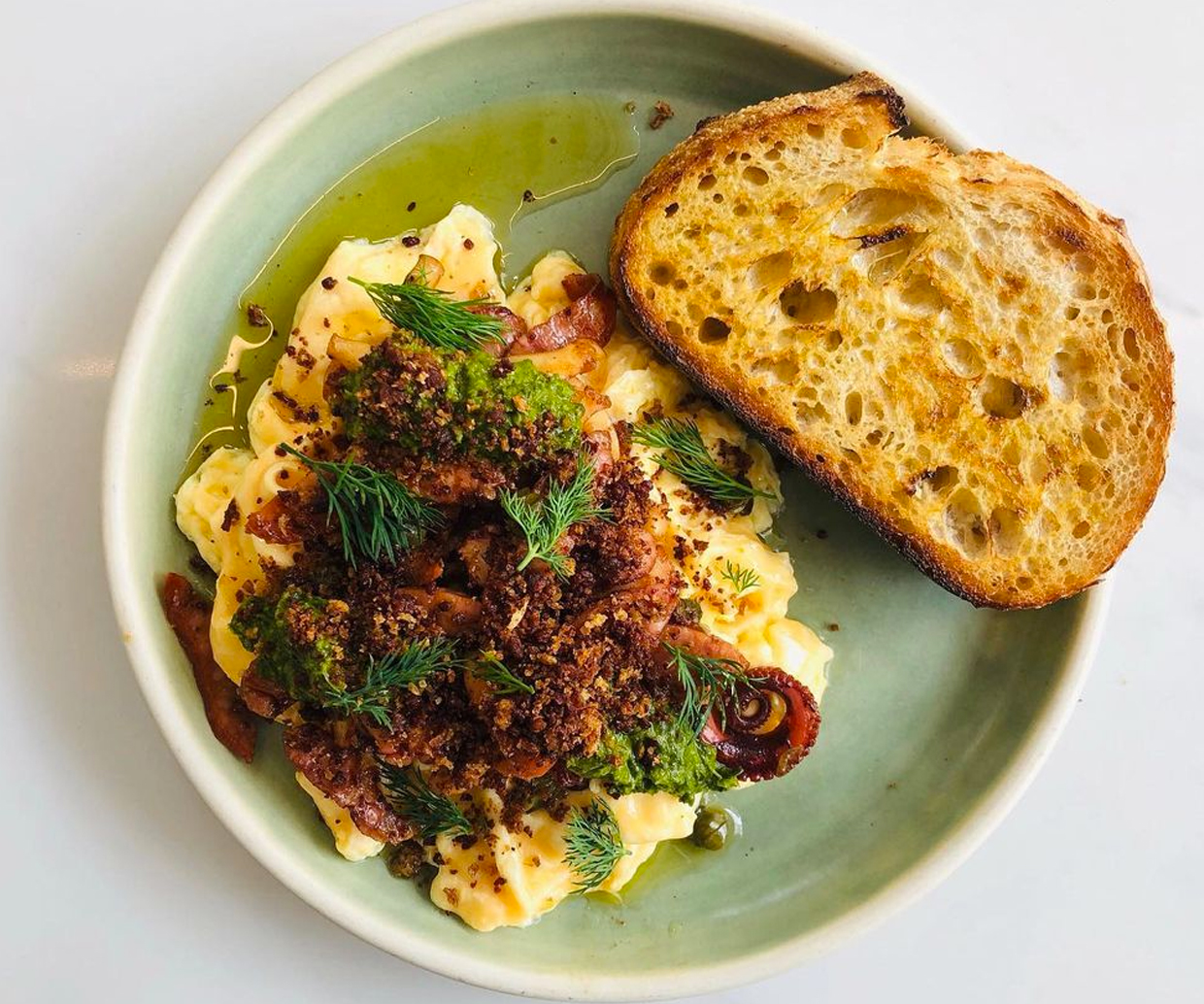 Feels a lot like you know everything you need to know about this place, right? And while there's some truth to that; out the door queues, Scandi-style interiors, buckets of light streaming through windows, plants aplenty, edible flowers atop enormous pancakes, there's so much more to behold at Born In Brunswick. The produce is, according to their Instagram, locally sourced, sustainable, and seasonal, and there's a brunch-but-kind-of dinner-and-also-dessert energy to the menu. Case in point: the spiced duck omelette with chargrilled tomato salsa, crispy curry leaves, and gruyere on offer, as well as a coconut hotcake with chocolate custard, coconut crumble and caramelised coconut sorbet. Try saying that five times fast. 
Berta
Hobart City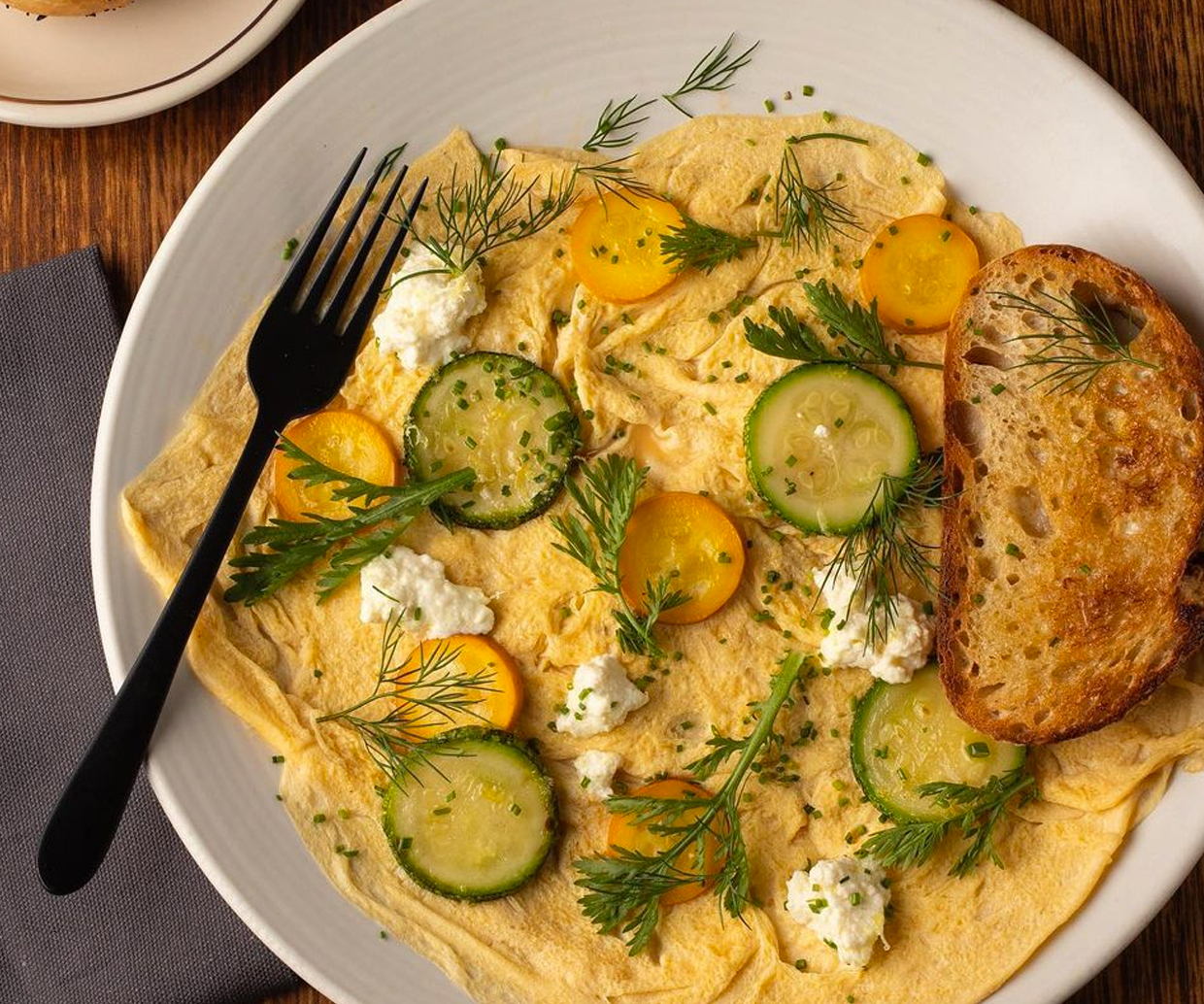 Berta, lovely Berta, sits pretty in Hobart City and focuses on local, organic produce and delicious coffee served behind a teal-tiled counter lined with cookies and other tempting baked goods. The menu changes often, in line with the seasons, but if you spot the Turkish breakfast, get it. The golden yolks and prickly chilli butter with labneh combo are a worthy way to start the day. They also do a banging spring onion pancake with sticky pork belly, fried shallots and a fried egg: it's the perfect pillow to replace the one you just peeled your head off. 
Pigeon Whole Bakers
Hobart City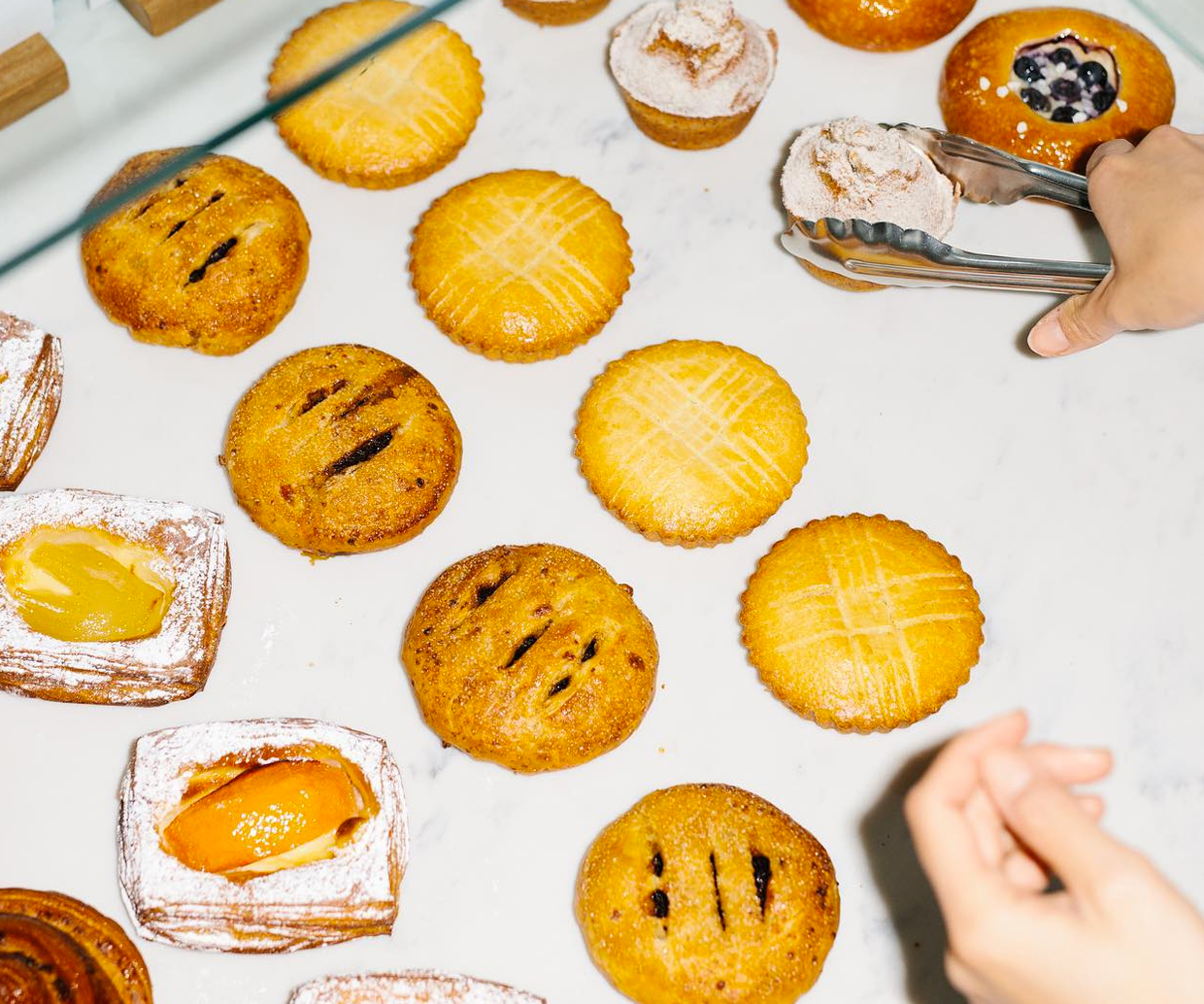 Are pastries a complete meal? The title of my future PhD. But also a noble question. The answer is yes. Pigeon Whole Bakers sits in the heart of Hobart's CBD, serving delicious coffee alongside freshly baked pastries, cakes, and bread. They're known to supply many of the local cafes and restaurants, too, so get used to hearing the name. There's no wrong way to go, but the classic croissant is pretty high on the 'right way' scale, with their seemingly endless layers of buttery, flaky, laminated goodness. The morning bun, filled doughnuts and eccles cakes are pretty damn stunning, too. 
Pigeon Hole Cafe
West Hobart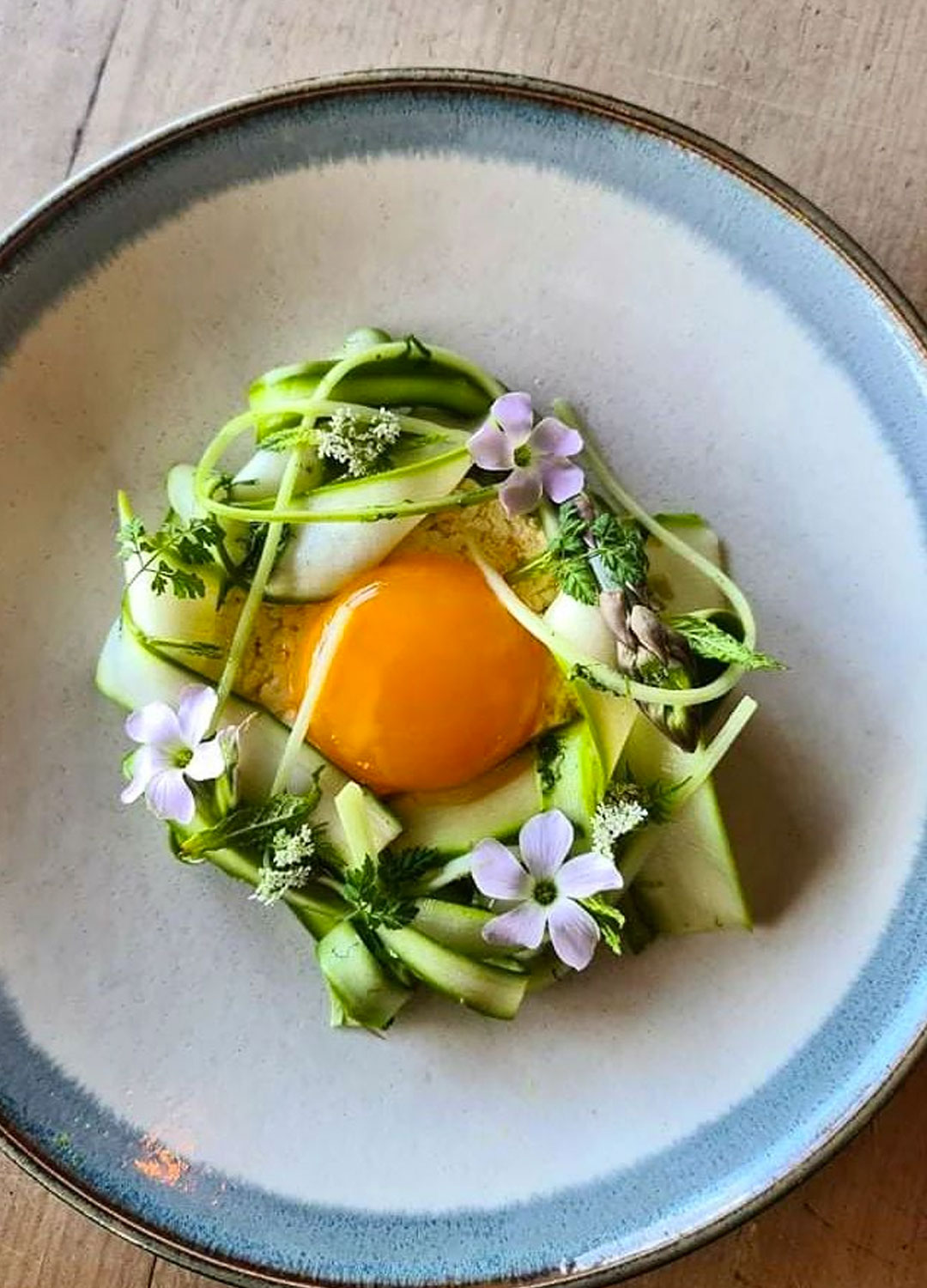 Yes, it's a similar name (minus one letter) to the above. Yes, it's confusing. No, don't worry; they're both worthy of your time. Pigeon Hole, over in West Hobart, is a cosy little shrine to Weston Farm Produce, setting the tone for sustainable, farm to table dining. The menu changes with the seasons, but expect plenty of local ingredients and honest cooking: if you see one of their homestyle crumpets, order it. The same goes for their saucy, smoky homemade baked beans, perfect for warming your bones in the chilly Tassie air. 
Room For A Pony
North Hobart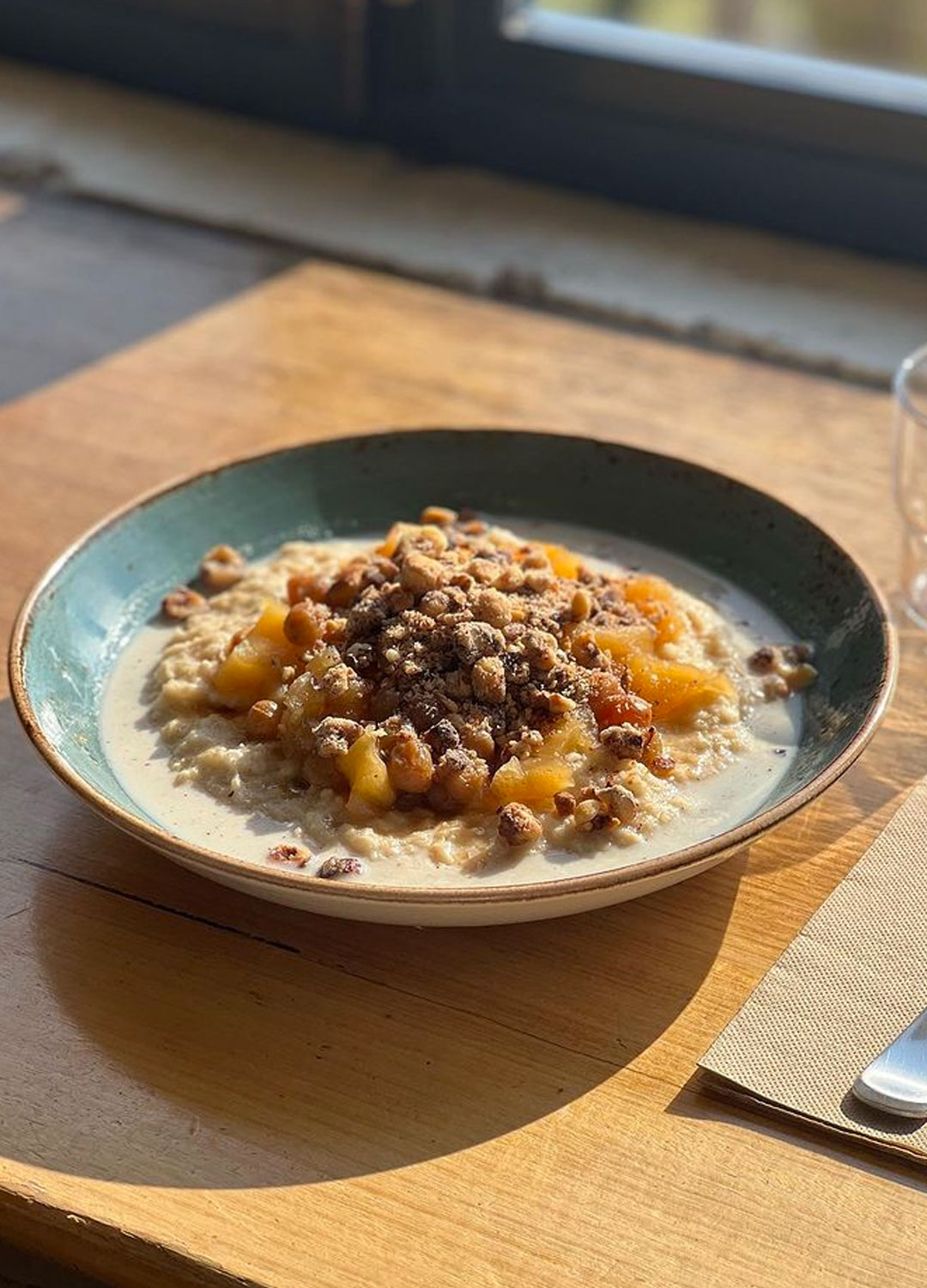 If you feel right at home among exposed brick, wooden breakfast bars and high-top stools serving expert coffee and a new-style breakfast menu, Room for a Pony is for you. Read: it's for all of us. This cafe-by-day-bar-by-drinking-times is a favourite among locals, with plenty of room for group catch ups. When it comes to the menu, there are choices aplenty; hearty sardines & toast, a punchy, Chinese fried chilli omelette, and scrambled silken tofu with a mushroom medley for the plant-based peeps. Bloody Mary optional, but indeed encouraged. 
Ginger Brown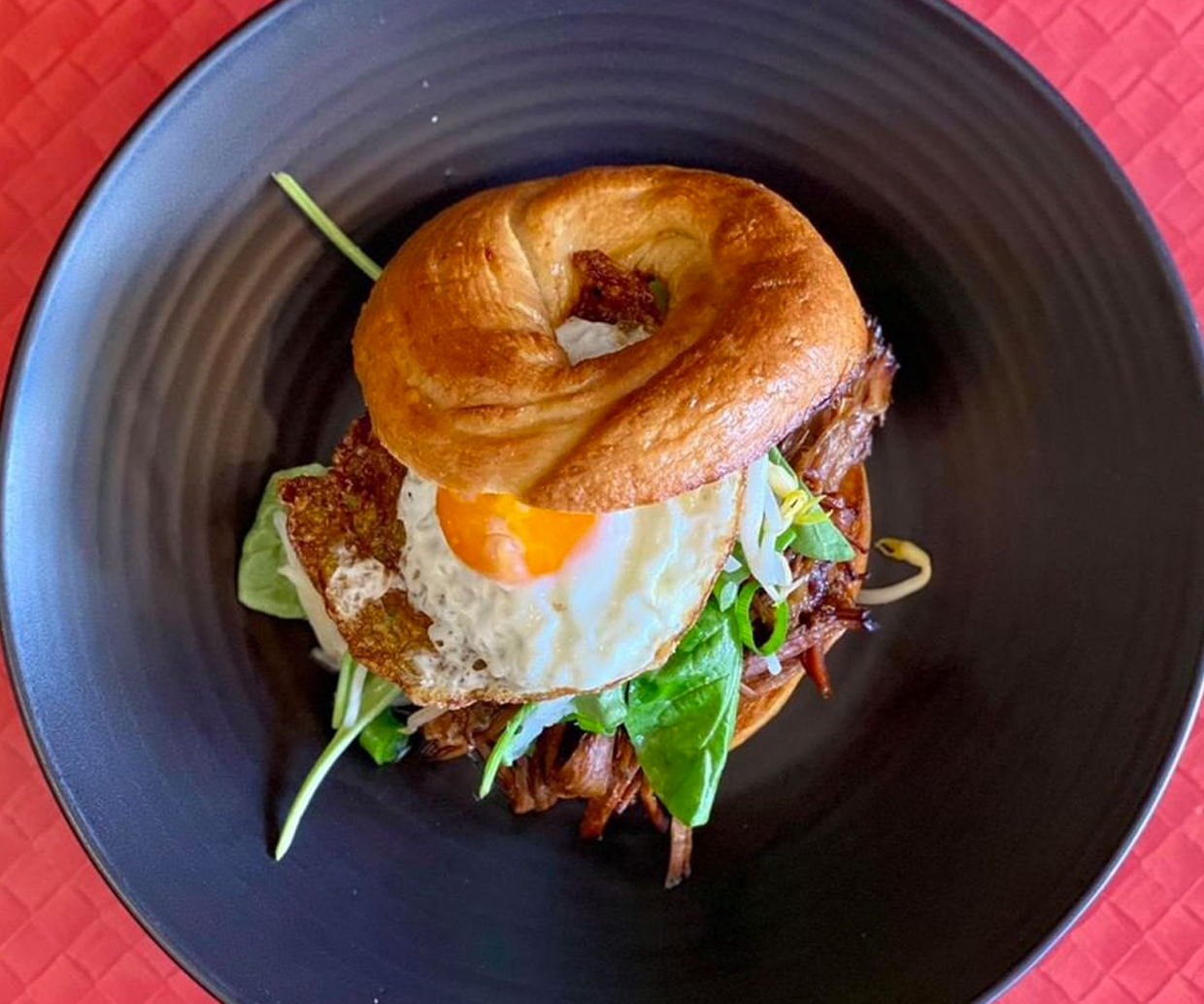 Ginger Brown have been a Hobart favourite for over a decade, scoring the tick of approval from locals and sending tourists back with something to recommend to their friends. They do the classics here, and they do them well: the perfect poachies on generously buttered sourdough and house-made baked beans are staples; but be sure to pay attention to the specials board, where things get crazy delicious and vice versa. 
Straight Up Coffee + Food
Hobart City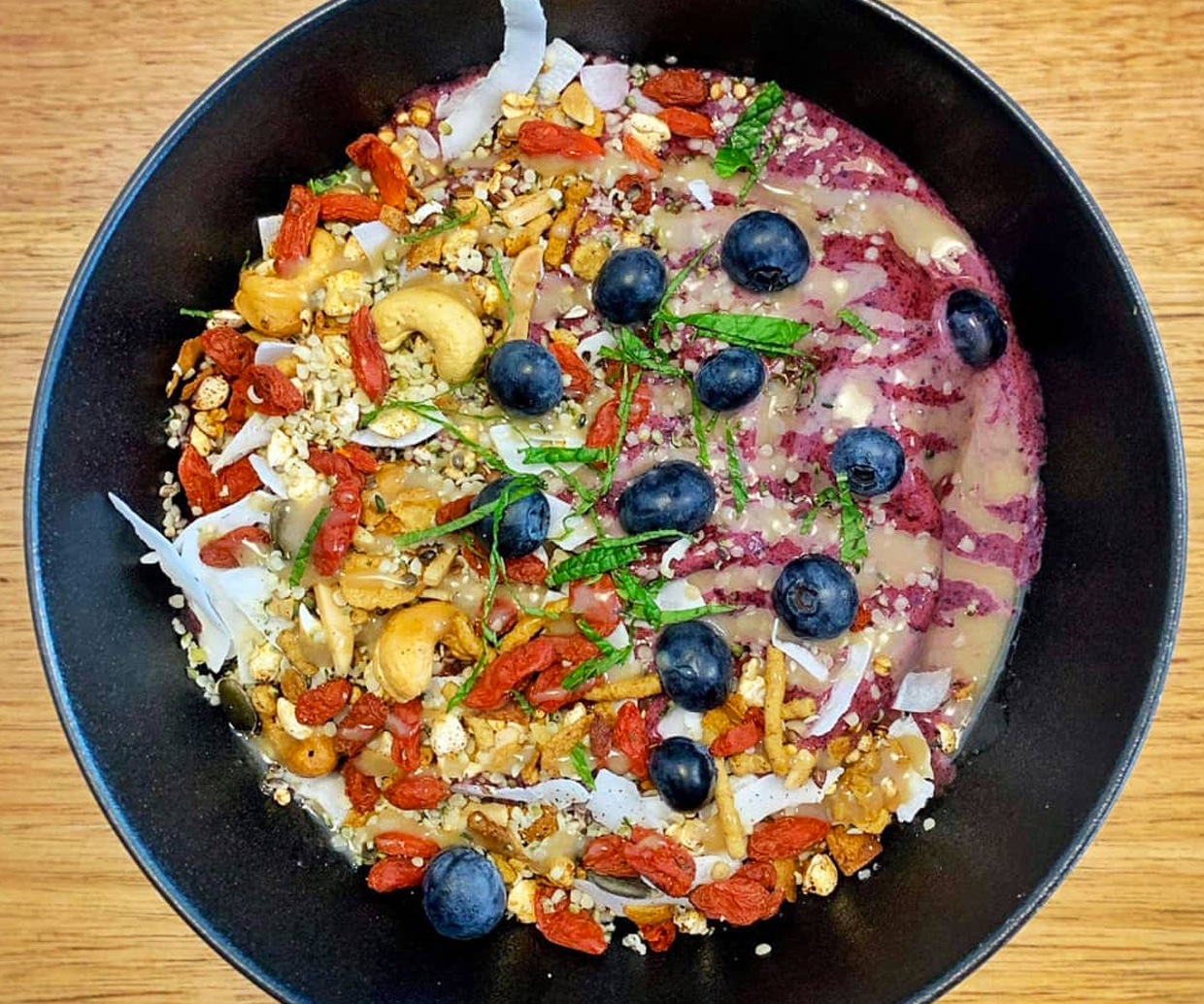 You can't deny you know what you're getting here: but there's an extra hint in the name, it's an entirely gluten free and vegetarian menu so no one has to miss out. They're doing the semi-90s vibe coffee house thing well, with diner-style chairs and that friendly Tassie service we've all grown to love. But now, the food: Straight Up Coffee + Food are leading the charge when it comes to casual vegetarian food in Hobart, the sweet corn fritter waffle is a time and a half, and the scrambled chilli tofu with garlic betty white toast will make any vegan (or non-vegan)'s day. Wash it down with Straight Up's own roasted coffee and you're in business. 
Queens Fine Pastry
Hobart City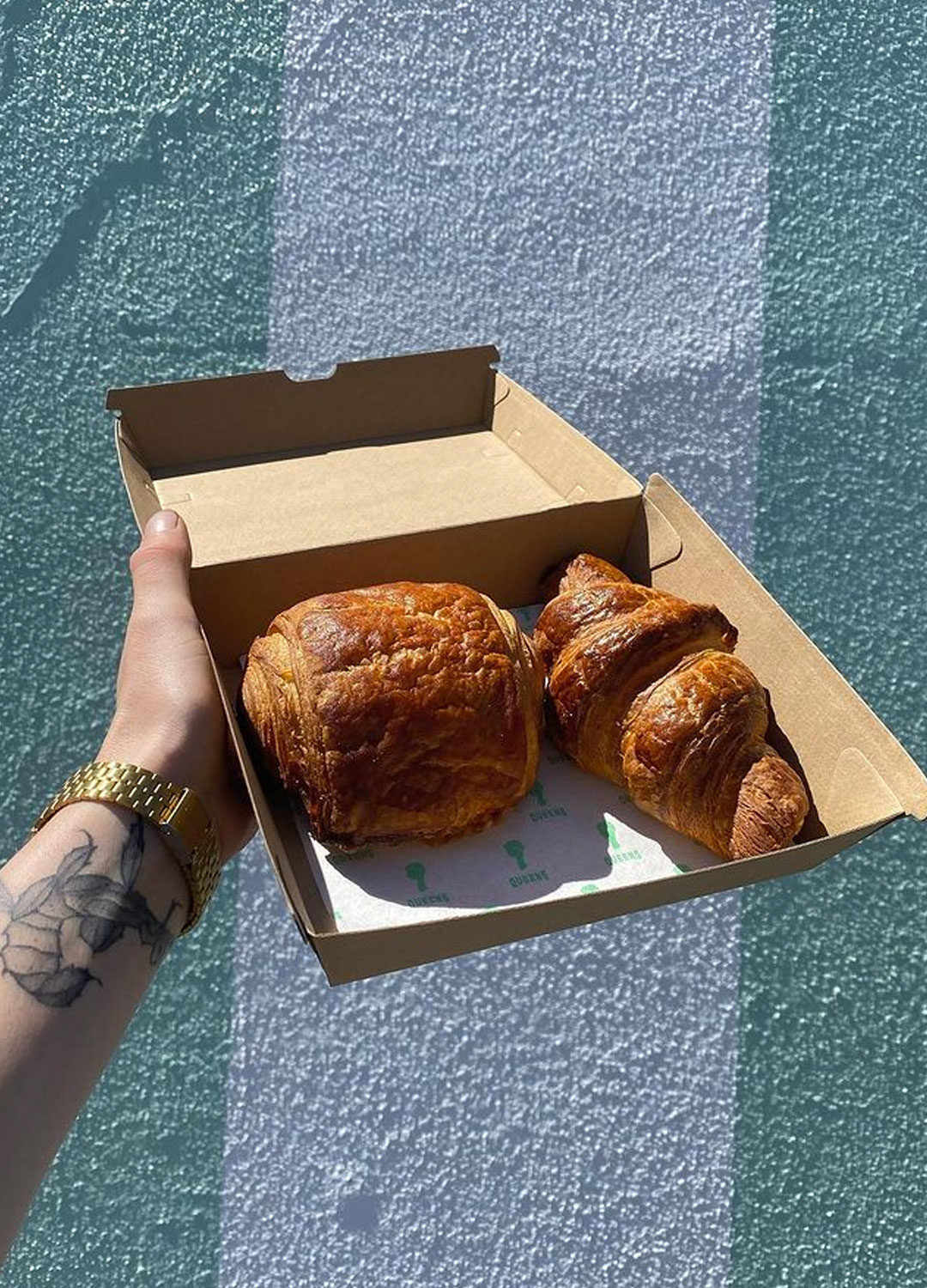 Another party in the campaign for small, sweet pastries being the ideal breakfast choice, Queens Fine Pastry is calling from its minty green awning on Hobart's Harrington street. They do all the classics here, neatly lined up and ready to be devoured: cinnamon sugar (the GOAT), lemon meringue, brownie custard, hundreds and thousands… plus freshly baked croissants, and convenient signage for baking times so you can score a fresh boi. There's St Ali coffee on offer as well, perfect for re-buzzing and soaking up all that pastry.
Lost Freight Cafe
Kunanyi, Mount Wellington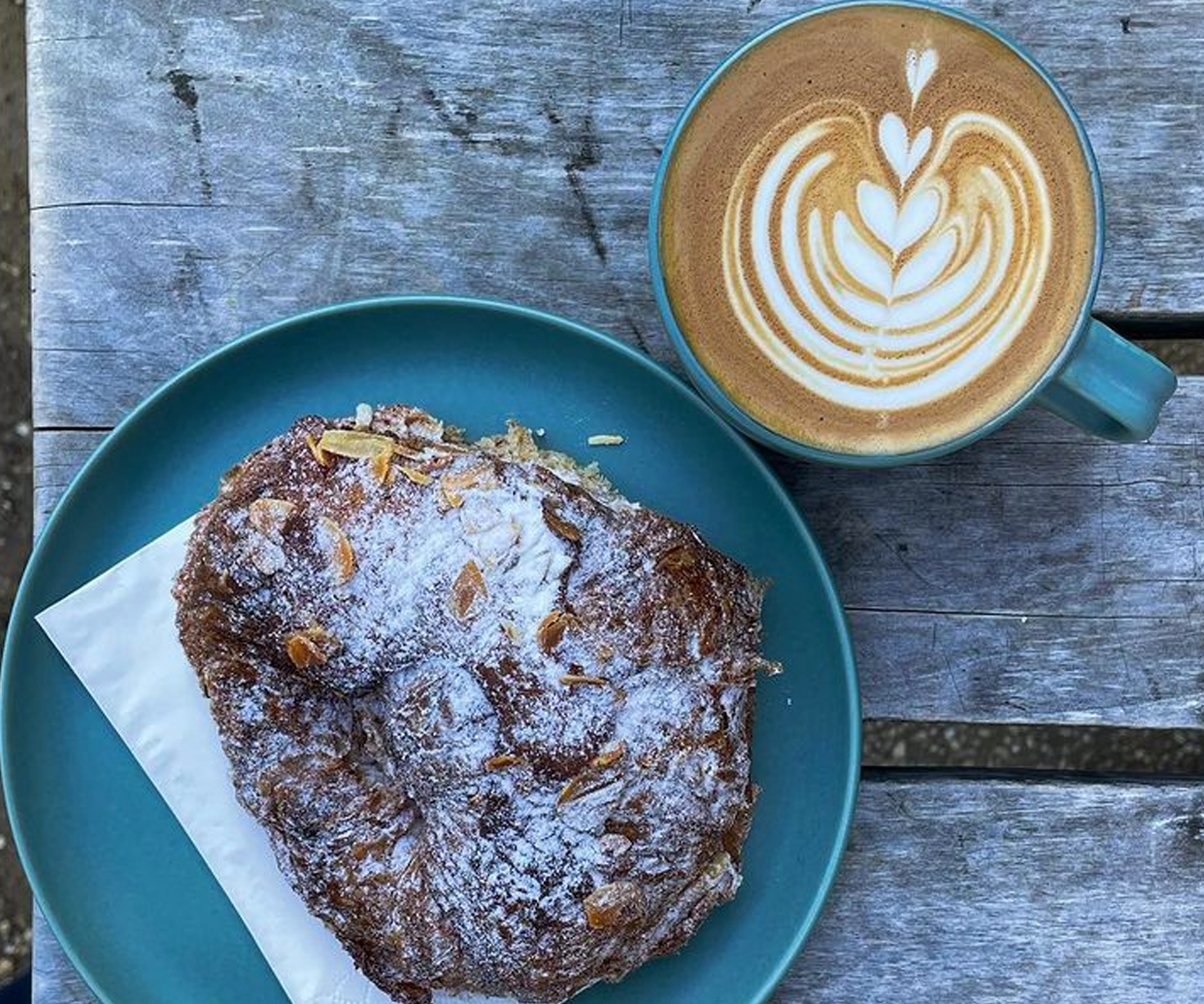 For those planning to hike the picturesque peaks of Kunayi/Mt Wellington, sustenance is both welcomed and required. And halfway up the mountain, just near the springs, you'll find the shipping container that is Lost Freight Cafe. Perfect for mid-hike refuelling (try the ultra-thick drinking chocolate with a hefty almond croissant on the side) or a much-needed caffeine spike if you're braving a sunrise climb. You won't find a better brekkie halfway up a mountain, I'm telling ya. The coffee slaps hard, the team is friendly, and the toasties are a warm cuddle from the gods in the misty, frosty Tassie air. Bliss. 
Like to sleep in? Check out the best restaurants in Hobart.
Image credit: Room For Pony, Sisterhood, Born In Brunswick, Berta, Pigeon Whole Bakers, Pigeon Hole Cafe, Room For A Pony, Ginger Brown, Straight Up Coffee + Food, Queen's Fine Pastry, Lost Freight Cafe

link