Looking for breakfast in the Brisbane CBD can be quite the challenge. Mediocre coffee options they have by the bucket load, but great spots for breakfast (and good coffee)? That's another story.
Until recently, the CBD has been a largely neglected realm of the Brisbane breakfast scene, so we know you folks schelping it into the big smoke will appreciate a list of the best breakfast cafes in Brisbane's CBD.
Inter/Section 
Charlotte Street 
Located inside the Midtown Centre on Charlotte Street, Inter/Section is actually three Brisbane CBD cafes in one, featuring Coffee Anthology (a much-loved coffee roastery and cafe who moved over from Margaret Street), Fika and The Whisk, who pastry lovers will know from their Mt Gravatt location. If you are just in need of a coffee and a decadent croissant, Coffee Anthology and The Whisk have you covered, but for a full sit down breakfast, Fika is serving up the likes of bao bun French toast bao buns with rum orange and chocolate semifreddo and baked beans on toast with chorizo and fried egg. 
Gathar Bistro 
Ann Street 
Nestled in Heritage Lanes' pit stop for inner city dwellers, Gathar Bistro is the perfect oasis you need to re-caffeinate, defrost or cool off from your office's cooked aircon (why is it never the perfect temp) and just overall forget about work for 15 minutes. You can inside or out in the leafy laneway which sits underneath a moving underwater scene on the roof above. The coffee is brilliant and the food is even better (um, wagyu burgers?!) and you can even reserve your table in advance. 
Felix For Goodness
Burnett Lane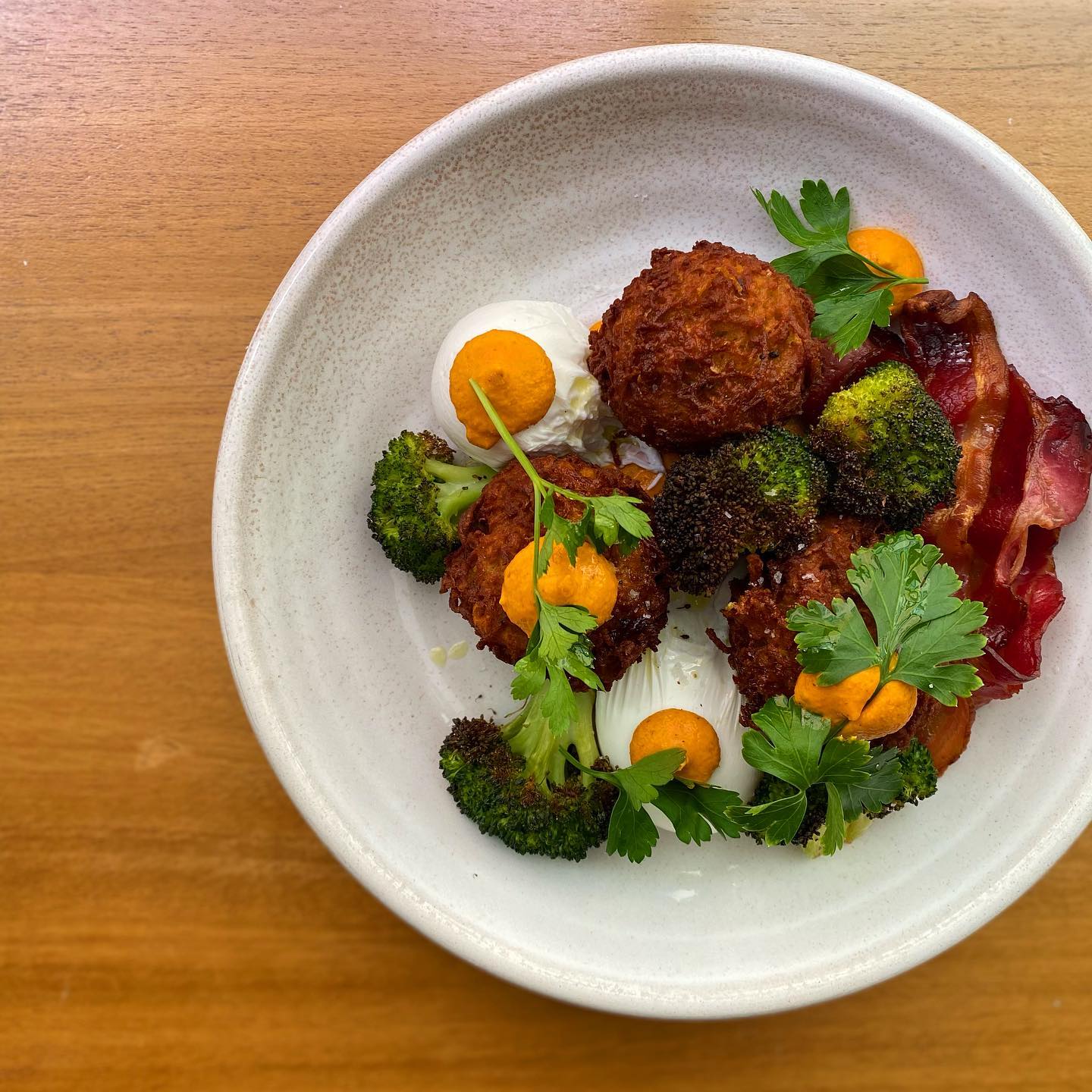 Looking for organic, locally sourced breakfast that's lovingly made from scratch in the Brisbane CBD? Look no further than Felix. This Burnett Lane café is a hidden gem that offers up the perfect all-day breakfast menu, including housemade crumpets, classic avo smash, and daily specials alongside fresh smoothies and specialty coffee. They even make their own jam.
The Garden Room
Roma Street Parklands
Nestled amongst the greenery that is the Roma Street Parklands, The Garden Room truly is an urban oasis. The aptly-named eatery has plants covering seemingly every surface, combining the beauty of a garden with the comfort of a cafe. The curated breakfast menu is sure to delight, with goodies including house cured salmon gravlax brioche, chia oat bircher bowls and slow cooked savoury mince.
Coffee Iconic
George Street
Notable for their grungy laneway seating, Coffee Iconic more than lives up to their name with a rotation of the latest and greatest blends in specialty coffee. Their all day breakfast features saucy shakshuka with sourdough as well as some comforting classics like granola or avo toast for those days when you're in a mad rush. 
Frankie & George
George Street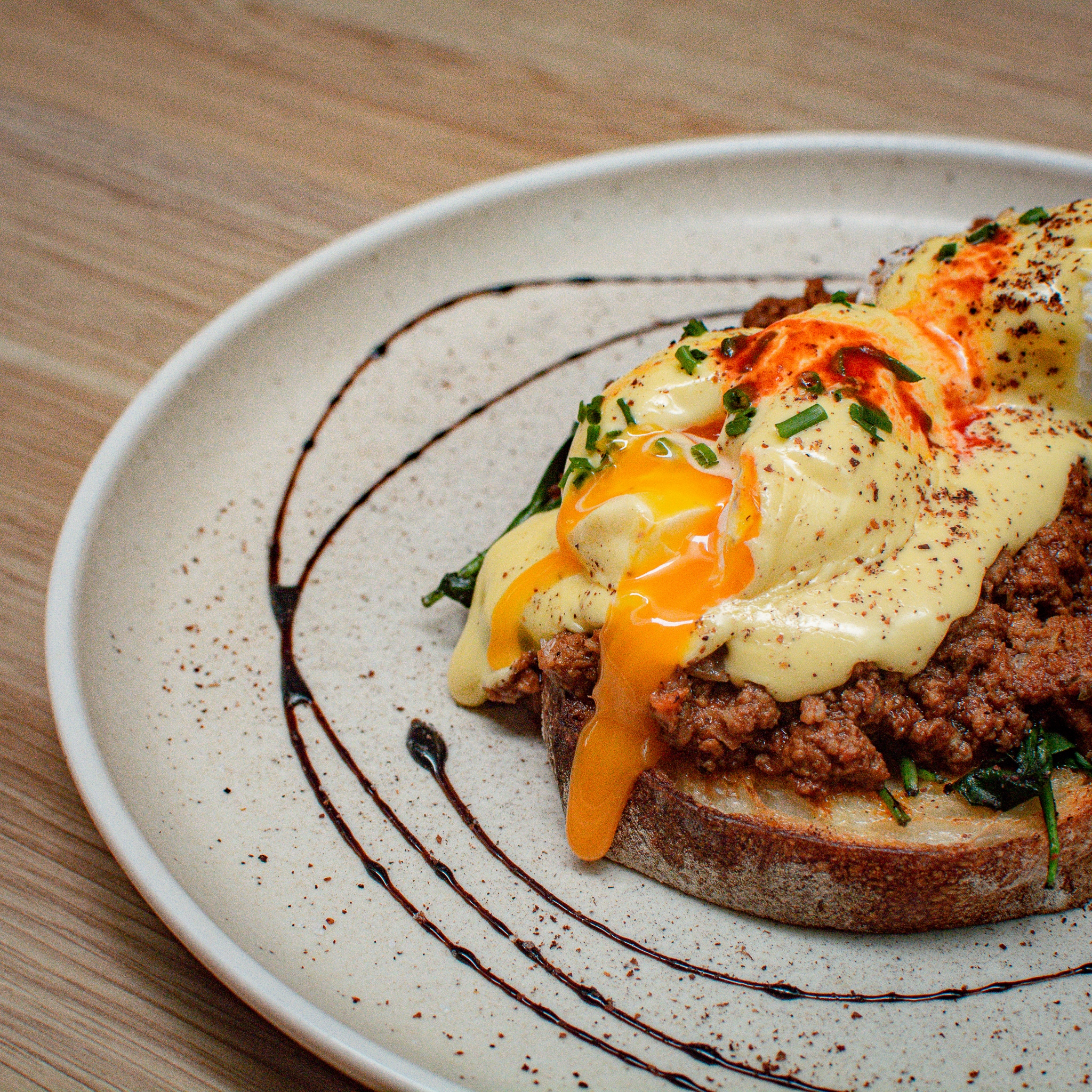 We bloody love Frankie & George, and not just because they pour some of the best brews on the block, but because they are one of the few places in the city centre that serve an absolutely cracking breakfast all day long. Savoury crepes with your choice of bacon or salmon, savoury beef mince and cheesy omelettes are just a couple of standouts from their menu, and go down great with a cup of whatever blend is in the grinder. Frankie & George also boasts a cabinet full of fresh baked muffins, cakes, and cookies, making them perfect for snacking on the go. 
Strauss 
Elizabeth Street
This specialty coffee café serves one of the city's best breakfast menus from Monday to Friday. Sure it's simple, but simple, honest chow is what you need before your daily grind gets going. Think avocado and sourdough toast with dukkah, house made honey granola and classic eggs on toast. Strauss also have green smoothies and a good range of teas to get your day started right, or exceptional coffee to get your day started even better.
Ed Cafe 
Edward Street
Whether you're craving crushed avo on toast or chocolate pancakes, Ed Cafe's got you covered with breakfast and brunch served well into the afternoon. If you're feeling healthy, opt for the breakfast fritters packed full of veg that are sure to leave you energised. But if you're celebrating a payrise, go the haloumi stack with bacon, avocado and poached egg on sourdough with house relish.
Brew Cafe & Wine Bar 
Burnett Lane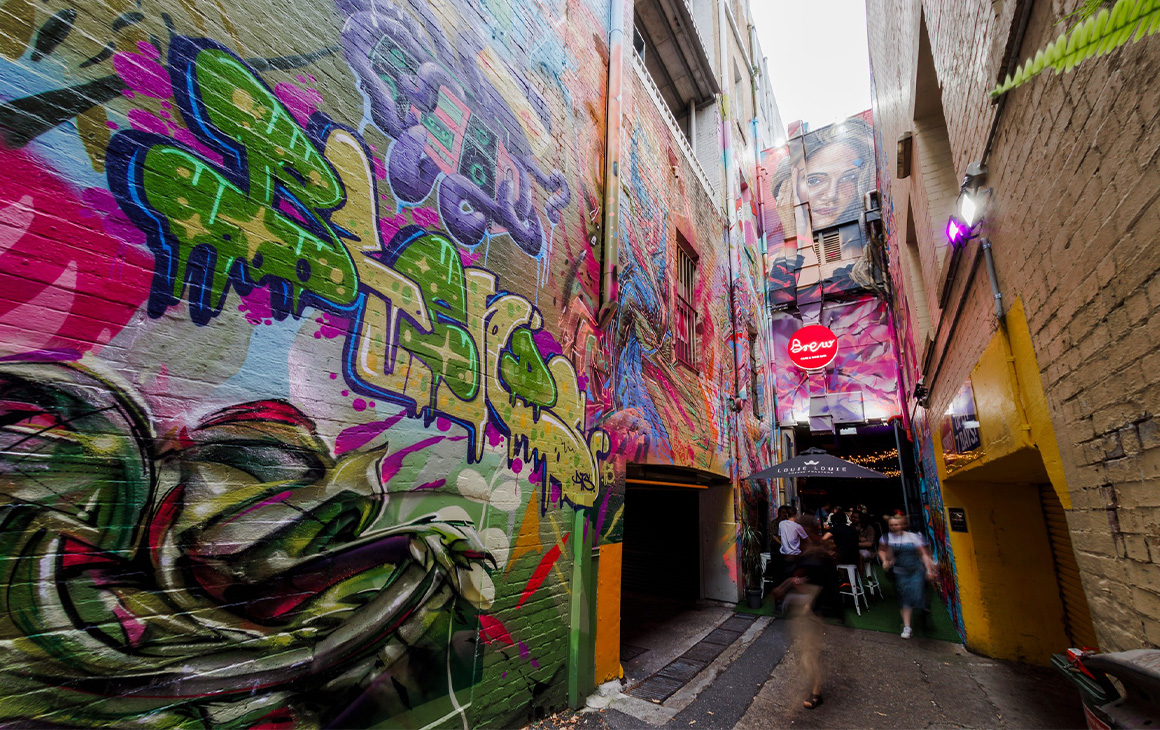 It feels good to be cool. When you're a corporate drone, sometimes it feels like your whole personality is boiled down to a customer service voice and a pair of navy jacqui-e slim-leg pants. Your break from said feeling of dread comes in the form of Brew Cafe & Wine Bar. This ultra-cool laneway cafe and bar is one of Brisbane's oldest—and best. Distinctly Melbourne-esque vibes seem to exhale from the street art and neon sign-clad concrete walls, but it makes a spotlight performance in the coffee. The soul-warming brews come from locally sourced specialty coffee by Louie Louie Coffee Roasters and go excellently hand in hand with a sweet treat from the cabinet. Proper brekkys, generous lunches and soul-food-derived dinners await you here—if you're hungry, the pulled beef burger with shoestring fries is borderline compulsory. 
Frankie's Food Hall
Ann Street 
Part laneway cafe, part modern carvery, Frankie's Food Hall will have you coming back day after day for their classic homestyle eats—maybe even twice a day. By morning, you can stop in for delicious plated breakfasts like ham benny served atop toasted crumpets or 'The Frankie Biro," a stack of Balkan baked beans, beef cevapi, pork cvarci, scrambled eggs, pickled cabbage and lepinje bread. Come lunch time, you cant ake your pick of grab-and-go sandwiches, salads, or a selection of hot and cold foods from the carvery—we're talking epic slabs of lasagne, pasta bakes and scrumptious salads that you will make friends with.
Aquila 
Queen Street 
Lush greenery serves as a border around the beaming sunshine and floor-to-ceiling windows at Aquila. A true cafe-of-all-trades, this multi-service venue is right at home in the bustle of the CBD. If there's ever a place to head to as a Friday morning treat with your work wife or spend that very same Friday afternoon commiserating after the dreaded yearly one-on-one reviews with your manager, it's Aquila. A proper, well-thought-out menu awaits you here for whichever course you're popping in for, as do servers that know what they're doing. 
Looking for dinner? Check out the best restaurants in the CBD here.
Image credit: Inter/Section, Felix For Goodness, Frankie & George, Brew 

link