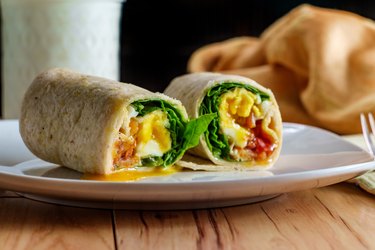 Life is hectic enough, so your breakfast shouldn't be. That's why breakfast burritos — the perfect combination of convenience and nutrition — should become a part of your a.m. routine.
The best part about all 12 of these breakfast burrito recipes is that you can batch cook them on meal-prep days and stick them in the freezer until you're ready to enjoy them. To reheat, warm them up in the oven or simply put them in the microwave — that's breakfast made simple!
1. Steak Breakfast Burrito
Got leftover steak from last night's dinner? This high-protein burrito is a great way to repurpose your sirloin scraps.
Not your average burrito, this healthy wrap features a sprouted-grain tortilla, which is higher in fiber and easier to digest, plus it's stuffed with sweet potatoes, which are packed with vitamin A, potassium and magnesium, according to the USDA. The recipe even swaps out sour cream (and unhealthy saturated fats) for protein-rich Greek yogurt.
2. Meditteranean Breakfast Wrap
Get all the great tastes of your favorite Mediterranean ingredients and flavors like feta cheese, red onion and sun-dried tomatoes in this delicious — and freezable — breakfast burrito.
The feta cheese in these burritos give them an extra dose of protein, so you can enjoy a filling breakfast that doesn't include meat.
3. Egg and Beans Breakfast Burrito
If you're looking for a breakfast burrito recipe with beans for more plant protein, this simple recipe has everything you need. With just three ingredients — black beans, eggs and cheddar cheese — this breakfast burrito boasts three times the protein power in one yummy package.
Not only does eating a protein-rich diet keep you satisfied, but it may also help you lose body fat and maintain lean muscle, per a November 2014 study in ‌Nutrition & Metabolism‌‌.‌
4. Mushroom and Sun-Dried Tomato Egg Wrap With Hummus
Hummus might not be the first thing you think of when it comes to breakfast, but once you give this variation of a breakfast burrito a try, you'll be glad you did.
Not only does hummus add protein, but it also gives the whole burrito a tangy, savory kick of flavor. Mushrooms add umami flavor and sun dried tomatoes give it a refreshing sweetness. Not to mention, all these veggies plus the greens means even more nutrient power.
5. Spicy Breakfast Burrito
Even meat lovers will pine for this tasty, plant-based tortilla that touts tofu, pinto beans and a cashew sauce as its main sources of protein. People who eat more plant protein (and fewer animal products) were observed to live longer and have a lower risk of heart disease in a July 2020 ‌BMJ‌ meta-analysis.
And while this healthier burrito lacks cheese, it doesn't skimp out on flavor thanks to the addition of nutritional yeast with its nutty, cheesy notes.
6. The Awesome Breakfast Burrito
With just six ingredients, you can craft these delicious breakfast burritos that are loaded with nutrition. Filled with gooey, melted white cheddar cheese, these burritos have a bold, intense flavor.
Make your own pico de gallo for this breakfast burritos recipe or buy a premade version to make things even easier.
7. California Breakfast Burrito
With warm spices like cumin and fresh herbs like cilantro, this breakfast burrito is bursting with flavor. Not to mention texture: Hearty cremini mushrooms lend an extra layer of umami flavor while avocado adds a velvety creaminess.
Make a batch of these nutritious burritos in advance, wrap them individually and pop them in the freezer — that way you can have one on hand for busy mornings.
8. Breakfast Tortilla Wrap
The major difference between this Breakfast Tortilla Wrap and a breakfast burrito is simply in the style of folding.
Choose any of your four favorite breakfast ingredients and spread them out evenly on each quarter or your wrap. Then, you'll cut and fold it up into a convenient triangle that's easy to pick up and eat!
Wrap it in parchment paper and foil before freezing individually!
9. Egg and Hashbrown Breakfast Burrito
These meatless breakfast burritos are made more filling with the addition of hashbrowns. You can buy frozen hashbrowns to use if you don't feel like slicing or chopping your own potatoes.
This recipe is so simple, you can assemble 10 breakfast burritos in just about 30 minutes. And of course, freeze and save them for later.
10. Ground Turkey Breakfast Burritos
Protein powerhouses like lean ground turkey and scrambled eggs fill this satiating burrito that'll keep the tummy rumbles at bay until lunch. You also get a healthy heap of vegetables — green bell peppers, corn and scallions — with every serving that supplies 8 grams of gut-friendly fiber.
These burritos are perfectly portable. Simply wrap each in parchment paper and foil for a mess-free eating experience.
11. Egg and Chorizo Breakfast Burrito
When you try these Mexican-inspired breakfast burritos loaded with crumbly, savory chorizo sausage, fluffy scrambled eggs and fresh avocade, tomato and cilantro, you'll want to make them over and over.
The crumbly chorizo gives these burritos a hint of spicy flavor, and the addition of hot sauce adds to the kick. Enjoy them topped with fresh cilantro or a dollop of sour cream.
12. Mango and Black Bean Lettuce Wraps
These black bean burritos toss the tortillas in favor of lettuce leaves to cut carbs and add even more good-for-you nutrients. Diced mangos deliver a dose of natural sweetness to balance the savory flavors. One serving equals four filling lettuce wraps. Now that's what we call getting your belly's worth of burritos.
link