Sometimes those with the tiniest palates are the hardest to please when it comes to breakfast. But with this tasty list of 15 easy breakfast ideas for toddlers, there's bound to be a new favorite in the bunch. From on-the-go granola bars to make-your-own parfaits, even a picky toddler won't know which breakfast to try first! 
1. Sheet pan pancakes 
Everyone loves pancakes, but standing at the stove flipping flapjacks can be super time consuming. Not anymore! This easy sheet pan recipe from SunnysRecipes will bake up with minimal effort and maximum flavor.   
2. Fruit and yogurt parfaits
When toddlers are involved in creating their own breakfasts, they are more prone to eating it. Set out bowls of their favorite fruits, yogurt and granola and have them join in on the fun of layering their very own parfait. 
3. Monster muffins
It's not always easy to get picky eaters to consume their daily dose of vegetables. But, when you whip up these green monster muffins from Super Healthy Kids, you can rest assured your toddler is eating a breakfast that is packed full of nutrients.
4. Sunrise smoothies
The ingredient options are endless when blending up a satisfying smoothie. Start with a base of your preferred milk or yogurt, add in your favorite fruits — fresh or frozen — and blend! Kick up the nutritional value a notch by mixing in chia seeds, flax seeds or a scoop of protein powder. 
5. Oatmeal breakfast cookies
There won't be any convincing needed when telling your kiddos that they can have cookies for breakfast. These oatmeal breakfast cookies from Two Peas & Their Pod are naturally sweetened, gluten-free and absolutely delicious.  
6. Milk and cereal popsicles
Ice pops may just be the universal love language for toddlers. So, these cereal popsicles from Natalie Paramore are sure to be a hit. Simply choose a cereal, add milk or yogurt to the ice pop tray and freeze for six or more hours. Enjoy! 
Watch more:
7. Two-ingredient pancakes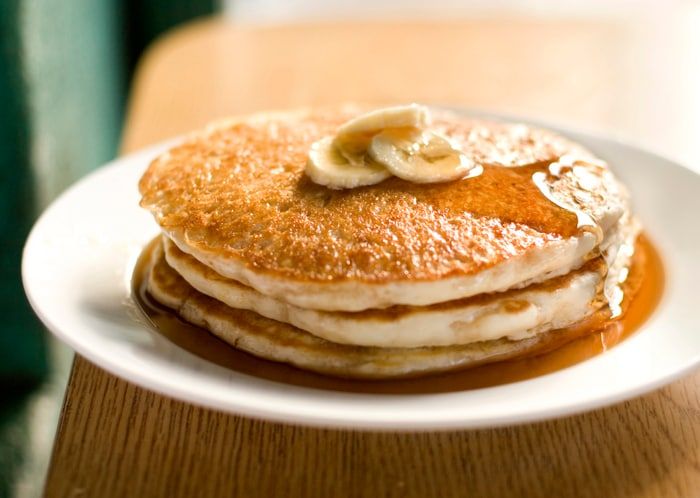 Your toddler will love making and devouring these simple pancakes. Have your pint-sized chef mix together one banana and two eggs for the batter while you heat up the fry pan. You'll have flapjacks piled high in no time. 
8. Peanut butter "teddy bear" toast
This peanut butter toast from Amy Codd is almost too cute to eat. If your toddler prefers cream cheese, try making polar bear toast instead.  
9. Dinosaur eggs
Eggs for breakfast are nothing new. But when you use a metal cookie cutter to make fun shapes, the first meal of the day becomes much more egg-citing! Try this dinosaur-themed breakfast from Alyssa Loop paired with avocado toast.
10. Breakfast quesadillas
With endless flavor combinations, breakfast quesadillas are a total crowd pleaser. Need ideas? Try mashed avocado and cheese, banana and Nutella, blueberry and cream cheese or these honey, banana and almond butter quesadillas courtesy of Emily Prieto. 
11. Fruit and pancake skewers
Breakfast on a stick – what could be better? Keep it simple in the morning with mini pancake skewers from Garnish with Lemon by layering fruit, Nutella and defrosted pancakes or mini waffles on a skewer. All that's left to do is pour a little syrup in a bowl for easy dipping! 
12. Sweet potato toast 
Your little one won't even notice they're eating a vegetable for breakfast with how flavorful this sweet potato toast from Yummy Toddler Food tastes. For added sweetness, try a drizzle of honey or sprinkle of cinnamon on top.  
13. Breakfast pizza
Pizza for dinner is always a winner! So, why not try pizza for breakfast? This drool-worthy recipe from Like Mother, Like Daughter is definitely worth a try. 
14. Homemade granola bars
With a life as busy as yours, breakfast-on-the go is sometimes the only option. These homemade granola bars from Perfecting Mama have the satisfying combo of salty and sweet and only take five minutes to prep.
15. Easy homemade doughnut holes
Over a million and a half Facebook followers agree that Kelly Senyei at Just a Taste has perfected the homemade doughnut hole recipe that kids are sure to love. This pillowy donut topped with a sweet glaze will satisfy toddler tummies. 

link