Disclaimer: This page may contain affiliate links. Please review our full Terms and Conditions for more information and our Privacy Policy. Note that any pricing, operating hours, or other such information provided below may have changed since initial publication.
Compiled by the Road Trip Manitoba team
Last updated on March 12, 2023
You know what they say… it's the most important meal of the day! Over the past decade or so, Winnipeg has seen an explosion of fantastic breakfast and brunch restaurants. From good old-fashioned bacon and eggs to innovative creations with specialty ingredients, there's something for everyone when it comes to finding an excellent breakfast or brunch in Winnipeg.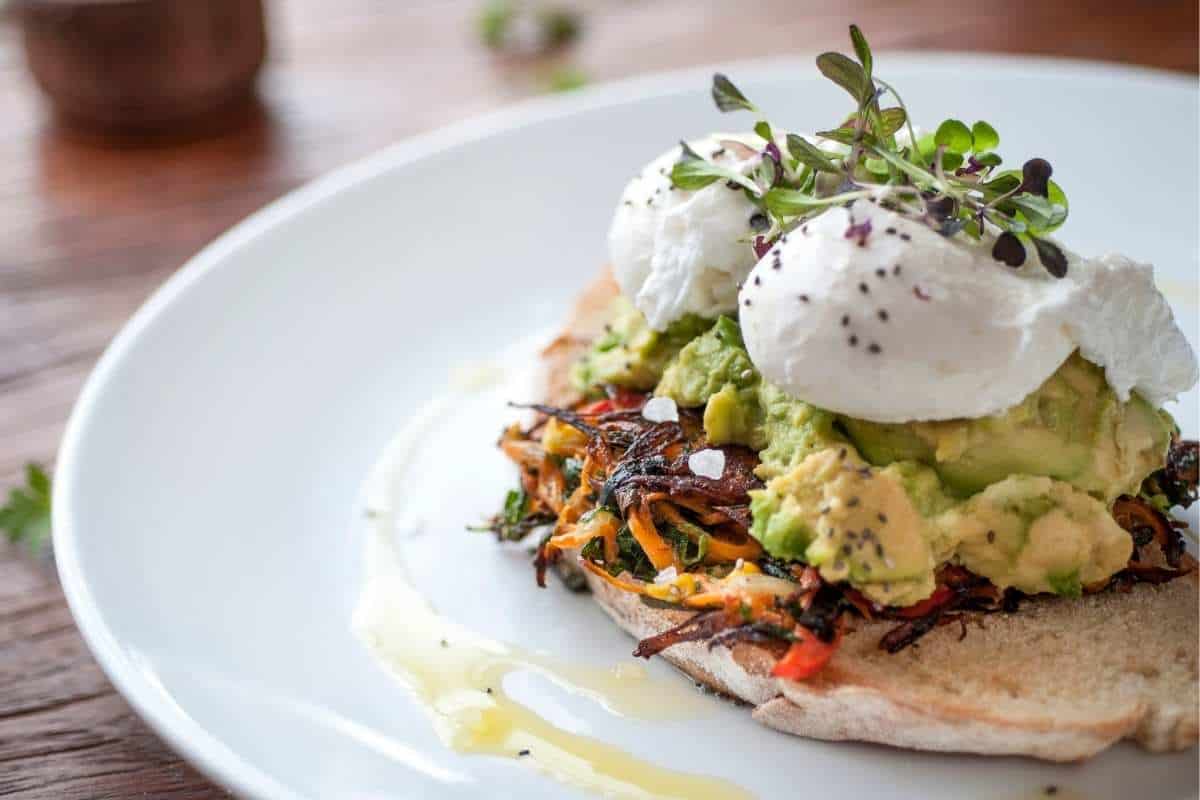 Of course, there are breakfast chains like Smitty's, Original Pancake House, Denny's, Salisbury House, Cora's, and Ben and Florentine in Winnipeg, but we thought we'd go for the more localized breakfast and brunch places below. Whether you're looking for breakfast or brunch in Winnipeg, there's sure to be a restaurant on this list that hits the spot. And make sure to check out our post on the best Winnipeg coffee shops and cafes for more!
Without further ado, here are the best places for your morning meal in Winnipeg. Don't feel like leaving home for the best breakfast in Winnipeg? Many of the following restaurants can be found on DoorDash and SkipTheDishes, too!
The Best Breakfast Restaurants in Winnipeg
The following restaurants are open early enough for breakfast in Winnipeg, perfect for the early riser! Of course, they're also all great options for brunch as well.
Pauline Bistro
Location: 112 Marion Street
Included in our post on the best restaurants in Winnipeg, Pauline Bistro is found in St. Boniface inside the Norwood Hotel. With the air of a little French bistro – think plush seating, tiled floors, and lots of sunshine – the menu offers breakfast classics with a twist, including Brioche Cinnamon Bun French Toast or Eggs Benedict with citrus hollandaise.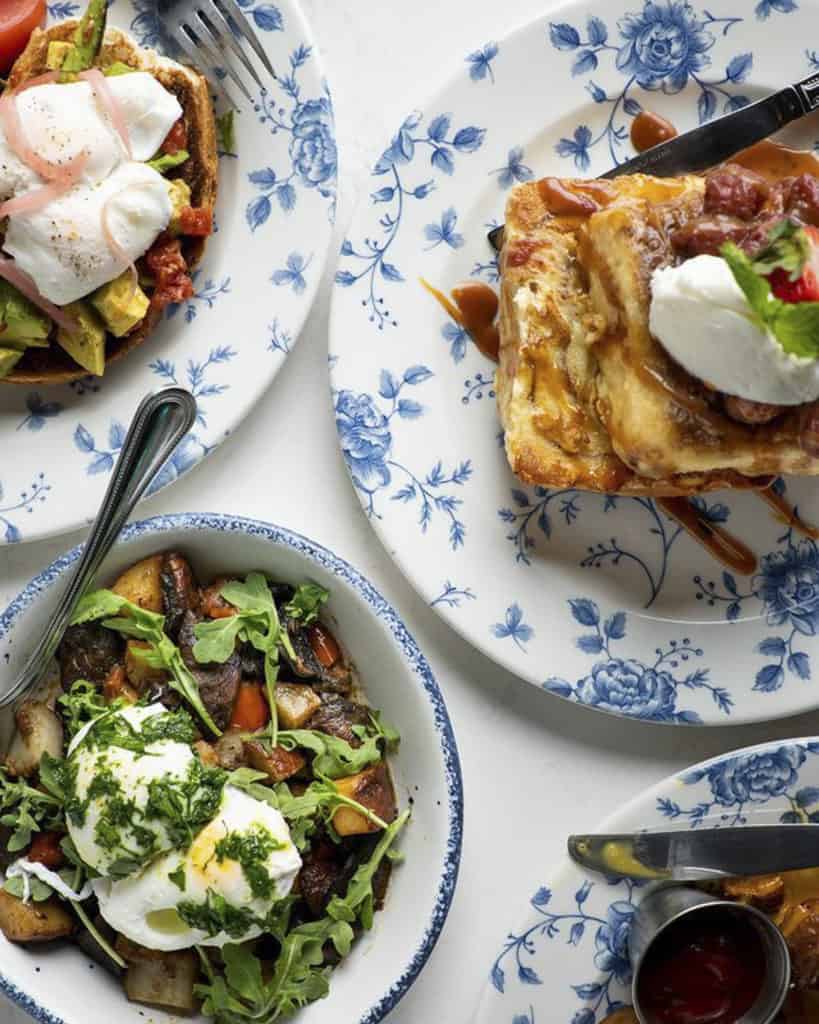 There's also a good selection of brunch options, including burgers, sandwiches, and salads; we love the St. B Smoked Meat sandwich with their house-smoked meat. Pauline Bistro is also one of the few breakfast restaurants in Winnipeg where you can make reservations.
Open every day from 9am.
Modern Electric Lunch
Location: 232 Main Street
Don't be fooled by the name… while we do indeed love this spot for lunch, Modern Electric Lunch is one of the best breakfast and brunch restaurants in Winnipeg! Fascinatingly, 232 Main Street was home to the first restaurant in Winnipeg with an electric refrigerator (so the name is a nod to the building's history).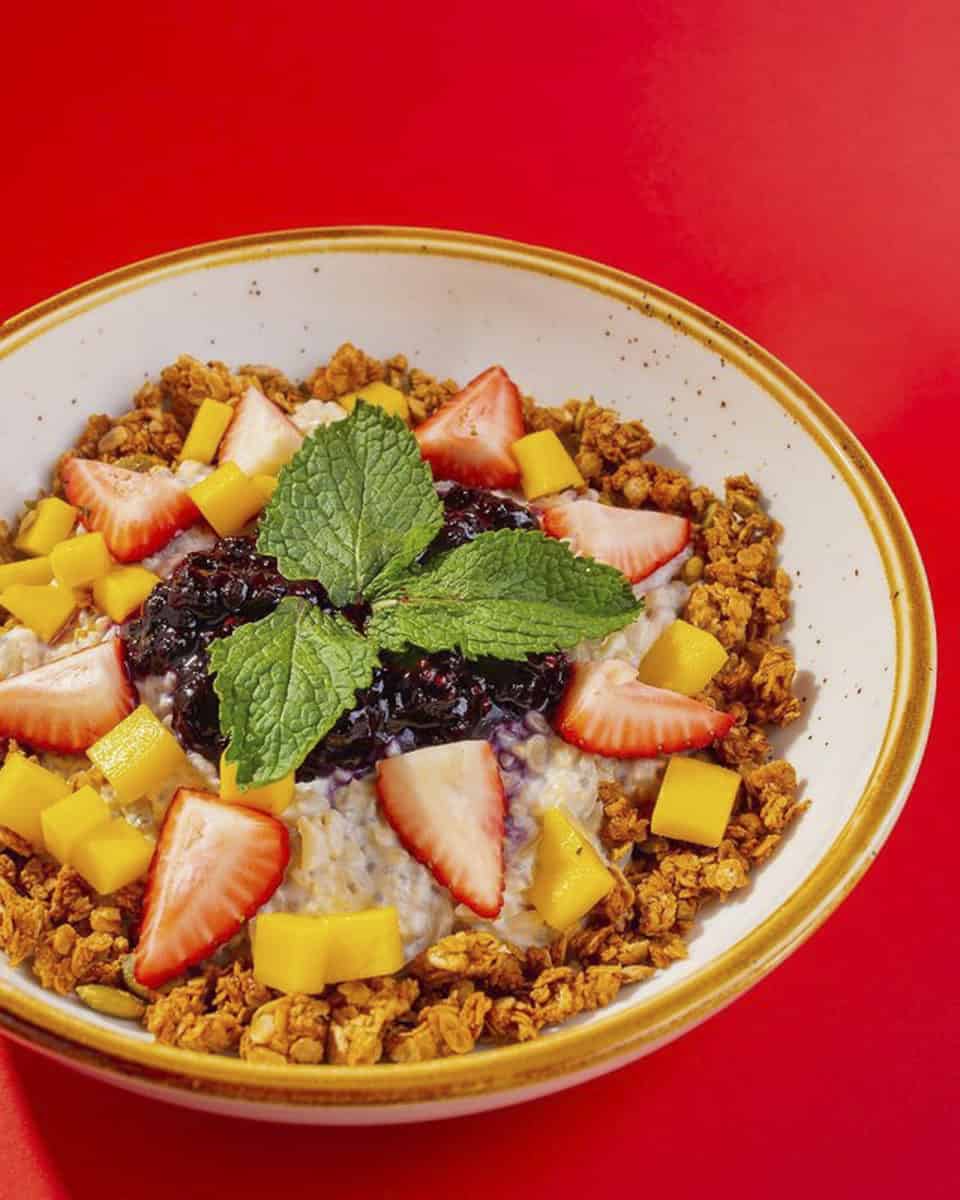 This beautiful space is perfect for a downtown meal; try the Rice Rice Baby (coconut chia and rice pudding with berry sauce, tahini granola, berries, and orange coconut whip), the Brekkie Sammie (an onion bun filled with smoked gouda, caramelized onion bacon jam, and a fried egg), or the Vegan Sam (vegan eggs and bacon, tomato pepper jam, and pickled red onions on a rye bun). Modern Electric Lunch is definitely one of our favourite spots in the city for an early morning meal.
Open Mondays through Fridays from 7:30am, weekends from 9am.
Falafel Place
Location: 1101 Corydon Avenue
Extremely well-known in the Winnipeg culinary scene, Falafel Place has been around for decades. This bustling restaurant serves Middle Eastern cuisine, with plenty of vegetarian and vegan dishes as well as gluten-free options on the menu.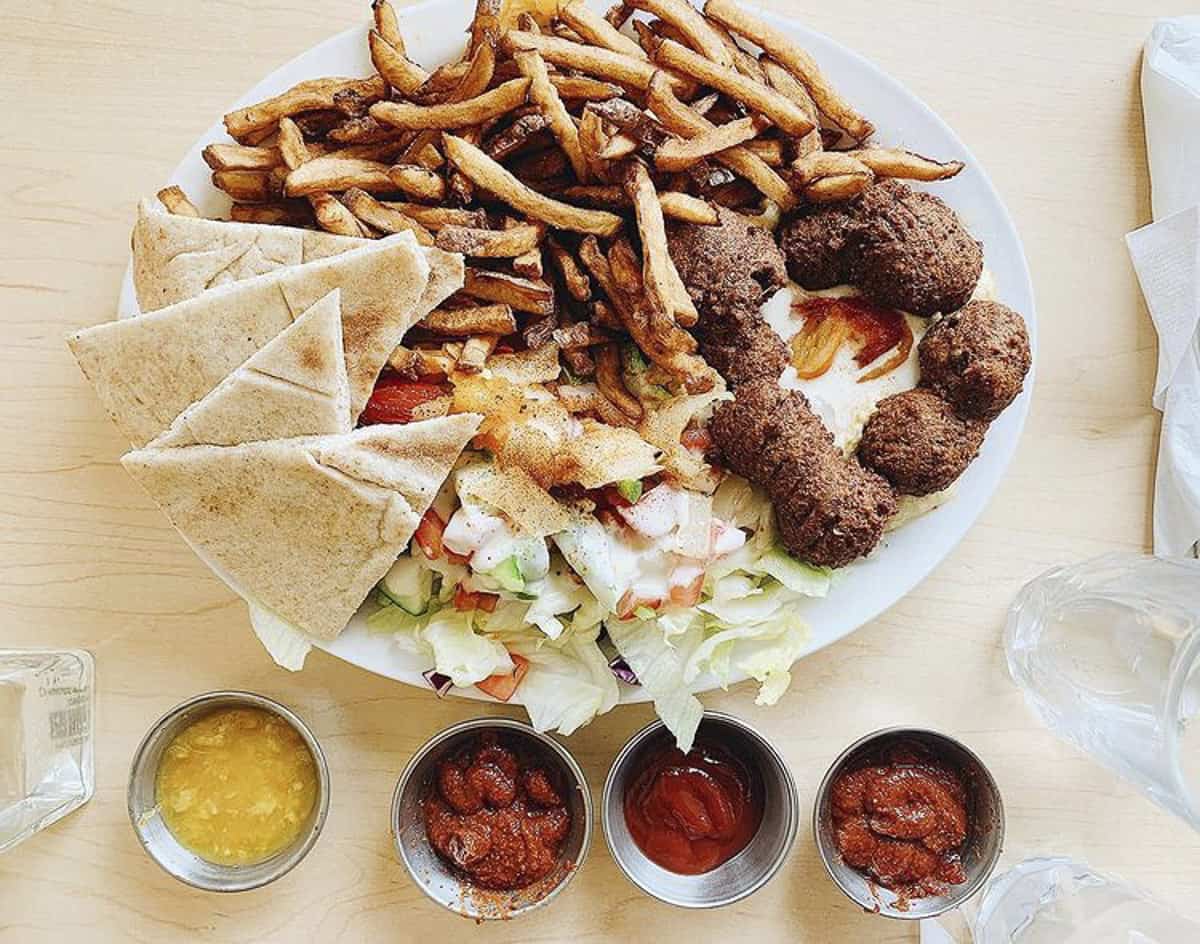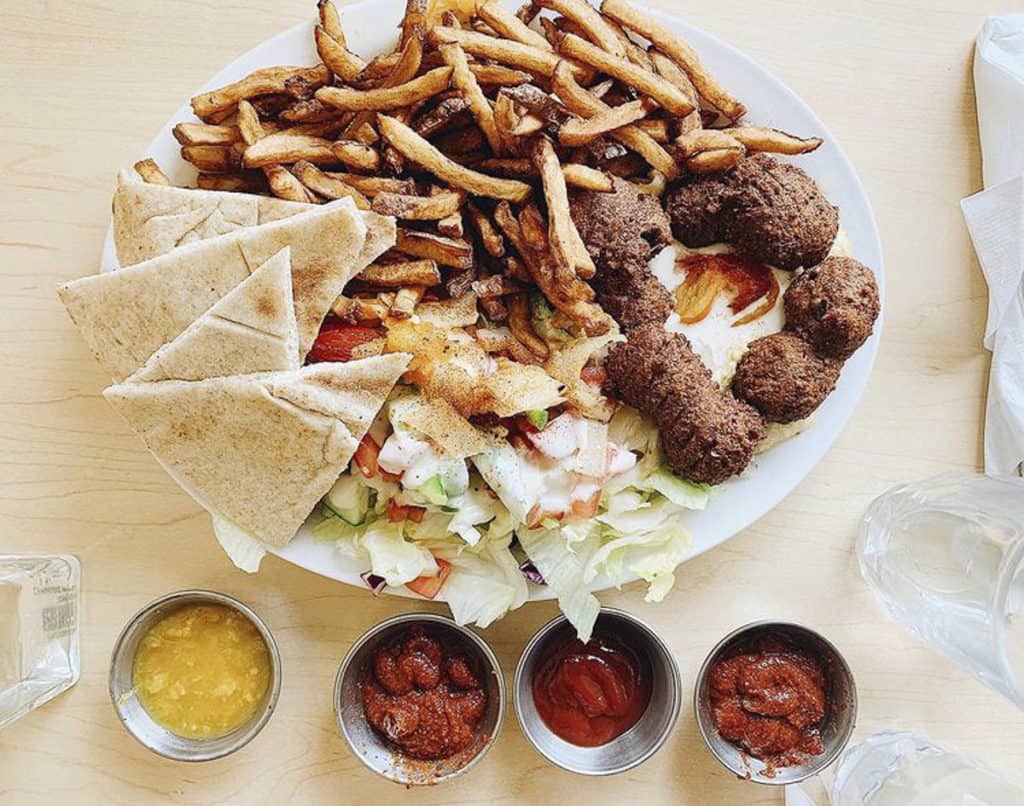 With everything made fresh daily, you know you're always going to have a hot and tasty meal (and usually have leftovers to take home, as the portions are extremely generous!). It would be hard to choose a favourite, but Road Trip Manitoba's Brenna has been ordering the falafel breakfast with poached eggs and pita since the 1990s, and it's never steered her wrong.
Open every day from 7am.
Juneberry
Location: 531 St Mary's Road
Head to St. Vital for this relatively new breakfast place in Winnipeg. Despite only opening in 2020, Juneberry has quickly shot to the top of the list of many people's favourite breakfast or brunch in Winnipeg.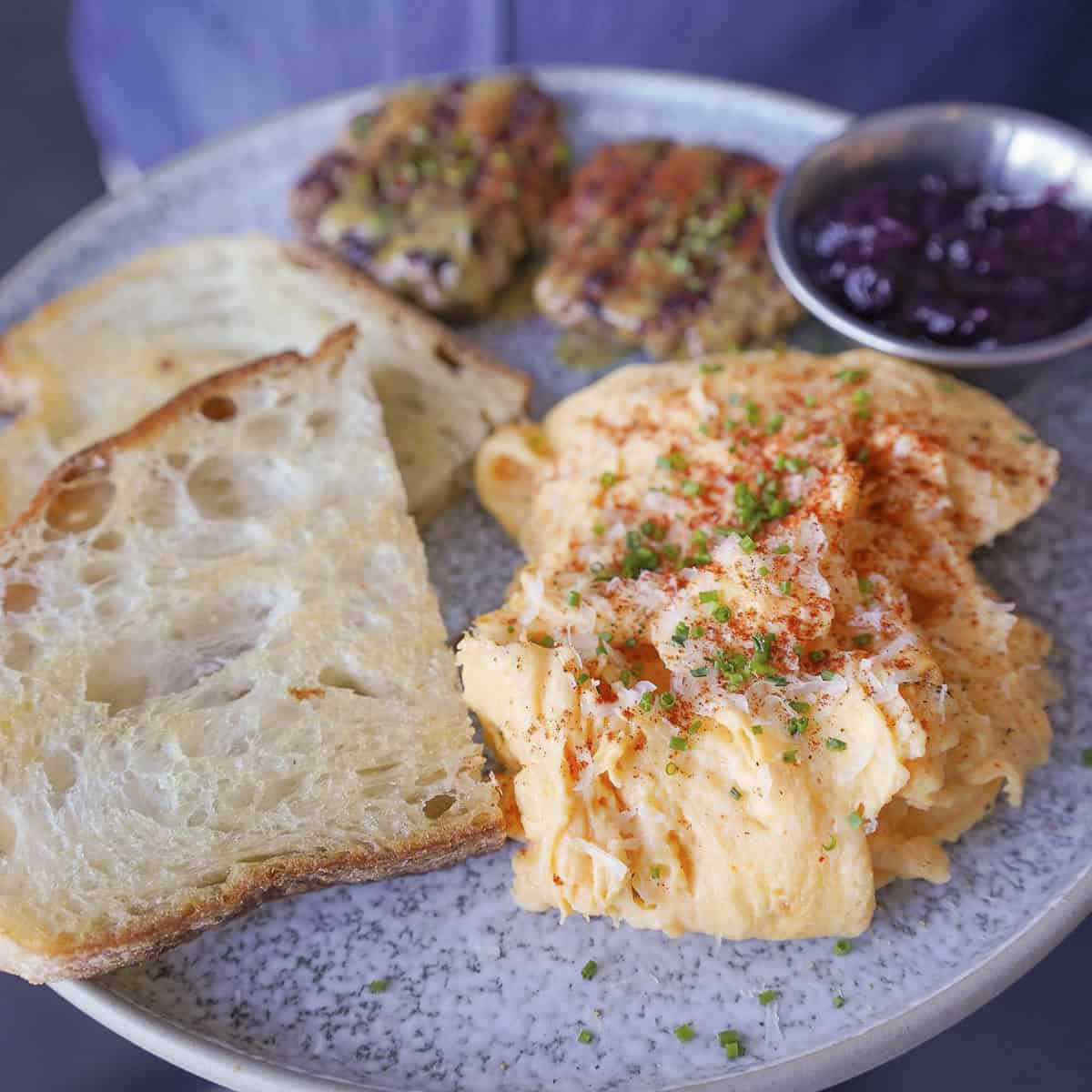 The trendy atmosphere and friendly service add to the fantastic menu, one that continually surprises and delights with its innovative approach to food. It would be hard to recommend any one dish, but the Beef Short Rib Hash, Breakfast Banh Mi, and Honduran Baleadas are out of this world. Looking to try an interesting coffee, too? Try the cardamom spice latte or the caramel miso latte for something utterly unique (and utterly delicious). The restaurant fills up quickly, so go early or join their online waitlist.
Open every day from 9am.
Clementine
Location: 123 Princess Street
For a unique brunch or breakfast that'll make you want to visit again and again, eat at Clementine in Winnipeg's Exchange District. This cozy lower-level restaurant has a modern, industrial vibe with stone walls and sleek lines.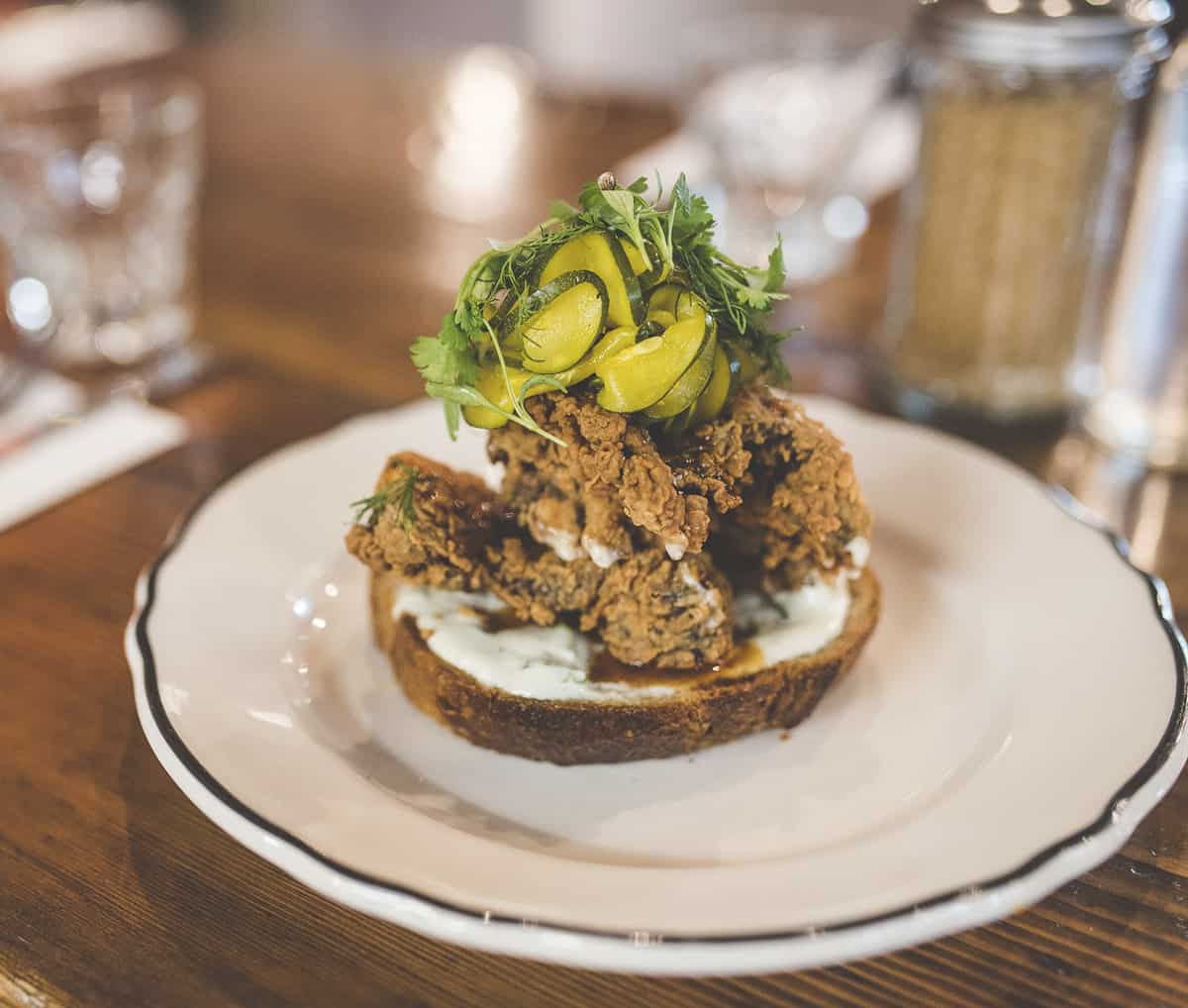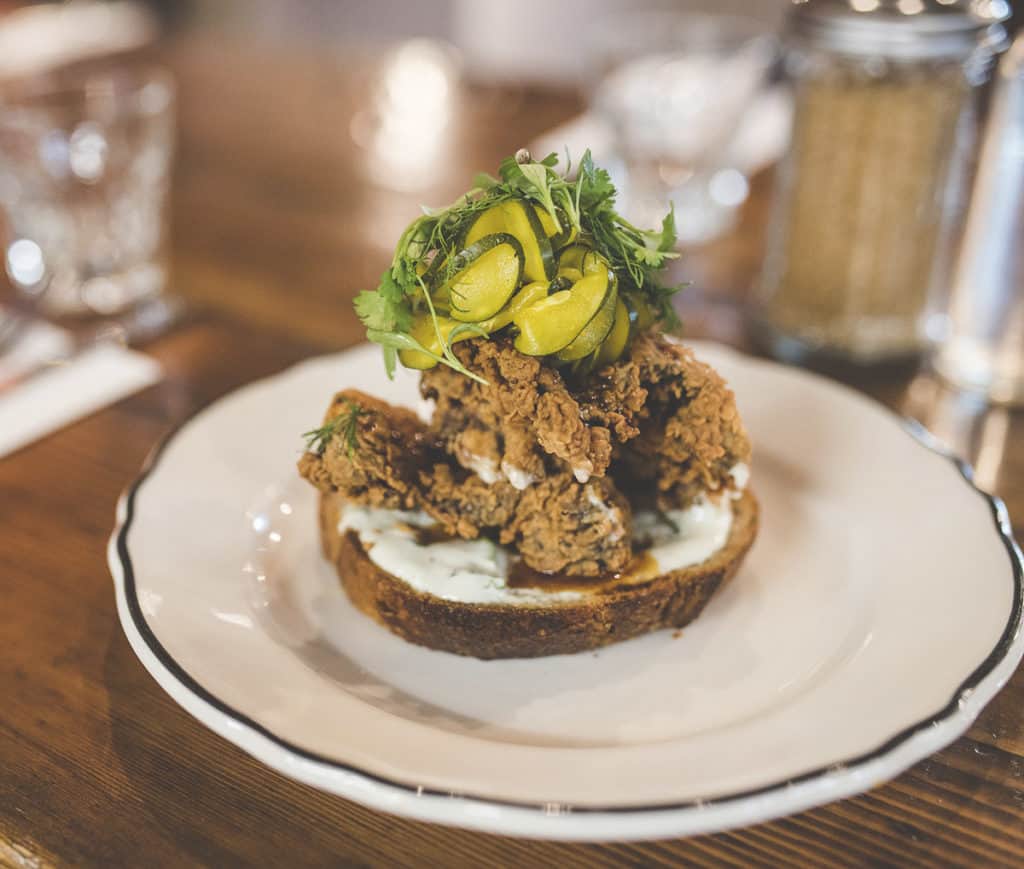 The menu is equally modern, taking breakfast and brunch classics and turning them on their head; picture a Brussels Style Waffle with hibiscus syrup and lemon curd, Turkish Eggs with chili butter, cilantro sauce, and sourdough toast, or Smoked Arctic Char with crispy potato cakes and horseradish crème fraîche. There are no reservations at Clementine, so be prepared to go early or to wait for a table… a testament to how beloved and popular this restaurant truly is!
Open every day from 9am.
Marion Street Eatery
Location: 393 Marion Street
For country-style decor and a family-friendly atmosphere, Marion Street Eatery has long been a favourite amongst Winnipeggers. Loved for its consistency as well as its flavourful dishes, the eatery is the place to go in Winnipeg when you're after a home-cooked meal.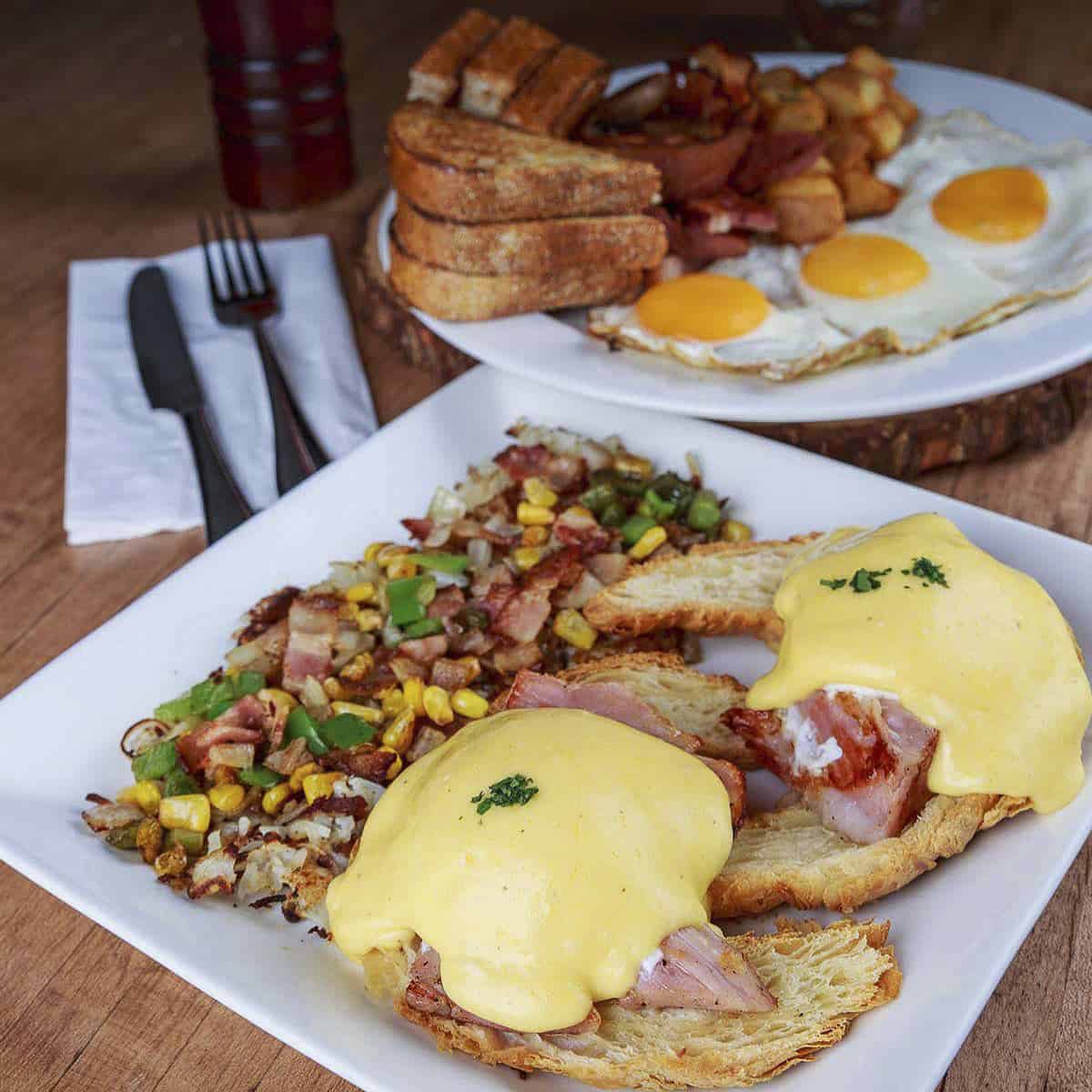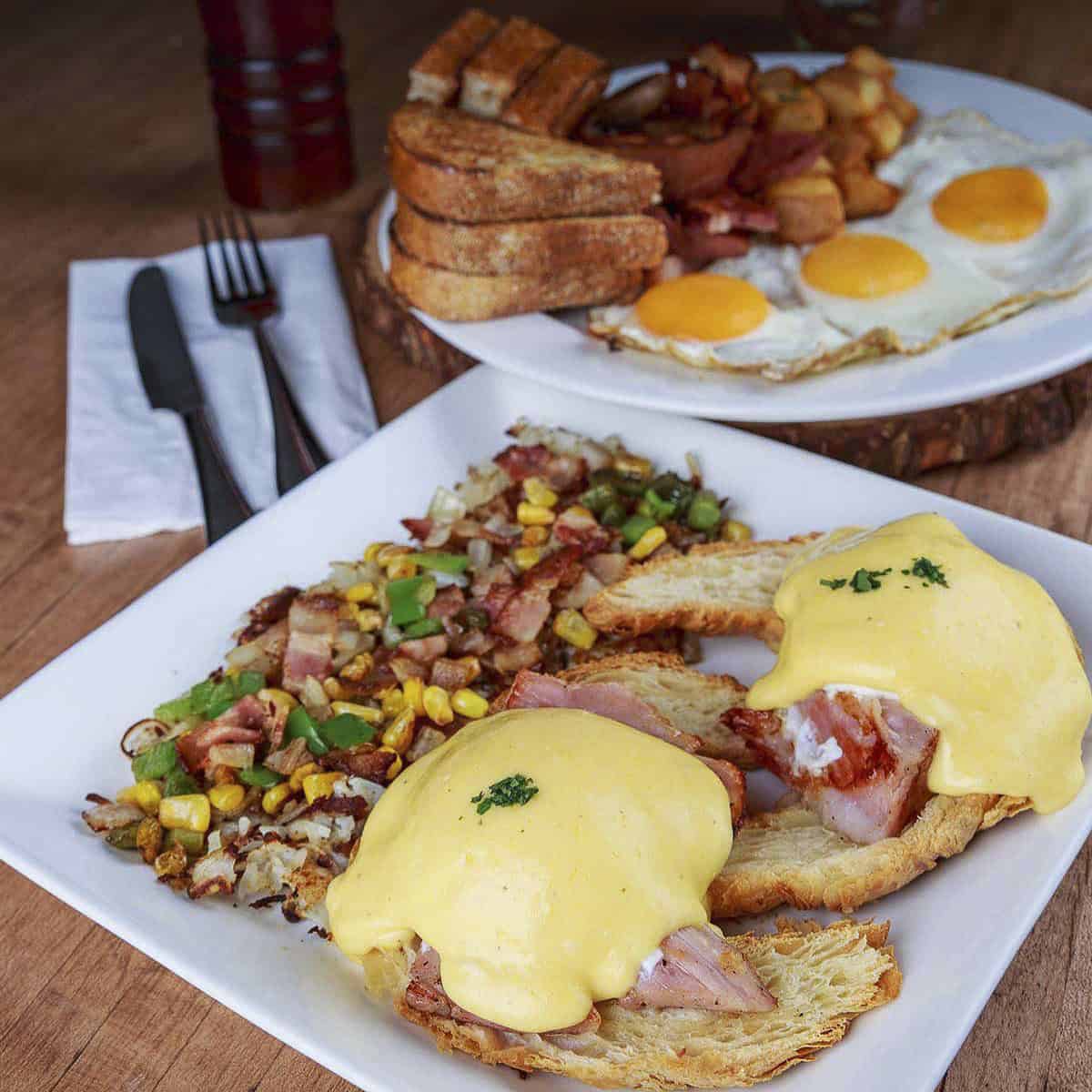 Whether you're after something as unpretentious as "The Usual" (think eggs, hash browns, sausage, and toast) or something a bit more adventurous like the Crab Cake Benny or Whiskey Apple Pancake Bowl, Marion Street Eatery has it all. Make sure to check out their weekend brunch menu, too.
Open from 7am Monday to Saturday and open at 8am on Sundays.
Stella's
Locations: Various locations around the city
Talk about breakfast or brunch in Winnipeg and someone is bound to mention Stella's; it's definitely one of the most popular spots in the city. Since the first restaurant opened in Winnipeg in 1999, there has been a lot of expansion to include multiple locations (with plans to expand even further in the city and beyond).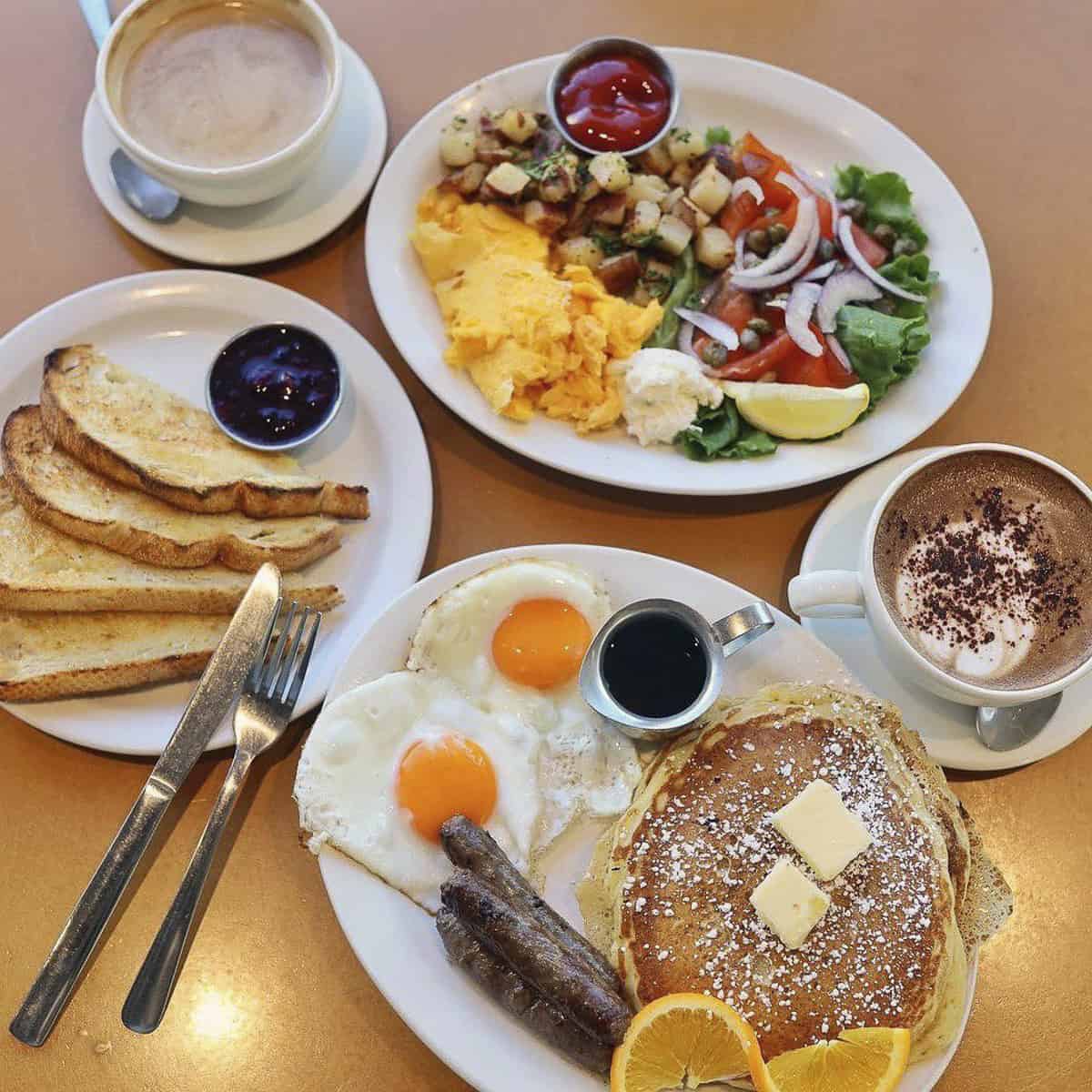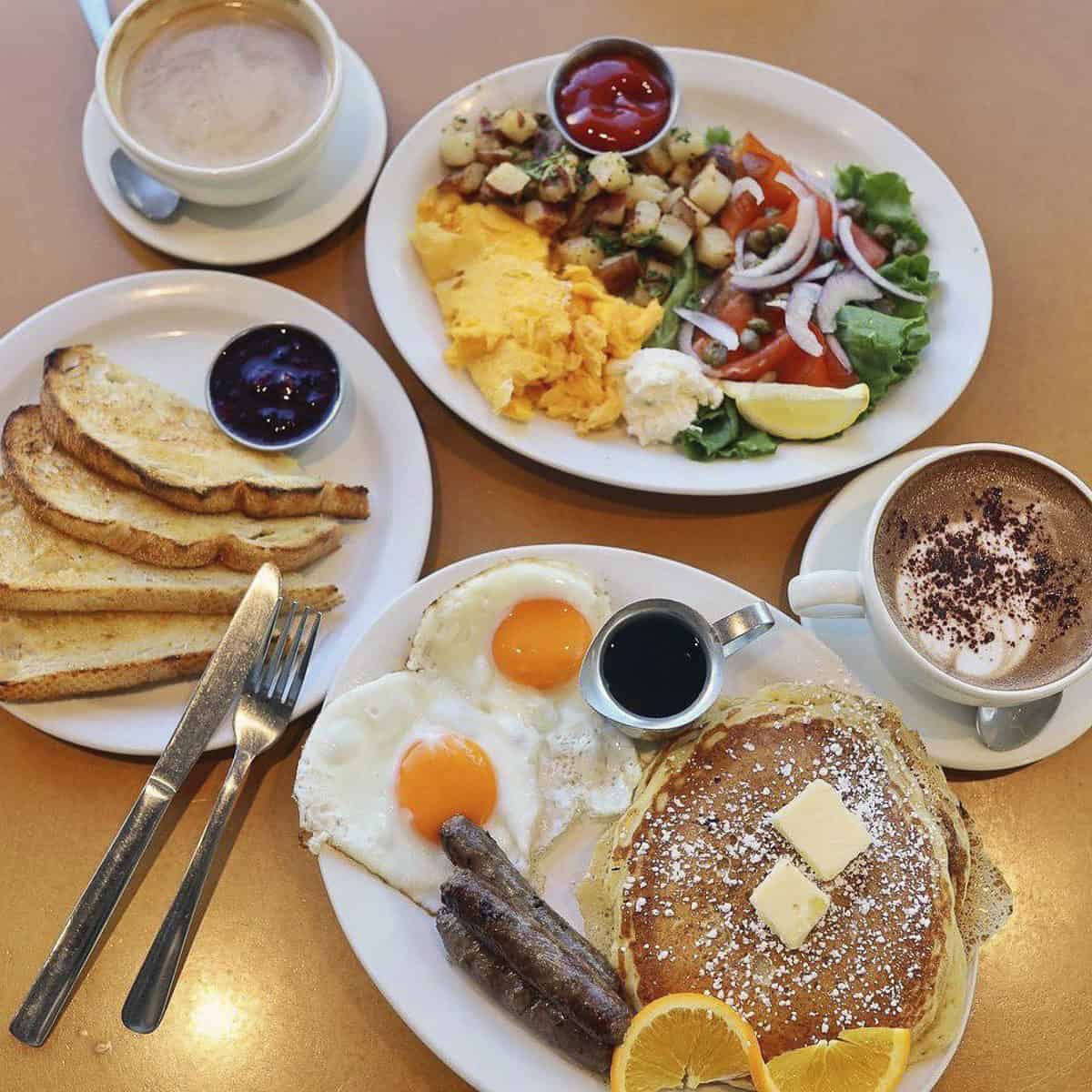 This casual eatery is known for reliable breakfast and brunch staples such as their Mexican Breakfast, Tofu Scramble, or Avocado Toast. With lighter fare, fresh pastries, and even dessert coffee on the menu, there's something for everyone at Stella's.
Open every day from 7am.
SMITH Restaurant
Location: 75 Forks Market Road
Found inside the Inn at the Forks, SMITH Restaurant is primarily known for its lunch and dinner menus, but they make a mean breakfast and brunch, too.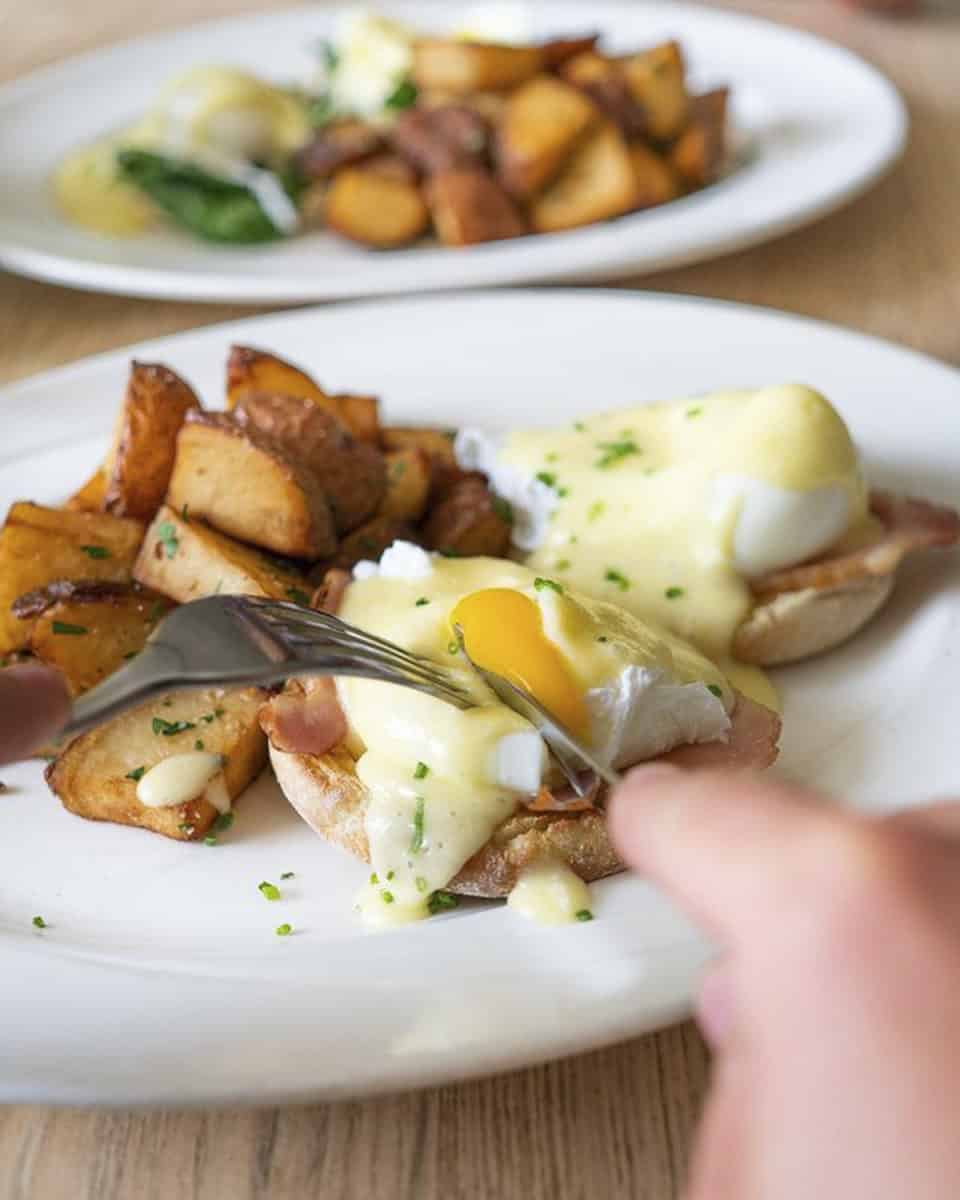 Small but effective, the menu is filled with tantalizing options such as the Three Cheese Omelette, the Breakfast Sandwich on a brioche bun, or Buttermilk Pancakes with fresh berries and Canadian maple syrup. SMITH Restaurant is the perfect spot for a memorable breakfast in Winnipeg before exploring The Forks, the Canadian Museum for Human Rights, and the rest of downtown.
Open Tuesday through Friday from 6:30am, Saturday and Sunday from 8am. Closed Mondays.
Oakwood Cafe
Location: 660 Osborne Street
Found in South Osborne, an up-and-coming neighbourhood in Winnipeg when it comes to restaurants, the Oakwood Cafe is known for its family-friendly vibe, reasonably priced food, and delectable dishes.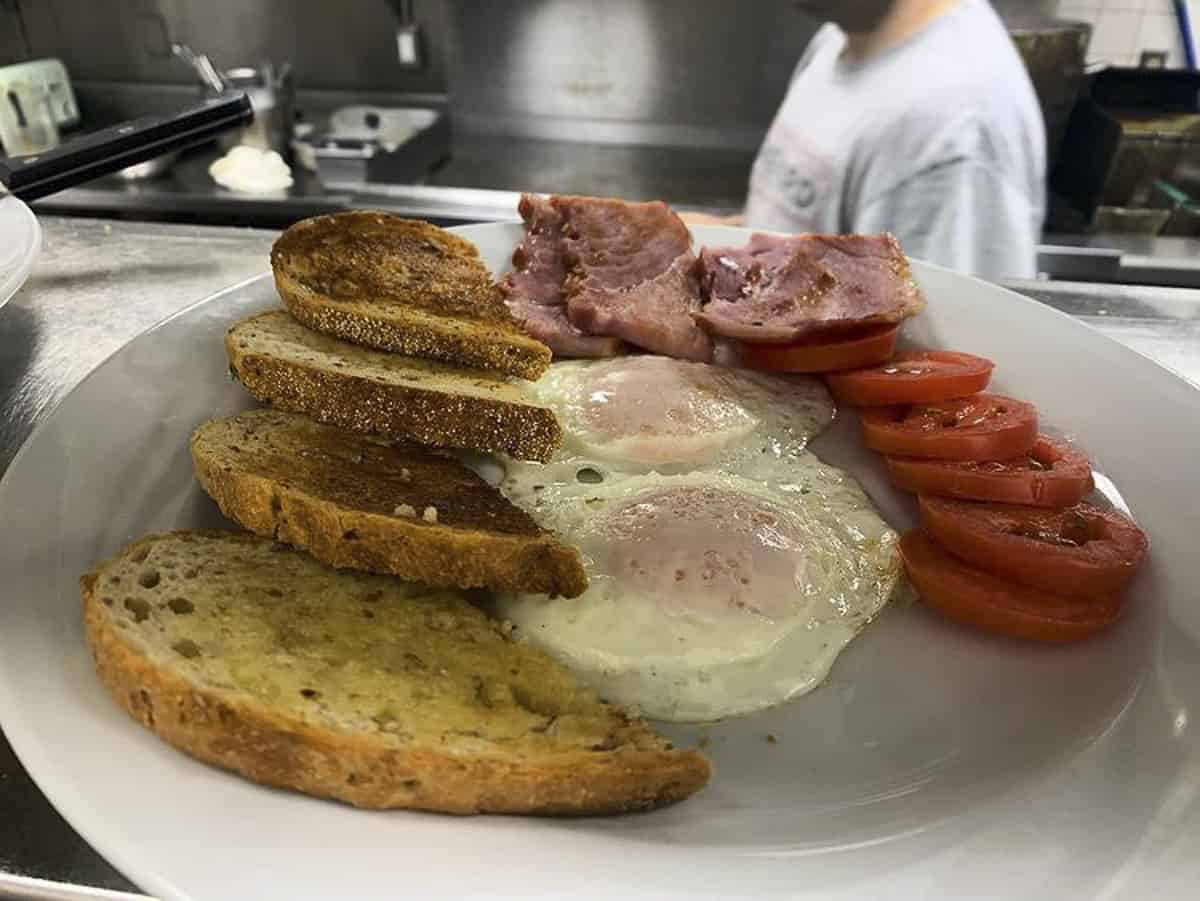 With a nod to the owner's UK roots, the Posh Beans on Toast are divine, as are the Beet Latkes, Chicken Chorizo Waffles, and Peach Bacon Pancakes. That being said, anything on the extensive menu is sure to be a winner. Bonus: they serve all day breakfast! Don't be surprised if you find yourself wanting to return again and again.
Open every day from 9am.
Park Café
Location: 330 Assiniboine Drive, on the banks of the Riley Family Duck Pond
Begin a day of exploring Assiniboine Park with breakfast at the Park Café, a large and airy space found right across from the Leo Mol Sculpture Garden. The all-day breakfast menu is packed with hearty meals and delicious treats, including the Smoked Salmon Benedict, a Breakfast Quesadilla, or Fresh Fruit and Greek Yogurt.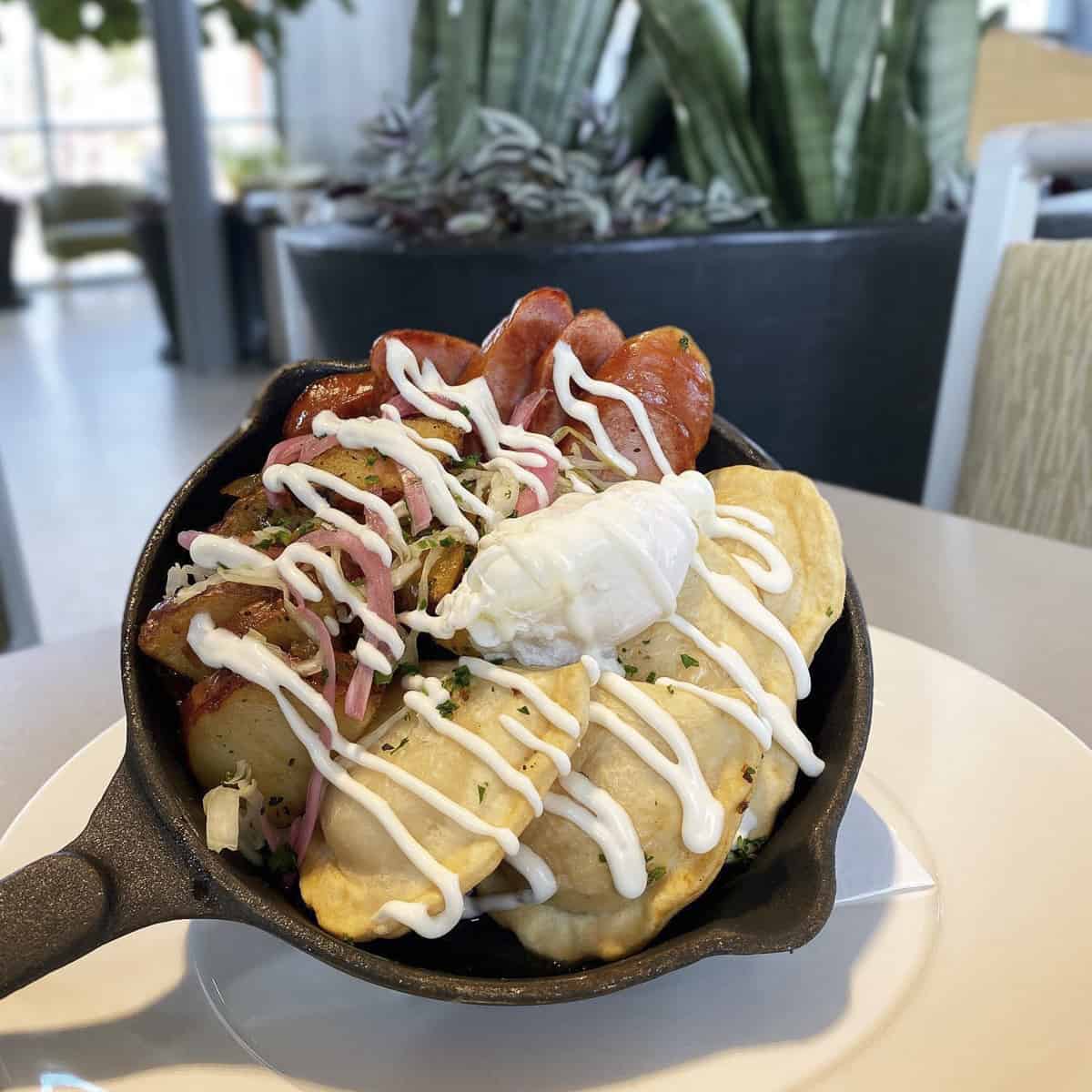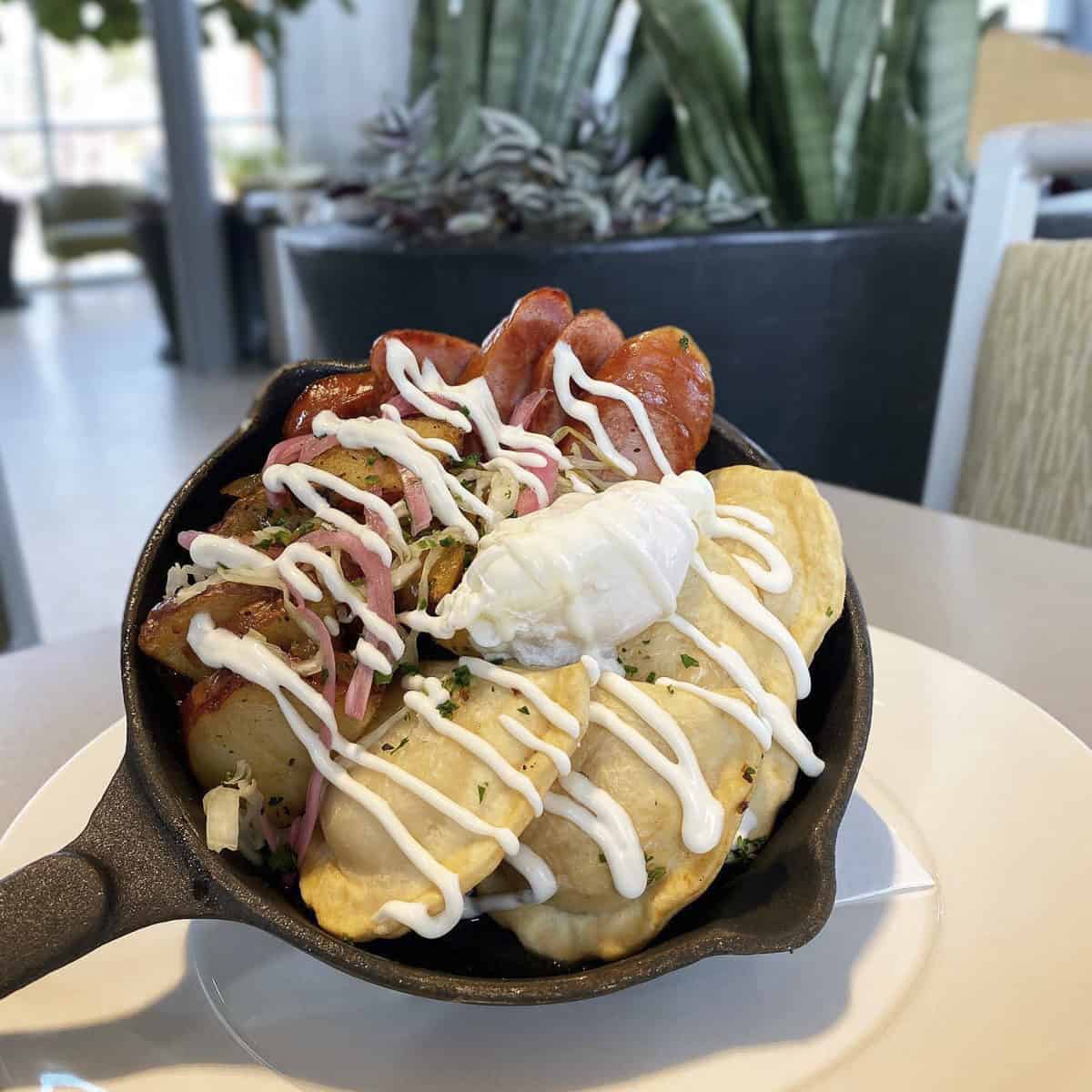 With a focus on local ingredients, all eggs used at the café are from Manitoba. After your meal, spend some time in the park or head to the Assiniboine Park Zoo.
Open every day from 9am.
Miss Browns
Location: 242 Hargrave Street (inside Hargrave Street Market)
Hargrave Street Market is one of our favourite places in the city, not only for its fun atmosphere but its incredible selection of restaurants. And if you're in downtown Winnipeg for breakfast, brunch, or second breakfast (hey, we don't judge), you want to be at Miss Browns.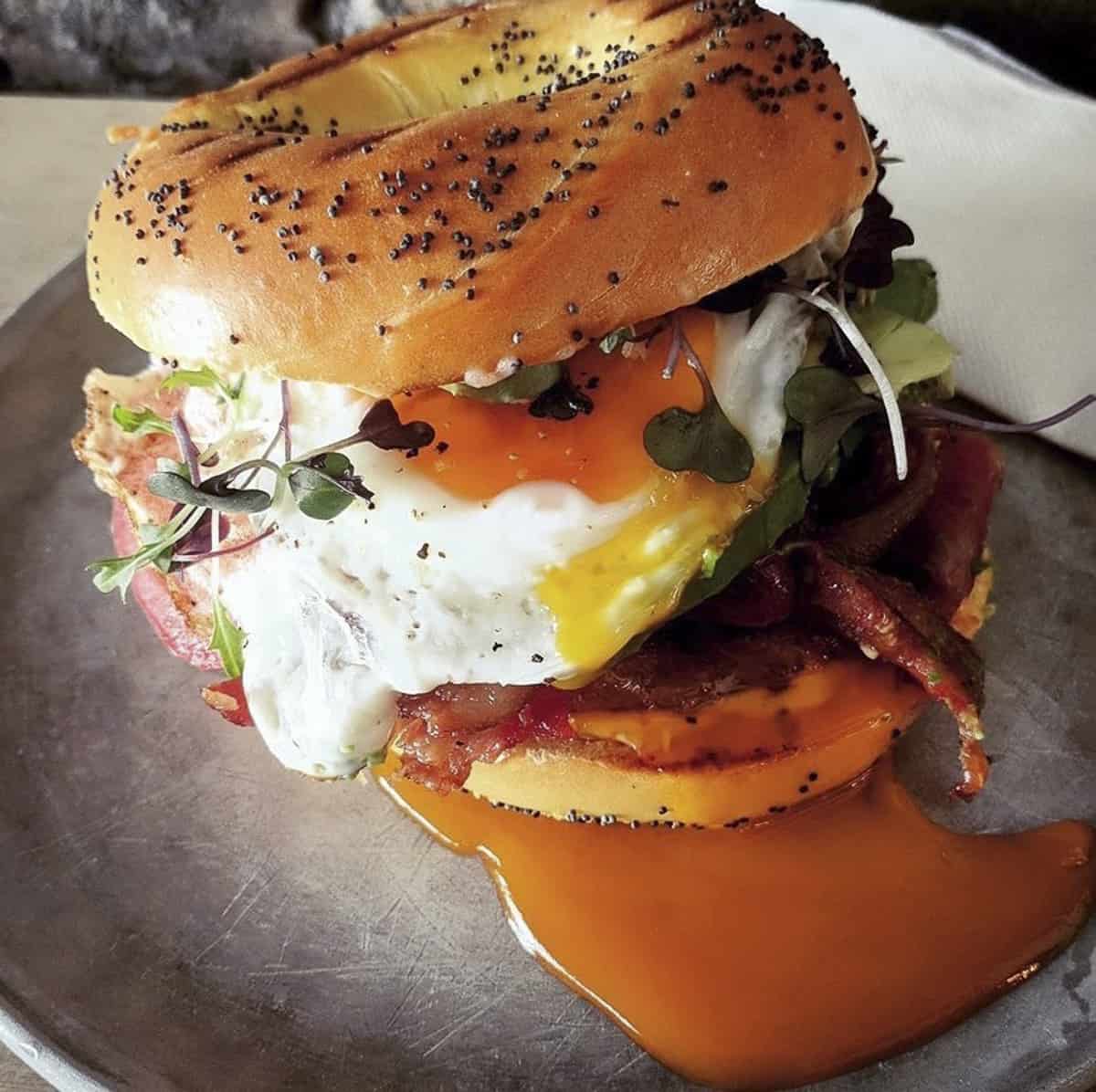 Famous for their house-smoked meat and locally sourced produce, you can eat well knowing that you're also supporting Manitoba industries. Choose from a hearty menu of items such as the Brisket Hash, Mushroom Skillet, or the drool-worthy Green Eggs and Ham Scrambler. There's also a terrific selection of bagels, sandwiches, and more.
Open every day from 9am.
French Way Café
Location: 238 Lilac Street
Found in the heart of Corydon Village, the family-run French Way Café is the kind of place that's always bustling. Make your way here for their amazing bakery and all-day French breakfast, including their sweet and savoury crepes; the menu doesn't stop there, however, as there's a varied list of options such as French toast, omelettes, fresh pastries, and granola bowls.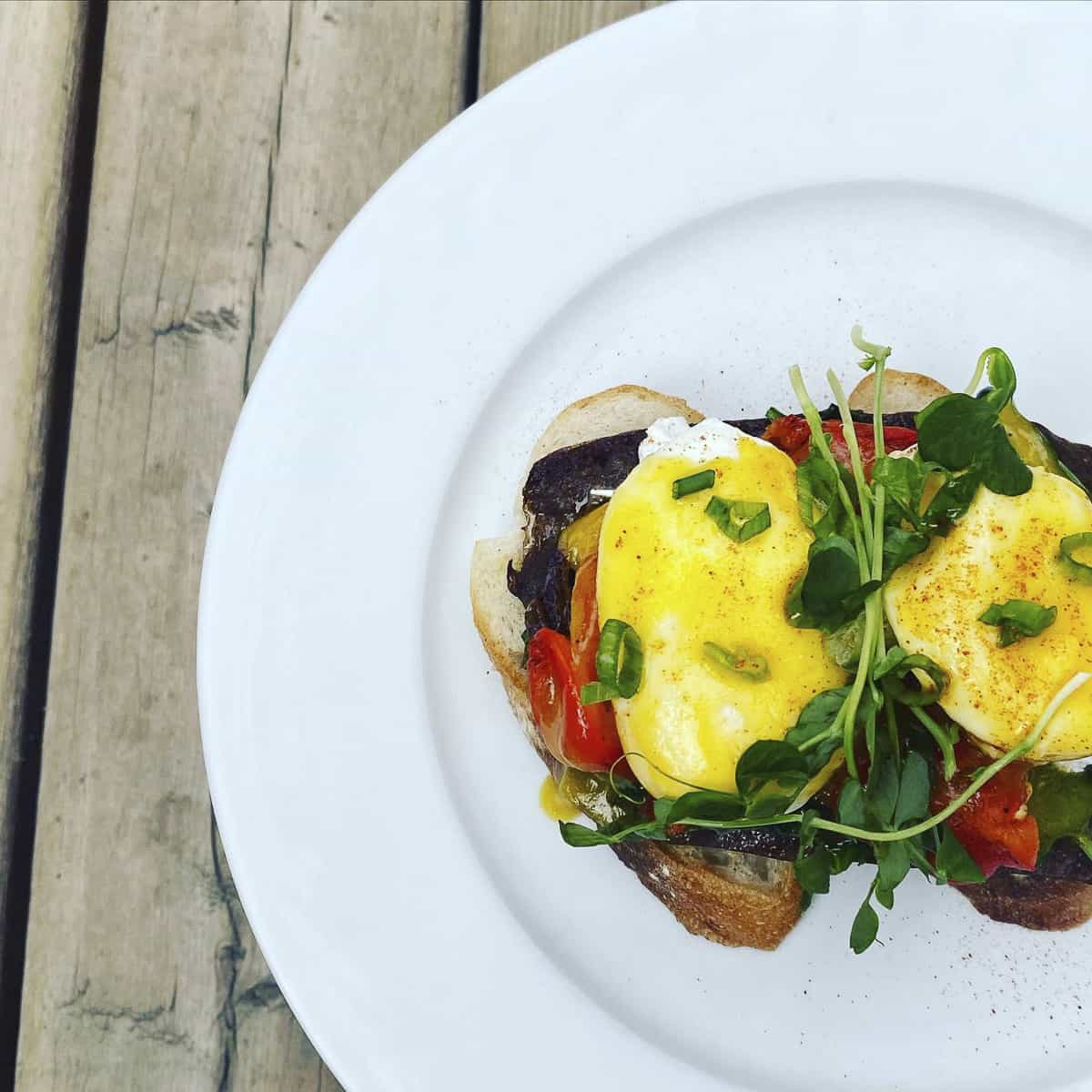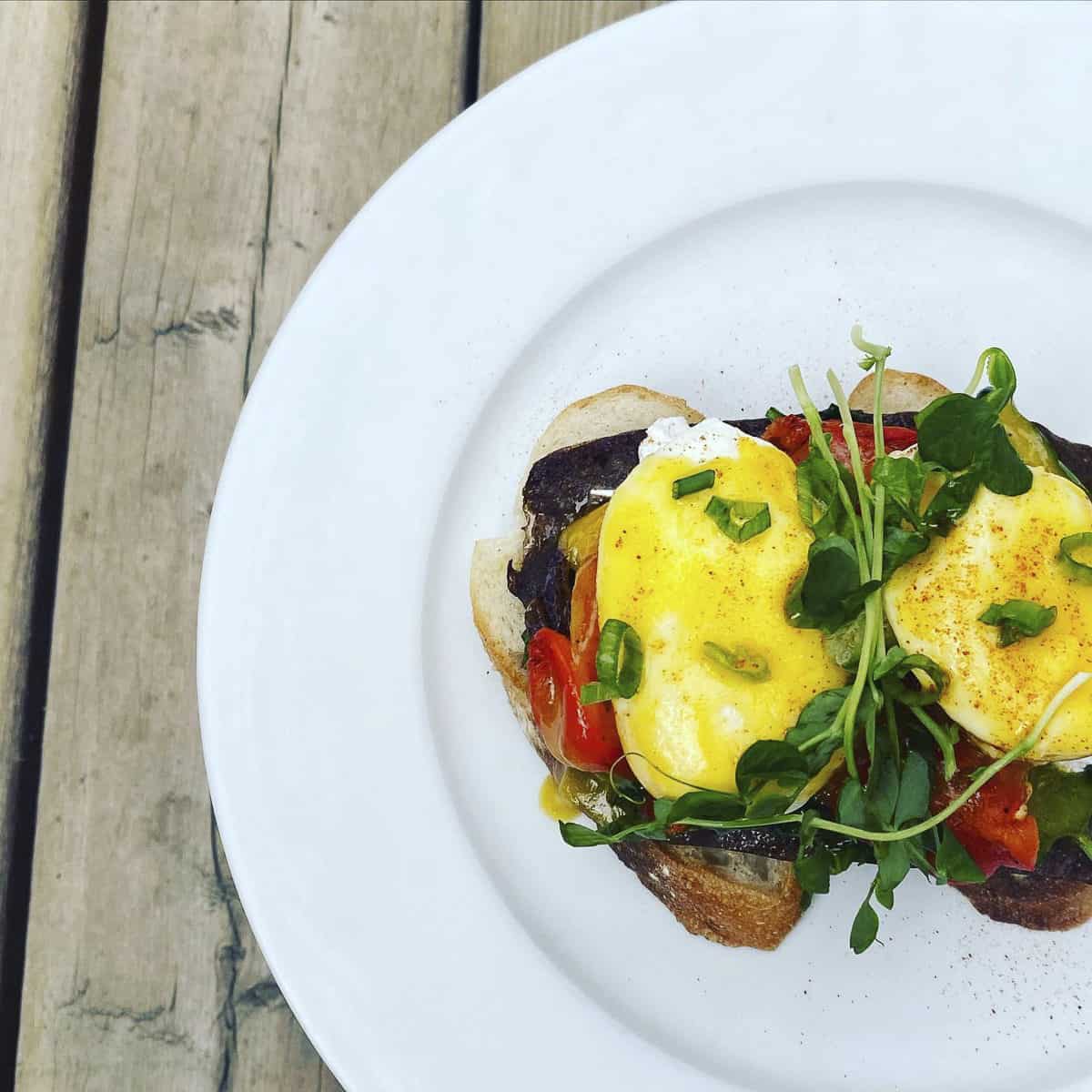 Heading here for brunch? The Dillionaire sandwich is the stuff of Winnipeg legend: a honey dill croissant with chicken breast, dill havarti, pickles, honey dill chips, and honey dill mustard. Can you get a more Manitoba brunch than that?!
Open Tuesdays through Saturdays from 7am, Sundays from 9am. Closed Mondays.
2 Kelly's Café
Location: 81 Garry Street #3 (in Fort Garry Place mall)
2 Kelly's Café is a popular downtown breakfast spot in Winnipeg. This cozy, diner-style restaurant prides itself on knowing its customers by name and sticking true to its family-run roots.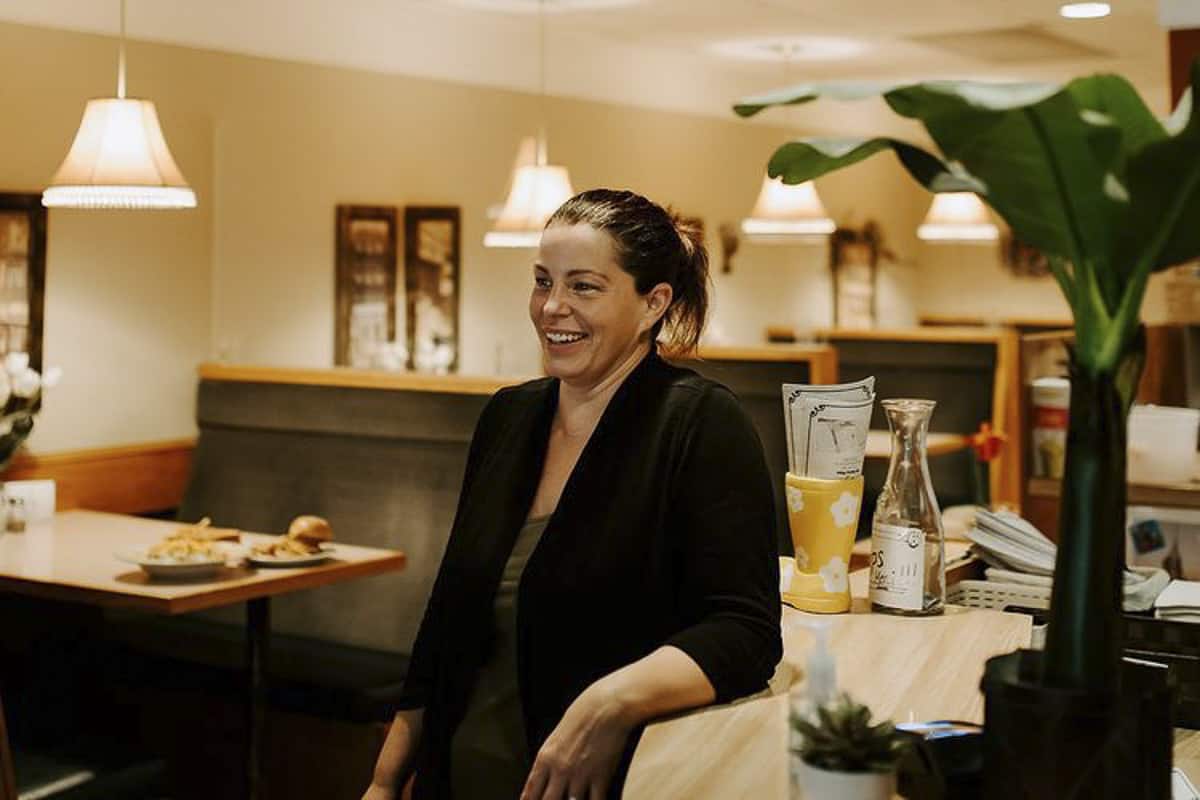 Expect filling homestyle breakfasts, including hearty three-egg omelettes and the "Classic" breakfast of two eggs any style, bacon, ham or sausage, homemade hash browns, and Gunn's Bakery toast. There's also an extensive brunch and lunch menu of wraps, melts, and so much more. If you're looking for good food served with a smile, 2 Kelly's Café is where you want to be.
Open Mondays through Fridays from 8:15am, Saturdays from 9am, and closed Sundays.
OEB Breakfast Co.
Location: 330 Main Street #100
Part of a well-known chain in other parts of Canada, including Vancouver, Edmonton, Calgary, and Toronto, OEB Breakfast Co. is a new addition to breakfast restaurants in Winnipeg. It's also one of the only restaurants on this list that opens as early as it does every day (7am), so it's perfect for those early morning risers or pre-work breakfasts!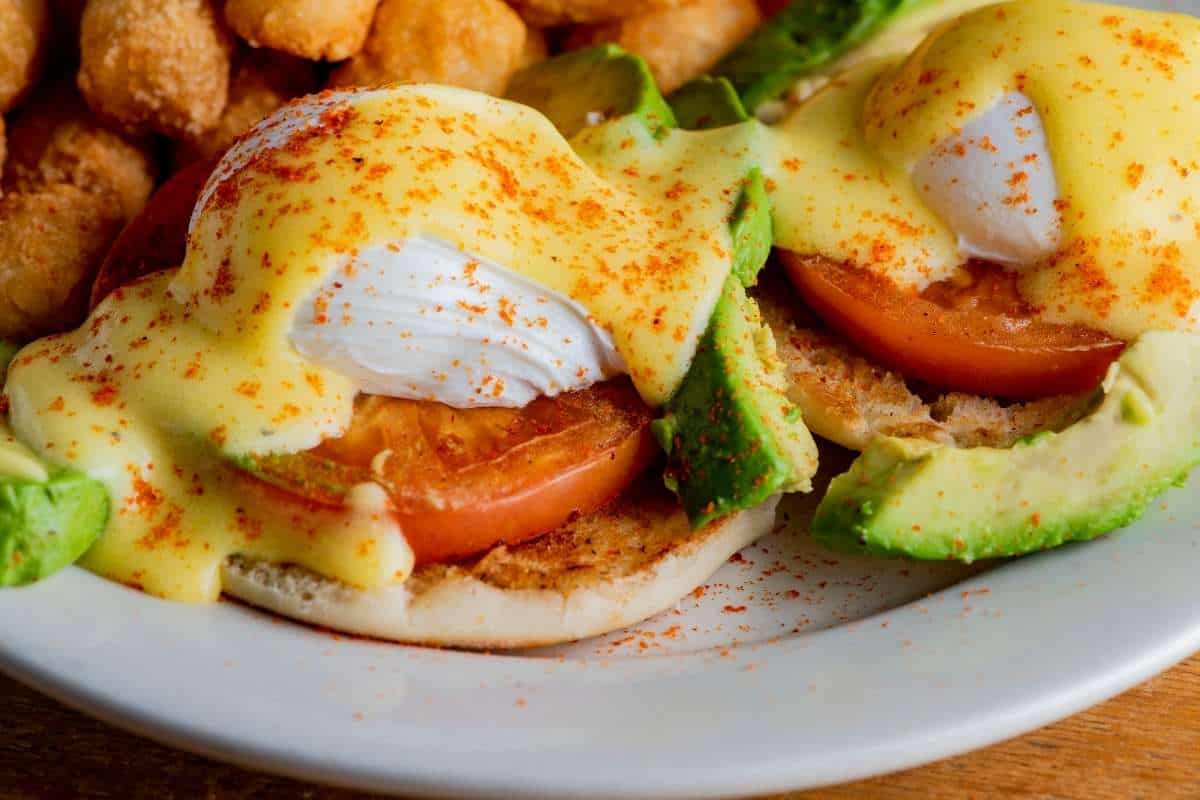 At OEB, it is believed that breakfast "should be bolstered by artistry and passion", meaning the chef-driven restaurant tries to balance classic plates with creative twists. Try one of the breakfast poutines (we love the Confit de Canard), Eggs Bennys (the Korean Bulgogi is to die for), or any one of the awesome Blue Plate Specials.
Open every day from 7am.
Bronuts Donuts and Coffee
Location: 100 King Street C
If you think donuts are considered a breakfast food, then you're our kinda people! Make your way to this bakery to pick up a sampling of some of the best donuts in Winnipeg; with an ever-rotating selection of flavours, you can happily choose a different donut every time you visit.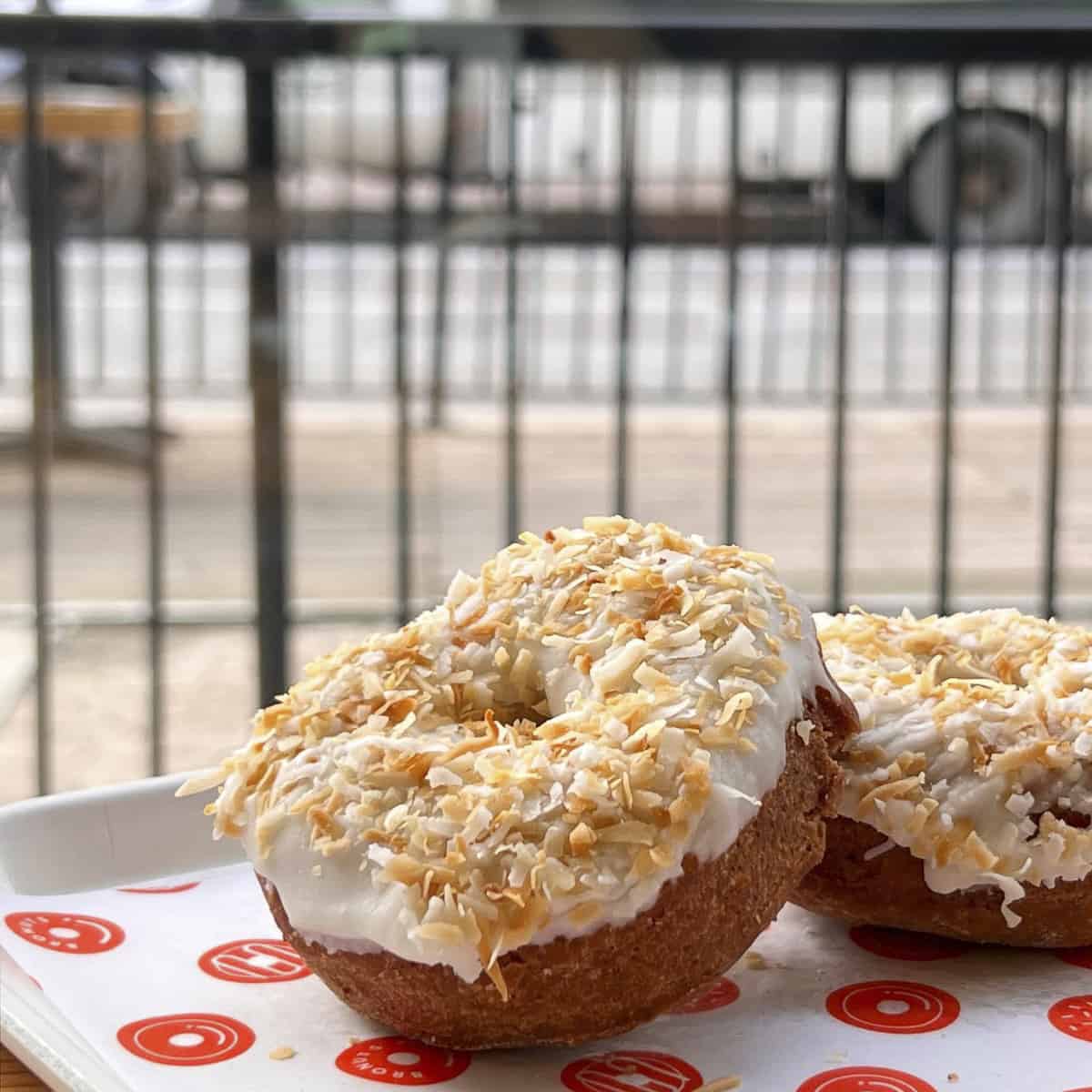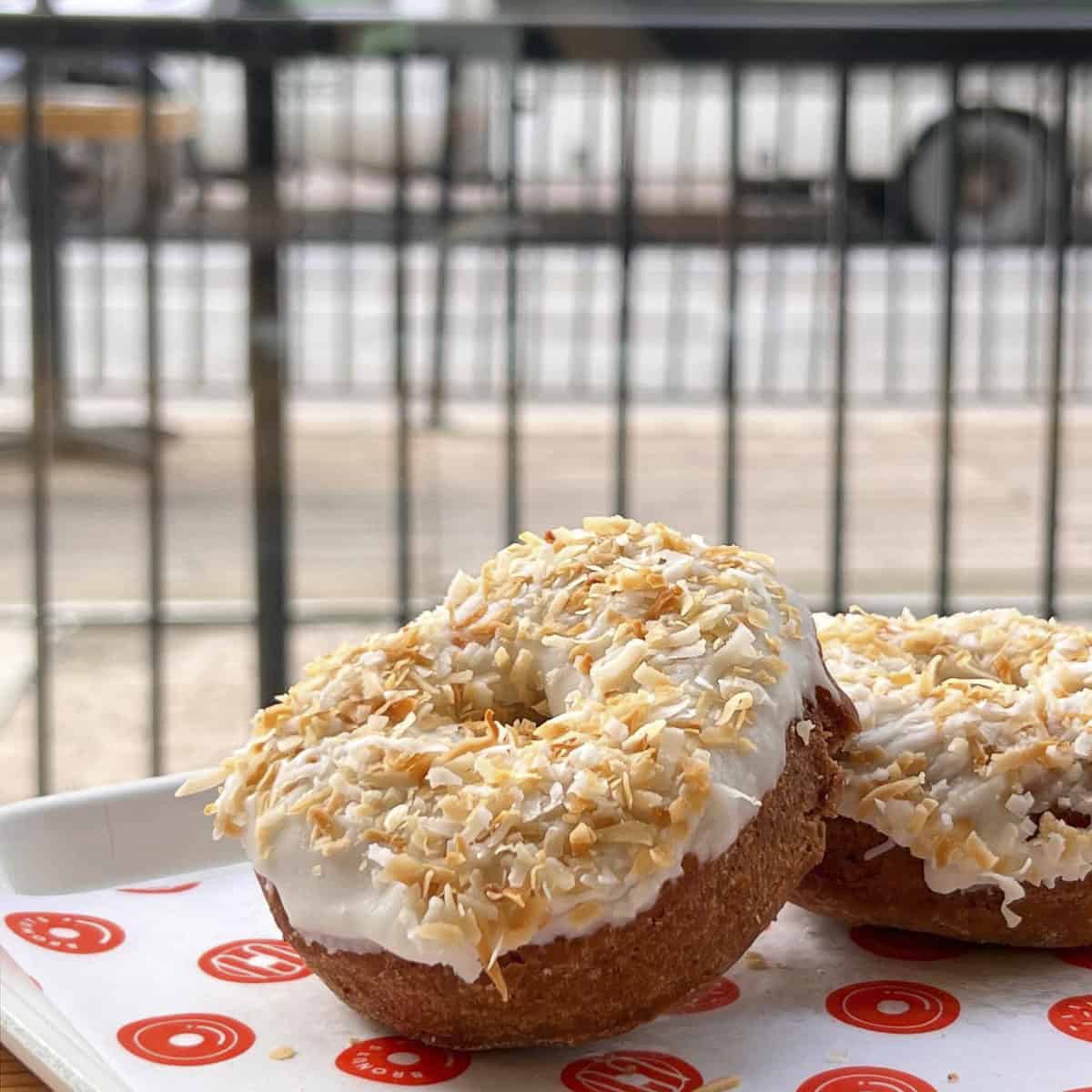 Recent additions to the Bronuts menu include the Peasant, a blueberry eclair with key lime glaze, the Darling, a peach jambuster with vanilla glaze, and the West Coast, a decadent affair of mint cheesecake filling with chocolate ganache dip. While you may not start every single day with a breakfast donut, it's a great place when you're in the mood for an early morning treat. And don't forget about their excellent coffee, too!
Open Mondays through Fridays from 7am, weekends from 9am.
Manoomin Restaurant and Onishkaan Café
Location: 460 Madison St
Found inside the Wyndham Garden Winnipeg Airport hotel, the Manoomin Restaurant and Onishkaan Café are two of the newest places for breakfast in Winnipeg. The hotel is found on Winnipeg's first urban reserve, the Long Plain Madison Reserve, and in both restaurants you'll find many ingredients from Indigenous cultures, including wild rice, berries, bannock, bison, pickerel, and more. Featuring hearty and delicious dishes, Red Seal Chef Jennifer Ballantyne provides a culinary experience to remember each and every time you visit, whether or not you're a guest at the hotel.
If you want something a bit more casual, or are after lighter fare for breakfast, the Onishkaan Café (Onishkaan means "get up" in Ojibwe) is perfect for coffee drinks, breakfast pastries, and bannock. And you have to try the house-made jam!
Manoomin Restaurant is open for breakfast from 6:30 to 10am every day. Onishkaan Café is open from 6am to 4pm every day.
Where to Get The Best Brunch in Winnipeg
The following restaurants are open a bit later than breakfast, usually around 10 or 11am. If you're looking for a relaxing brunch spot, these are for you.
D+A Café
Location: 1485 Portage Ave Unit Y017 (inside the EQ3 showroom in Polo Park mall)
One of the newer additions to the culinary scene in Winnipeg, the marvelous D+A Café can be found inside EQ3 in Polo Park Mall. Opened by renowned Winnipeg chef Mandel Hitzer (who is the head chef and owner of one of Winnipeg's most popular restaurants, Deer + Almond), D+A Café is a bright, stylish spot found inside one of the city's coolest furniture shops.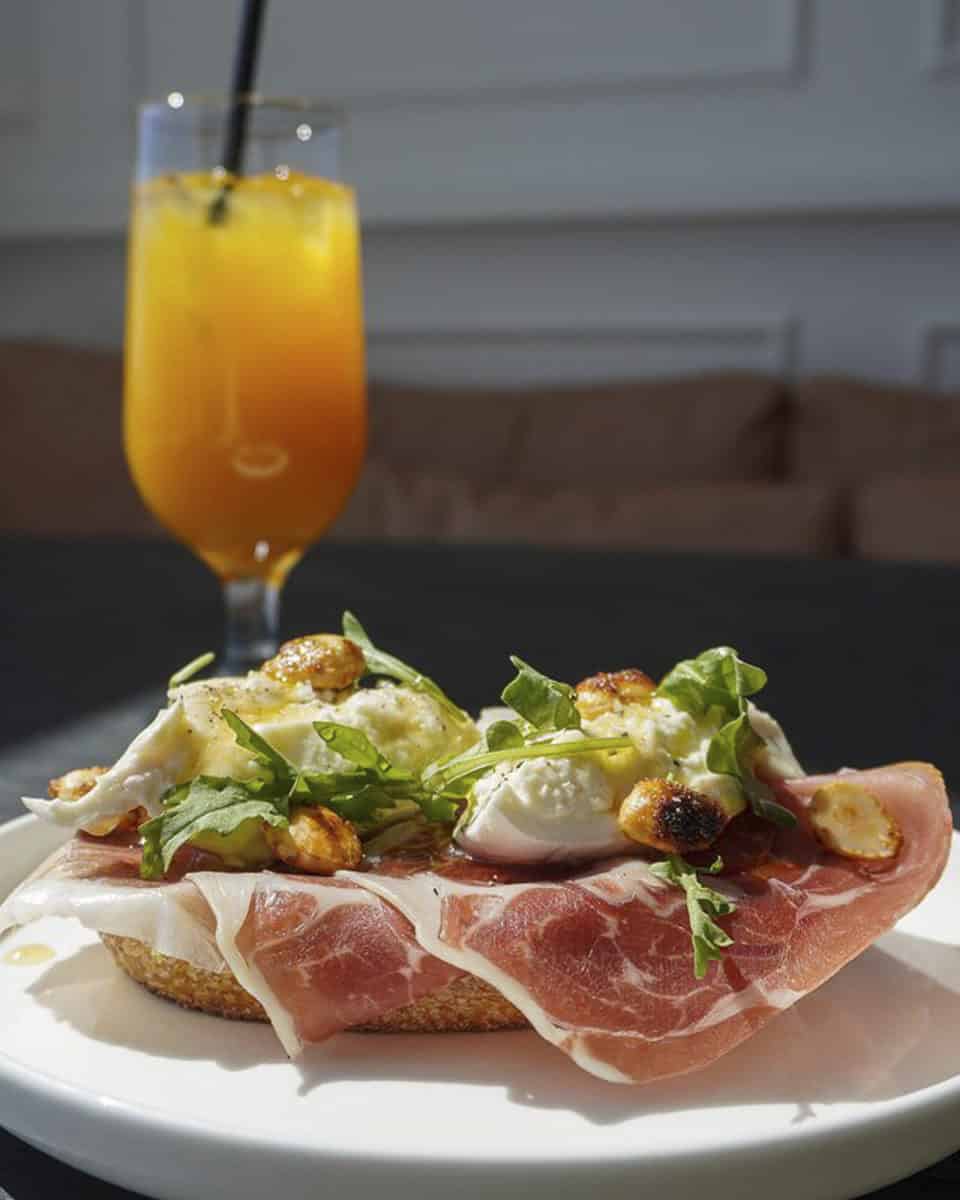 With an amazing selection of brunch items, including Burrata Toast with prosciutto and warm honey, Ham and Gruyere Croissants, and Eggs Benedict with wild trout lox, the meals here are of the highest quality. If you're looking for a spot that's sure to make your list of favourites, head to D+A Café.
There are no reservations at D+A Café, so we recommend heading there early, especially on weekends.
Open every day at 11am.
The Tallest Poppy 
Location: 103 Sherbrook Street
A favourite institution in West Broadway, The Tallest Poppy has a welcoming, laidback vibe that is sure to bring a smile to your face. This inclusive space is known not only for its friendly service and excellent food, but for its stellar events that take place throughout the month… definitely keep an eye out for drag brunch!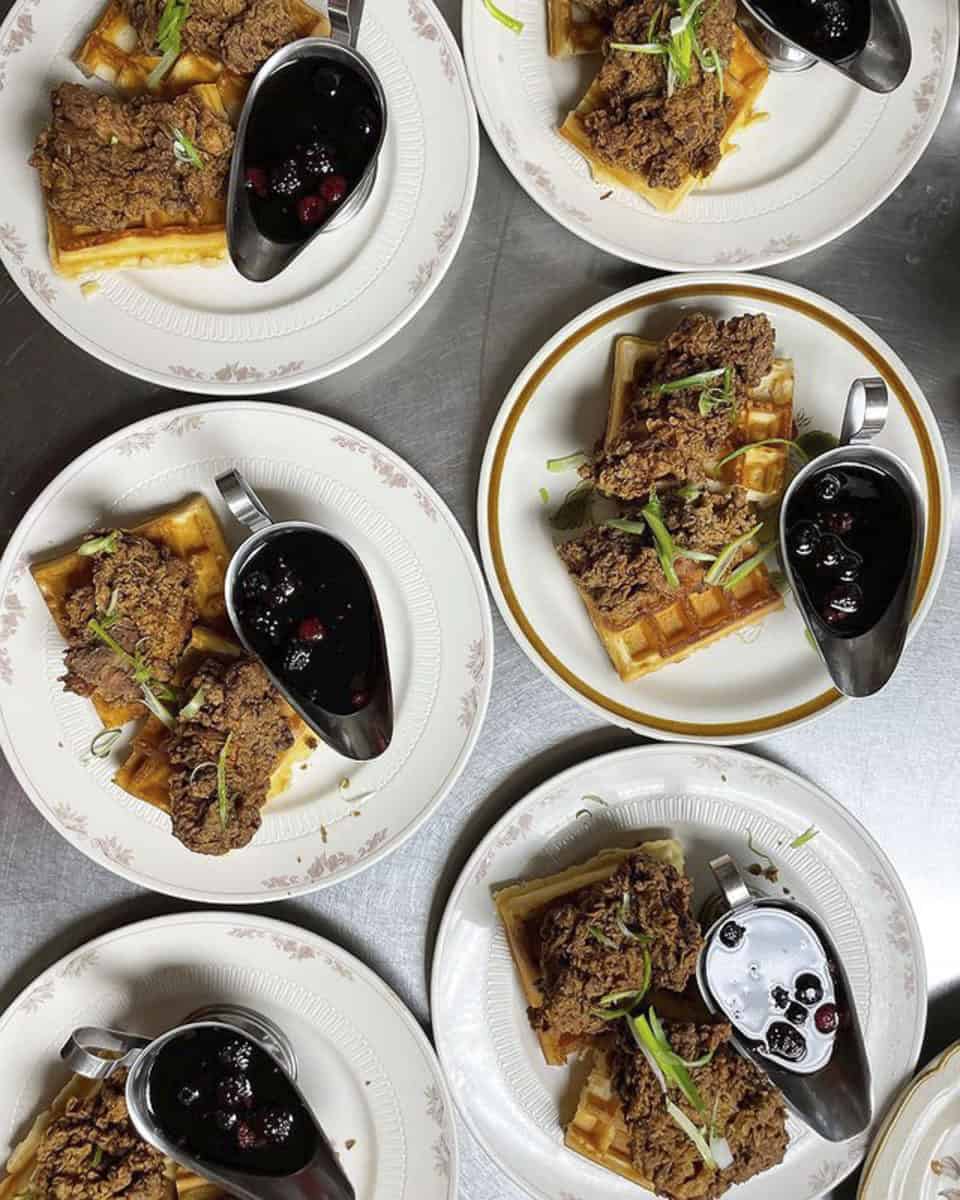 The Chicken and Waffles with berry syrup are famous in the city, but we also love the Kale Breakfast, Huevos Rancheros Tostadas, and the Latkes with poached eggs, apple sauce, and sour cream (trust us, it works). Extremely popular for brunch in Winnipeg, especially on weekends, head here early to snag a spot.
Open from 11am Tuesday through Thursday and from 9am Friday through Sunday. Closed Mondays.
Feast Café Bistro
Location: 587 Ellice Avenue
Chef Christa Bruneau-Guenther started Feast Café Bistro to showcase "modern dishes rooted in First Nations foods". The all-day breakfasts do exactly that, with innovative and delicious twists that blend well-known breakfast dishes with Indigenous cuisine.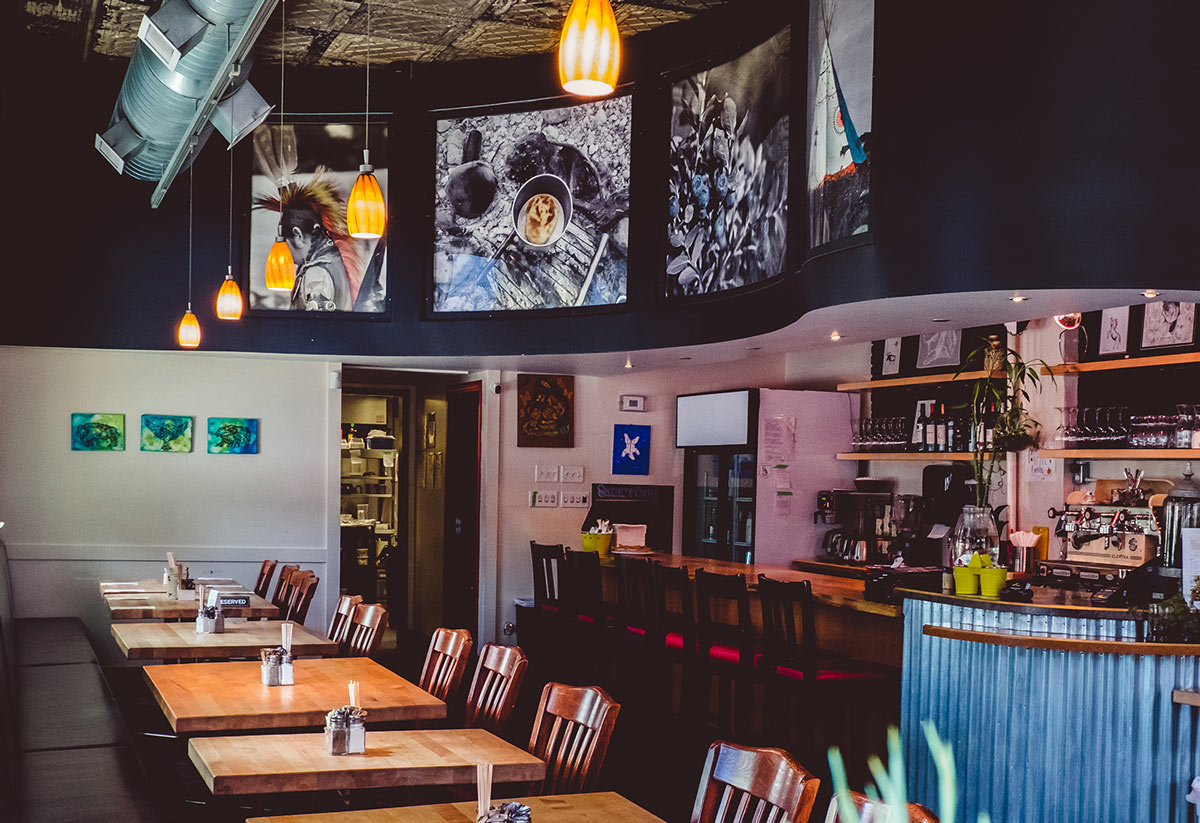 Try one of the spectacular Eggs "Banny", Eggs Benedict served on bannock (we're huge fans of the bison version, made with Manitoba grass-fed bison sausage). The Breakfast "Tipi" Taco is also divine, with an explosion of flavours that include eggs, pinto beans, salsa, and Bothwell cheese served on bannock.
Open Tuesday through Saturday from 11am. Closed Sundays and Mondays.
Never Better x Bonnie Day Café
Location: 898 Westminster Ave
As Bonnie Day has been one of our favourite restaurants in the city since it opened, we're thrilled that there's a brand new addition to the spot with the opening of the Never Better x Bonnie Day Café. Although you can certainly get breakfast here, too – it's open at 8am – we personally love visiting for brunch so that we can indulge in one of their fantastic cocktails; the Espresso Old Fashioned is divine!
Alongside delicious coffee, tea, and cocktails, you'll find a solid menu of lighter items such as banana bread, scones, or a granola and yogurt parfait at this Wolseley, Winnipeg restaurant. Hungry for more? There are also breakfast buns, sandwiches, soup, salad, and one of our top picks, the Vegan Banh Mi (with marinated cauliflower, vegan pate, pickled veggies, and spicy mayo). We love the atmosphere at Bonnie Day, and love that it's in one of the coolest neighbourhoods in Winnipeg to boot.
Now that you've gotten your day off to a great start, let's fill it with all kinds of activities! Don't miss out on reviewing our guide of things to do in Winnipeg, and also the best Winnipeg museums to check out.
Want to hit the road on a spontaneous journey out of the city? We've also got some ideas on the best Manitoba road trips! And if you've decided that you would rather just grab some pastries before hitting the road, here are our fave Winnipeg bakeries to fill you up.

link