When it comes to Father's Day brunch, most of us fall into one of two camps. We're either booking tables at our family's favorite brunch spot weeks in advance, or we've been compiling recipes for months. Of course, there's a bit more nuance woven into both scenarios (is it even brunch if your meal starts after noon?!). And if the latter is your go-to way of celebrating the paternal figure(s) in your life, there are a lot of decisions that need to be made.
Planning a multi-course menu or a brunch that's composed of varying sweet and savory plates is a tall order. But it's also a fun, inspiring project that we love to take on. There's little that beats the opportunity to curate our dad's favorite dishes—after all, food has a way of being synonymous with love.
On that sentimental note, let's dive in. We've curated the best Father's Day brunch recipes for every dad-driven craving and preference. From fluffy muffins to delicious egg-centric mains, consider this your definitive guide to Father's Day brunch.
Featured image by Michelle Nash.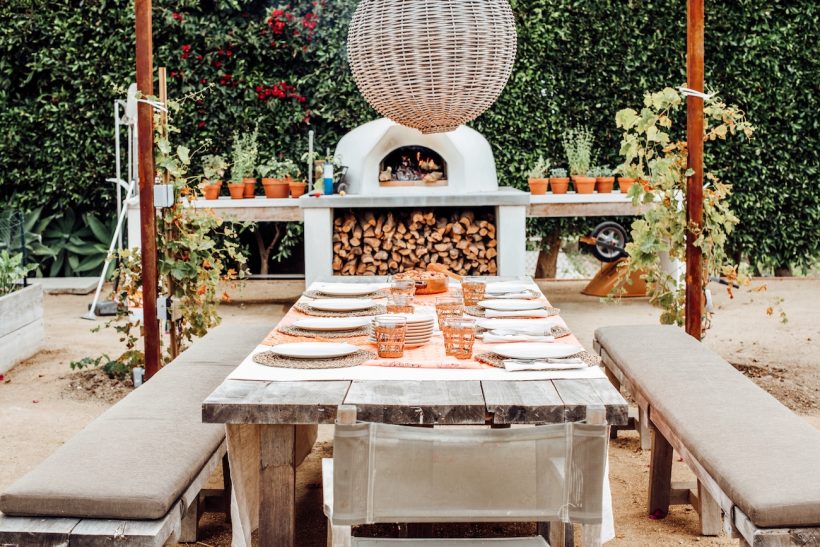 28 Father's Day Brunch Recipes Perfect for Celebrating Dad
Father's Day Brunch Drinks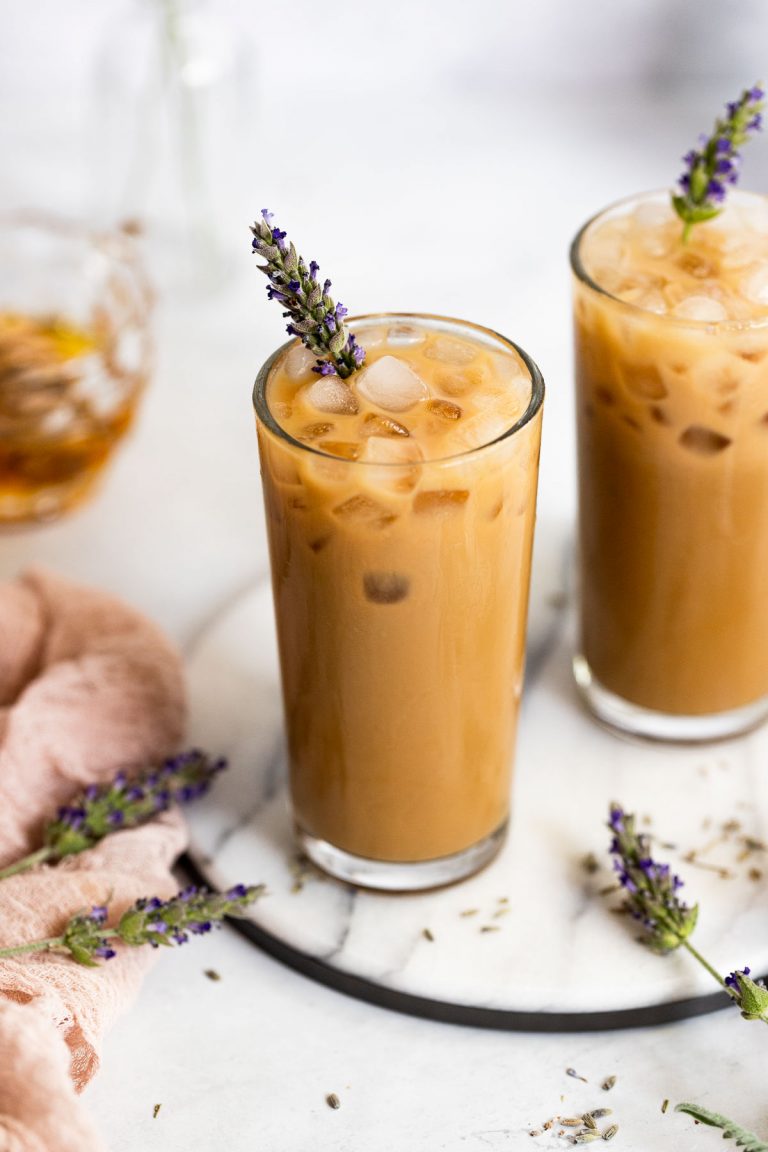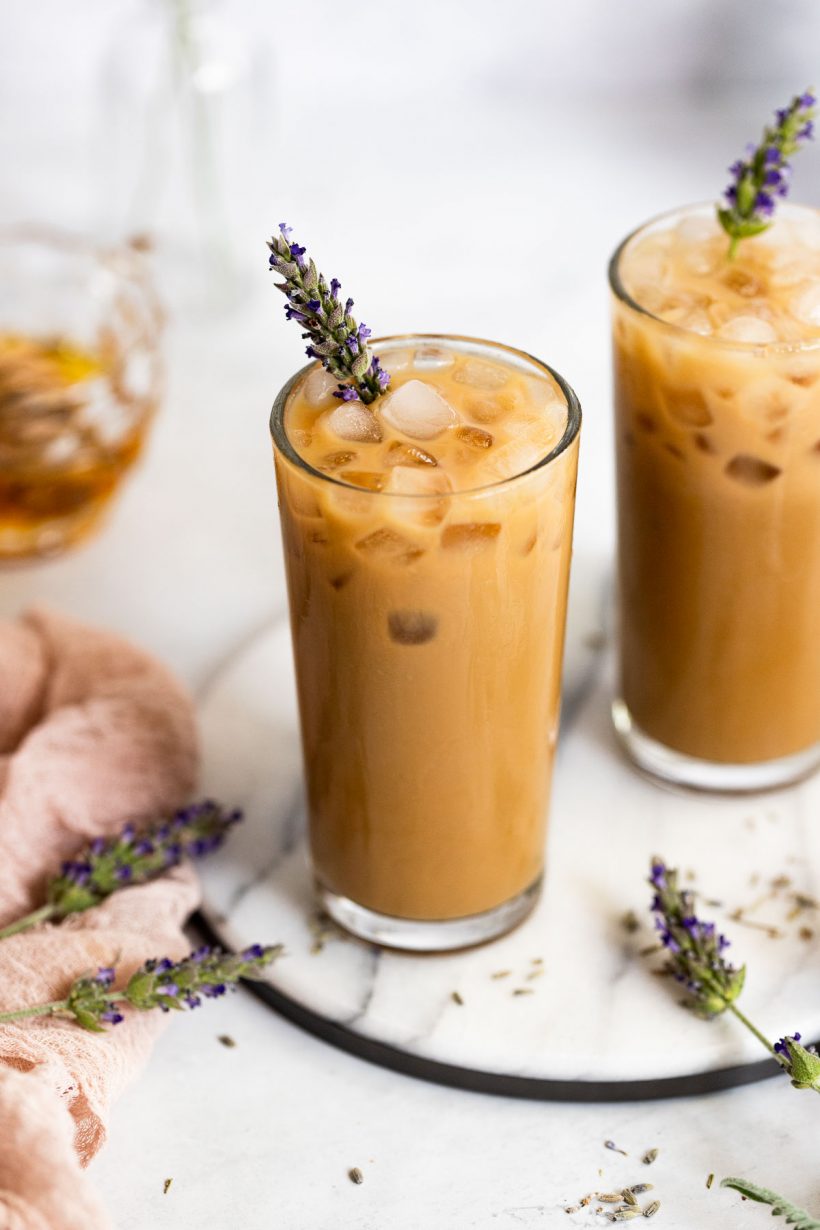 Why We Love It: Anything that features lavender's lightly floral, sweet flavor is a recipe to be tried, savored, and celebrated. If you're looking to bring a kick of caffeine to your Father's Day brunch, this creamy, dreamy latte will do the trick.
Hero Ingredient: Lavender supplies the distinct summer vibes, but oat milk makes it irresistibly luscious—and dairy-free.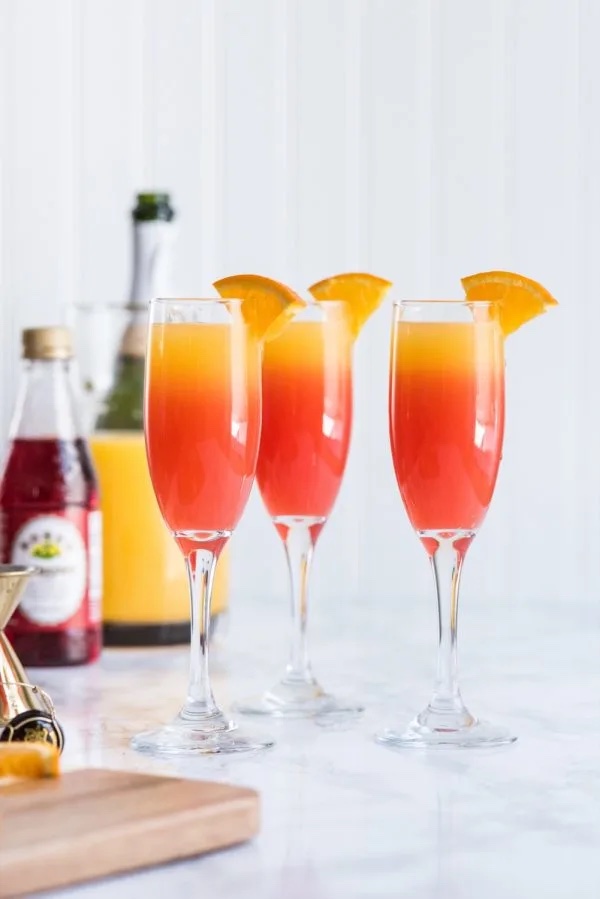 Why We Love It: Mimosas are fun, but a Tequila Sunrise Mimosa? There's nothing better. I love the drink's ombré effect that feels summery and on-trend. Tequila, champagne, orange juice, and grenadine are a surefire, winning combo.
Hero Ingredient: Grenadine gives your mimosa a gorgeous splash of vibrant color and a nostalgic, cherry flavor that perfectly plays up the citrusy vibes.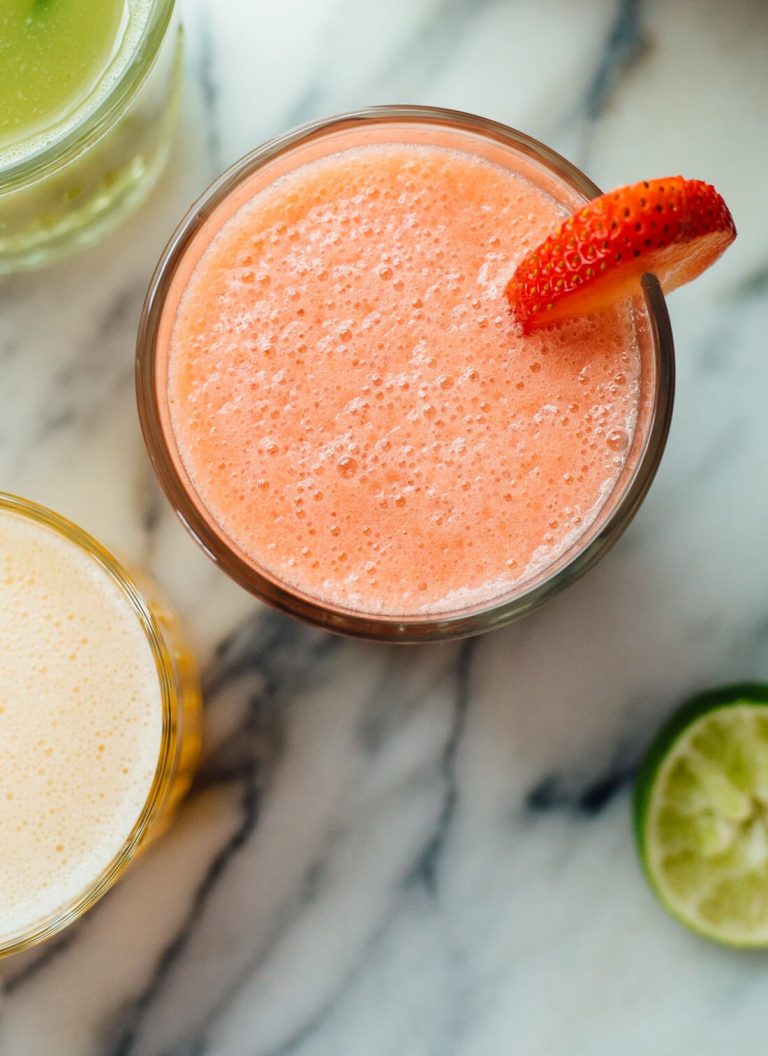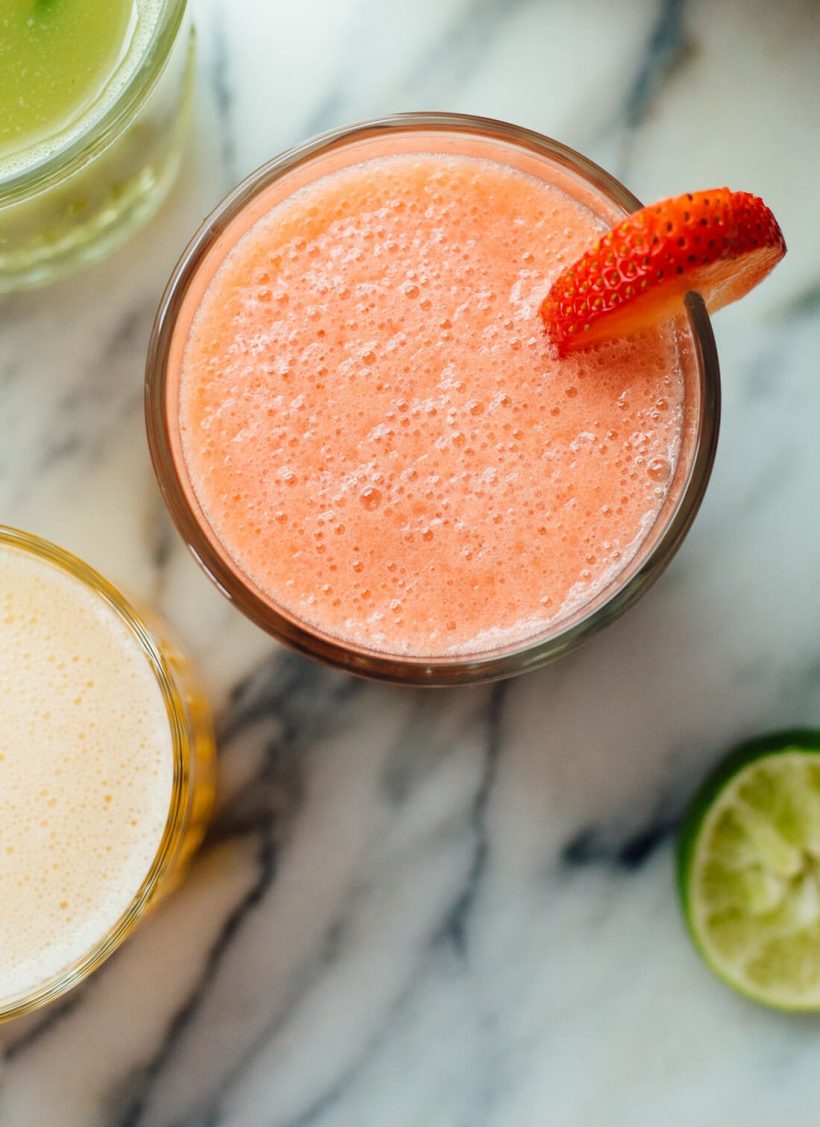 Why We Love It: Aqua Fresca is a refreshing solution for your non-alcoholic, colorful bevy cravings. While the possibilities are (nearly) endless when it comes to the fruity combos you can create, there are a few to avoid. This recipe recommends steering clear of cherries, blueberries, and blackberries. Once you rule those out, you're free to play.
Hero Ingredient: Squeezing in half a lime does wonders for balancing out your drink's flavor.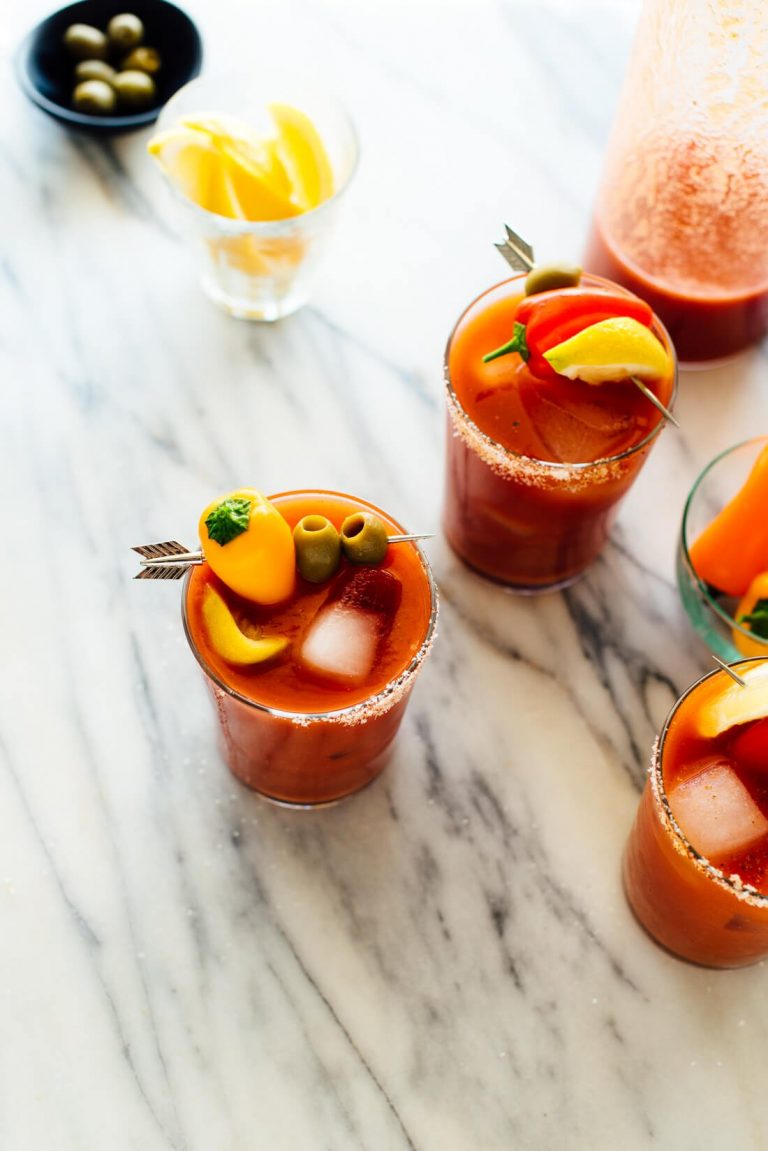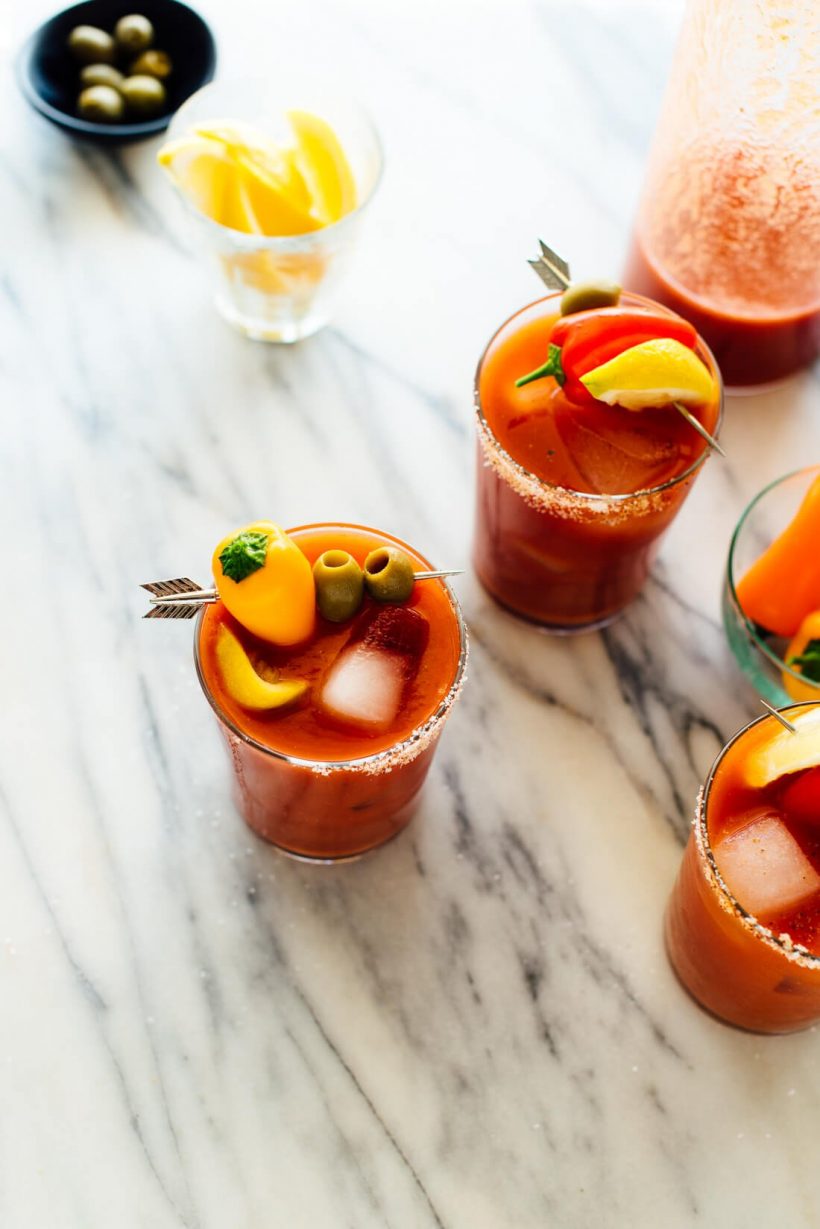 Why We Love It: I have an odd, inexplicable habit of ordering tomato juice on any and every flight. Beyond that though, I can't stand the soup-like drink (though don't get me wrong, tomato soup is a forever fave). The one, non-aerial exception is, of course, is a Bloody Mary. This recipe balances a vinegary, spicy bite to perfection. While some Bloody Mary recipes can feel convoluted (do I really need a mini cheeseburger skewered for garnish?), this simplified take gives you everything you crave. P.S. Ditch the vodka if you want to make it virgin.
Hero Ingredient: Whether or not you can pronounce "Worcestershire" aside, you'll love the hint of umami that it brings to the table.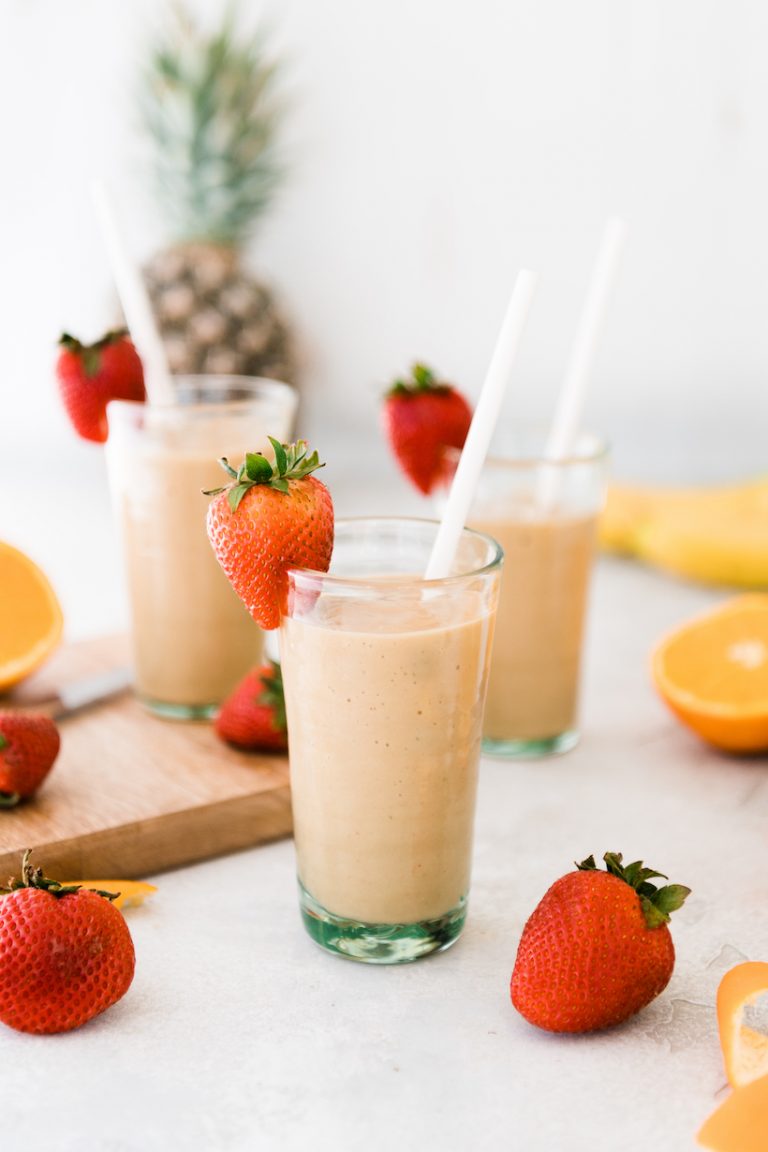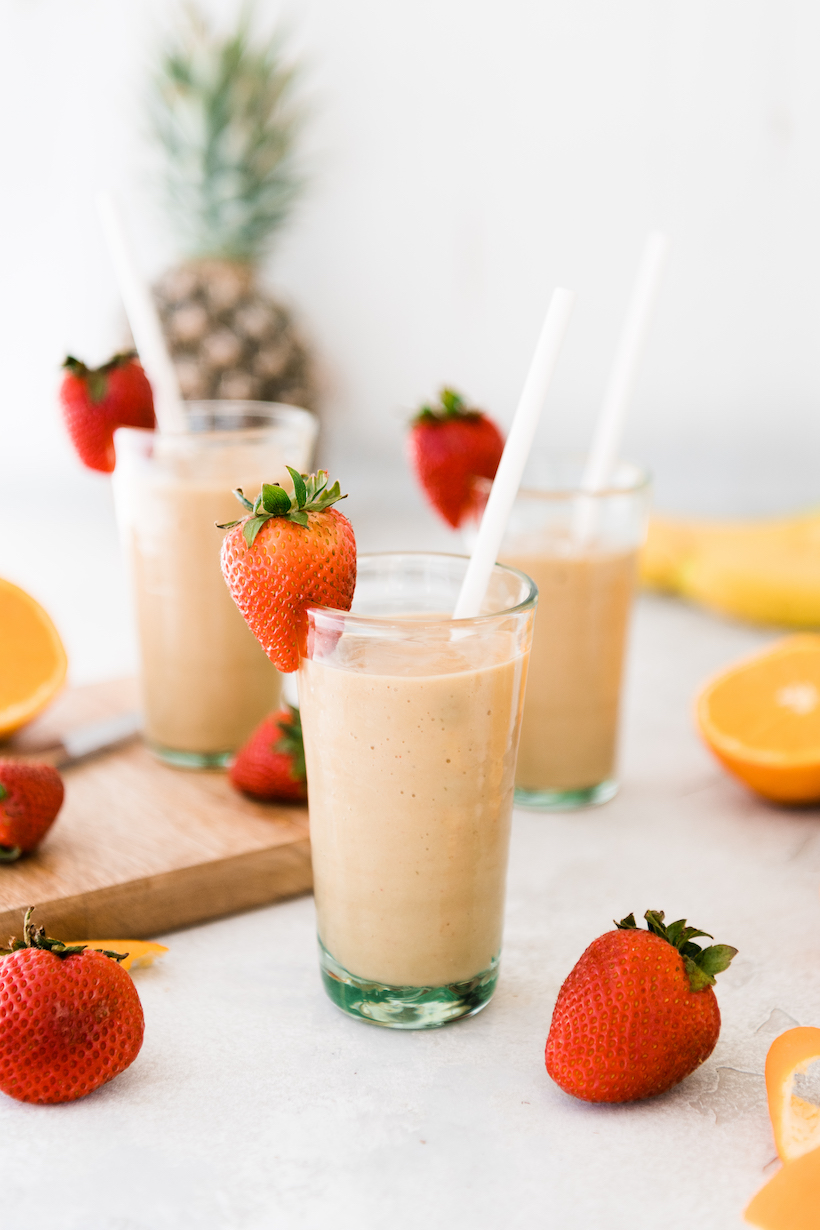 Tropical Pineapple-Ginger Smoothie
Why We Love It: While this smoothie is a tried-and-true, weekday wonder, it'll be right at home served with brunch. It's thick thanks to the avocado and sweet from a drizzle of honey, but the addition of ginger tempers everything to smoothie-heaven perfection. Everyone will be asking you for the recipe post-brunch—get ready for it to be a part of everyone's grab-and-go breakfast rotation.
Hero Ingredient: Frozen pineapple keeps the tropical vibe alive.
Father's Day Brunch Sweet Treats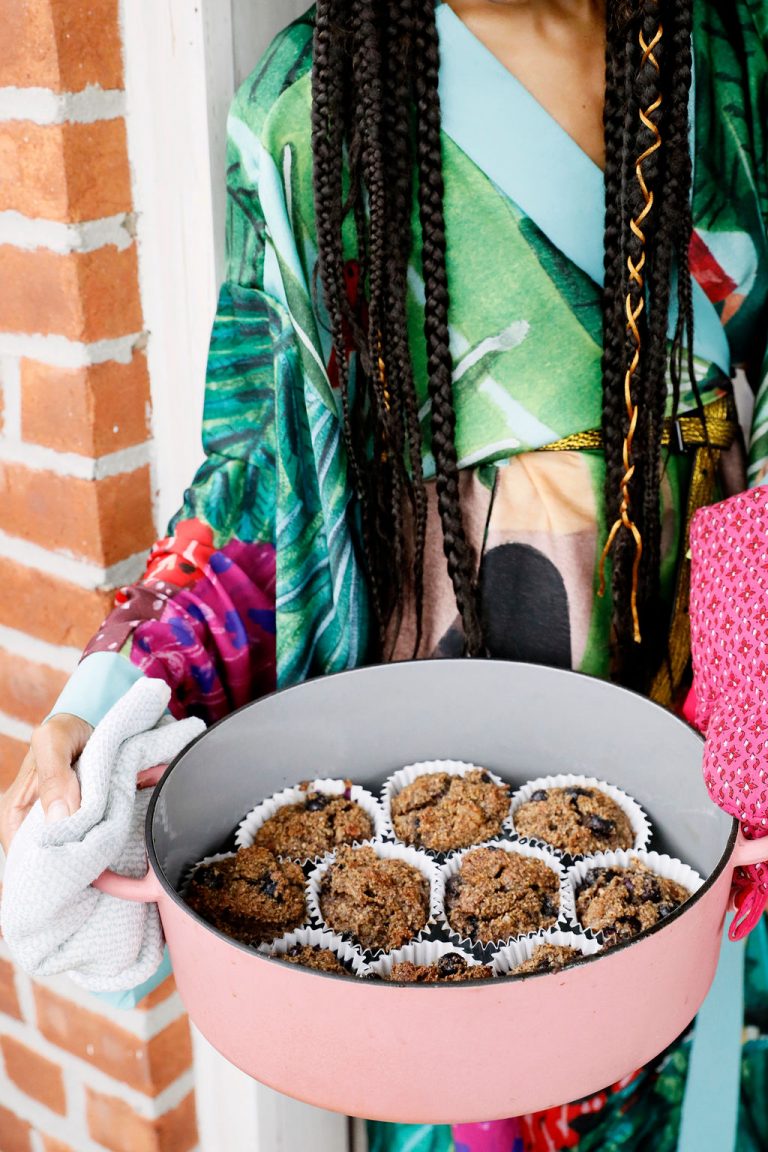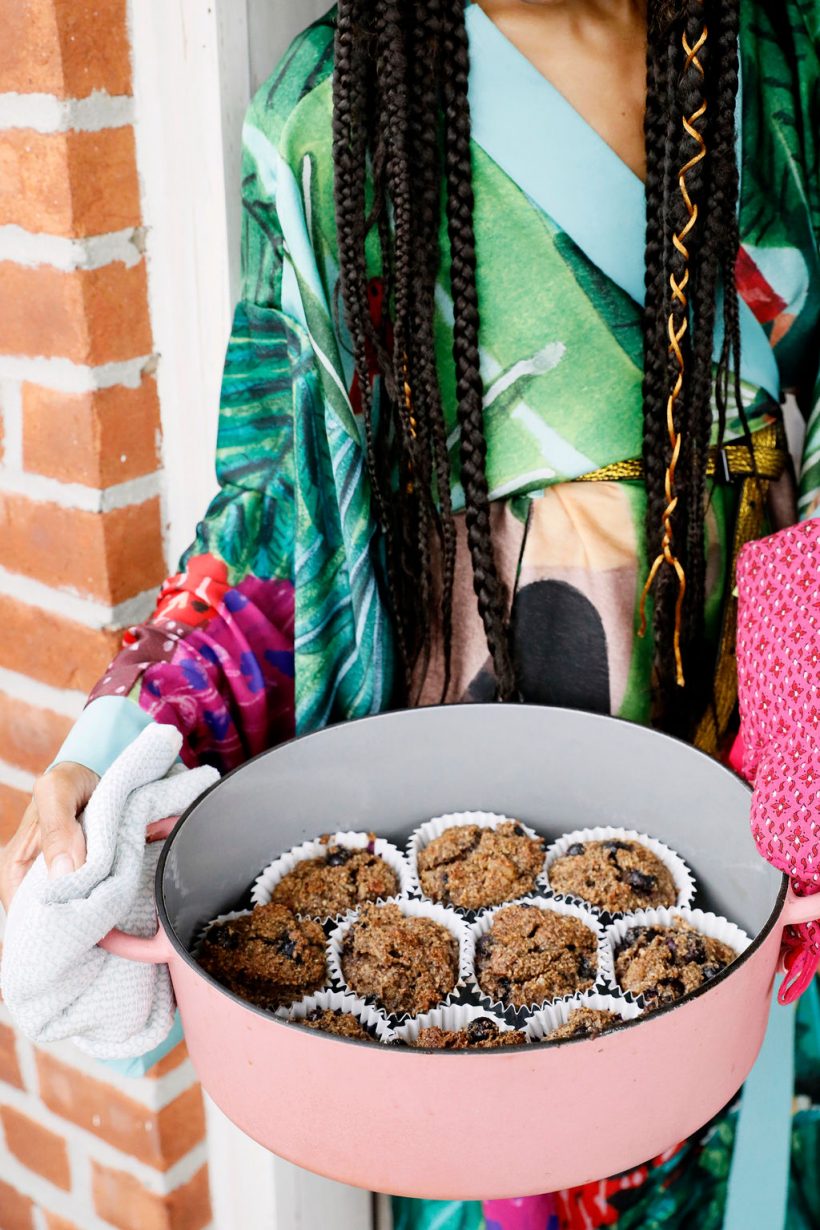 Why We Love It: While the goal of Father's Day brunch might not be an energized, I-can-do-anything start to the day, these muffins will ensure there's a wholesome, nutrient-dense option at your table. (Hence the name.) Plus, if you double the recipe, you can make enough to have a convenient breakfast option throughout the week.
Hero Ingredient: Ginger gives a spicy-sweet warmth that you don't want to miss out on.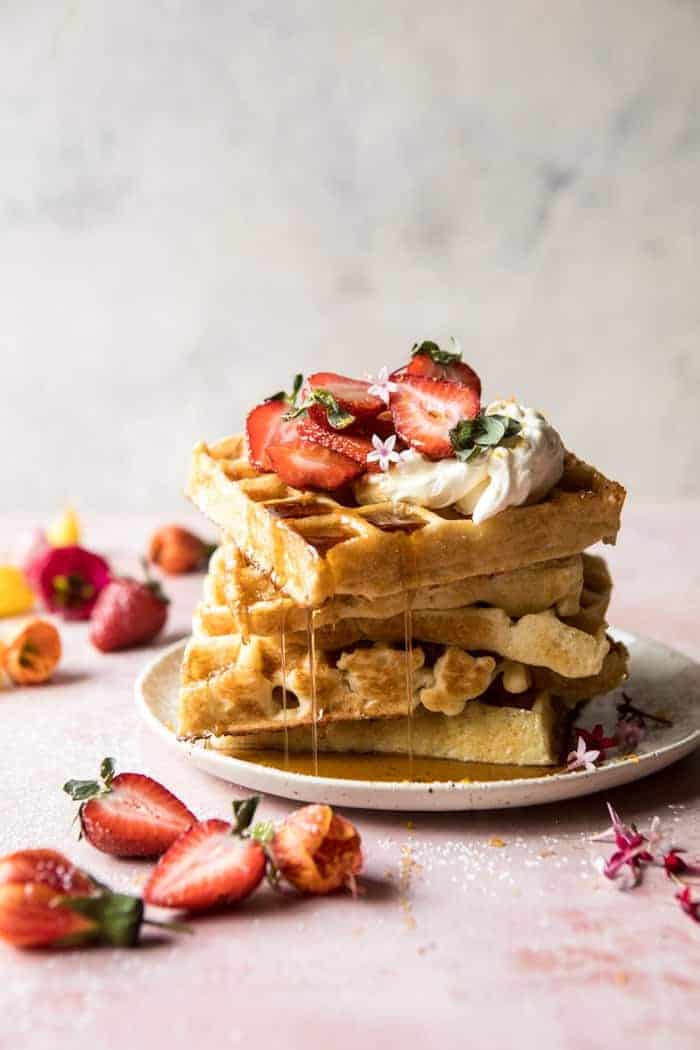 Why We Love It: When it comes to recipes, I put flavor, texture, and even presentation first. But a lot is to be said for a recipe you can make the night before—especially when it comes to hosting a Father's Day brunch. Making your batter in advance and allowing it to sit for a few hours lets your flavors deepen for a richer, more flavorful waffle.
And sure, some folks are adamant believers that waffles should be thin and crispy, but full disclosure: I am not one of them. I want my waffles thick, light, and fluffy, with just a little sweetness woven in. These tick all my exacting boxes.
Hero Ingredient: Instant yeast not only gives your waffles their sky-high rise, but it also creates a slightly funky, fermented flavor that rivals the deliciousness of sourdough.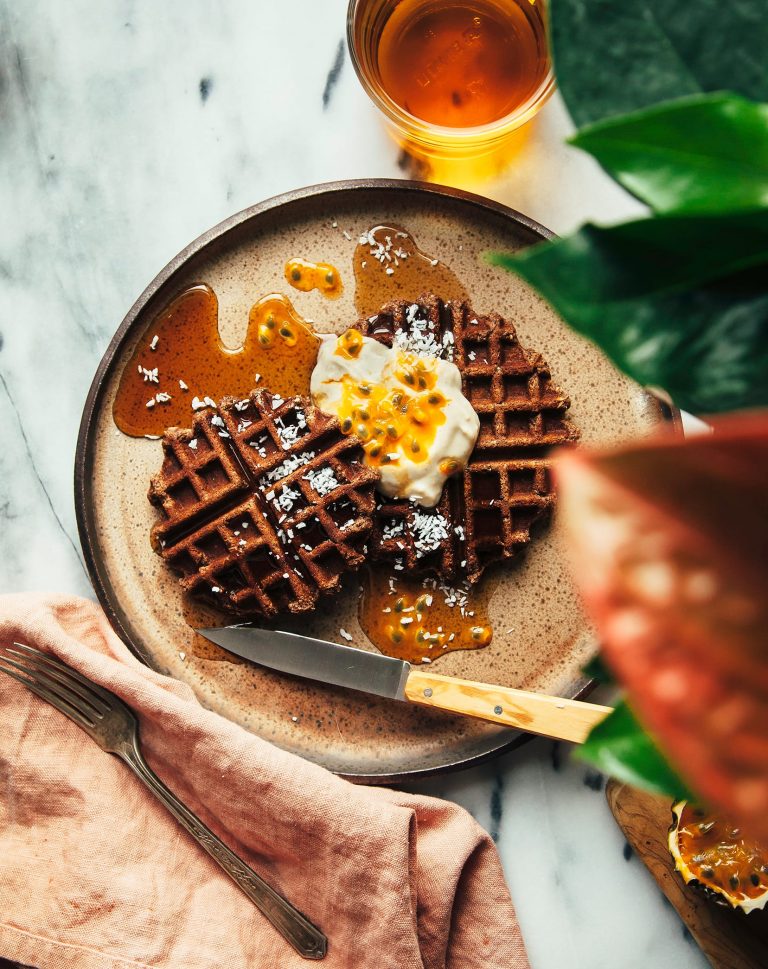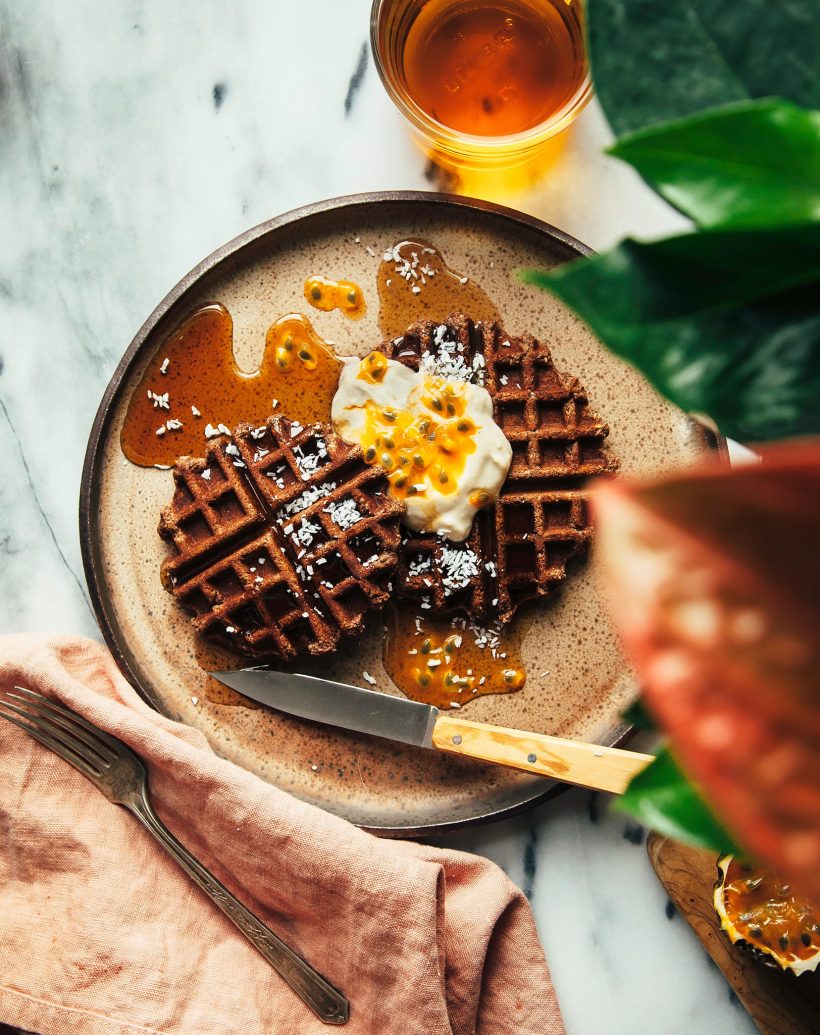 Why We Love It: My love affair with buckwheat flour sadly only began a couple of years ago, but I'm doing everything I can to make up for the lost time. I love it in banana bread, think it's fabulous in cookies, and even enjoy it in brownies (IMO, beats black beans!). Here, the buckwheat gives you waffles that are not only gluten-free but also offers up a nice, nutty batter that, when given a spin in your waffle iron, becomes something entirely magical.
Hero Ingredient: While these waffles are a little dense (see above for my expressed qualms), the yogurt retains that slightly spongy flavor that dominates all my waffle dreams.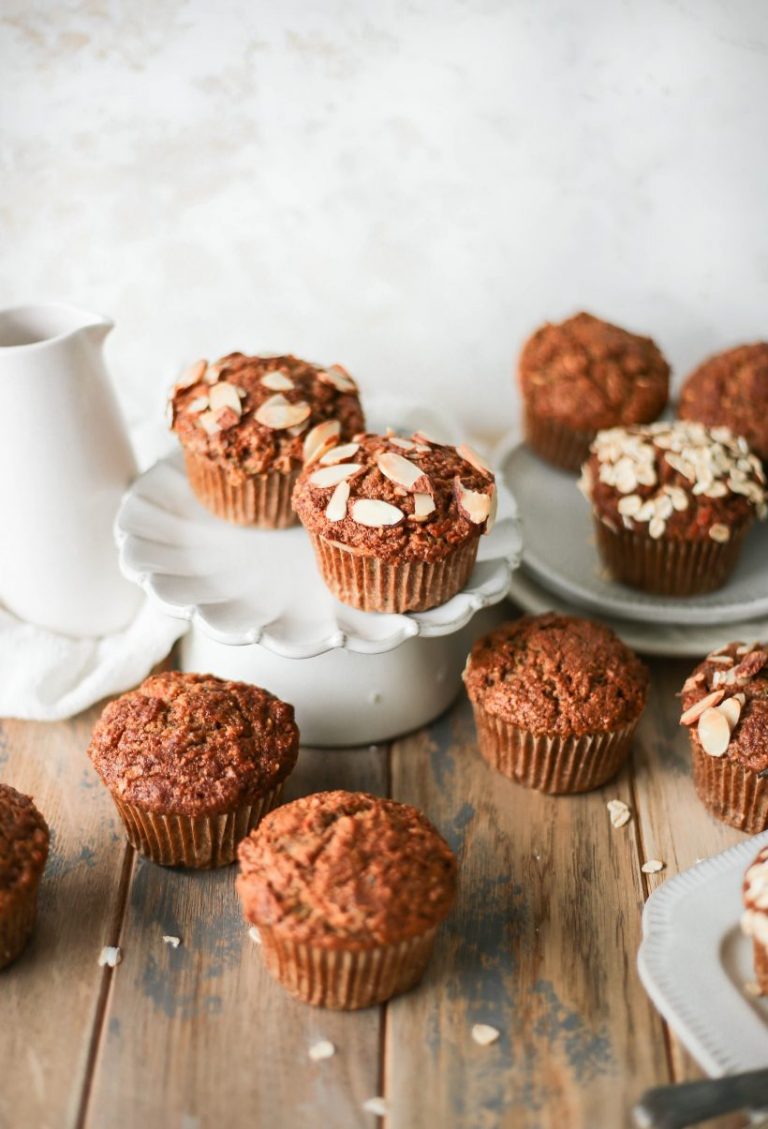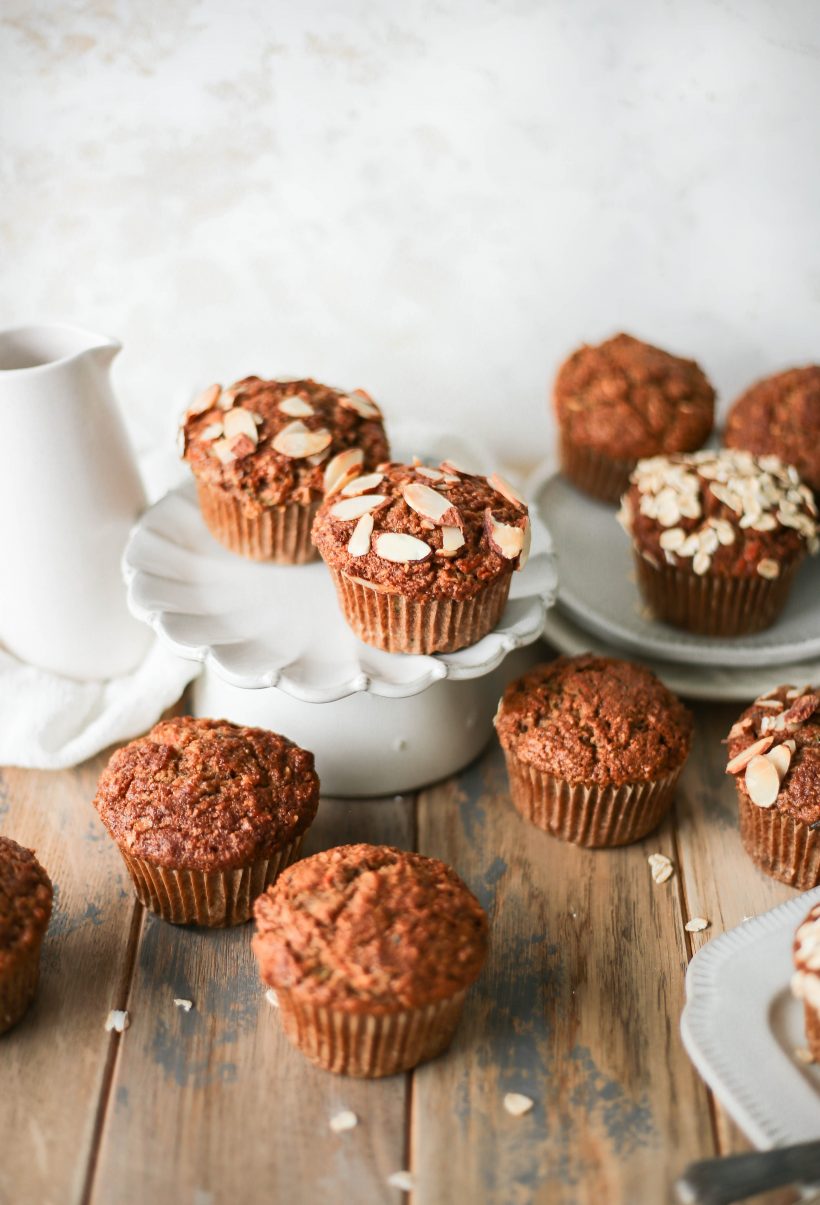 One Bowl Morning Glory Muffins
Why We Love It: These muffins went viral the first time Camille shared the recipe. While many of the morning glory muffins you'll find at your local coffee shop lean on the denser, lacking-in-flavor side of things, these are anything but. Instead, they offer up just a touch of sweetness and the perfect crumb that'll have you hesitating only for a second before popping another on your plate.
Hero Ingredient: Three packed cups of your choice of shredded fruits and veggies not only mean you're putting in the work of getting your daily dose of each, but they also make for a muffin that's beyond moist.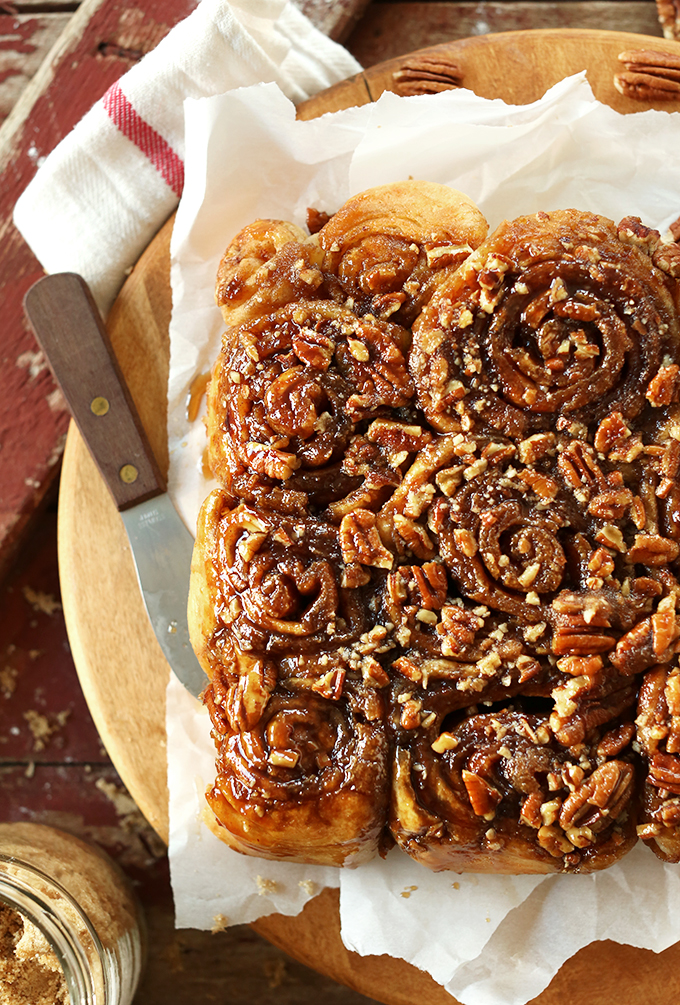 Why We Love It: Is it even a Father's Day Brunch without sticky buns? While I'd argue that the Barefoot Contessa's sticky buns recipe is slightly easier (she subs in puff pastry for the dough—genius), these make a yeast-risen dough easy as pie. Except you're not making pie here, you're making the world's best ooey, gooey, super-sticky sticky buns. And you won't even blink an eye at the minimal list of instructions.
Hero Ingredient: Using brown sugar in the buns' sticky glaze covers them in a nice, caramelized flavor that solidifies their perfection.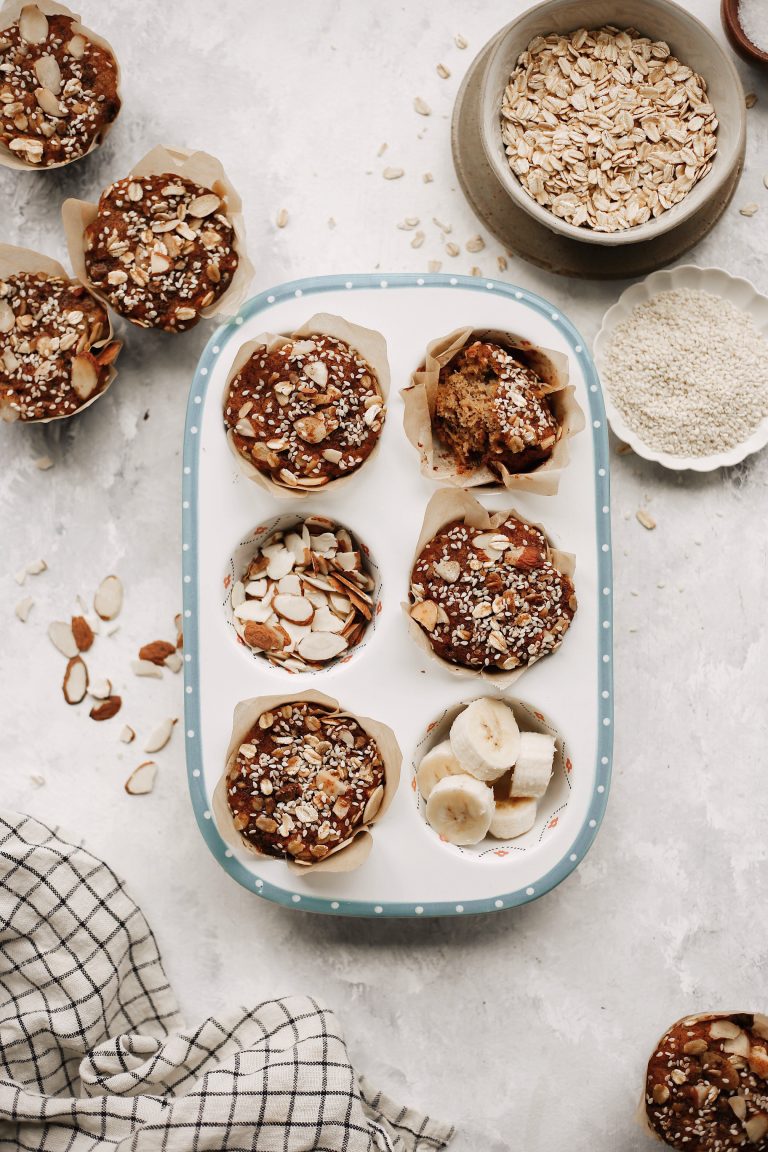 Vegan Nutty Banana Muffins
Why We Love It: This recipe was developed during those well-documented months when there wasn't an Instagram story or post that didn't include an in-process banana bread (or its proud, final product). Inspired by the trend—and the classic that'll never go out of style—our Food Editor set out to create a vegan, muffin version that makes for the perfect breakfast or snack.
Hero Ingredient: The key to making these muffins super moist and naturally sweet? Amber-hued maple syrup. This is not the time to skimp on the good stuff.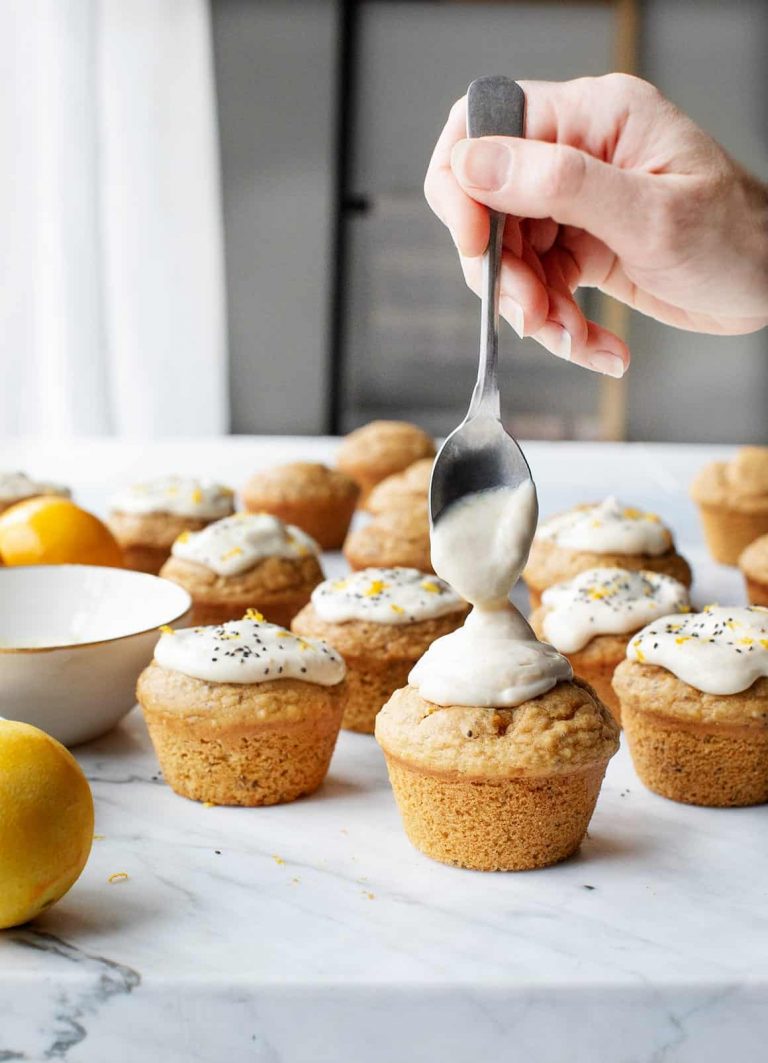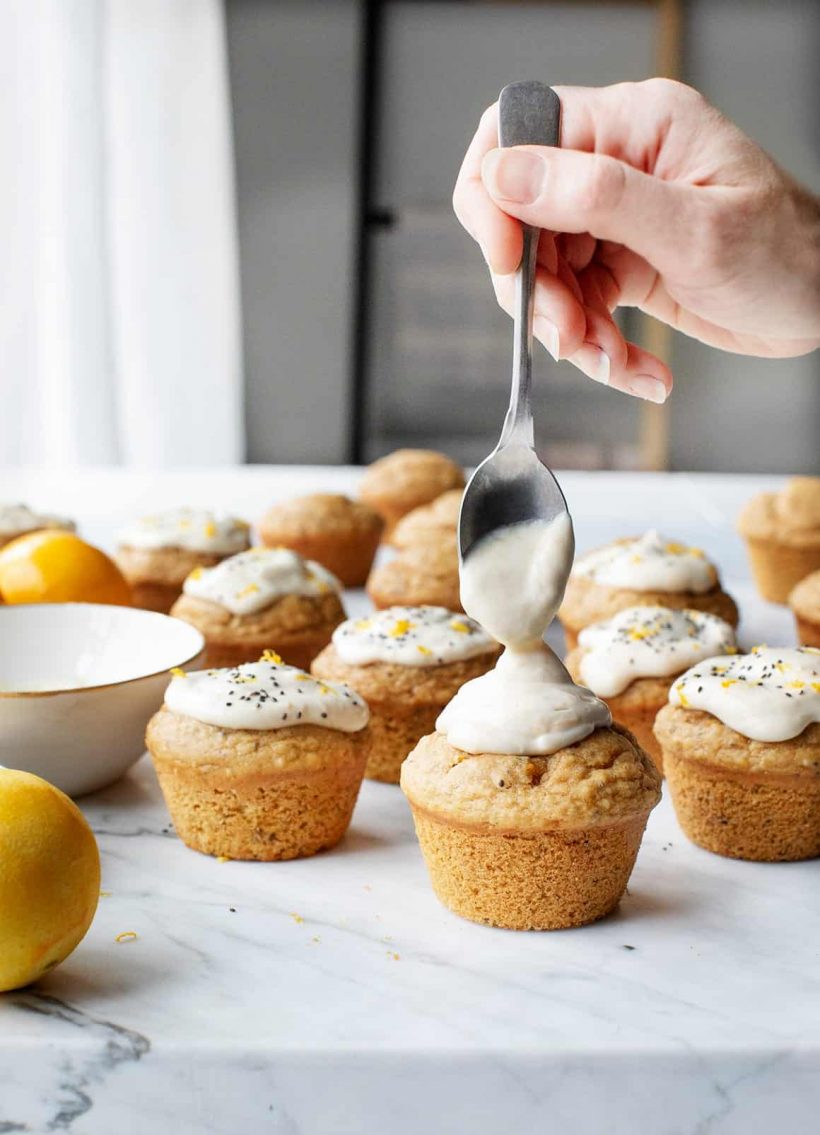 Why We Love It: Though I'm not vegan myself, I find that I often prefer vegan versions of my favorite baked goods. Here, the almond milk and apple cider vinegar give your batter a little tang while also keeping them from getting dry. I love too, that this recipe makes the most of both lemon juice and zest. Double the citrusy flavor, double the sunny, muffin-y joy.
Hero Ingredient: Chia seeds do more than serve as the base for your favorite, fiber-filled desserts. In these muffins, they give each bite a touch of welcome crunch.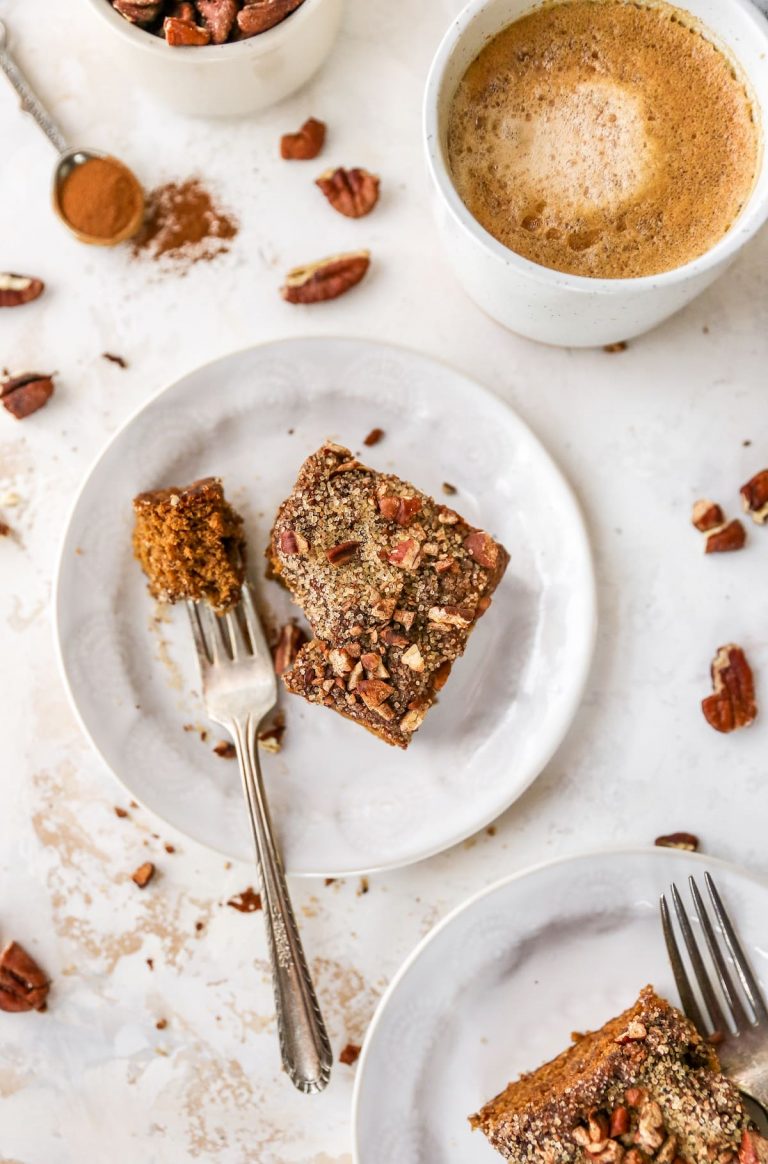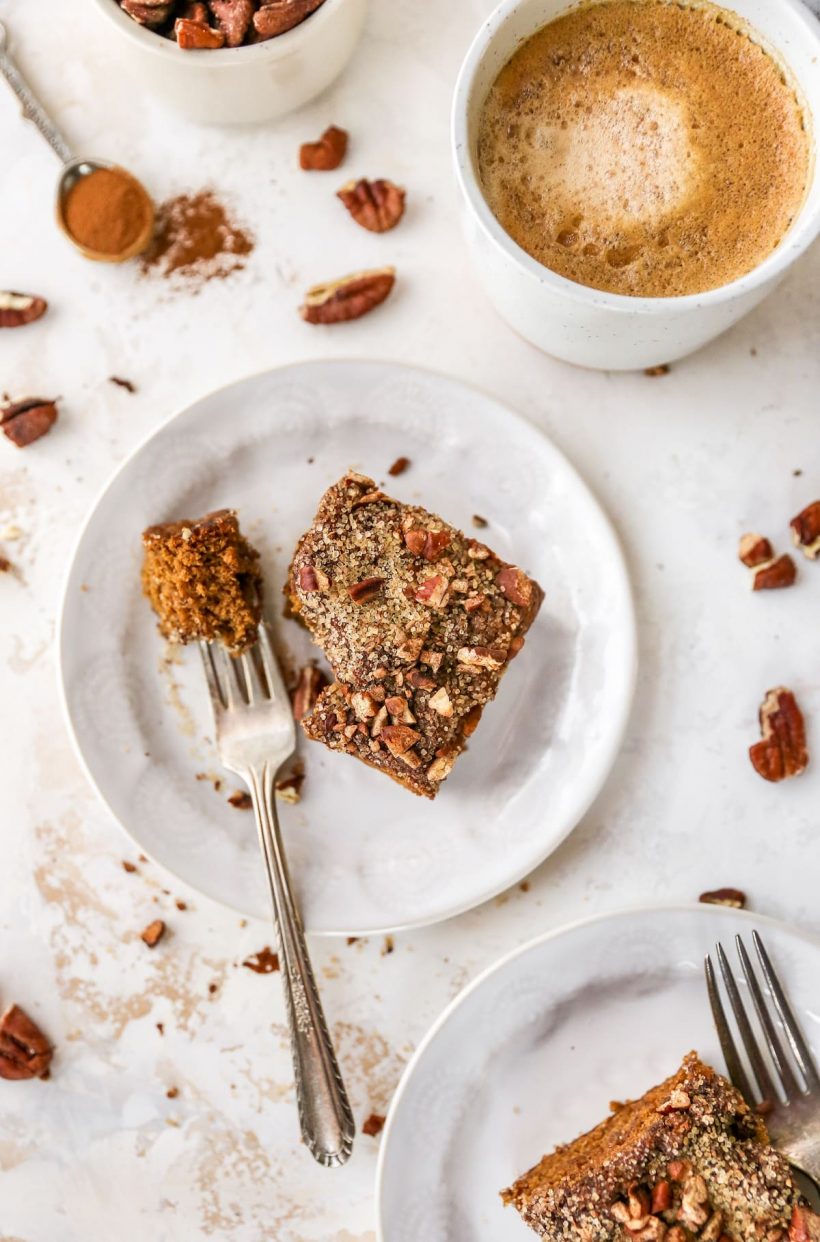 Why We Love It: For the animal product-eaters out there, I was about to apologize for the many vegan recipes this list includes. Well, sorry not sorry, because all these vegan picks are downright delicious—this coffee cake included. Coconut yogurt, coconut oil, and a teaspoon of vanilla ensure that your cake stays fresh-tasting even days after it's made. But, of course, I find it's best when enjoyed straight from the oven.
Hero Ingredient: The spice is right thanks to the cinnamon woven throughout both the sugar topping as well as the cake itself.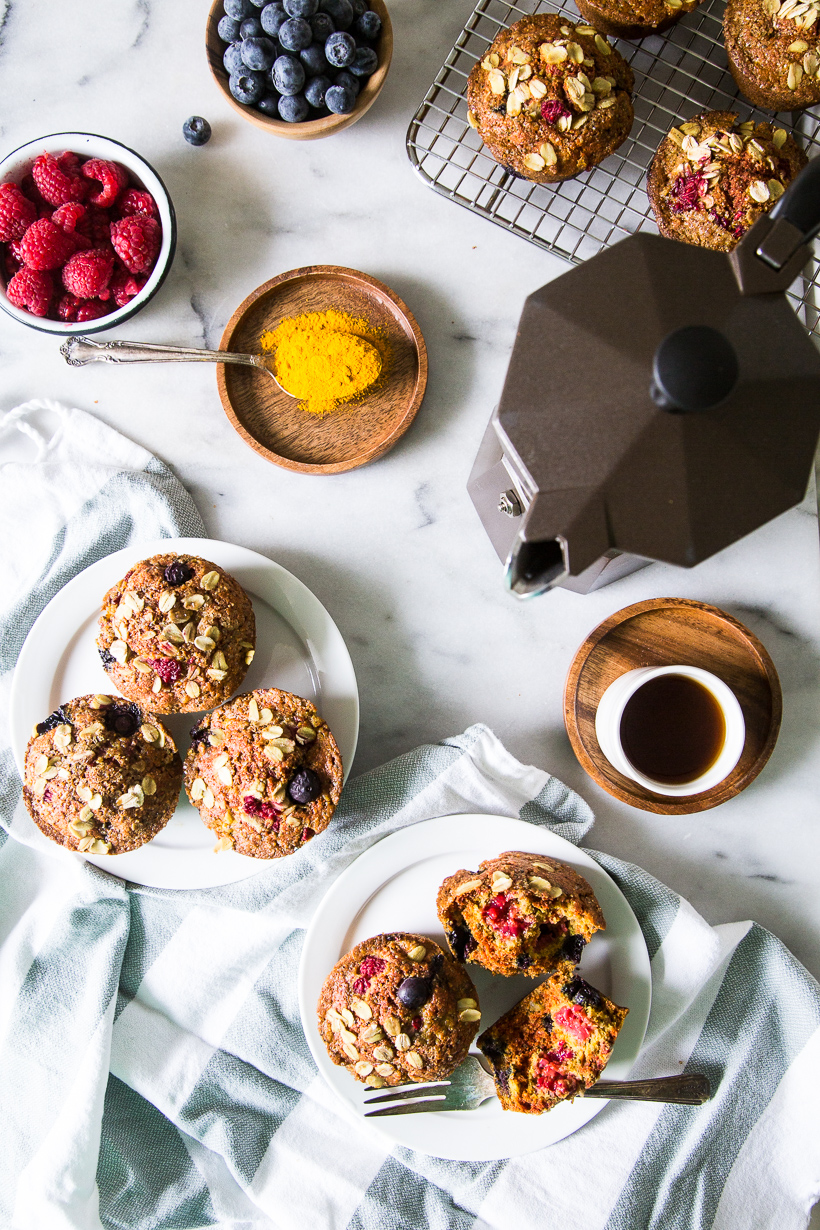 Anti-Inflammatory Berry + Turmeric Muffins
Why We Love It: With a touch of turmeric and all the best berries, these muffins are antioxidant powerhouses. And while some muffins that claim to be healthy unfortunately sacrifice flavor for wholesome virtuosity, these muffins manage to retain their treat-like taste.
Hero Ingredient: These muffins make cardamom happen.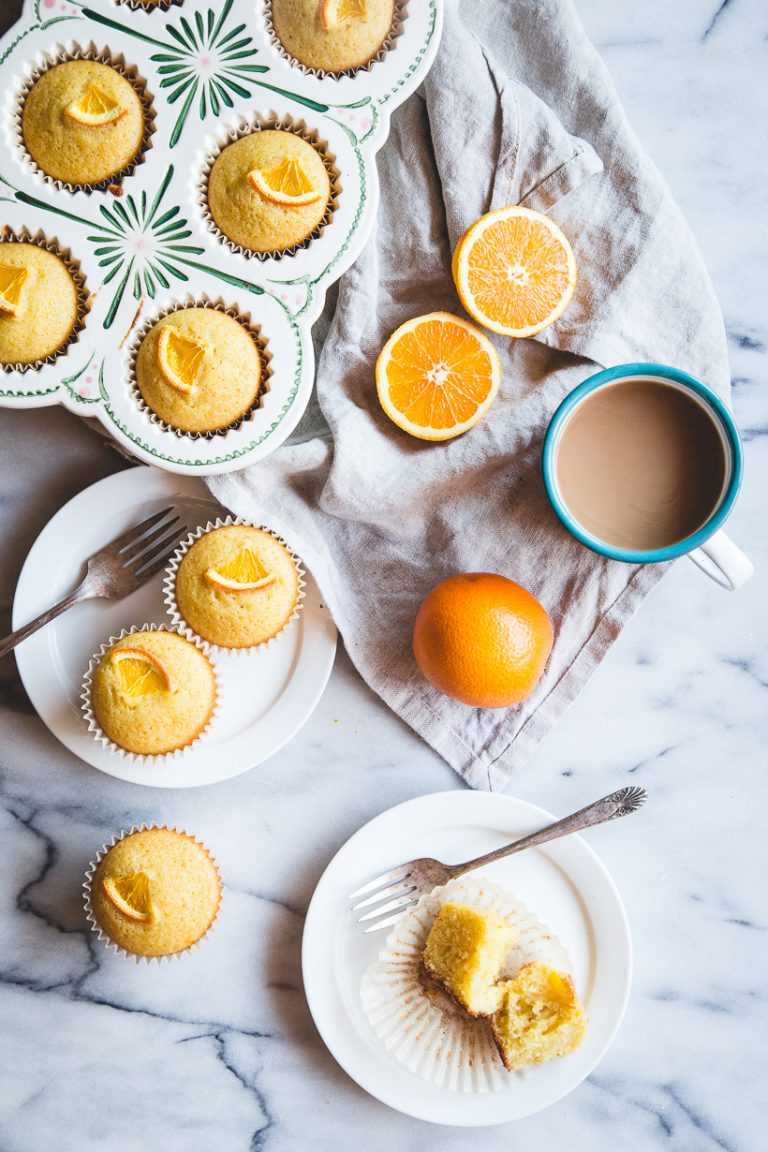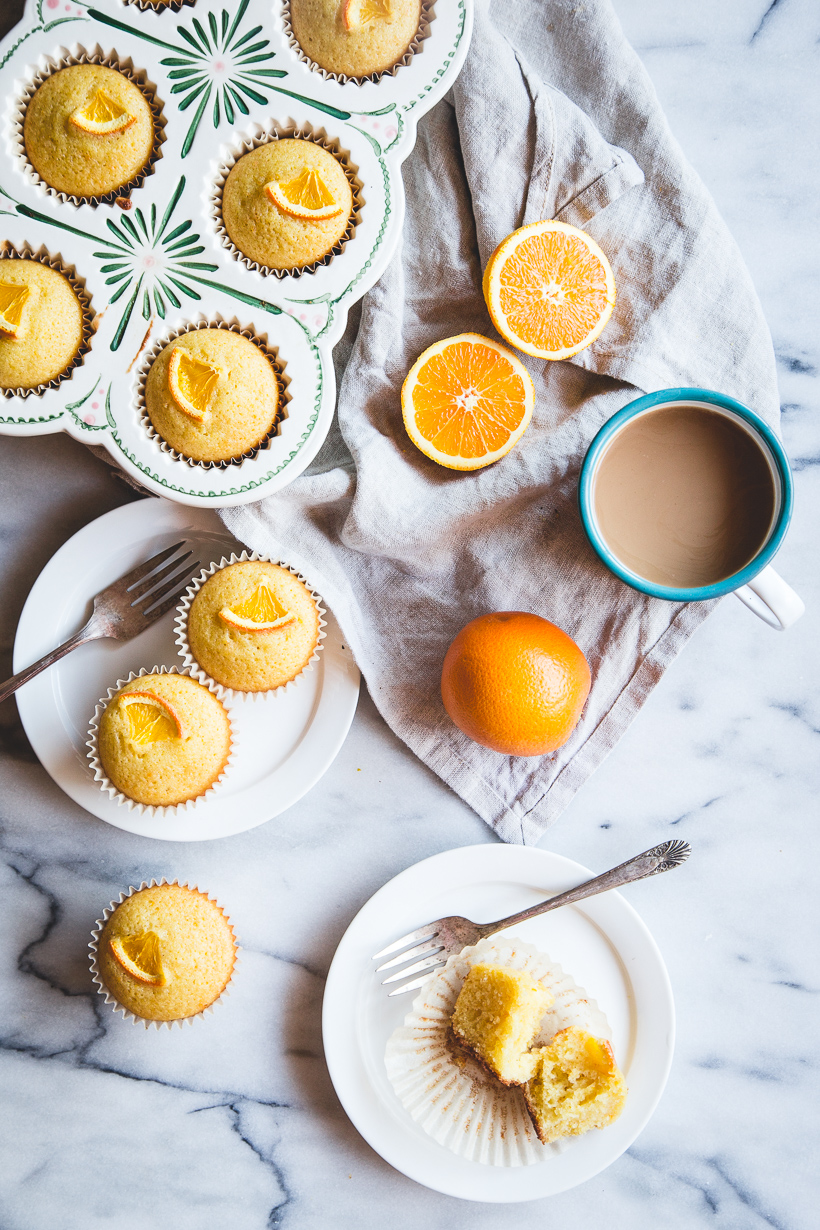 Olive Oil & Orange Blossom Muffins
Why We Love It: Olive oil and orange blossom water are a muffin match made in heaven. Nothing prefaces warmer weather quite like the bright and sunny pairing. With citrus juice, zest, and slices for garnish, this recipe is summer personified.
Hero Ingredient: I love semolina flour here because it's a bit coarser than all-purpose, giving these muffins a hearty, but still fluffy texture.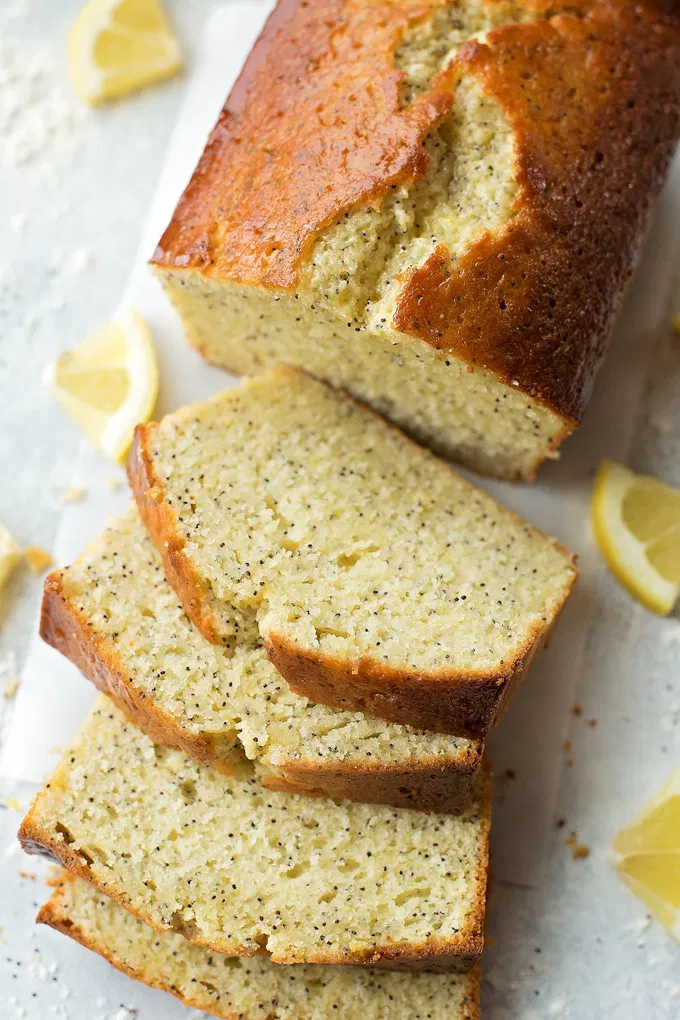 Why We Love It: A day doesn't go by when I don't wish I kicked things off with quick bread. Hyperbole, maybe, but nothing beats a slice of your favorite bake served alongside a strong cup of coffee. This Lemon Poppy Seed Bread recipe only proves my point—it's light, fluffy, tangy, and of course, lip-puckering lemony.
Hero Ingredient: Sour cream brings a touch of tang while also ensuring this bread is fluffy and rich.
Father's Day Brunch Bowls and Boards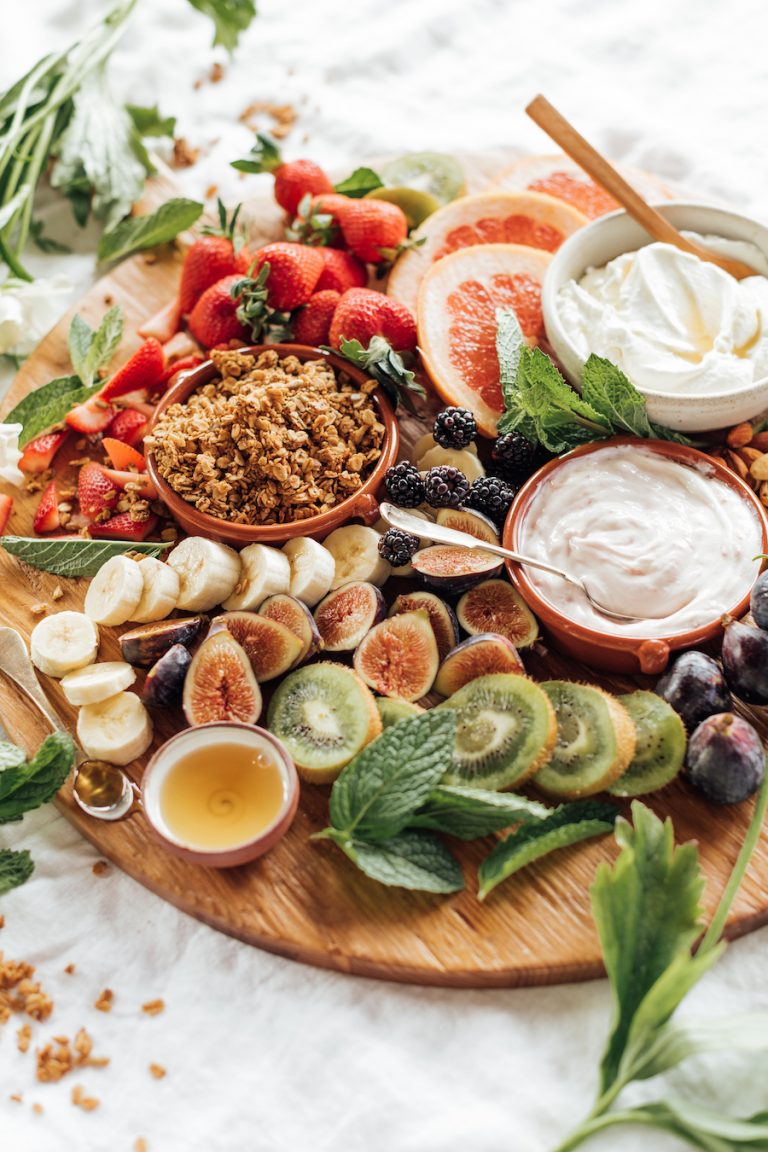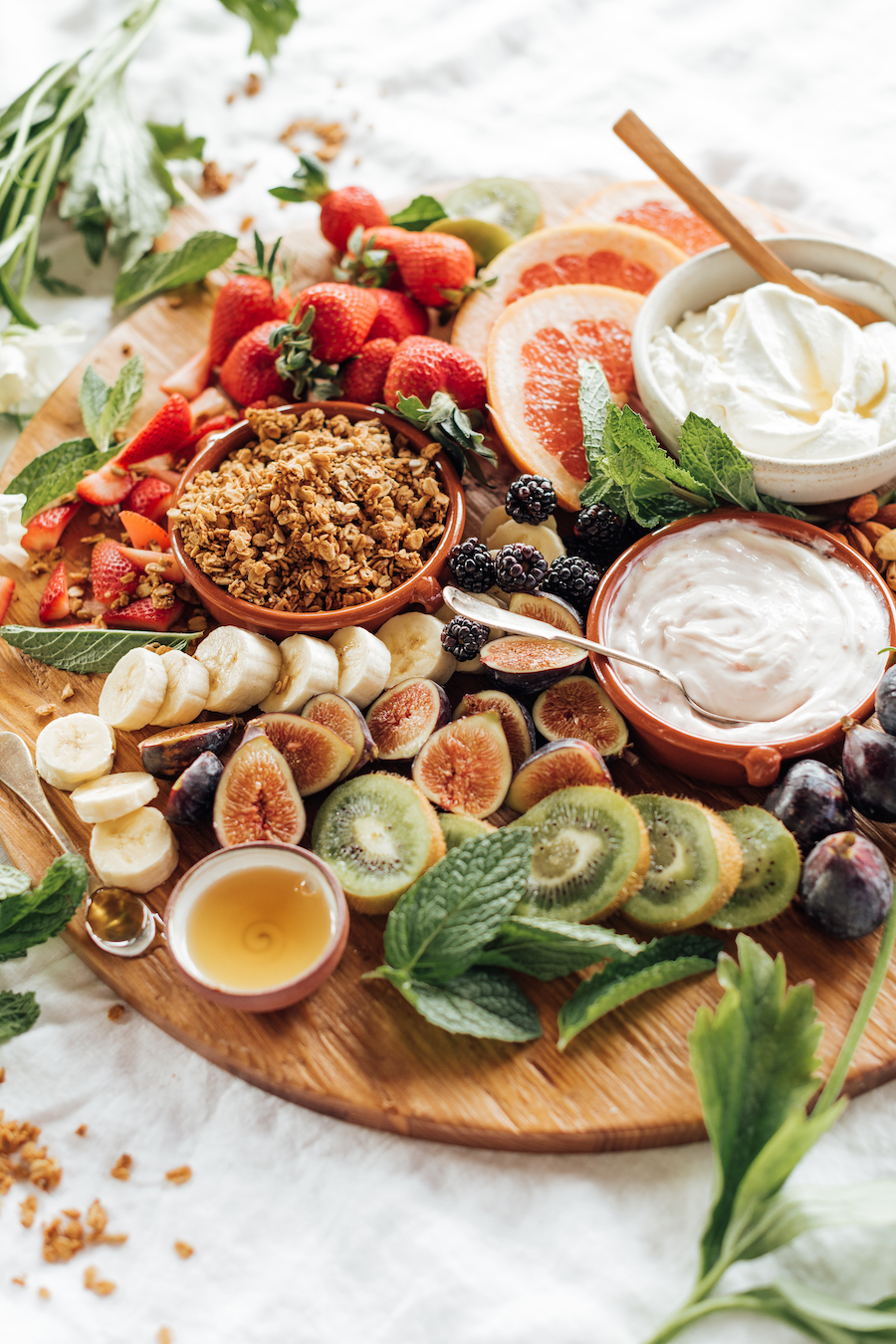 Yogurt and Granola Breakfast Grazing Board
Why We Love It: Building on the theme of easy-to-assemble, pseudo-cooking, this board is a genius way to ensure that all your guests get exactly what they want to eat. Let the simple formula of yogurt, nuts, fruit, granola, and herbs for garnish guide your way. Bonus: It'll look beautiful on any table.
Hero Ingredient: Granola is the greatest topping for any and all breakfasts (smoothies, yogurt bowls, waffles… the list goes on). Make your own or purchase your fave from the store. Remember: When it comes to entertaining, it's more than OK to prioritize ease.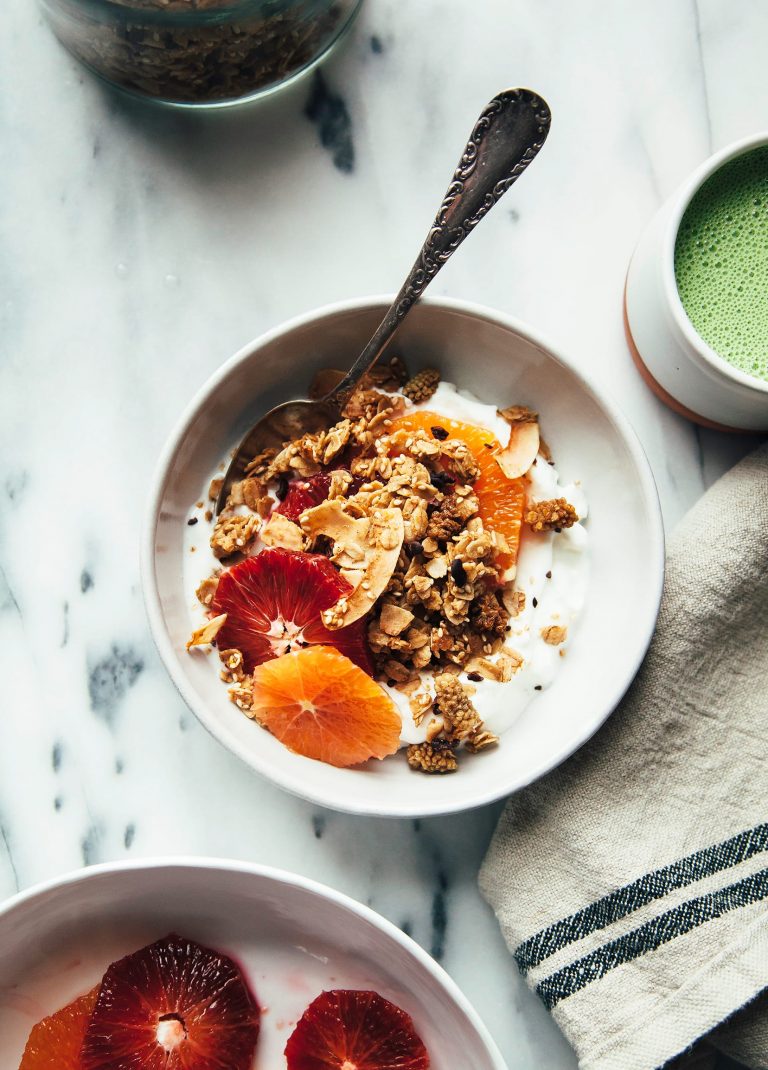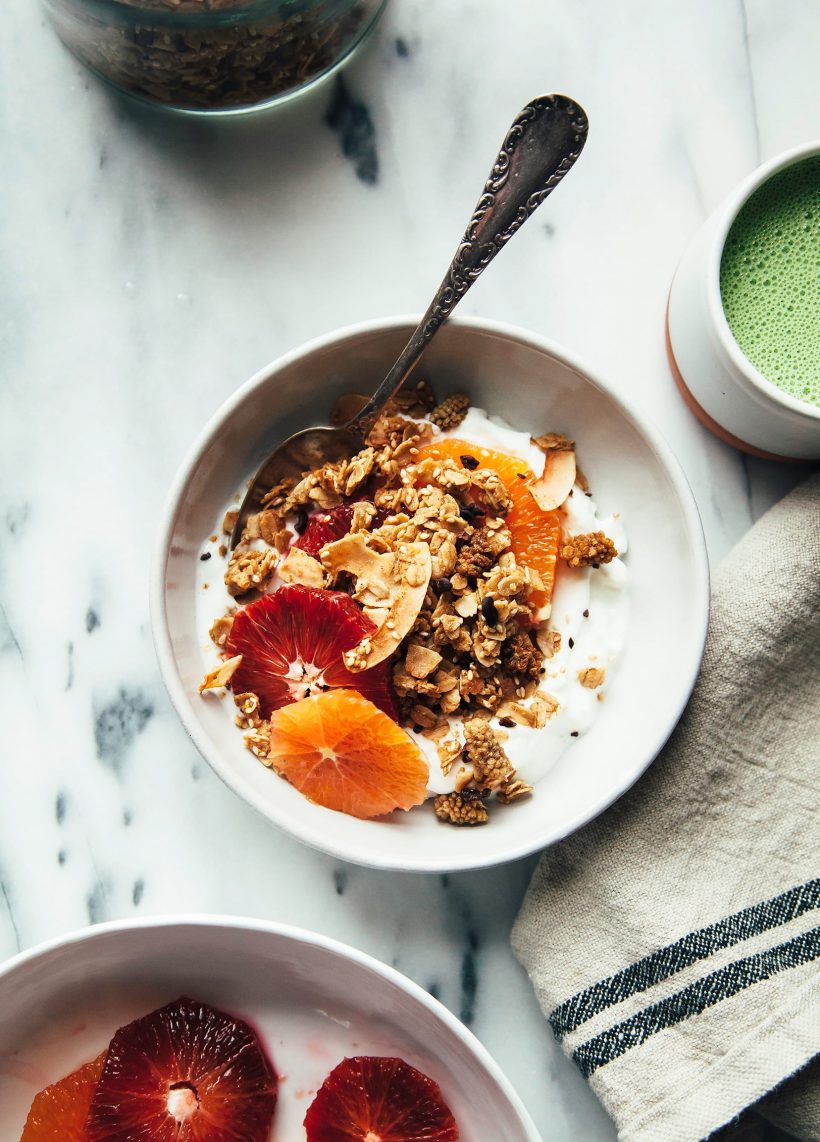 Why We Love It: If you're feeling adventurous (or, at least, have a little extra time on your hands to get crafty in the kitchen), this is the granola to make for your Father's Day brunch. When you scoop up your first spoonful, you won't believe how much varied, dynamic flavor this granola contains. Tahini keeps it nutty, dried mulberries bring a little tartness, and cacao nibs give it a bittersweet, chocolatey crunch. If you bookmark one granola recipe for summer (and beyond!), be sure to make it this.
Hero Ingredient: Because it has a deeper, almost smoky flavor, I love that this recipe opts for maple syrup as the sweetener over honey. Try and taste the difference.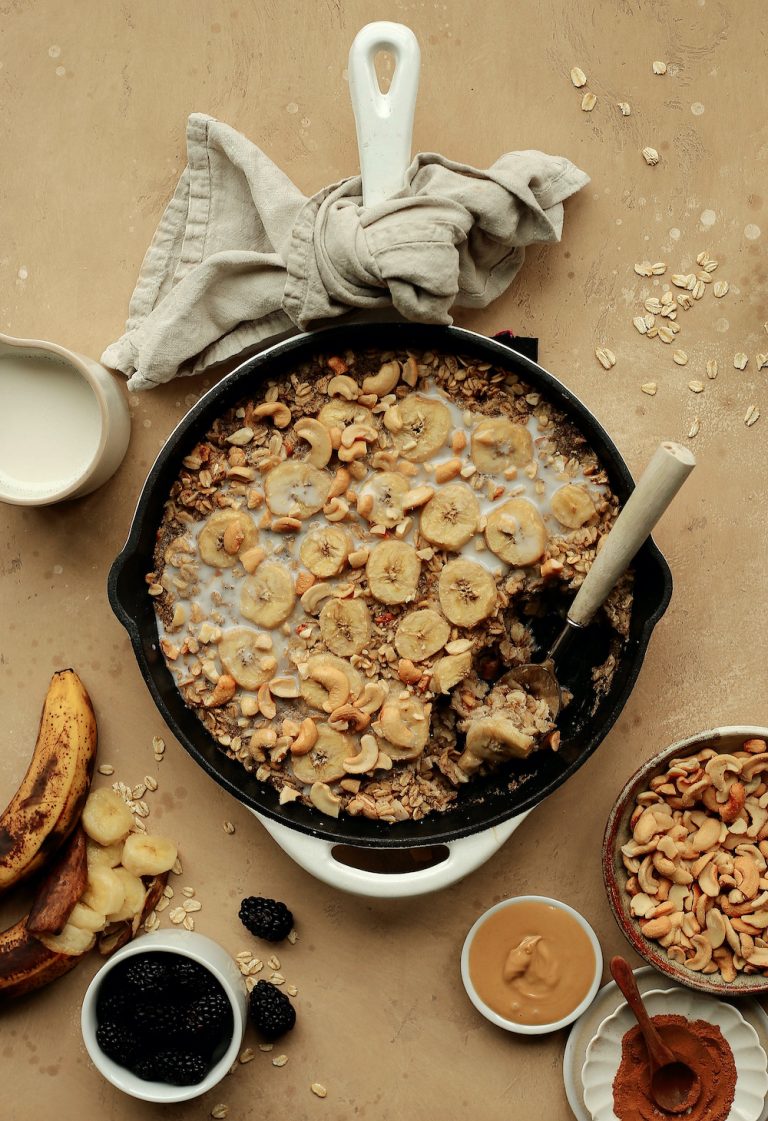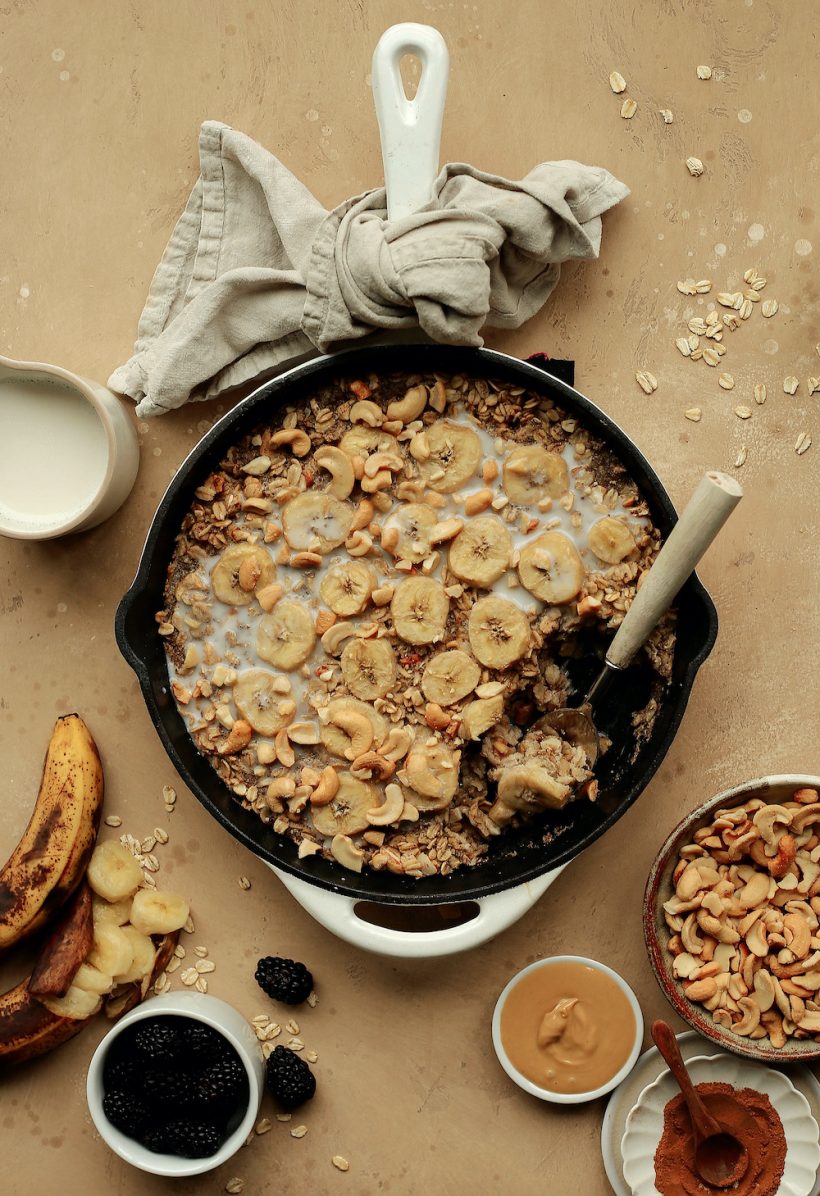 One Bowl Baked Banana Cashew Oatmeal
Why We Love It: While a bowl of stovetop oatmeal might feel more like an everyday morning affair, baked oatmeal is something altogether different. Fresh from the oven, the oats are creamy, while the topping gets golden-brown and crisp. What's more, you can assemble everything the night before and bake it the next morning. Your future self will thank you.
Hero Ingredient: While you're welcome to top your oatmeal with any fruit you'd like, I can't recommend the caramelized bananas enough. Their sweetness gets all the more concentrated from their time in the oven—the perfect complement to every nutty bite.
Father's Day Brunch Toasts and Flatbreads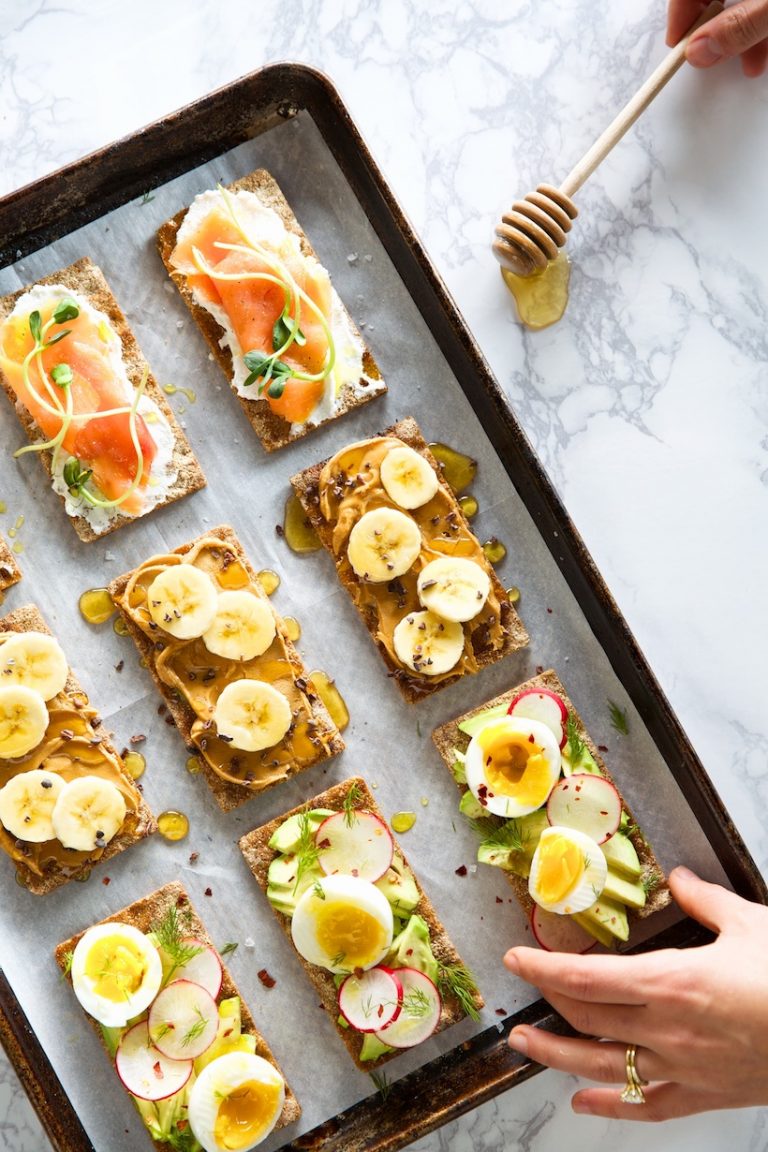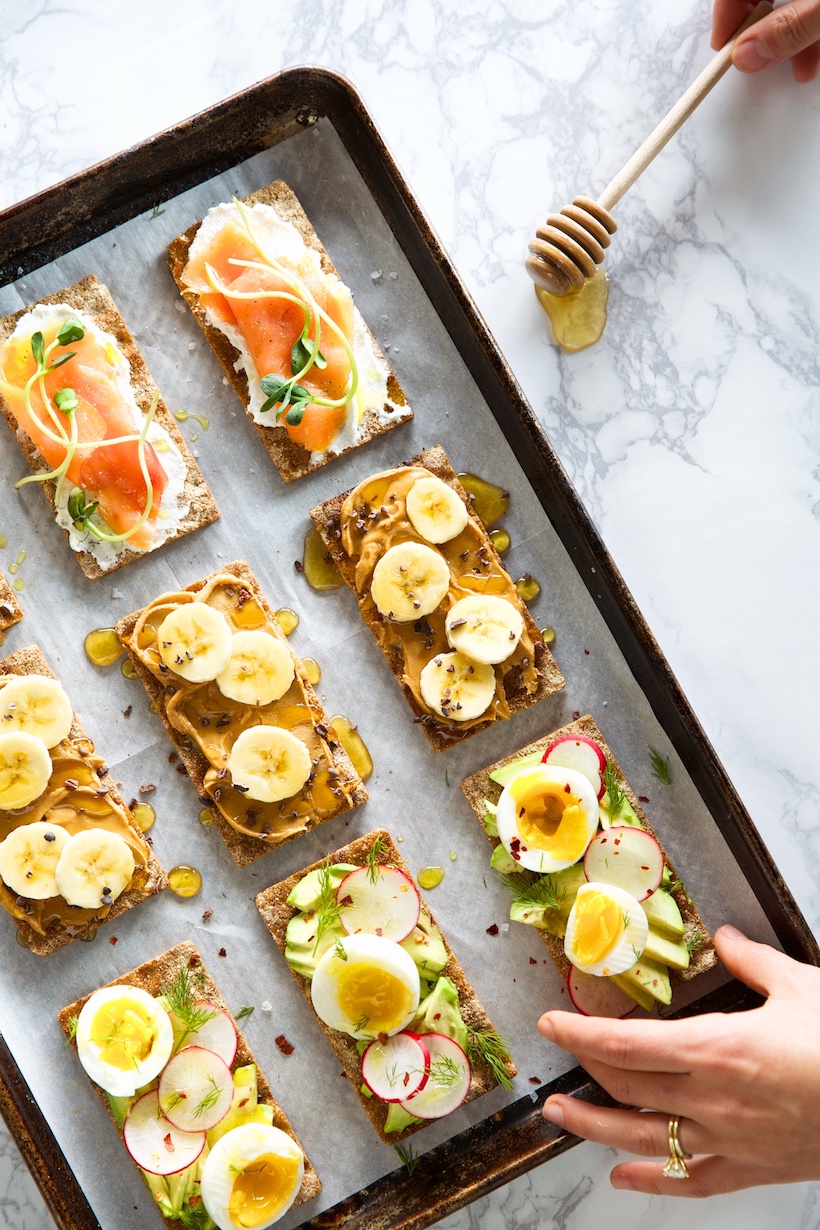 Avocado Wasa Cracker Breakfast Toast
Why We Love It: Do Father's Day the easy way and opt for recipes that lean on assembly in lieu of actual cooking. These toasts are a great pick because you can simply lay out your toppings and let guests mix and match as they please.
Hero Ingredient: I love the paradoxical light, but rich feel that a soft-boiled egg gives any and all savory toasts. It's the perfect finishing touch.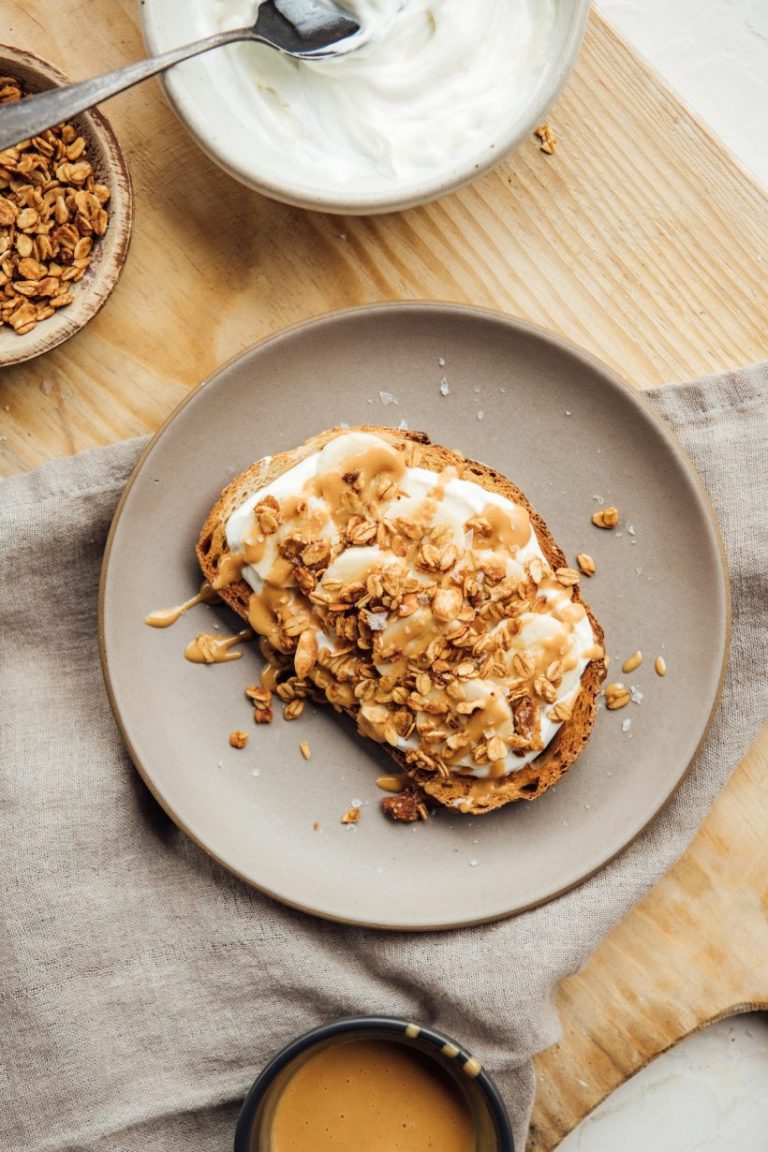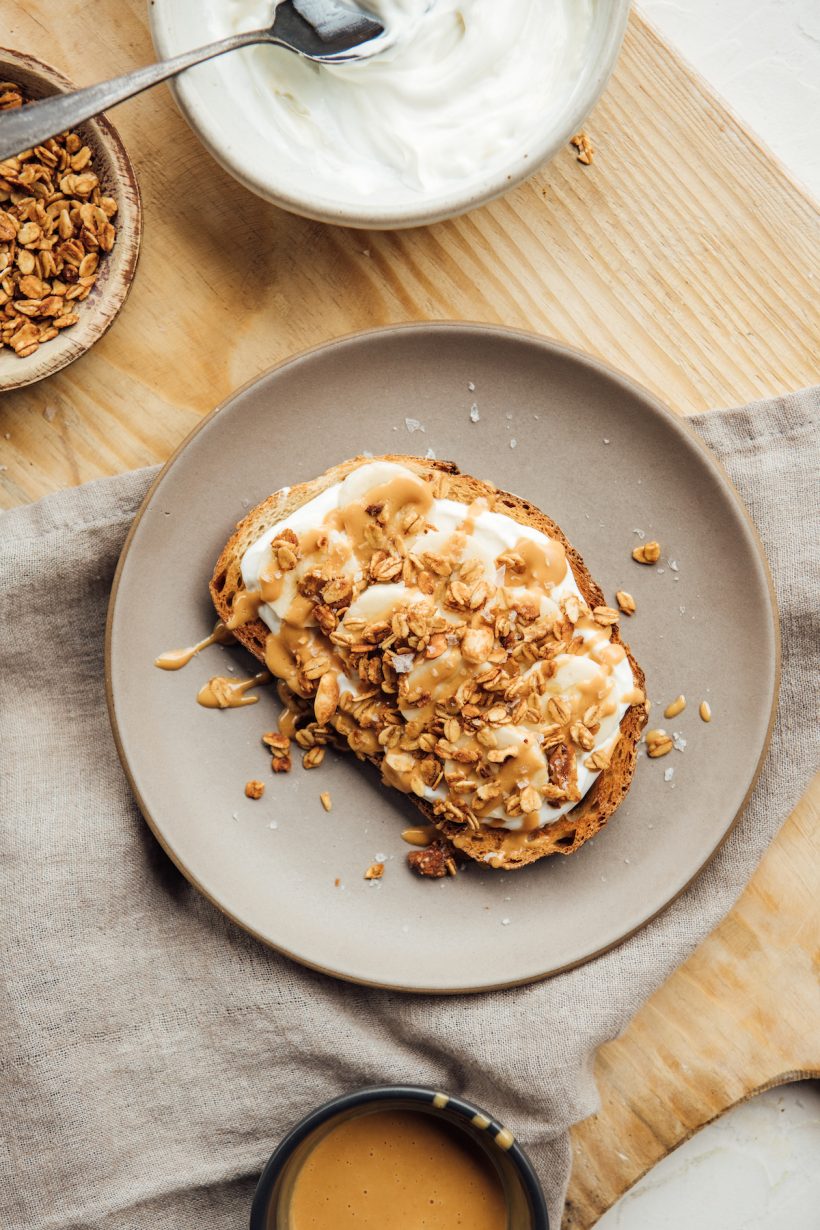 Yogurt Toast With Peanut Butter and Banana
Why We Love It: While ubiquitous custard toast may have run its TikTok trend course, we're keeping this paired-down spin in our brunch rotations until further notice. Camille's no-bake take is simple and does the flavor trifecta of peanut butter, banana, and yogurt justice.
Hero Ingredient: Even as someone who loves oatmeal and can't get enough of smoothies (i.e., breakfast and brunch's creamiest offerings), I'm constantly seeking crunch. In this recipe, the granola makes it happen.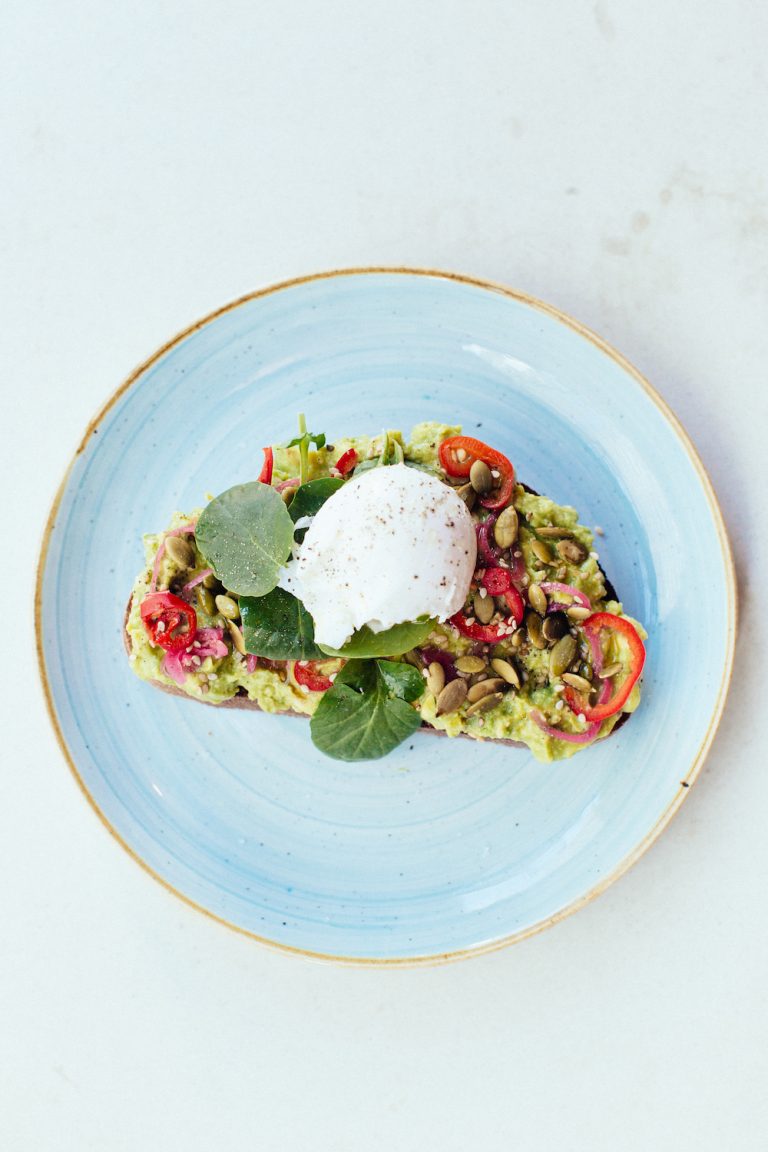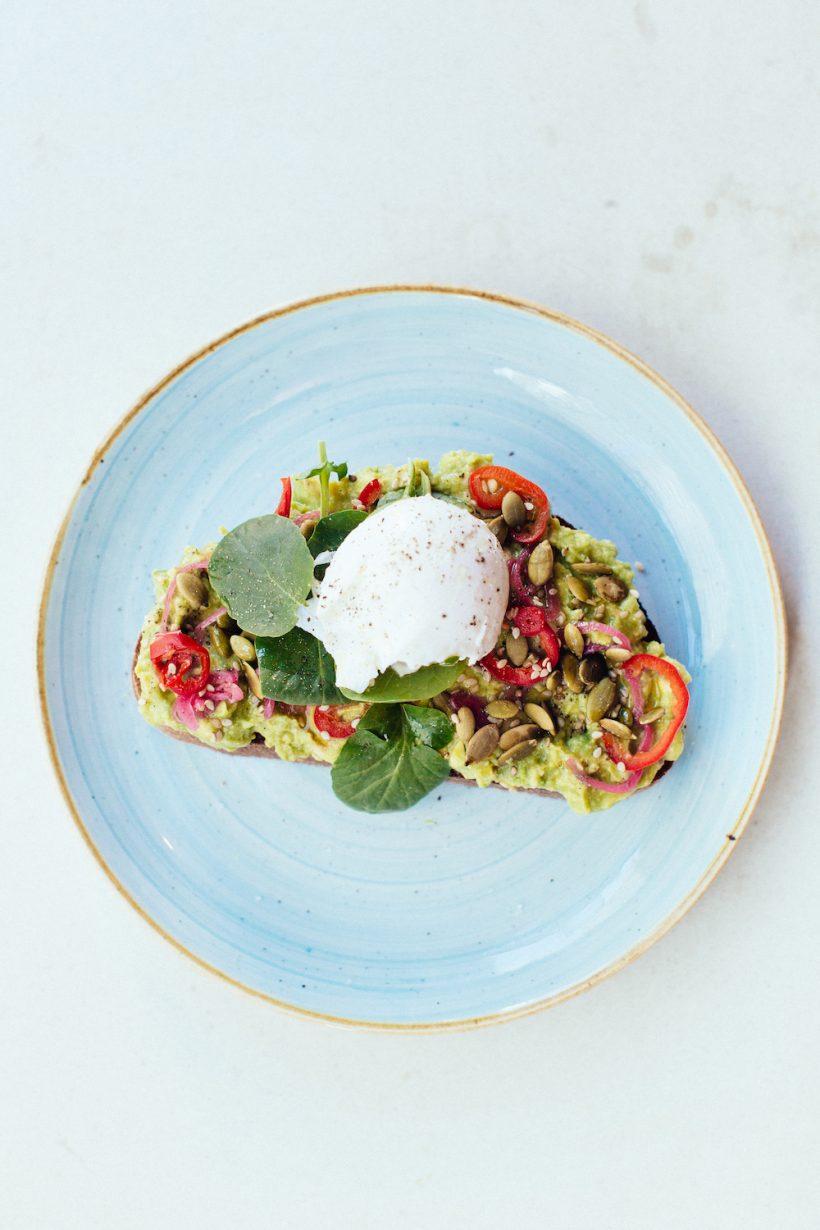 Two Hands NYC Smashed Avocado Toast
Why We Love It: If you've ever thought, Do I really need all the millions of avocado toast recipes social media offers up? trust that you're not alone. On my short list of tried-and-true favorites is this recipe from Two Hands, New York and Austin's famed healthy fare café. The sourdough is sliced thick and the avocado is topped with reckless, healthy fat-lovin' abandon. All other avocado toast recipes, take note.
Hero Ingredient: A drizzle of olive oil on your toasted bread before the avocado gets (lightly) smashed over top makes all the difference.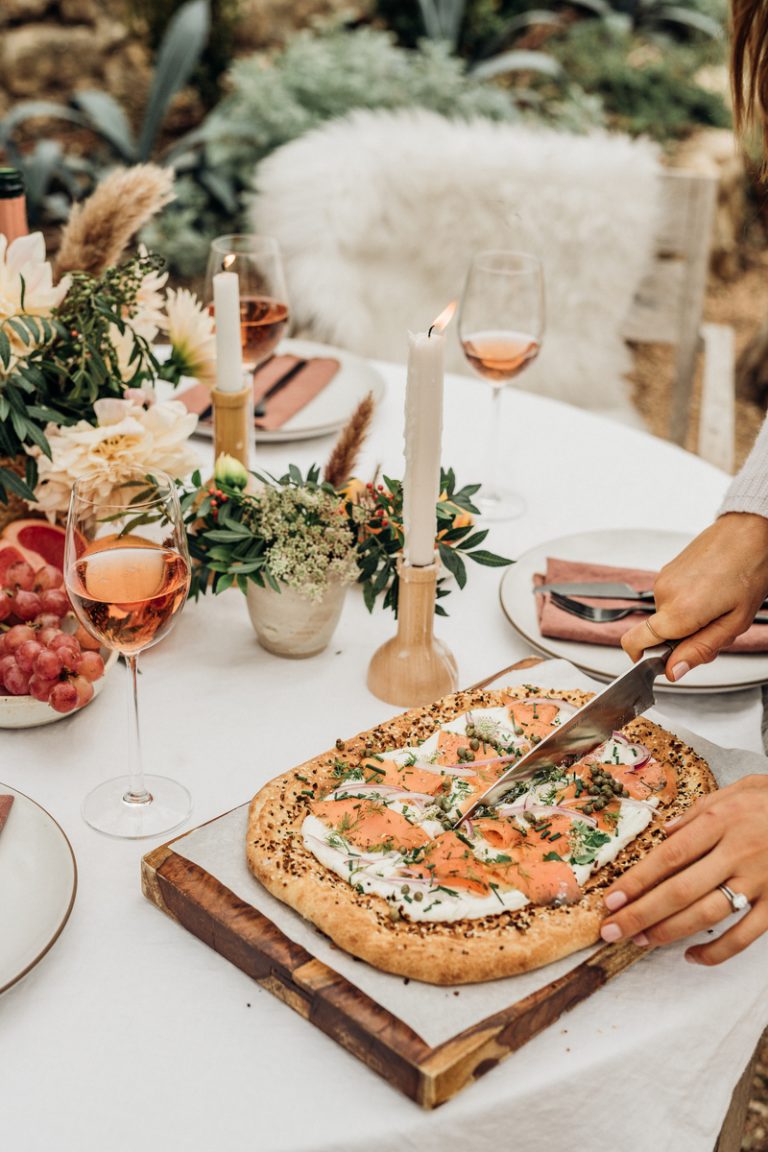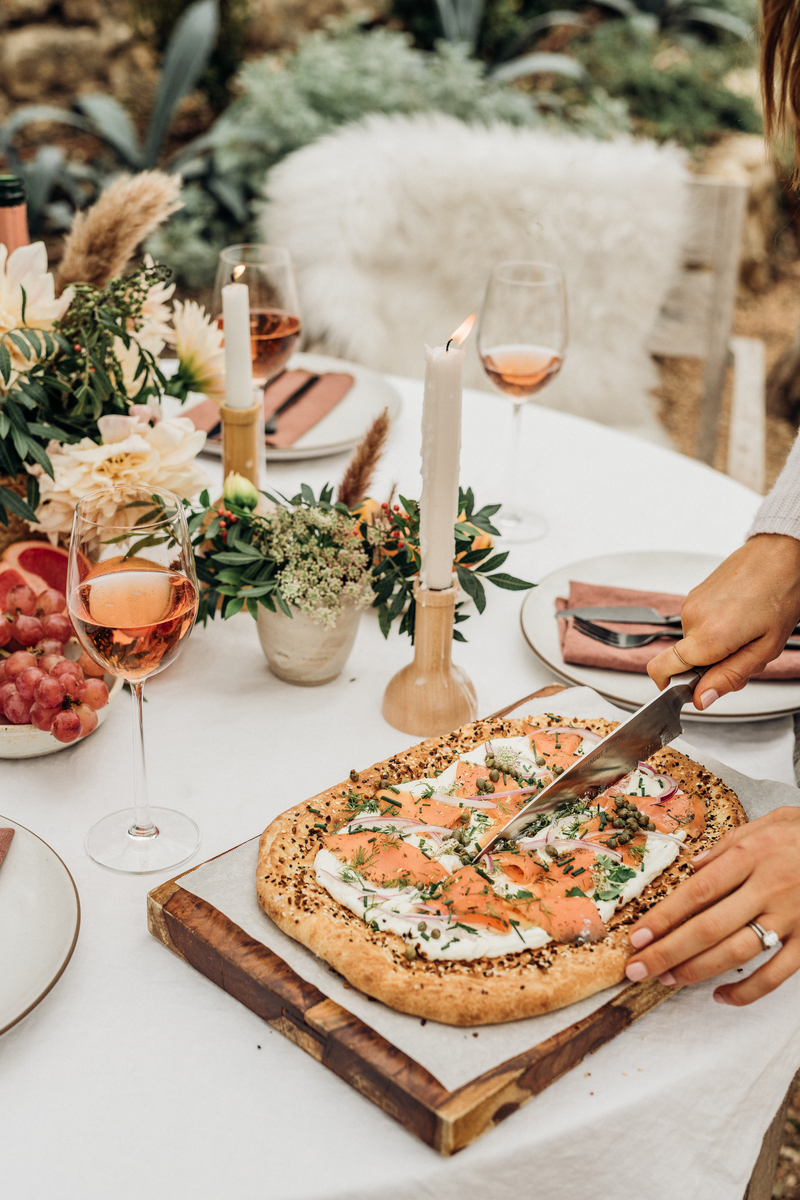 Everything Bagel Smoked Salmon Flatbread With Lemony Cream Cheese
Why We Love It: A bagel with cream cheese and lox is my go-to breakfast order. It tastes indulgent while still feeling accessible and unfussy. This recipe iterates on the classic by creating a made-for-sharing flatbread that everyone can dig into together. Because sharing your favorite Father's Day brunch foods is caring, y'all.
Hero Ingredient: Buying your pizza crust pre-made keeps your flatbread easy, elegant, and totally effortless.
Father's Day Brunch Recipes For the Dad Who Leans Savory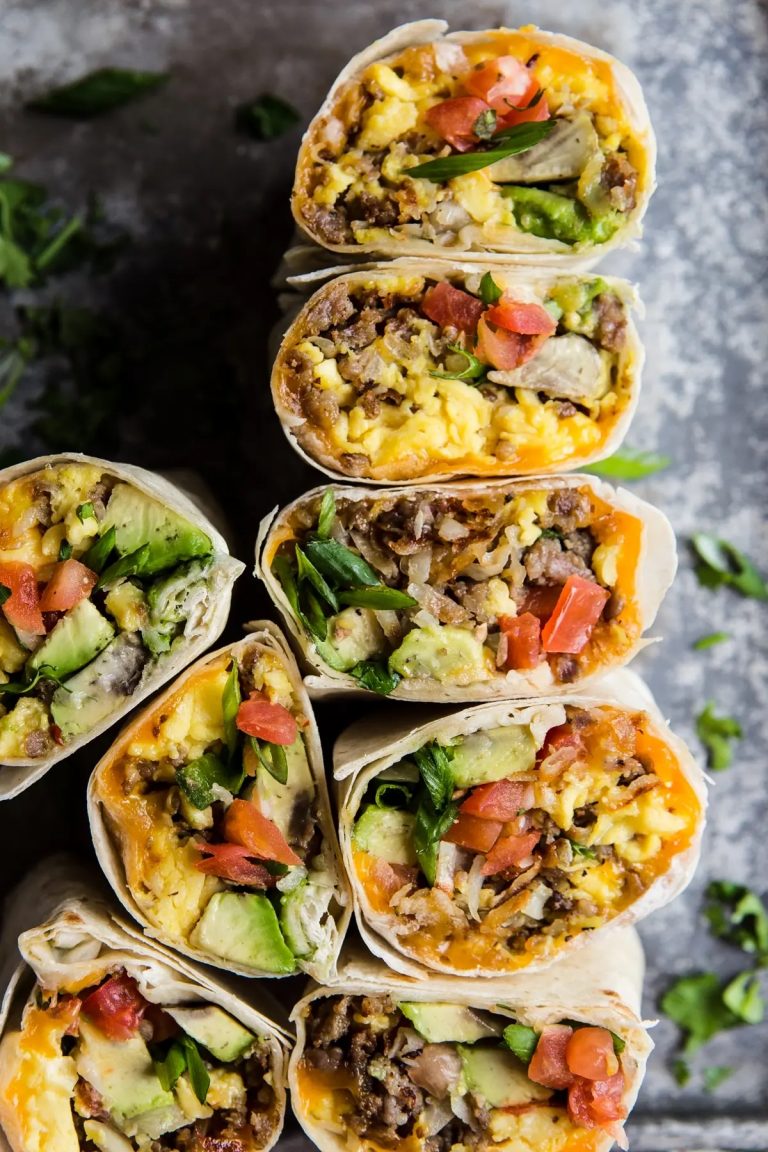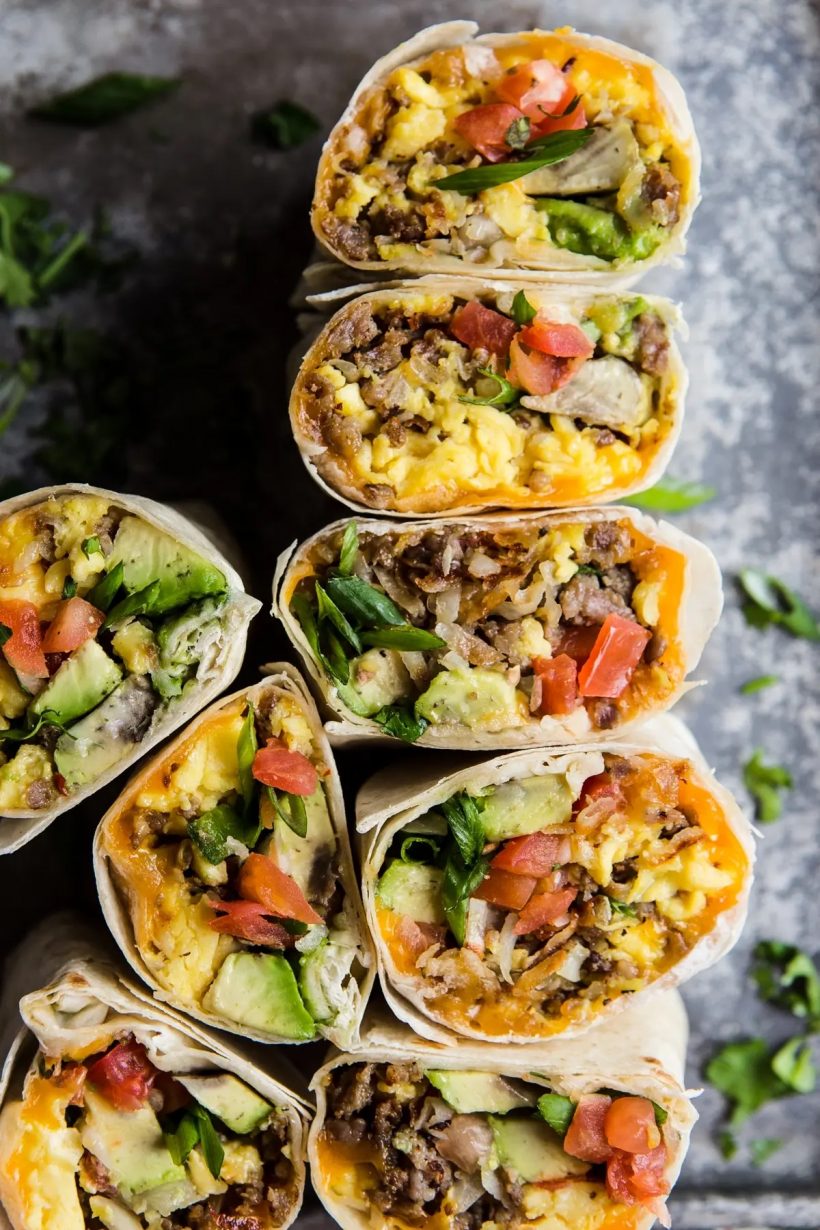 Why We Love It: If your dad's anything like mine, he's after the savory, hearty dishes that'll keep him full (and maybe, because it's his day, send him off for a food-induced nap). These breakfast burritos are filling for sure, but they're also intent on making the most of a few key, flavorful ingredients, namely cilantro, salsa, and green onions.
Hero Ingredient: Claiming to make a morning person out of any night owl, these breakfast burritos are worth waking up to for the smell of sizzling breakfast sausage alone.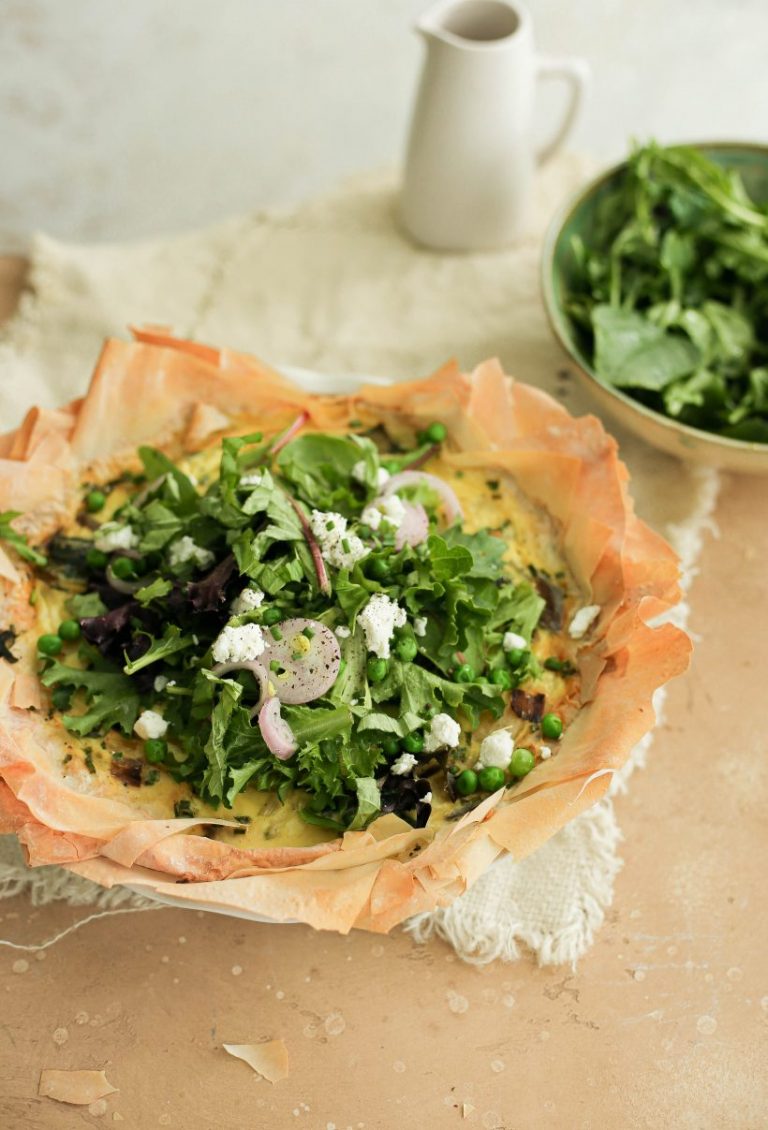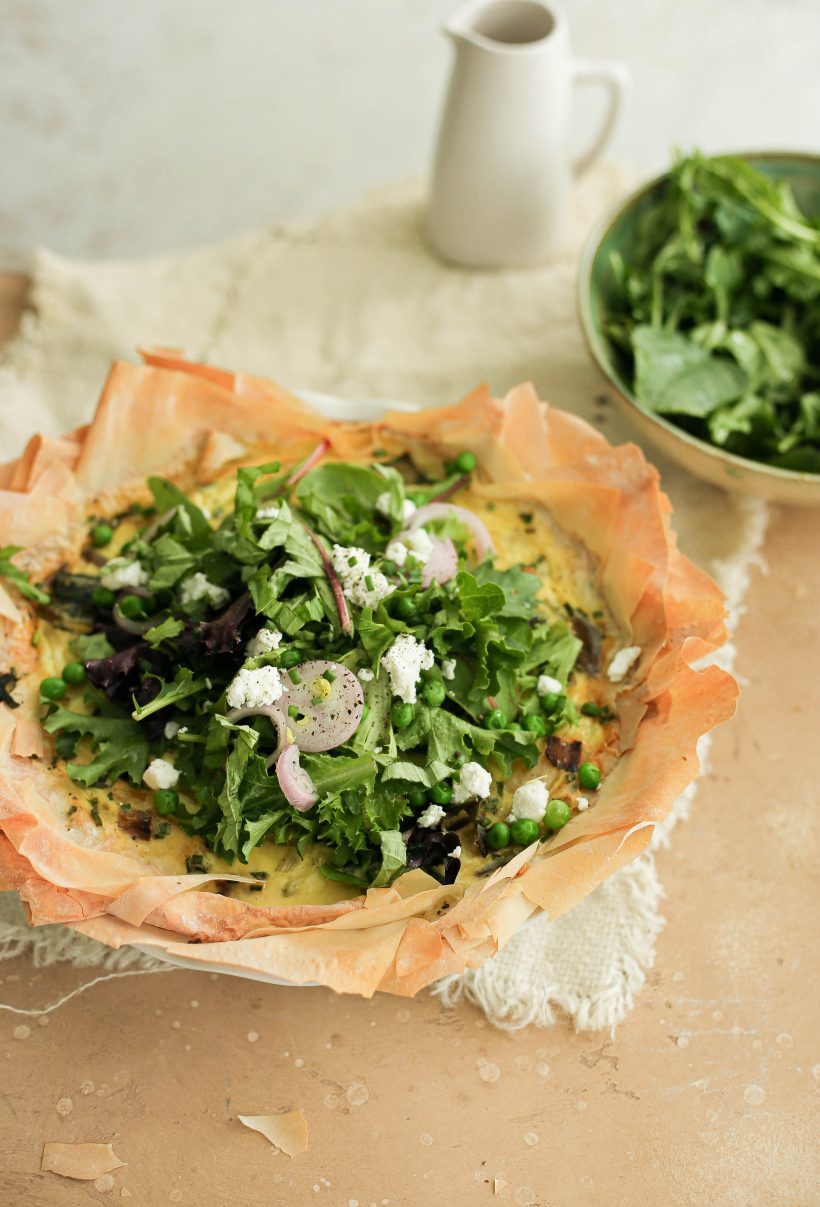 Spring Onion and Goat Cheese Quiche
Why We Love It: I'm not lying: I had dreams about making this quiche before I actually set out to test its perfection. The pictures alone cue sensations of sinking your fork into perfectly-set eggs and savoring the crispy, flaky phyllo dough crust. This is classic comfort food redefined.
Hero Ingredient: I love that this quiche gets topped with salad at the end. It's not only a nice way to get your greens but also balances the quiche's richness with a little (re: a lot) of fresh flavor.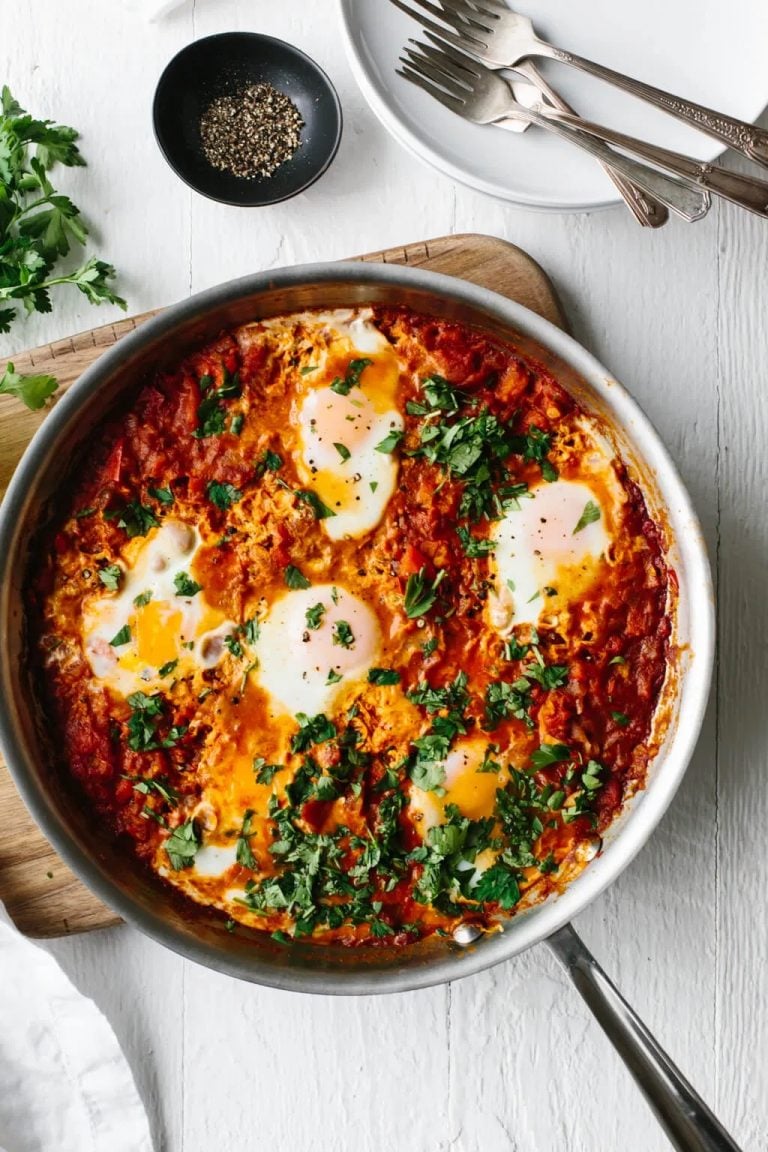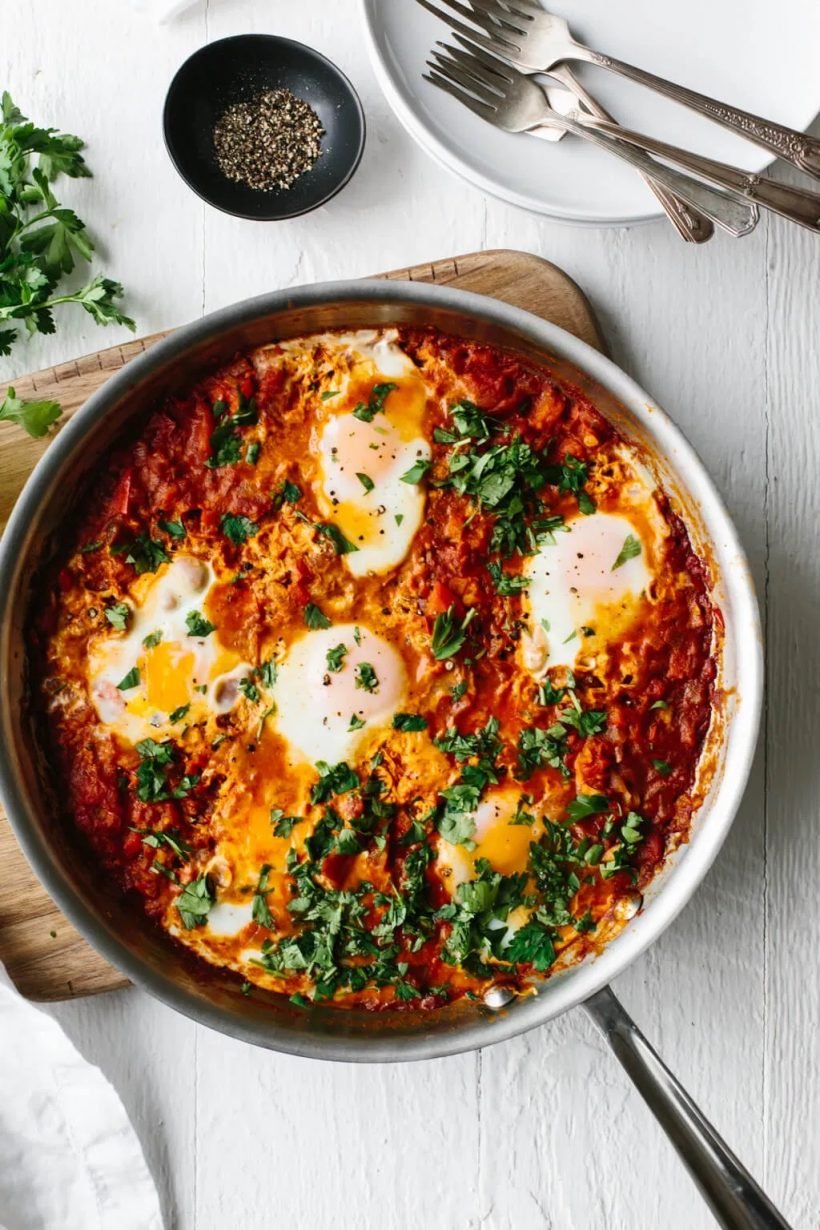 Shakshuka From Downshiftology
Why We Love It: Ditch any misconception that shakshuka is strictly a cold-weather staple. While it does have a way of warming you up on a winter weeknight, it's also the perfect spicy and ever-so-slightly rich recipe that every Father's Day brunch could use. Essentially poached eggs served over a kicked-up tomato sauce (with the yummy combo of cilantro and parsley sprinkled for garnish), what's not to love?
Hero Ingredient: Earthy, warm, and with an edge of citrus, cumin is the clear winner.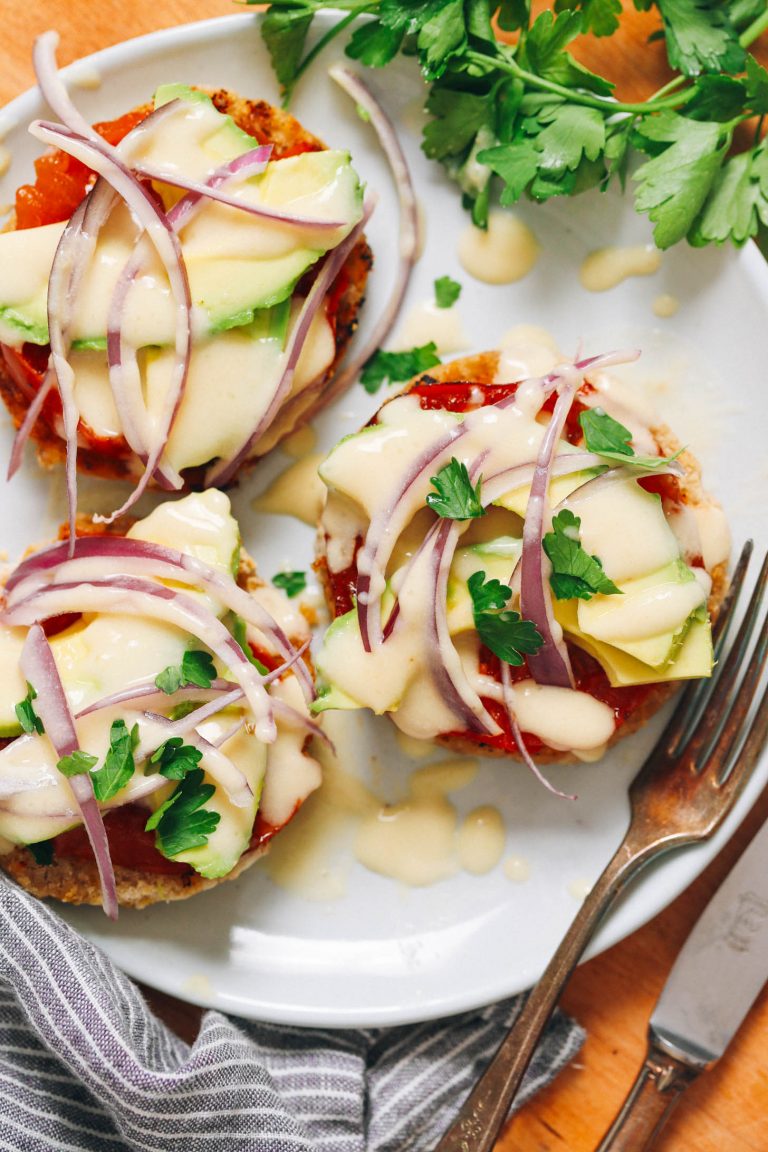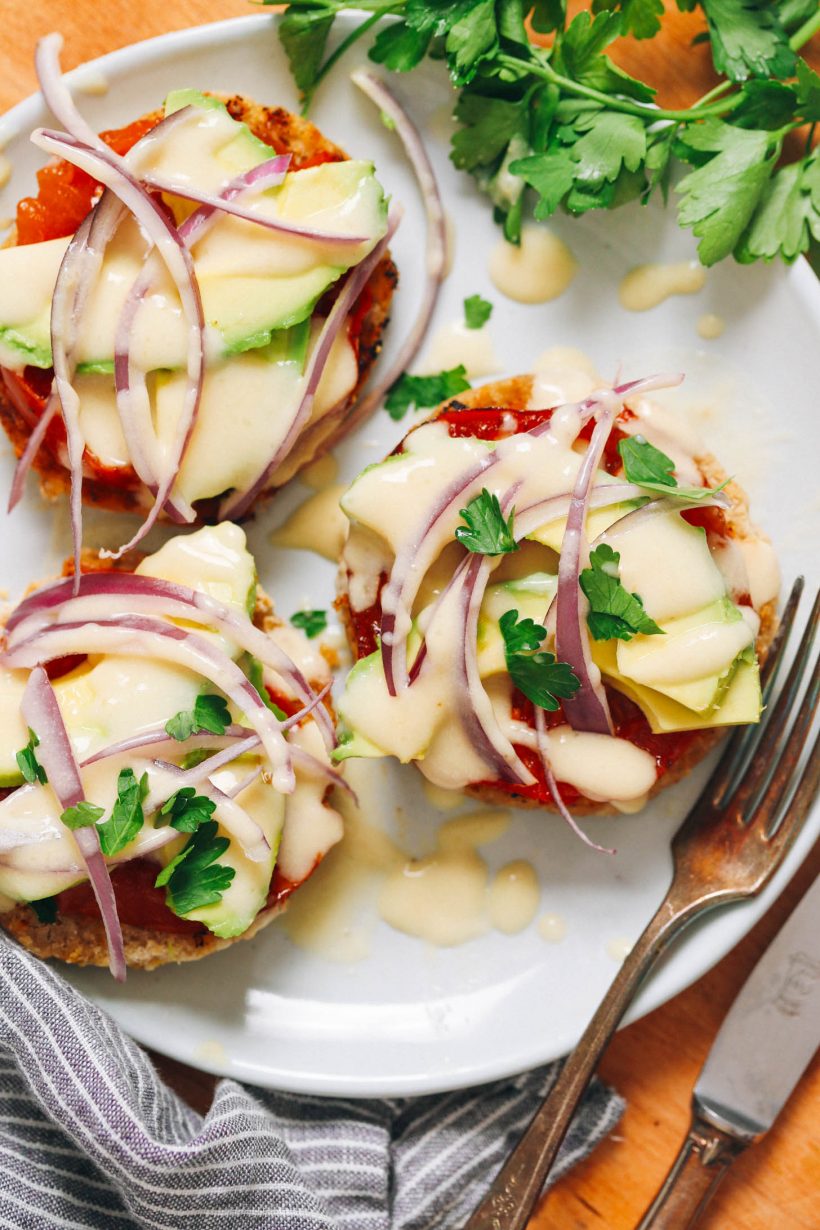 Why We Love It: I'm about to make a lofty claim: My brother-in-law holds the title for the world's best Eggs Benedict. His hollandaise is unmatched (I'm forever grateful that he trusted me with his secrets for keeping it from separating) and the eggs are perfectly poached. So you can imagine my surprise when I fell hard and fast, totally head over heels for this vegan take. In just 30 minutes, you can have a restaurant-worthy Eggs Benedict that'll make you rethink the need for a stick of butter in your hollandaise. Dairy-free for the win!
Hero Ingredient: Nutritional yeast is crucial for giving your egg yolk- and butter-free hollandaise cheesy, rich flavor.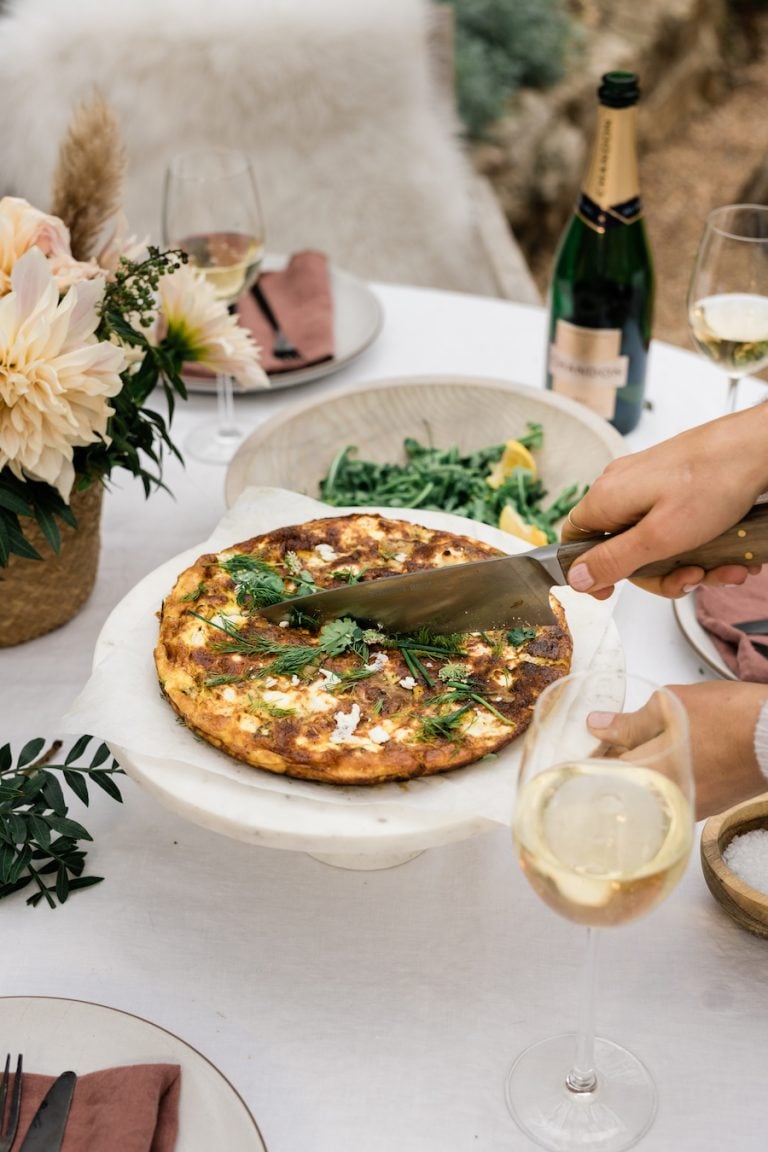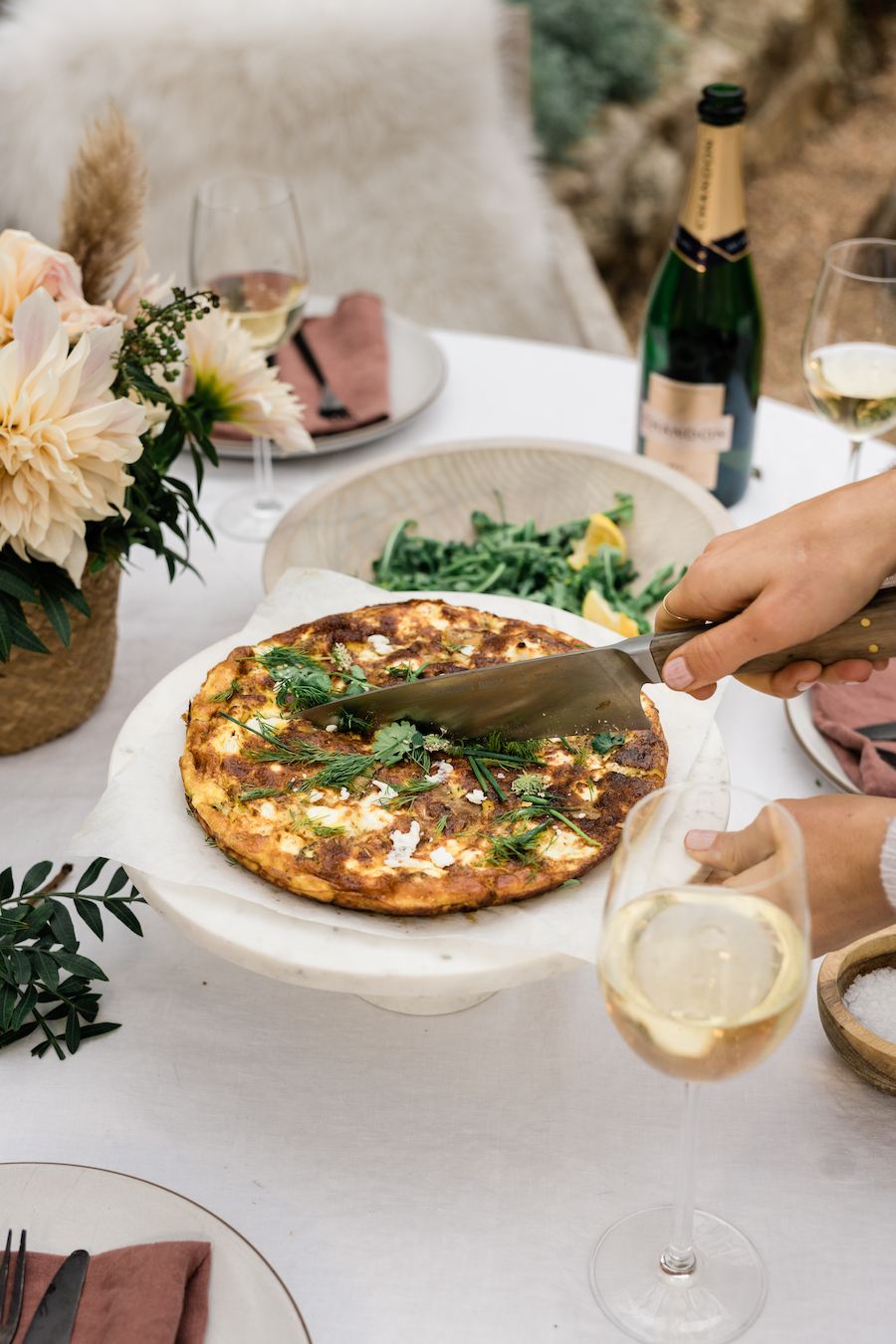 Mushroom, Spinach, and Goat Cheese Frittata
Why We Love It: Is there anything easier or more convenient than a frittata? Whenever I find myself with a fridge stocked with a few stray veggies and the inevitable several eggs that seem to be present at all times, a frittata is always the answer. It's quick to prep and you're left with a result that looks far more impressive than your effort would suggest. Best of both worlds.
Hero Ingredient: It's all about the eggs in your frittata. Be sure to opt for local, high-quality, pasture-raised eggs if possible. Not only because of the associated health boost, but dang, nothing beats the rich flavor of a fresh egg.

link