The exciting mix of faithful old-timers and innovative newbies that make up the Sunshine Coast cafe scene all have one thing in common—they serve up seriously incredible breakfasts, and top-notch coffee to boot.
Here, our fellow breakfast compadres, is our picks for 5o of the best Sunshine Coast cafes in 2023. Go on, get brunching and you (and your stomach) can thank us later.
South Sunshine Coast (Caloundra Area)
White Picket Fence
Caloundra
Every angle of this place is photogenic. Team that with an incredible dish list and it's no surprise we're rating White Picket Fence as one of the best cafes on the Sunshine Coast. Feast on The House Deposit; a dish of organic sourdough on a bed of beetroot hummus and topped with avocado, Persian feta, edamame, lemon and pomegranate—let's just say it won't be your last time.
The Pastry Lab
Caloundra
If you're craving a flaky almond croissant on the Sunshine Coast, The Pastry Lab should be the first stop on your list. Part artisanal pâtisserie and espresso bar, this little corner of pastry heaven will definitely have something to entice you—slinging First Batch Coffee and everything from cinnamon scrolls to pain au chocolat, we dare you to walk away empty handed.
The Pocket Espresso Bar
Moffat Beach
The coffee guns of the south, The Pocket rules anything with caffeine in it. And we all know the liquid stuff is the new breakfast of champions.
Lamkin Lane
Caloundra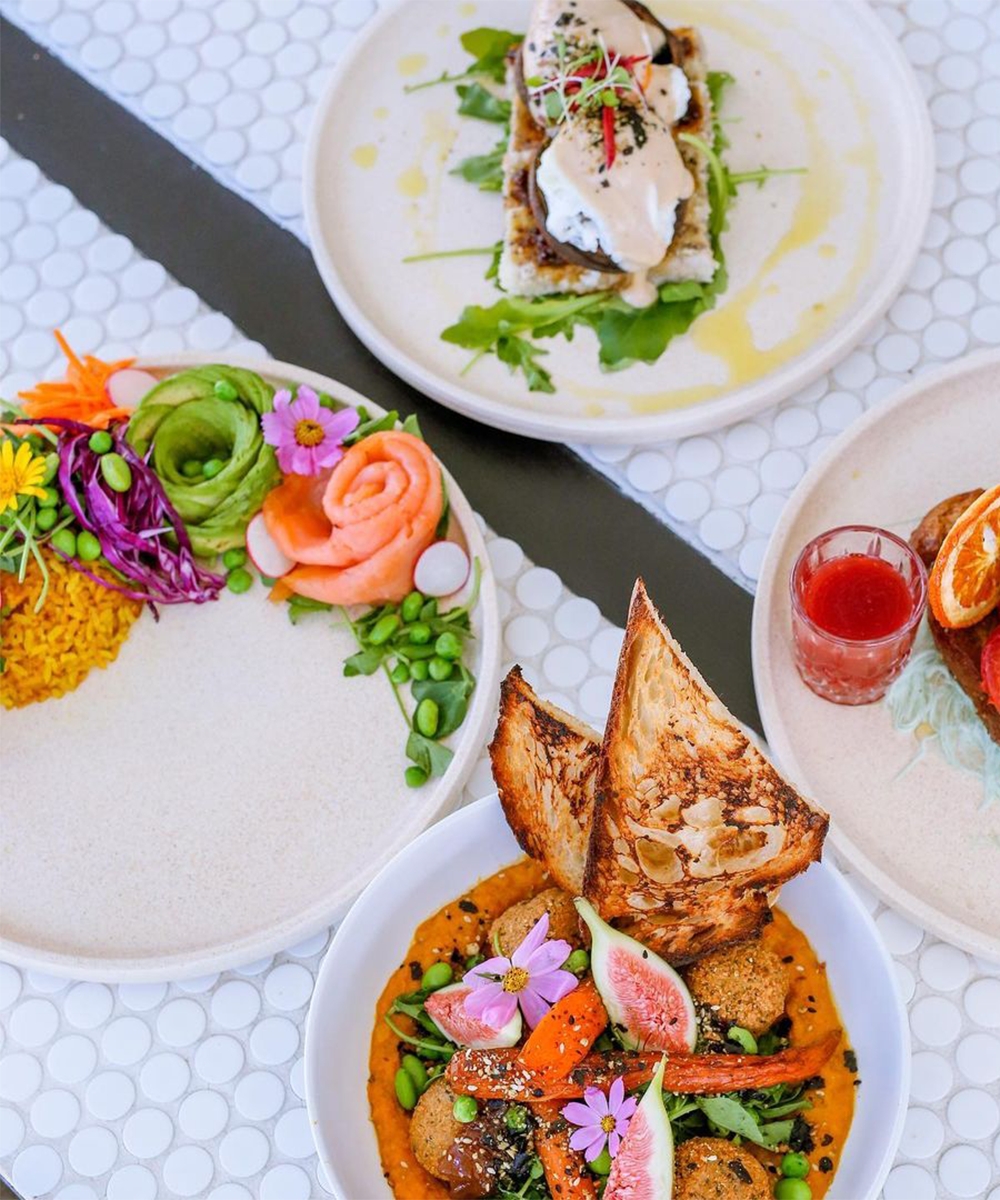 Pumping out what's been rated as some of the best coffee on the Sunshine Coast, if you've never dropped by this cute-as-a-button spot, make it your next detour on the way to the beach. Serving up a seriously Insta-worthy all-day brunch menu loaded with hot cakes, bowls, burgers and loads of enticing chef's specials, we promise you won't leave Lamkin Lane hungry or uncaffeinated.
Aurenda Coffee Co.
Kings Beach
This cute-as-can-be coffee shop (with a hilarious Instagram account, we might add) is a top spot for great coffee and a cracking breakfast in Caloundra. The french toast is a must-order, but it is dangerously addictive. We love that every Friday and Saturday night, Aurenda transforms into a pumping yakitori bar with banging cocktails and flame-grilled eats. Truly the best of both worlds.
One Block Back
Moffat Beach
Down a quiet little cul-de-sac, about five minutes' walk from the Moffat Beach village, One Block Back can be found in a converted warehouse, complete with corrugated iron walls and a cabinet packed with delicious raw treats. You'll find herb gardens out the front and back, a shady deck and a steady stream of in-the-know locals who can't stay away from their Nutella and banana crepes.
Cafe Sisily
Golden Beach
We may be a long way from Sicily, but lucky for us, Cafe Sisily is dishing up authentic Italian sweets, including some of the best cannoli on the Sunshine Coast. Hidden down the southern end of the coast in Golden Beach, you'll find the tastiest fried pastry tubes filled with sweet creamy custard or ricotta that'll go absolutely swimmingly with your morning coffee.
Central Sunshine Coast (Birtinya To Mudjimba)
The Velo Project
Mooloolaba
If you ask anyone who serves the best breakfasts in Mooloolaba, they're probably going to direct you here. Off the beaten track, this eclectic cafe is a neighbourhood favourite, perfect for groups with both indoor and courtyard seating. Their menu is huge, so going once won't be enough, but start your Velo experience with one of their savoury crepes—you won't regret it.
Decisions Cafe
Birtinya
Decisions are the pros when it comes to being naughtily healthy and describe themselves as 'the Sunshine Coast's first taste of heathy dipped in chocolate'. Get a fruity acai bowl one day and back it up the next day with the Korean Steak Burger complete with Asian slaw, fresh herbs, shallots, sesame seeds, and roasted garlic mayo all on top of a pillowy milk bun.
Lil Canteen
Buddina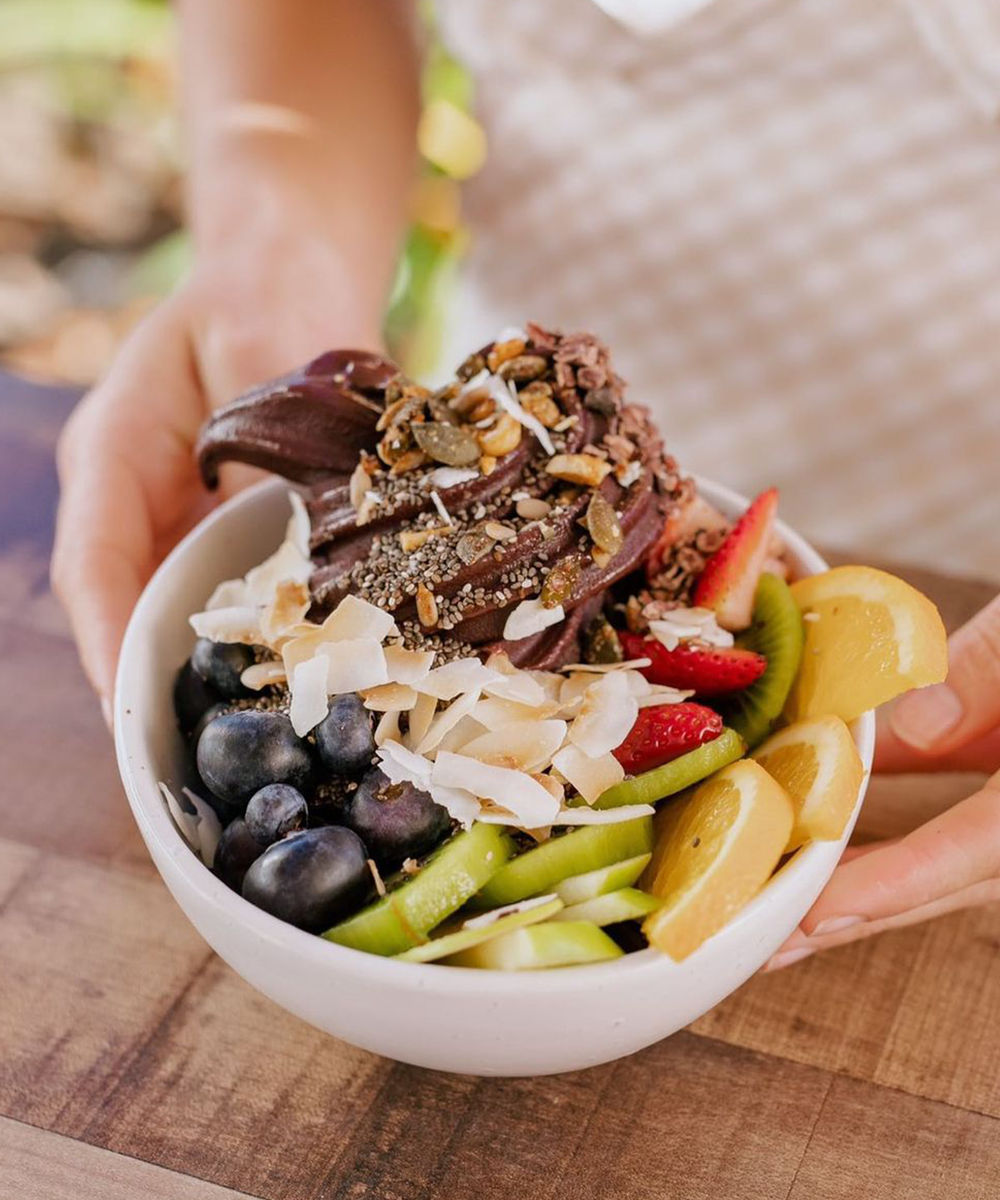 Lil Canteen is, hands down, one of the Sunshine Coast's most beautiful cafes, offering a range of delicious eat-in and take-away dishes that are (almost) too pretty to eat. They specialise in organic, gluten free and health-conscious dishes—you can't visit without trying their famous acai bowls and delightful paleo cookies.
Belle Venezia
Mooloolaba
Mooloolaba's highly lauded Italian restaurant Belle Venezia has recently launched a silver-service breakfast and you'd be a fool not to try it. Served from 8am every weekday, they're maintaining their reputation as one of the Sunshine Coast's best restaurants with breakfast delights like their breakfast gnocchie with beef cheek ragout.
Hey Day Buddina
Buddina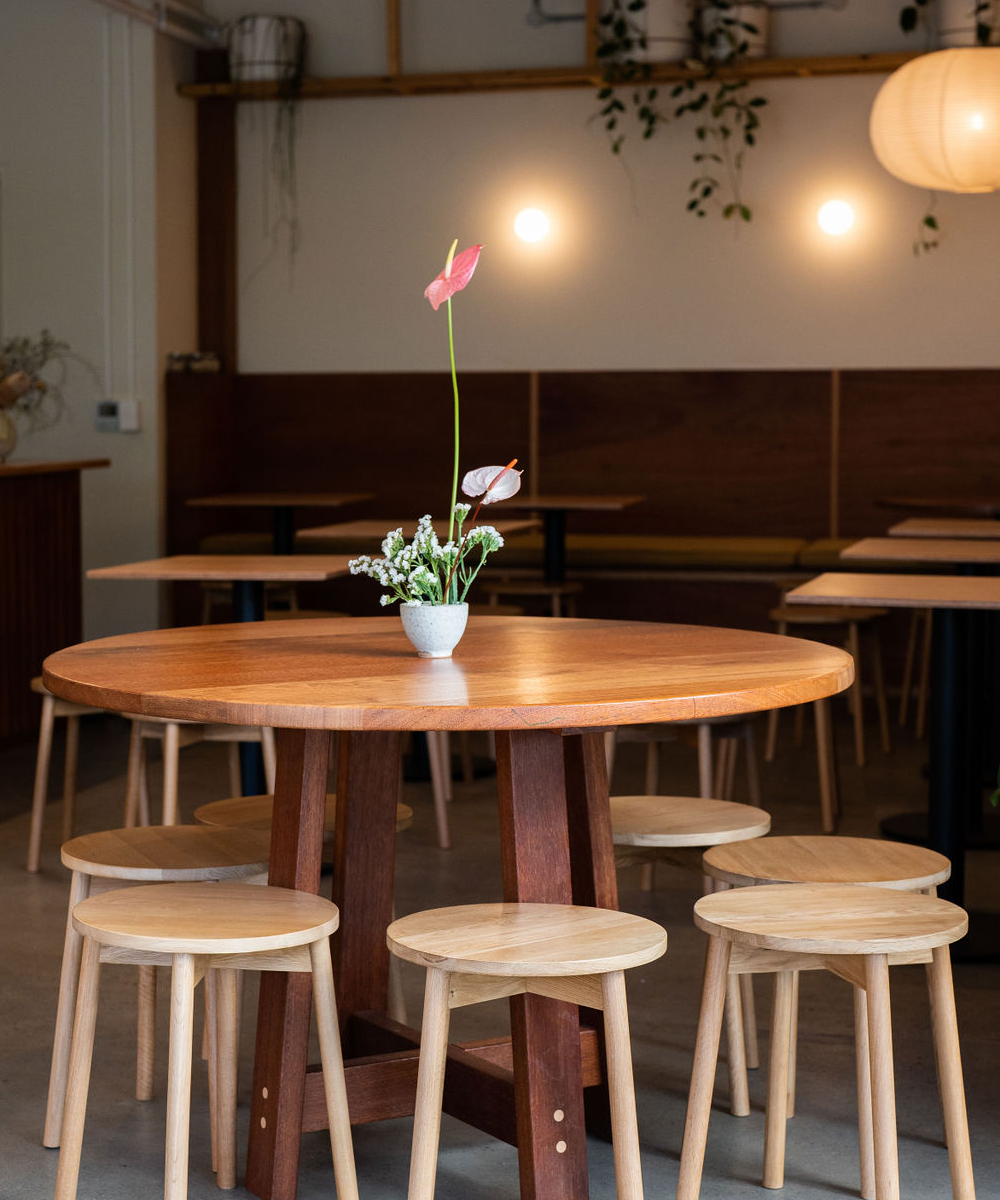 This gorgeous timber-toned cafe combines owners Ashleigh and James' love of mid-century design with art, music and coffee. The sweet cafe champions Sunshine Coast coffee with rotating filters from local roasters, as well a succinct lineup of Australian-wide roasters. On the menu you'll find deli-style sandwiches and classic brunch items, with a focus on supporting local venues like Tanglewood, Sunshine Coast Sourdough and Jeremiah's Crust.
Backstreet Cafe 
Mooloolaba
A long standing favourite, Backstreet Café slings all your fave breakfast classics and then some. From pancakes to juicy burgers, this cute little spot is one of our faves—plus you can't beat the view, especially during whale watching season.
Urban Garden
Maroochydore
Coffee is the star at Urban Garden, so if you're after a no-fail cup of joe, this is one of the best cafes in Maroochydore to hit. With a small selection of cabinet food (the Milk Bar Cookies are life-changing) these guys have food trucks rock up on the regular, so be sure to keep an eye on their socials. 
Murray's Cafe
Maroochydore
A staple to the Maroochy cafe and breakfast scene since 2010, Murray's licensed cae and espresso bar stocks everything from healthy treats to all things just a little bit naughty (hello freshly baked lemon and blueberry XL muffins). This one's also the perfect spot for a bit of pup pampering—with homemade doggie treats and puppuccinos at the ready, everyone goes home with a full stomach.
Schwenkee Espresso
Mooloolaba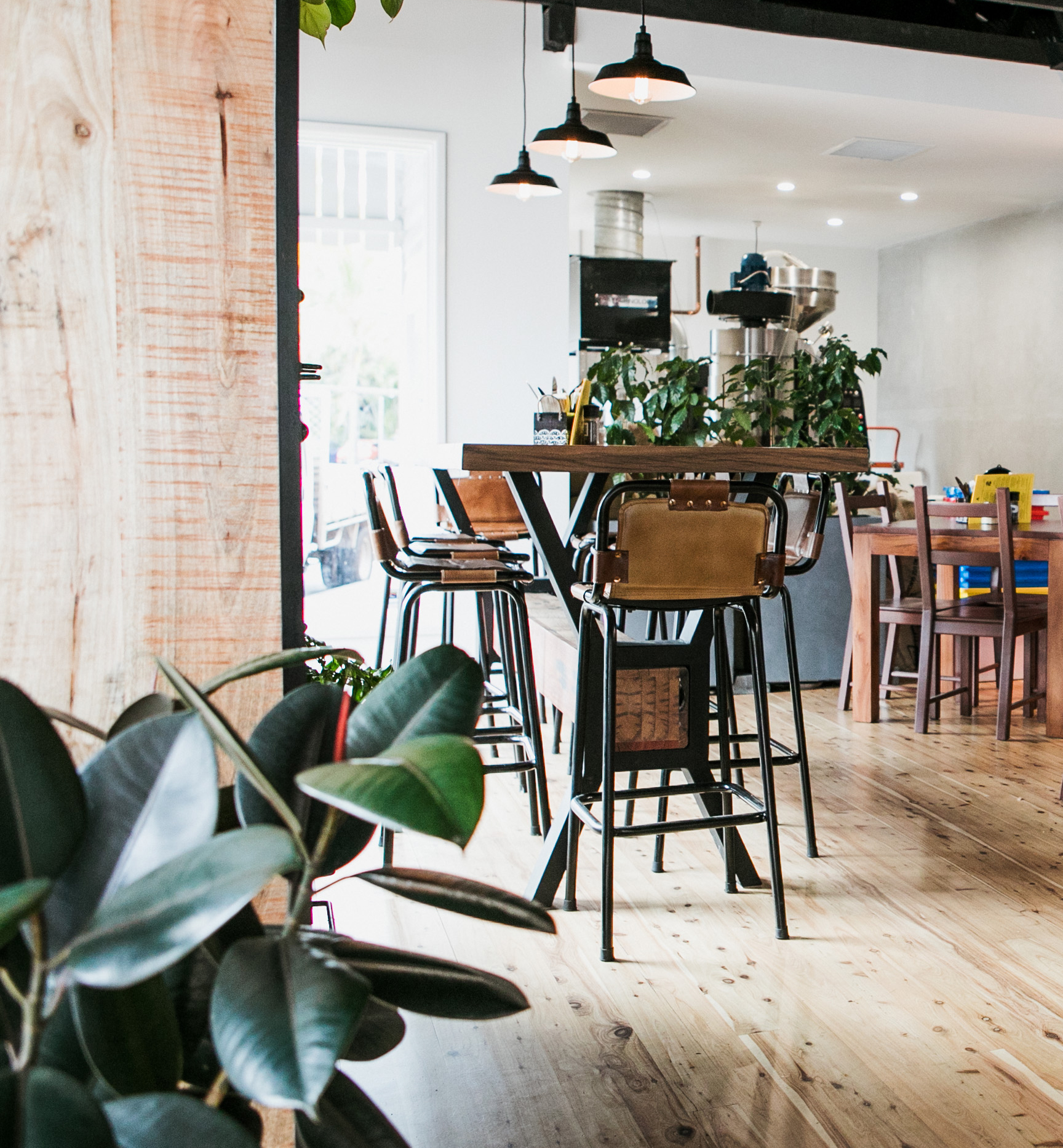 Conveniently located on the Mooloolaba Esplanade, Schwenkee is not only one of our Mooloolaba favourites, but one of the best cafes on the Sunshine Coast. From pastries to brekky rolls, to a rotating roster of delicious specials, you'll want to head to Schwenkee ASAP. Their Schnwenkee Eggs are a must-order.
Mill St. Kitchen & Pantry
Nambour
Mill St. Kitchen & Pantry's breakfast and lunch menus focuses on local produce that benefits both your health and the environment. Their menu is redesigned seasonally and they love to showcase the freshest flavours from local producers. We rate this as one of our favourite regular coffee spots and if you rock up on the last Friday of every month, they do a small plates tasting event.
Nambour Social
Nambour
We have it on good authority that you can only really rate eggs benny if the hollandaise is house-made. Good news, at Nambour Social it is. Better news, it tastes freaking amazing. Add to that friendly service, and this is the kind of place you want to start your day. 
Catbird
Yandina
Located on nine acres of botanical gardens in the picturesque Fairhill Native Botanic Gardens, Catbird is serving up top-notch feeds with a focus on locally-sourced produce. Celebrated Sunshine Coast chef, Sara Dillon is heading up the kitchen and has crafted a unique seasonal menu with a wide range of gluten-free and dairy-free options.  We love that Catbird keeps things simple and is dog and kid-friendly, while still maintaing a refined aesthetic.
Homegrown
Palmwoods
A Sunshine Coast cafe that's totally worth jumping in the car for, Homegrown's breakfast menu is divine, especially when it comes to their summer lemon myrtle pannacotta, paired with mango and blueberry. 
Criminal Coffee
Maroochydore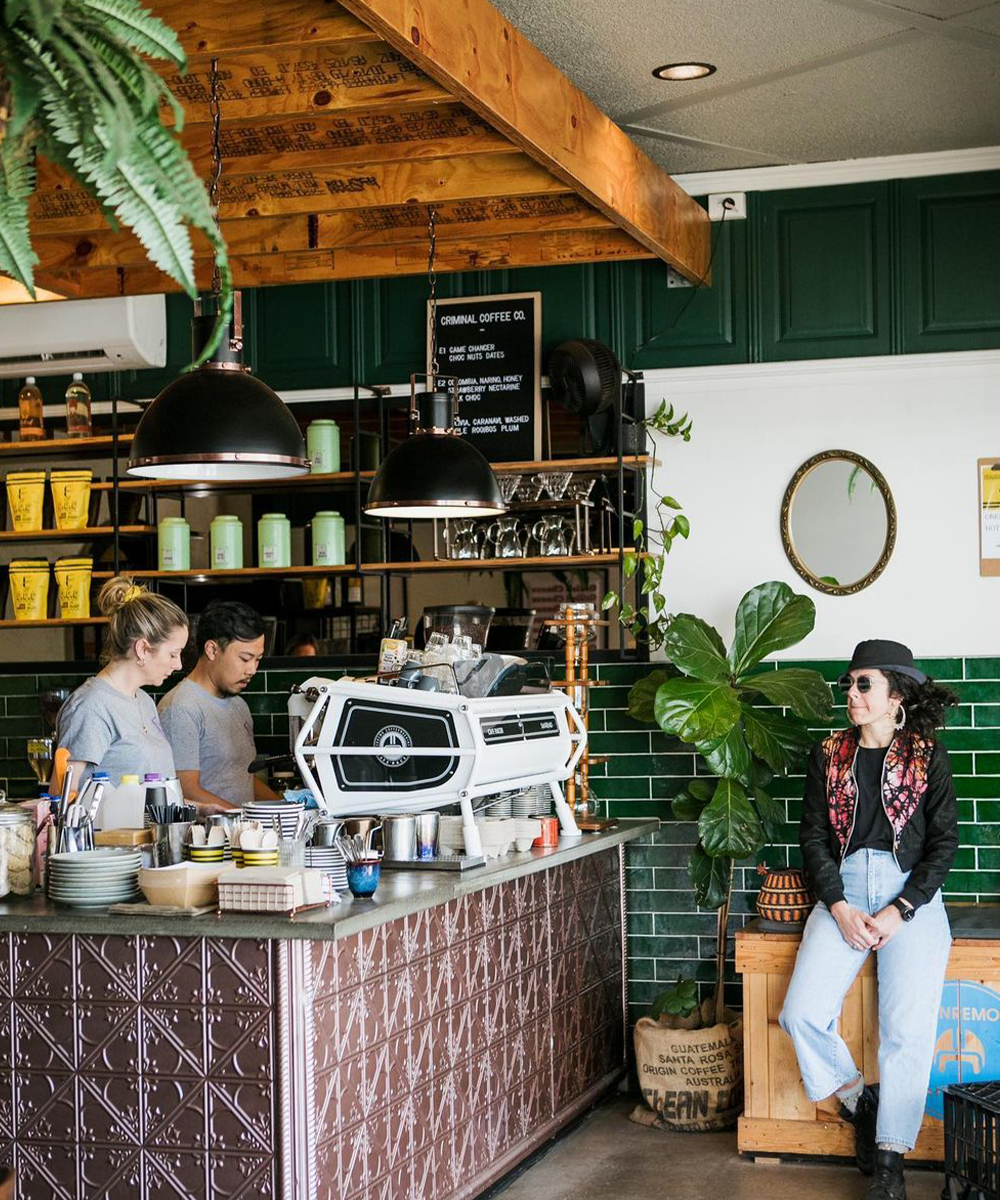 Peaky Blinders fans, eat your heart out; this Sunshine Coast cafe will be right up your alley. Beyond the polished concrete floors, pressed tin espresso bar and brick archways, Criminal Coffee is a hotspot for good local coffee and drool-worthy toasties. 
Montana's On Buderim
Buderim
Set in a beautifully renovated space, Montana's on Buderim is all about wonderful service, delicious food and high quality coffee, that will have you coming back again….and again. Montana's also hosts a gorgeous Friday night dinner event in the summer months which attracts patrons far and wide, for a very good reason. Be sure to bring your pup to Montana's and they will be spoiled with homemade pup biscuits.
Harvest Breads & Cafe
Maroochydore
Aside from the fact they do the best bread on the Sunshine Coast, Harvest also does an awesome spread of morning dishes including green pea, feta and mint corn fritters with avo, aioli and Harvest's very own chilli pepper jam. Add bacon and you have picked one hell of a winner.
John Kyle Espressso 
Buderim & Maroochydore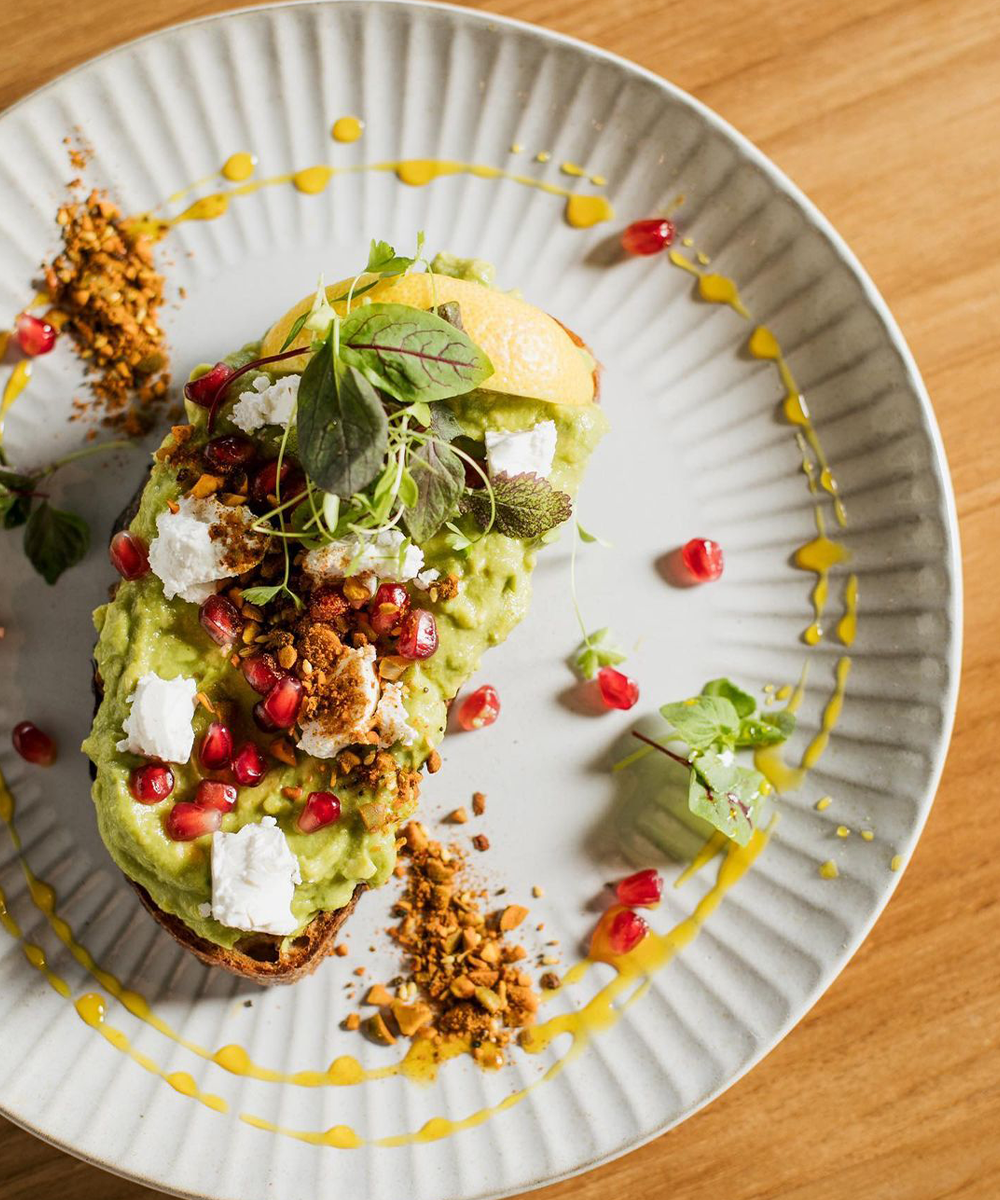 If you enjoy sipping your caffeinated brews in a cafe that looks as incredible as your coffee tastes, head to John Kyle Espresso. Originating in Buderim, the cult-fave coffee shop has recently opened a second location in Maroochy which is just as beautiful as their OG venue. Their minimalistic interiors teamed with uber-chill vibes means that this is the perf place for a mid-week coffee date. The chilli scramble is seriously addictive—don't say we didn't warn you. If that wasn't cool enough already, their Maroochy location transform into a very cheeky wine bar on Friday, Saturday and Sunday evenings. 
Nurcha
Birtinya
The gorgeous Cafe Nurcha is your one-stop shop for all things holistic and wholesome, including nourishing plant-based meals that are always spot-on. The whole cast is here, including an all-day breakfast menu, lunch, pizza and if you want our tip; whatever meal wins your vote, side it with Nurcha's famous loaded wedges. You can never go wrong with garlic and thyme potato chunks topped with smoky jackfruit, rainbow slaw, aioli and chilli jam. 
Elliott's Bistro
Alexandra Headland
Blink and you might miss Elliott's Bistro, and you'd seriously hate to do such a thing. Open for all day breakfast and lunch, they all swing open their doors on Thursday evenings for Roast Night. This Alex Heads cafe is dog-friendly, so you don't have to leave your BFF behind. Try their famous smoothie bowls for a super-refreshing post-swim snack.
Evolution Fuel
Maroochydore
Trust us, you'll feel good just reading the menu at Evolution Fuel, it's that healthy. Taking the bar up a notch, their dishes are packed with the good-for-you stuff, can be eaten in or taken away, and, the best bit, they're pretty cheap. Introducing the Sunshine Coast to poke bowls many moons ago, these guys have wellness and your stomachs on their mind 24/7.
Brewed. Espresso
Maroochydore
Locally sourced specialty coffee? Check. Fresh and tasty eats? Check. Some of the friendliest service around? Triple check. Pop into brewed. espresso for your breakfast and coffee needs and leave with a smile on your face, guaranteed. 
The Nines Emporium
Maroochydore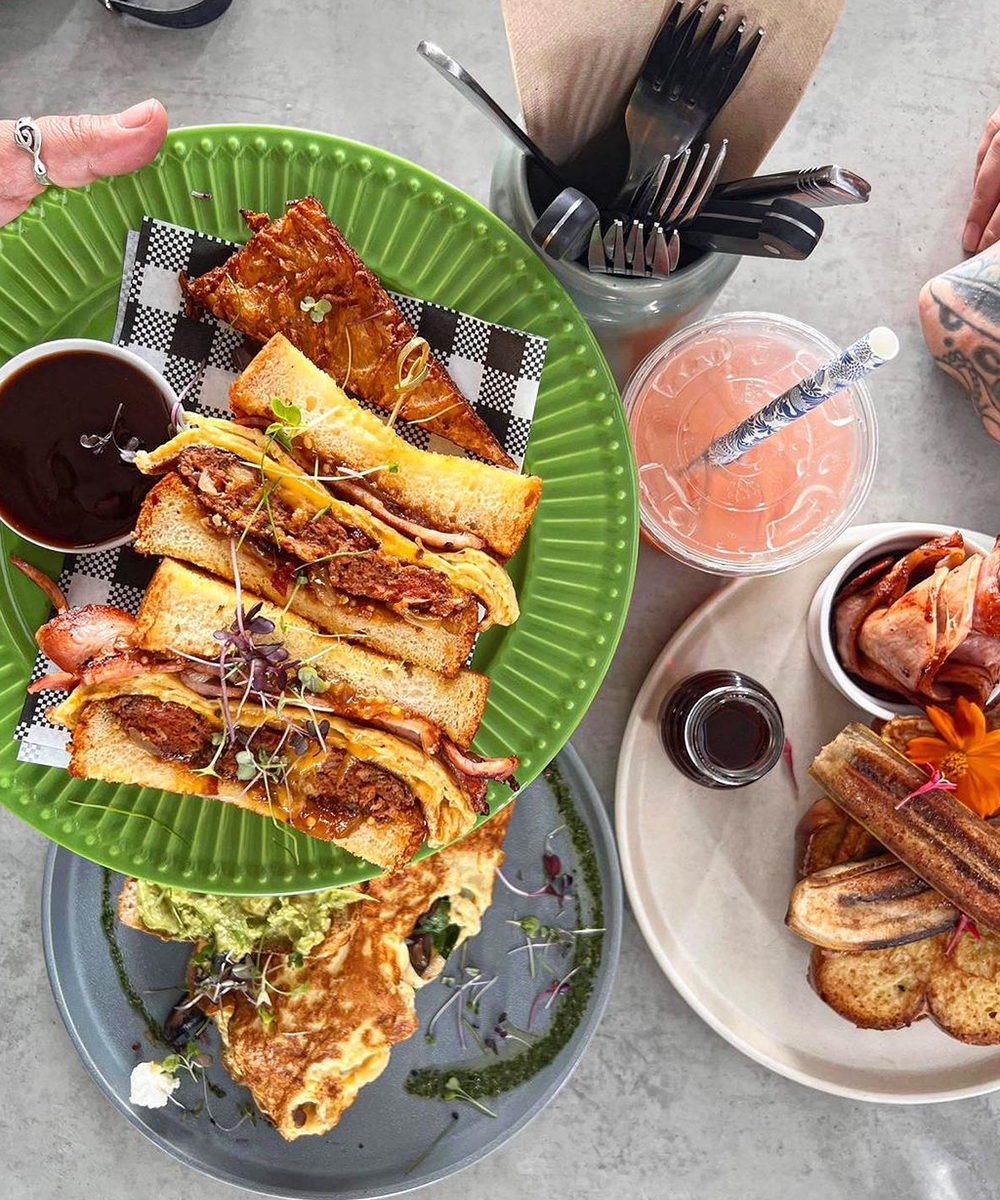 A homemaker centre isn't where you'd usually expect to find some of the best breakfasts on the Sunshine Coast, but then again, there's nothing ordinary about The Nines. Since 2015, the Nines team has been doing things differently. Inspired by the street cafes of Melbourne, and combined with the effortless style of Maroochydore here you'll find next-level breakfast that has well and truly earned its place on this list. Eat. Waffles. Now.
High Tide
Mudjimba
We love High Tide in the morning, as much as we love them at night. A place for cool cats who like breakfasts that turn into lunches that turn into drinking sessions.
Guru Life
Rosemount
Want to escape the Coast without leaving it? Guru Life is a cafe slash bar slash roastery, and their in-the-middle-of-nowhere location makes their already delicious dishes taste that much better. One of the best cafes on the Sunshine Coast if you like eating alfresco and happen to be carting around some little people, too.
Cafe Vie
Buderim
The passionate team behind Cafe Vie have laboured over creating plant-based breakfast and lunch menus that not only excite but are also bursting with flavour. One of the Sunshine Coast's best vegan cafes, this Buderim beauty is renowned for their potato rosti coupled with spinach, creamy avocado, crispy asparagus and topped off with hollandaise sauce. 
The Milk Bar Coffee Co.
Maroochydore
From house-made orange and pistachio granola to freshly-baked cookies, the icing on the cake at The Milk Bar Coffee Co. is the cute fit-out and friendly service. The menu is succinct but if you still can't decide, go the avocado on toast—topped with goat's feta, dukkha and charred lemon, we can't think of a better way to start the day.
Glass
Cotton Tree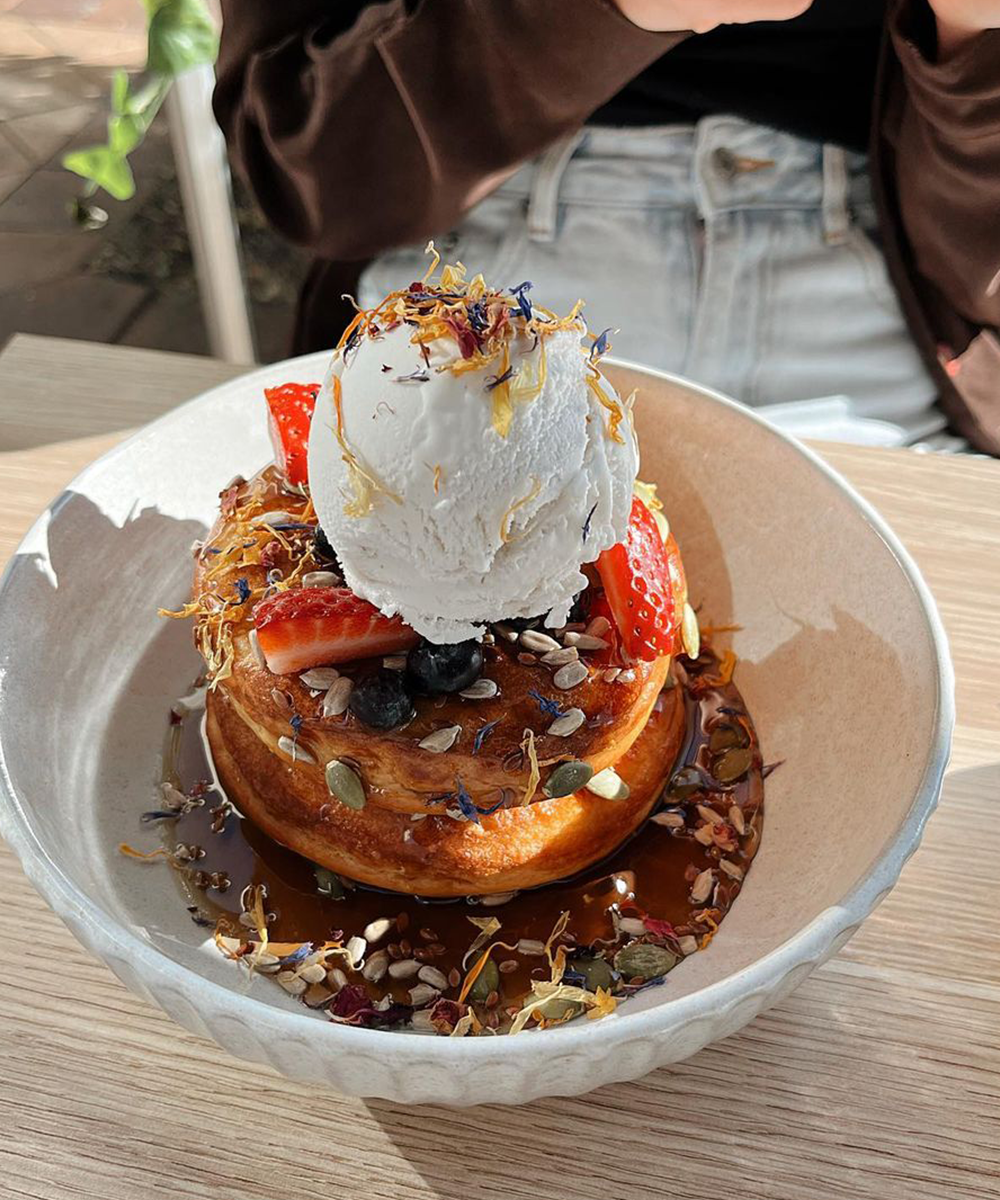 Sitting pretty in Cotton Tree, if you haven't visited the refurbished Glass, it's time to pick up your act. Their menu is seed oil-free and focuses on showcasing whole foods which taste as fantastic as the Insta-worthy dishes look. Super chilled vibes and friendly regulars will make your coffee taste that much better. 
Grounded @ Woombye
Woombye
Nestled near the iconic Big Pineapple, Grounded @ Woombye serves up chilled vibes and healthy, fresh breakfast options in spades. This sweet cafe is an Instagrammer's dream, with a stunning outdoor space and pretty-as-can-be breakfast treats. Our favourite pick is the ginger waffles with poached spiced pears. 
Frankie's
Woombye
Slinging some of the best breakfast and coffee around, Frankie's in Woombye should definitely be on your top spots to hit up if you're on a Sunshine Coast cafe crawl (or just if you're in the area). Toasties, eggs benny, hotcakes…the options are endlessly delicious.
North Sunshine Coast (Coolum To Noosa)
Vanilla Food
Noosa Heads
If a cafe's interior and vibe is just as important to you as the menu, then you're going to love Vanilla Food. Located on Noosa Heads' bustling Lanyana Way, this 'grammable cafe serves breakfast and lunch dishes made from organic and locally-grown ingredients. Plus, they have an extensive range of delectable desserts for sweet tooths, perfect to pair with a Clandestino Roasters coffee.
Outer Square
Peregian Beach
The Outer Square team believe life is a combination of good food, good coffee and a great atmposphere and this ethos resonates throughout every aspect of this oh-so-Instagrammable cafe. Dig into the nasi goreng with slow-cooked pork belly, fried duck egg and brown rice or chow down on the crispy buttermilk chicken burger with turmeric pickled succhini, wombok slaw and coriander kewpie. They're refined yet simplistic and goddamn delicious. 
Chalet & Co.
Sunrise Beach
When a cafe says it's 'beachside dining', often this is a stretch, however this isn't the case when it comes to Chalet & Co. This sweet cafe is directly across the road from Sunrise Beach, so you can listen to the sound of the crashing waves while digging into their ever-changing seasonal menu. The extensive menu caters to vegans, vegetarians, dairy-free, nut-free and gluten-free peeps, so you've got no excuse for not paying a visit.
Jimmy Fox
Noosaville
If the only thing turning you off street food is a gutter stoop or having to stand while you're gobbling, Jimmy Fox offers street food, sitting down. With breakfast and lunch options available, it's the tacos that keep us coming back for more—that, and the espresso milkshake. 
Hand Of Fatima
Peregian Beach
A fave Peregian Beach haunt, Hand Of Fatima is the go-to for epic Middle Eastern cuisine just after sun up.
Cafe Le Monde
Noosa
Locals and tourists make up the hustle and bustle at this Hastings Street cafe. Cafe Le Monde—it's an oldie but a goodie. If someone says they ate at a cafe in Noosa, we guarantee it's this one.
Moonstruck
Noosa
Besides amazing boutique roasted coffee and a unique range of gin, Moonstruck's menu will not let you down when it comes to food. If you're after breakfast or lunch you can dip in and grab a coffee, a pastry, a toastie or even a classic Reuben sandwich and bask in the old-school European cafe vibes.
Le Bon Delice
Peregian Beach
The tiny Le Bon Delice has a sprawling terrace and does a cracking croque monsieur. Devour slowly, then shop-hop through the village, before circling back for a scoop of their housemade traditional French ice-cream or crème glacée.
Moto
Noosa Junction
Part bike showroom, part cafe, and part bar, Moto do everything well including serving up a super smooth Clandestino coffee. Yep, this could be your new local and you don't even know it yet.
Bistro C
Noosa
If you're hunting for a beachfront cafe on the Sunshine Coast, nowhere beats Bistro C. A stone's throw from the water at Noosa Main Beach, this longtime local's favourite dishes up breakfast, lunch and dinner—so you can let breakfast slowly linger and transform into a lazy lunch.
Flying West
Doonan
Found in the outskirts of Noosa, this hidden gem is changing Noosa's coffee game with every house roasted and carefully brewed coffee they create. Built inside a renovated warehouse, Flying West will coax you in with the smell of freshly roasted coffee beans, and keep you there with the spiced pumpkin and maple waffles.
Sunshine Coast Hinterland
Monica's
Maleny
This top breakfast spot in Maleny is as homely as they come, filled with friendly faces, comfy seating and wholesome food. Take your morning to a whole other level with Monica's potato and feta cakes with bacon, herbed sour cream, cherry tomatoes, rocket and toasted seeds. Come for breakfast and swing back for one of their divine muffins as a post-lunch snack.
Shotgun Espresso
Maleny
Another Maleny fave, Shotgun Espresso has an all-day seasonal menu, featuring ethically-sourced dishes. Standouts? Try The Gatherer Bowl— loaded with pumpkin hummus, avocado, halloumi, roasted vegetables with red quinoa, goat's feta, seasonal garden leafy greens and a sprinkle of toasted seed and nuts.
Little May Espresso
Montville
For the fluffiest scrambled eggs on the range, head to Little May Espresso and chow it down over a morning of people-watching. This quaint Sunshine Coast Hinterland cafe is also the perfect spot to get your caffeine hit before adventuring down to Kondalilla Falls.
On a breakfast kick? Hit up the best Sunshine Coast cafes for friend dates.
Image credit: White Picket Fence, Lumea Photo, Ariana Gillrie, Lamkin Lane, Lil Canteen, Glass, The Nines & Outer Square

link