Breakfast has long been called the most important meal of the day. Here is the list of healthy breakfast options to keep you full and energetic the entire day.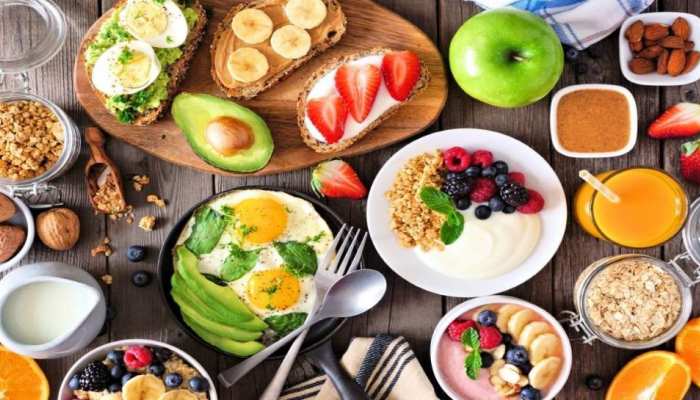 Finding time to prepare a nutritious and healthy breakfast can be quite challenging in the fast-paced world, especially with so many options for preparing a simple, healthy and nutritious breakfast. With a proper schedule and a quick mix and match, one can enjoy a delicious, nutritious breakfast anytime, anywhere. So, to keep you energetic throughout the day, here are 6 healthy breakfast ideas that you can incorporate into your diet.
6 Easy Healthy Breakfast Options to Kickstart Your Day
1. Fresh Fruit Cups: Fruits provide essential nutrients our body requires daily. You can easily store and carry them anywhere by mixing your favourite fruits like watermelon, pineapple, and berries. Apart from being loaded with vital vitamins and minerals, they are also hydrating, making them a perfect choice.
2. Nut Butter Sandwiches: Nut butter sandwiches are prepared by pairing almond or peanut butter with multigrain or whole-grain bread. These are available in various flavours like dark chocolate, crunchy peanut butter, honey roasted nut butter which could be your best friend! This wholesome combination of healthy fats and proteins makes a satisfying and filling treat and excellent option for office goers and busy people.
3.Cheese and Whole-grain Crackers: Whole-grain crackers with a touch of low-fat cheese provide a good source of protein, calcium, and fibre, helping curb hunger and promote overall well-being. Cheese and crackers are the ultimate snacking option, as they help satisfy your sweet and sour taste buds. You could experiment with different flavours, and voila! A simple and healthy breakfast gets curated.
4.Energy Bars: Embrace the goodness of energy bars, as they are not only scrumptious but also loaded with a nutritious blend of nuts, oats, and dried fruits. If you find it challenging to create your own, worry not! Simply head to your nearest store or order online. These bars are a simple, healthy, preferred alternative that will keep you energised and satisfied throughout the day. Yoga Bar has a plethora of variants that will perfectly suit your mood for the day, be it Nuts and Seeds, Orange cashew, yumm Vanilla Almond, chocolate brownie protein bars, hazel nut, Apple cinnamon, its endless. One can also choose to stock up a different flavour for each day of the week.
5.Roasted Chickpeas: Roasted chickpeas are an oil-free alternative to traditional chips. Enriched with fibre and plant-based protein, they come in assorted flavours like BBQ and sea salt for a savoury snack on the go. One can also consume them plain by mixing them with puffed rice.
6.Rice Cakes with Avocado: Exchange your regular chips for healthier alternatives like whole grain- rice cakes with a touch of mashed avocado and a drizzle of salt! Starting your day with them can offer a great deal of heart-healthy fats and fibres.
Remember to stay mindful of portion sizes and always consider a healthy, guilt-free and nutritious breakfast to keep you energised and fresh throughout the day!

link