Fast-food breakfast sandwiches can be tasty and convenient. Unfortunately, not every breakfast sandwich is healthy. Whereas some are made using health-conscious ingredients and fewer grams of sugar, others are filled with carbs, fat, and staggering amounts of sodium. Fast-food breakfast sandwiches run the gamut, so how can you distinguish healthy options from unhealthy ones?
For starters, Jesse Feder, RDN, CPT at My Crohn's and Colitis Team, shares that unhealthy breakfast sandwiches usually have high amounts of saturated fats, sodium, calories, refined carbohydrates, and little to no fiber or nutrients. "Saturated fats in breakfast sandwiches usually come from things like fatty meats, fried foods, and a lot of cheese," Feder shares.
Feder also points out that the bread used for unhealthy breakfast sandwiches is "usually refined white bread with little to no nutritional value." "All these things can contribute to excessive caloric intake, high blood pressure, increased bad cholesterol levels, and other cardiovascular diseases," Feder advises.
Thankfully, it's not all bad news—healthier options do exist. You just have to be on the lookout for them (or tweak the less healthy ones). For example, Mandy Tyler, M.Ed., RD, CSSD, LD, LAT shares that you should especially pay attention to the type of bread used in a breakfast sandwich. "Select a sandwich made on an English muffin, bun, or whole grain bread rather than a croissant or biscuit to help reduce the amount of saturated fat in the sandwich," Tyler says.
Feder adds that a healthy breakfast sandwich is typically made using lean proteins (such as egg whites and turkey bacon), healthy fats (including avocado and egg yolks), and whole-grain carbohydrates. "A healthy breakfast sandwich will also include things that provide vitamins and minerals, such as a mix of different vegetables," Feder says.
Keeping these expert tips in mind, we rounded up some of the least healthy fast-food breakfast sandwiches out there. From options that have over 1,500 milligrams of sodium per serving to sandwiches that are topped with an eye-watering amount of fried ingredients and fatty meats, here are seven fast-food breakfast sandwiches to stay away from right now (or at least only eat in moderation):
For more on fast food breakfast, Here Are the Breakfast Hours at Every Major Fast-Food Chain.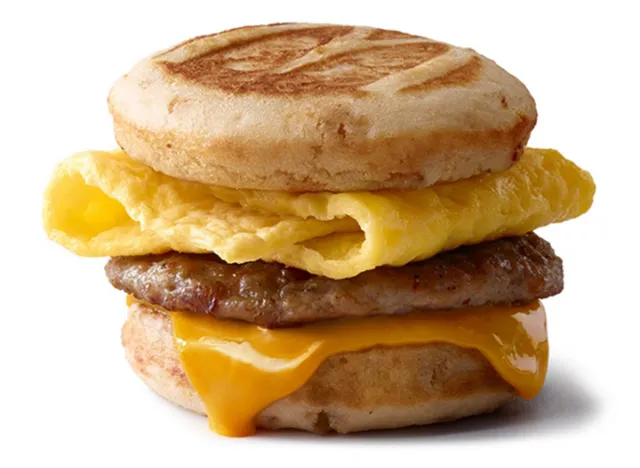 Per Sandwich: 550 calories, 33 g fat (13 g saturated fat), 1,290 mg sodium, 44 g carbs (2 g fiber, 15 g sugar), 19 g protein
There's no doubt about it—the Golden Arches makes some delicious menu items, breakfast options included. But are they that healthy? Well, that's another story. Feder points out this sandwich as one of the unhealthiest breakfast sandwiches out there—for a good reason. The McGriddle sandwich, which features eggs, cheese, and griddle cakes, may look tasty, but, unfortunately, it's lacking in the health department. For starters, it's high in calories and sugar and has little nutritional value.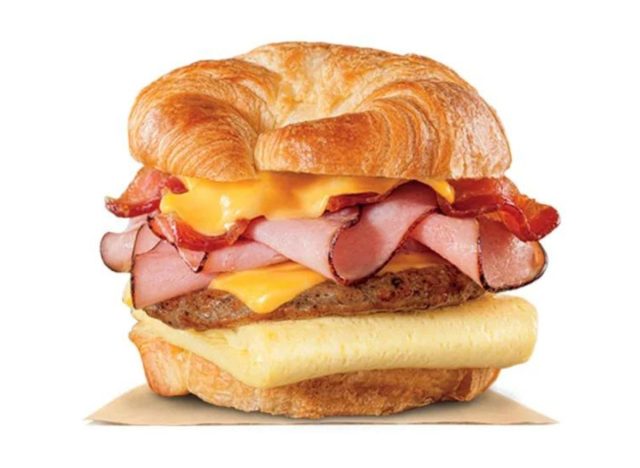 Per Sandwich: 623 calories, 42 g fat (18 g saturated fat), 1,797 mg sodium, 31 g carbs (1 g fiber, 6 g sugar), 31 g protein
The Burger King Fully Loaded Croissan'wich proves that sometimes having it all isn't necessarily a good thing. Packed with bacon, ham, sausage (aka all of the fatty meats Feder warned us about earlier), and cheese, this Burger King breakfast item is high in calories, fat, and sodium. The FDA recommends that adults eat no more than 2,300 milligrams of sodium each day—with this sandwich, you're already at well over half of the recommended daily sodium intake.
You guessed it—this sandwich should probably be enjoyed only once in a while. Instead, go for one of Burger King's more pared-down breakfast sandwiches, such as their Egg and Cheese Biscuit.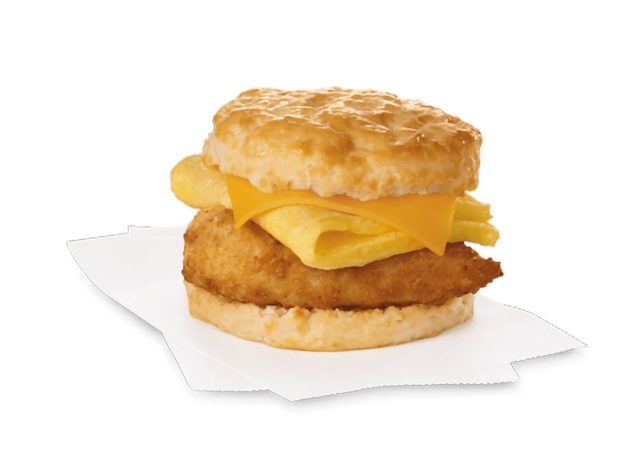 Per Sandwich: 530 calories, 27 g fat (11 g saturated fat), 1,830 mg sodium, 45 g carbs (2 g fiber, 7 g sugar), 26 g protein
This sandwich is a breakfast take on Chick-Fil-A's famous chicken sandwiches. Made with breaded chicken, eggs, and cheese, this dish is filled with carbs and sodium. Add any extras (such as a sausage patty or more cheese) and watch these numbers get even higher.
If you're craving Chick-Fil-A for breakfast, Tyler recommends getting their Egg White Grill sandwich instead, which has grilled chicken, egg whites, and American cheese served on an English muffin. "It provides 26 grams of protein, making it a great breakfast choice," says Tyler.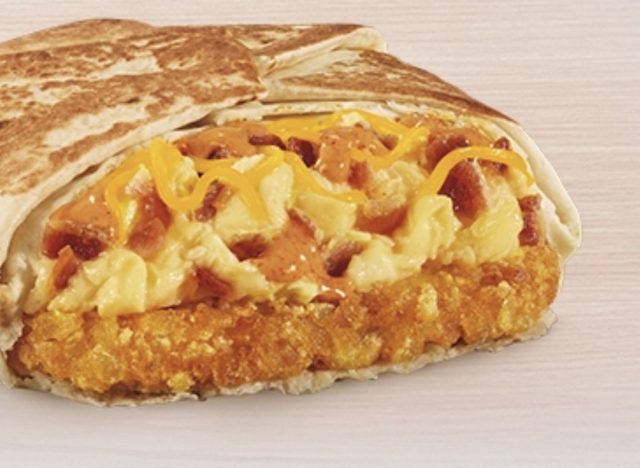 Per Sandwich: 670 calories, 40 g fat (13 g saturated fat), 1,300 mg sodium, 52 g carbs (4 g fiber, 3 g sugar), 21 g protein
Taco Bell's breakfast Crunchwrap sounds like a dream until you realize how unhealthy it is. Filled with bacon, cheese, and hash browns, this breakfast choice has over 50 carbs and 40 grams of fat. Additionally, the bacon in it is made using sodium nitrites, which may not be that healthy for your body if eaten in excess.
Suppose you find yourself at Taco Bell during the early hours of the day. In that case, it's best to instead opt for their Cheesy Toasted Breakfast Burrito with Fiesta Potatoes, which has fewer carbs, calories, and nearly half the amount of sodium that the breakfast Crunchwrap has.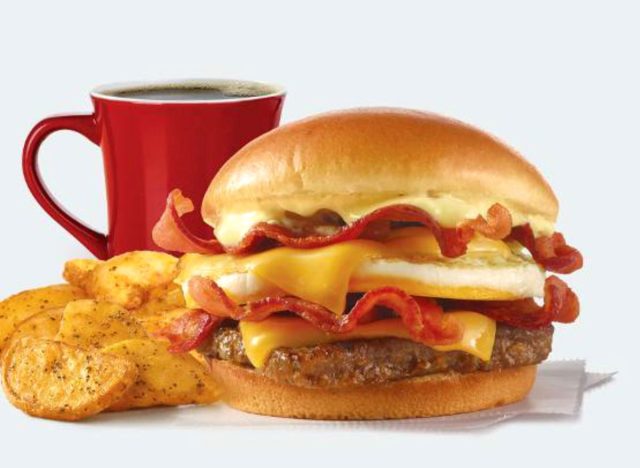 Per Sandwich: 710 calories, 48 g fat (19 g saturated fat), 1,740 mg sodium, 36 g carbs (1 g fiber, 7 g sugar), 33 g protein
Thought Wendy's Baconators are just for lunch and dinner? Think again. The popular fast food spot also makes a special breakfast version of this iconic sandwich. Filled with sausage patties, eggs, smoked bacon, and two types of cheese, this menu option has a whopping 1,740 milligrams of sodium and nearly 48 grams of fat.
Instead, go for Wendy's Bacon, Egg, and Cheese Biscuit. Although it's still high in sodium, it has fewer grams of fat and carbs compared to the Breakfast Baconator.
Per Sandwich: 830 calories, 44 g fat (16 g saturated fat), 1,590 mg sodium, 67 g carbs (4 g fiber, 13 g sugar), 42 g protein
This Carl's Jr. breakfast burger is made with rich ingredients, including a chargrilled beef patty, bacon, eggs, American cheese, and hash browns. With over 800 calories, 13 grams of sugar, and a mind-boggling 1,590 milligrams of sodium, this breakfast sandwich is one of the least healthy options out there.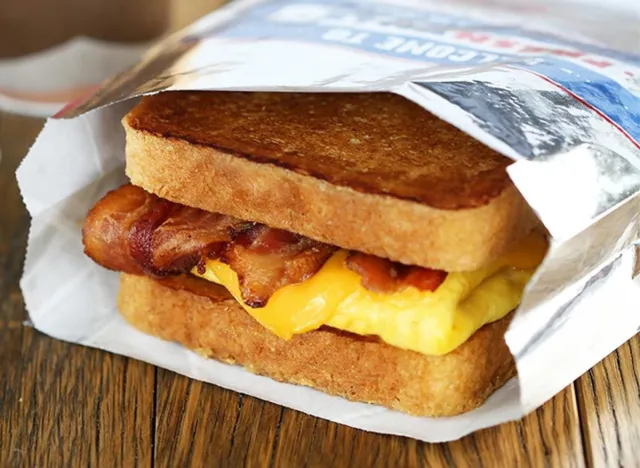 Per Sandwich: 670 calories, 45 g fat (18 g saturated fat), 1,500 mg sodium, 43g carbs (3 g fiber, 4 g sugar), 25 g protein
Sonic, the iconic drive-in famous for its delicious drinks and tasty snacks, also offers all-day breakfast items. However, you may want to skip this sausage sandwich option. Made with eggs, sausage, cheese, and thick Texas toast, this sandwich leaves much to be desired regarding nutrition. "Sandwiches containing regular sausage or bacon will contain more saturated fat and are less healthy options," says Tyler.
A slightly better option would be to order Sonic's Jr. Bacon, Egg, and Cheese Breakfast Burrito, which has less sodium, is served on a tortilla, and can be ordered with tomato and onion add-ons for a bit of a health boost.

link