The Mediterranean diet is a hot topic in the world of health right now, as it was just given the top spot on the U.S. News Best Diets of 2023 list. This way of eating has been found to lower the risk of things like stroke, heart disease, and diabetes, and has also been known to aid in weight loss and in expanding your life expectancy. For those who are interested in reaping the benefits of this incredible eating pattern, we've rounded up a list of delicious, easy-to-make Mediterranean diet breakfast recipes.
According to the Mayo Clinic, the craze surrounding this dietary pattern began around the 1950s, when people learned that heart disease existed in extremely low numbers in Mediterranean countries. Based on the daily eating habits of regions that border the Mediterranean Sea, this diet is centered around plant-based foods like vegetables, whole grains, fruit, legumes, nuts, seeds, and olive oil. The Mediterranean diet does allow for animal proteins in smaller quantities, and oftentimes fish or seafood is the preferred choice.
The breakfast recipes provided in the list below are inspired by the healthy patterns of the Mediterranean diet. You'll see mostly plant-based meals that include plenty of whole grains, vegetables, and healthy fats. Whatever your preferred breakfast may be, there is sure to be something on this list for everyone!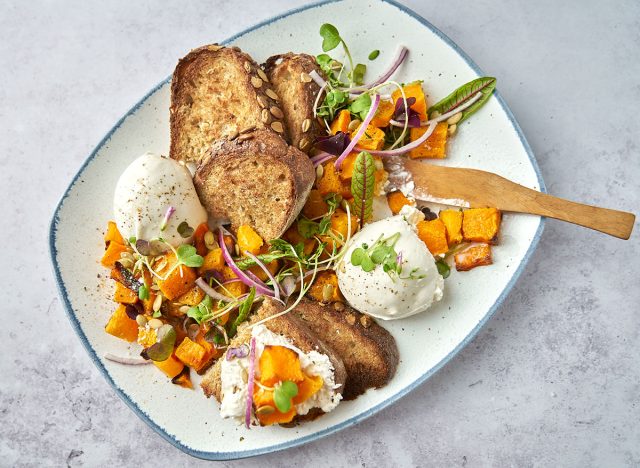 Who says you can't eat a cheese platter in the morning? This burrata breakfast is plant-based and incorporates some satisfyingly healthy vegetables like butternut squash and microgreens. You'll also see other elements of the Mediterranean diet represented, like whole grain bread for a fiber boost, as well as olive oil and pumpkin seeds for healthy fats.
Get our recipe for Mediterranean Burrata Platter.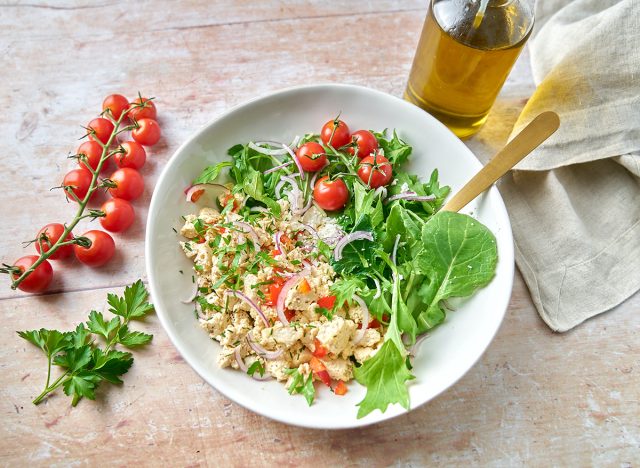 Eggs are still acceptable on the Mediterranean diet, but as mentioned earlier, any animal proteins are often consumed in moderation and far more infrequently than something like the standard American diet. If you want a break from eggs in the morning, this tofu scramble can provide the same savory feeling but with vegan protein instead. The recipe calls for feta cheese on top, but you can skip this step if want to keep this entirely plant-based.
Get our recipe for Tofu Breakfast Scramble.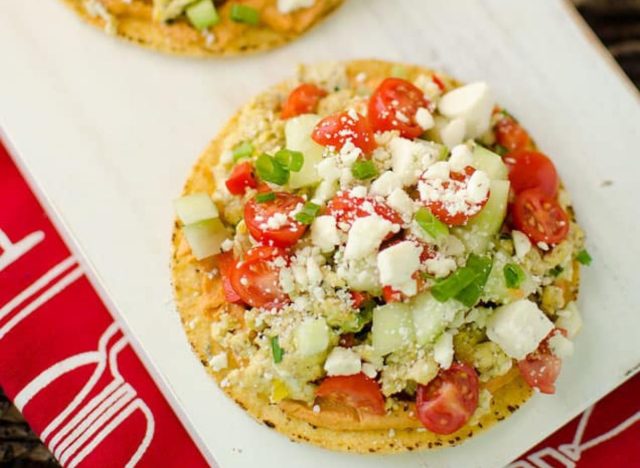 We love this creative twist on a classic dish—and who wouldn't want to jump at the chance to eat tacos for breakfast? This Mediterranean diet breakfast recipe features some staples like cucumber, tomato, hummus, and feta cheese, so you'll be getting a boost of fiber, protein, and plenty of flavor.6254a4d1642c605c54bf1cab17d50f1e
Get the recipe from The Creative Bite.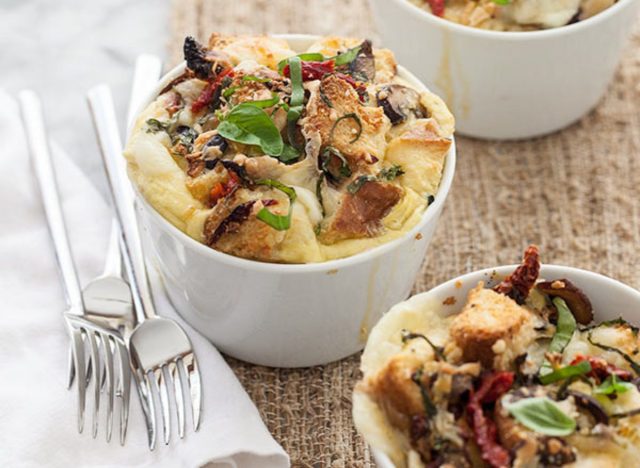 A strata is essentially a layered casserole, which means there are always plenty of opportunities to pack in the flavor. This particular Mediterranean-inspired dish is a bit more fattening and higher in refined carbs than most of the recipes on this list, but it still uses some of the staple ingredients enjoyed in that part of the world. For instance, while it calls for butter and white bread, it also incorporates mushrooms, artichoke hearts, and sun dried tomatoes—ingredients that are common to many Mediterranean recipes.
Get the recipe from Foodie Crush.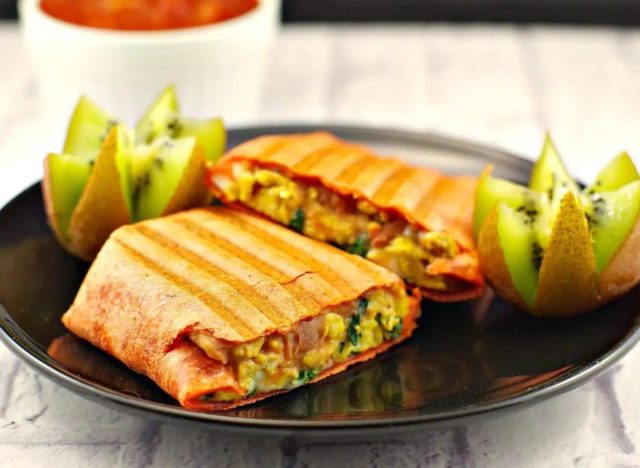 A classic breakfast burrito usually contains ingredients like eggs, bacon or sausage, cheddar cheese, and beans. With this Mediterranean-style burrito, you'll get the same comfort that a burrito can bring, but with a healthier twist. For instance, instead of bacon or sausage, you can enjoy extra fruits and vegetables like spinach, sun-dried tomatoes, and black olives. And in place of cheddar cheese, which has about 9.5 grams of fat and 5.5 grams of saturated fat per serving, this recipe uses feta, which only has 6 grams of fat and 4 grams of saturated fat.
Get the recipe from Potluck at Oh My Veggies.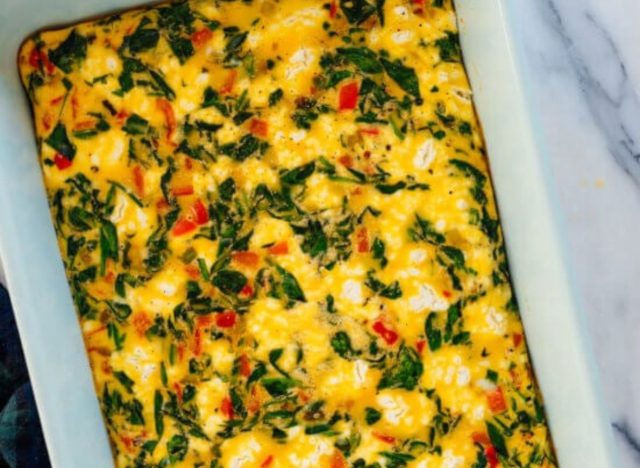 Casseroles may be one of the easiest meals you can make in the morning. All you have to do is grab your ingredients, throw them together in the dish, bake, and continue getting ready to start your day while it cooks. If you're in the mood for a casserole inspired by the Mediterranean diet, you can try this simple recipe. However, it's important to note that while this dish includes staple items like spinach, red peppers, onions, and olive oil, it also calls for full-fat dairy milk or cream—something that isn't as common in a Mediterranean eating plan.
Get the recipe from Cookie + Kate.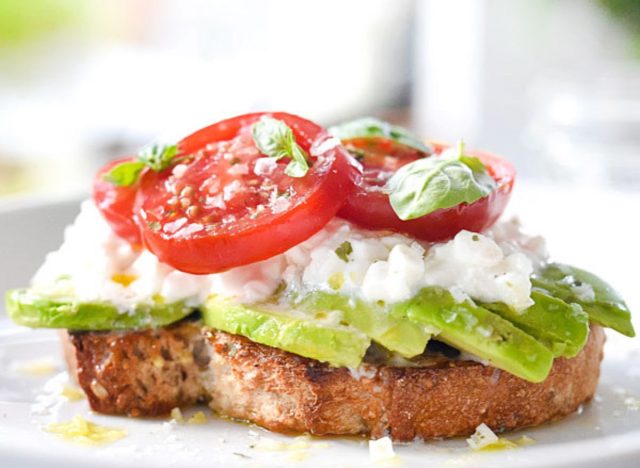 The list of ways you can make avocado toast is endless, so of course there's a recipe that fits into the Mediterranean diet. Featuring whole wheat toast, flax seed oil, tomato, low-fat cottage cheese, basil, flaked sea salt, and of course avocado, this toast will give you a solid dose of fiber, protein, and healthy fats.
Get the recipe from Foodie Crush.
Your slow cooker isn't just for soup or chili. In fact, did you know you can even use one to make an egg casserole? This particular recipe combines ingredients you'd see in a Mediterranean dish like spinach, basil, and artichoke hearts, with items more typical to a Western diet like cheddar cheese, whole milk, and hash brown potatoes. We can guarantee this one packs a punch of flavor.
Get the recipe from Foodie Crush.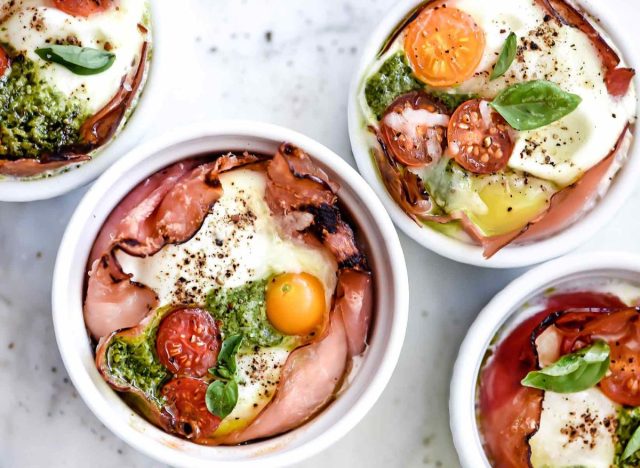 Last but certainly not least, try your hand at a new breakfast dish with these microwavable caprese egg cups. Although sliced ham isn't something eaten very often in a Mediterranean dietary pattern, it's still okay to treat yourself to animal proteins you enjoy from time to time. A major benefit to these egg cups is the homemade pesto—which will give you a delicious burst of healthy fats.
Get the recipe from Foodie Crush.
link