Everyone has their picks when it comes to healthy living. It is no different for yogic Sadhguru Jaggi Vasudev who is the founder and head of the Isha Foundation. In a recent Instagram video, Sadhguru shared that his breakfast comprises of sprouted methi seeds or fenugreek seeds with sprouted moong or green gram for 'healthful living'.
"Yogi's breakfast for healthful living," the caption read as Sadhguru explained the various benefits of such sprouted seeds.
"Sprouted fenugreek seeds. They are fantastic blood cleansers. Good sources of protein, vitamins, and minerals. Very good for lactating mothers. Great for hair and nail growth. It also reduces blood pressure and brings down blood sugar levels. It also lowers inflammation," said Sadhguru.
He also added that he pairs it up with sprouted green gram or moong seeds for optimum nutrition.
"These sprouted methi along with sprouted green gram is very good for cognitive health. Those over 50 years of age must consume this," said Sadhguru.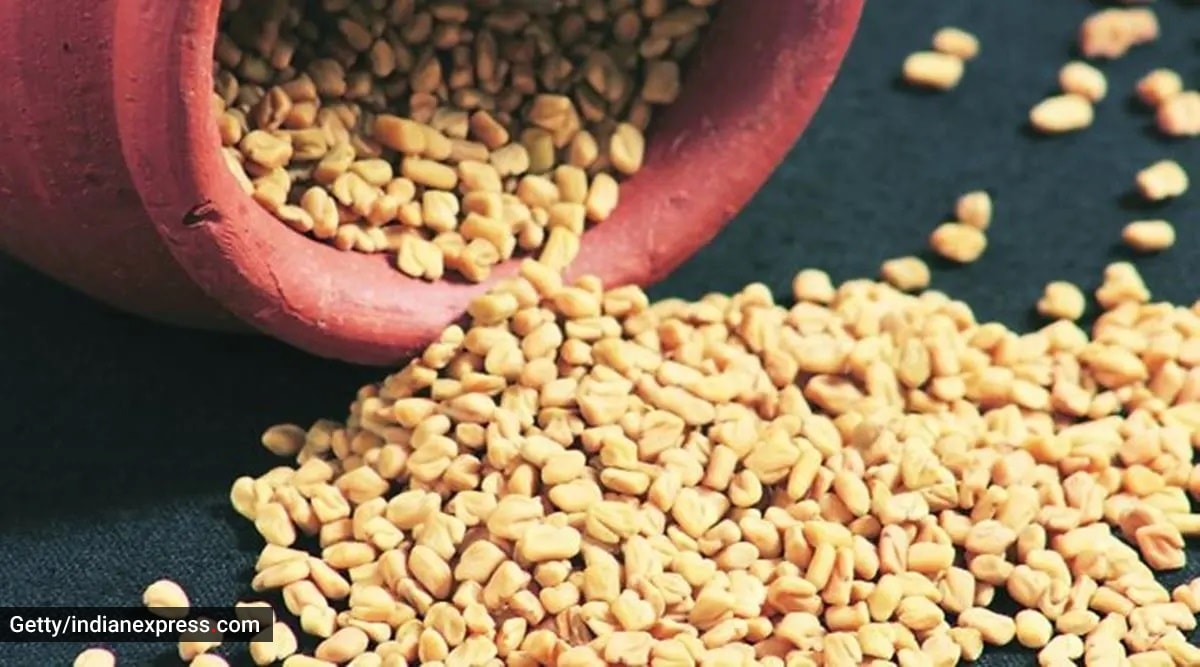 Try this recipe using fenugreek seeds (Source: Getty Images/Thinkstock)
Taking a leaf out of his nutrition diary, we decided to explore more on sprouted methi seeds and their potent combination with sprouted green gram.
Sprouted fenugreek seeds or 'methi daan' are made by soaking these seeds overnight in water and then letting them sprout into tiny saplings. "Just like sprouted green gram, the sprouted fenugreek seeds have a high nutrition quotient than the regular seeds as they are germinated, due to which complex carbohydrates in them have been broken down into simple and more absorbable forms. So these sprouts make it easy to digest, thus boosting digestive health," registered dietitian Garima Goyal told indianexpress.com.
These tiny, two-leaved sprouts are made by soaking fenugreek seeds overnight, exhibiting a bitter taste. "They are highly beneficial and nutritious and also fulfil various therapeutic roles. It's a great snack item or may even be consumed for breakfast as it is a healthy blend of carbohydrates, protein, and fibre," Goyal said.
Who can consume fenugreek sprouts?
Any individual can consume these as they are safe to consume, though they are especially advised for people having high cholesterol levels and diabetics as these seeds have "magical hypocholesterolemic and hypoglycaemic effect", Goyal mentioned.
How many sprouts can be consumed?
Daily consumption of 1-2 teaspoons of fenugreek sprouts is the ideal recommendation. "But having them in excess amounts can take a toll on the digestive health and lead to indigestion, flatulence, heartburn etc," remarked Goyal.
Benefits of sprouted methi seeds
1. Nutritionally dense – Sprouted fenugreek seeds are a treasure house of nutrients such as vitamin C, proteins, fibre, vitamin B3, potassium, iron, etc which boost the body's immune system. "Along with these nutrients, methi seeds contain a steroid saponin namely diosgenin, a promising bioactive biomolecule with a hypolipidemic, hypoglycaemic, antioxidant, and anti-inflammatory effect," Goyal said.
Hypoglycaemic effect – Sprouted fenugreek seeds are an excellent option for people with diabetes as these seeds help in lowering the raised blood glucose levels. This happens by the richness of proteins and amino acids in these sprouts which help to synthesise insulin hormone needed for blood sugar control.
Weight loss – These sprouts are an ideal snack for weight loss as they are rich in fibre (75 per cent soluble fibre) which enables a feeling of fullness. Also, the richness of a polysaccharide, namely galactomannan in these sprouts prevents overeating through its fulling effect.
Heart-friendly – These sprouts are a boon for people with cardiovascular diseases as they help to lower blood pressure and also decrease the raised blood cholesterol levels. This is owed to its high potassium content, a mineral known for blood pressure management and heartbeat maintenance.
Anti-proliferative effect – Fenugreek sprouts are densely packed with antioxidants, and potent phytochemicals to fight away the free radicals.
Natural galactagogue – Fenugreek sprouts are considered to be an ideal breakfast food for lactating women in India as they are believed to possess natural milk production-boosting compounds. This needed more substantial clinical evidence, mentioned Goyal.
How to sprout the fenugreek seeds?
Goyal shared these steps
– Day 1: Rinse and soak ½ cup fenugreek seeds for 24 hours. Make sure the seeds are entirely submerged in the water.
– Day 2: Rinse seeds with water thoroughly and soak again for 24 hours.
– Day 3: Rinse seeds with water thoroughly by placing in a sieve. Once the seeds have been rinsed, place the sieve with seeds inside in a dark place and cover with a damp cloth.
– Day 4: Repeat step 3
– Day 5: You will see that the fenugreek seeds have sprouted. If all the seeds have not sprouted yet, repeat step 3 one more time.
– Once your seeds have sprouted, rinse well and dry. You can store these sprouted fenugreek seeds for up to 10 days in your refrigerator.
📣 For more lifestyle news, follow us on Instagram | Twitter | Facebook and don't miss out on the latest updates!

link