This Sweet Potato Casserole with Pecan Topping is always popular on the holiday table. Kids and adults alike simply can't get enough of this sweet potato recipe with amazing streusel topping. Bonus: you can prepared this dish ahead of time.
View the print-ready version of this recipe.
It's almost time for THE favorite sweet potato casserole gets to make its highly anticipated appearance on the holiday table. This is one of those best recipes that receives heaps of compliments and requests every year. Even people who don't typically like sweet potato anything – even they will fall head over heels for this mouthwatering dish.
I myself wasn't a huge sweet potato casserole kind of gal until I met this recipe. Instantly converted. This sweet side dish has graced both potluck tables and formal tables alike every year in our family ever since.
In fact, we originally shared this recipe several years ago and just had to bring it back for all y'all who missed it way back then. It's that good.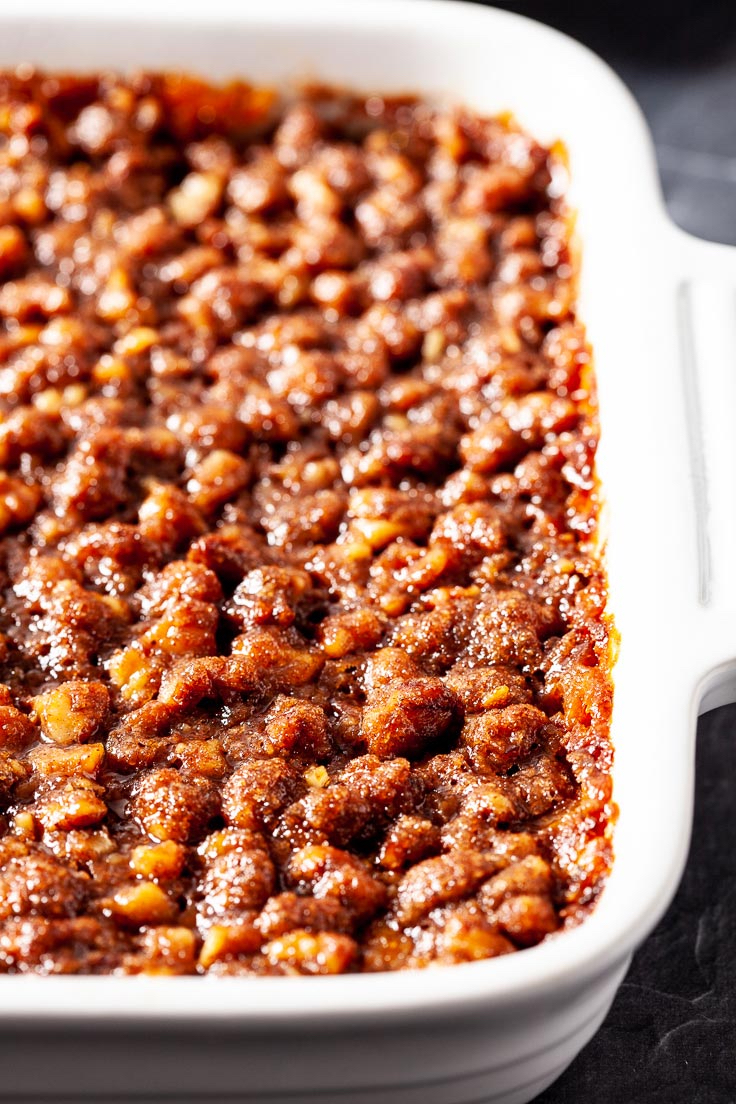 Your Strategy For Sweet Potato Casserole
The first step is buying the right kind of sweet potatoes. If you want to buy sweet potatoes several days early, here's how to store them correctly so your sweet potatoes stay fresh and flavorful.
We highly recommend roasting your sweet potatoes in the oven ahead of time, as that gives potatoes time to cool enough to handle without burning yourself. Having them roasted early also frees up your oven for that brined turkey or honey ham. It's easy to roast a big batch of sweet potatoes and use the extras for a lovely sweet potato hummus.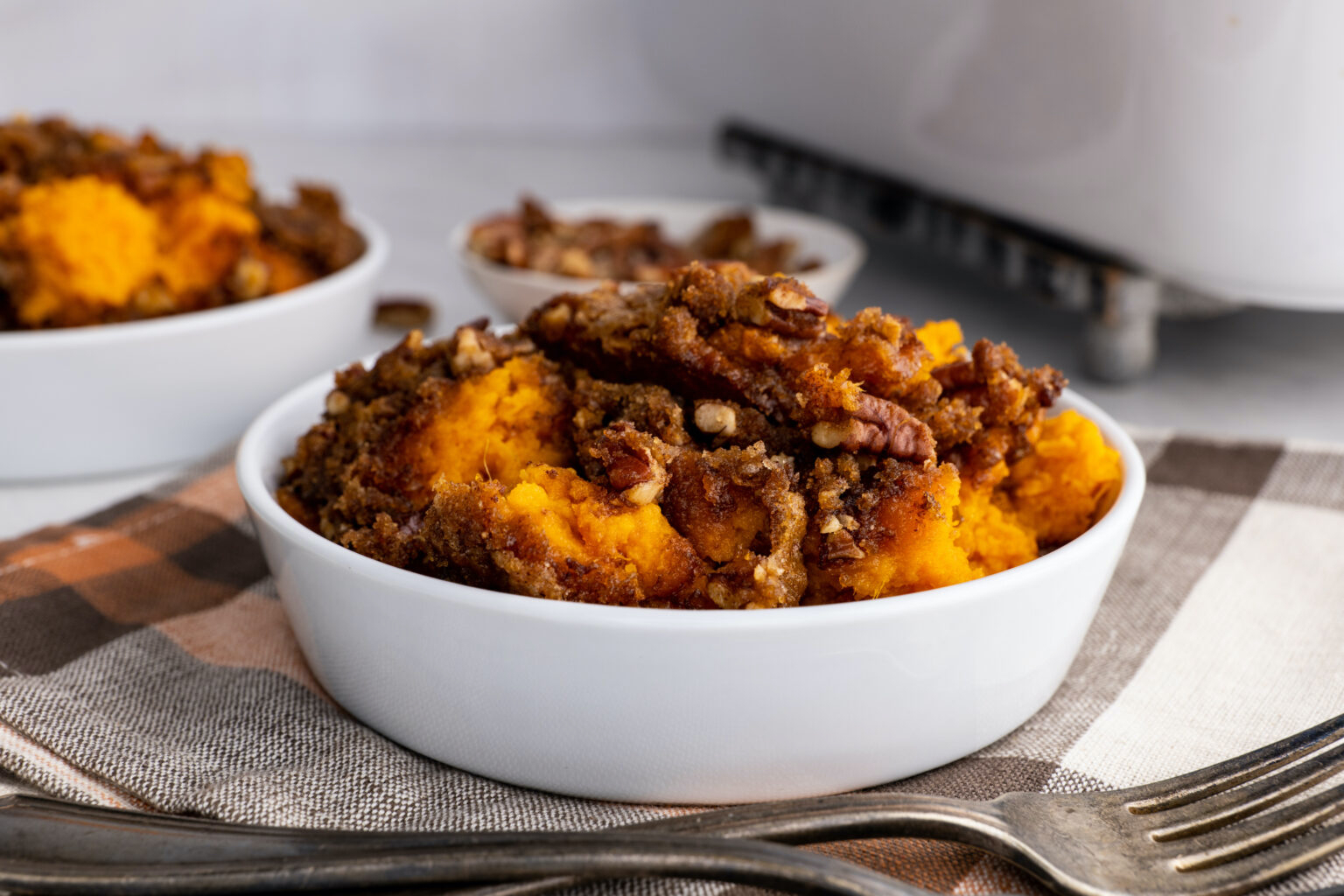 Likewise, the nutty-crunchy pecan brown sugar streusel can be fully mixed together up to several days ahead of time – cover and chill until ready to sprinkle onto casserole. Tip: this streusel is so good, you may want to double it for a thicker layer of crunchy sweetness on top. You can also double the streusel recipe to use on this baked French toast casserole for an irresistible family breakfast.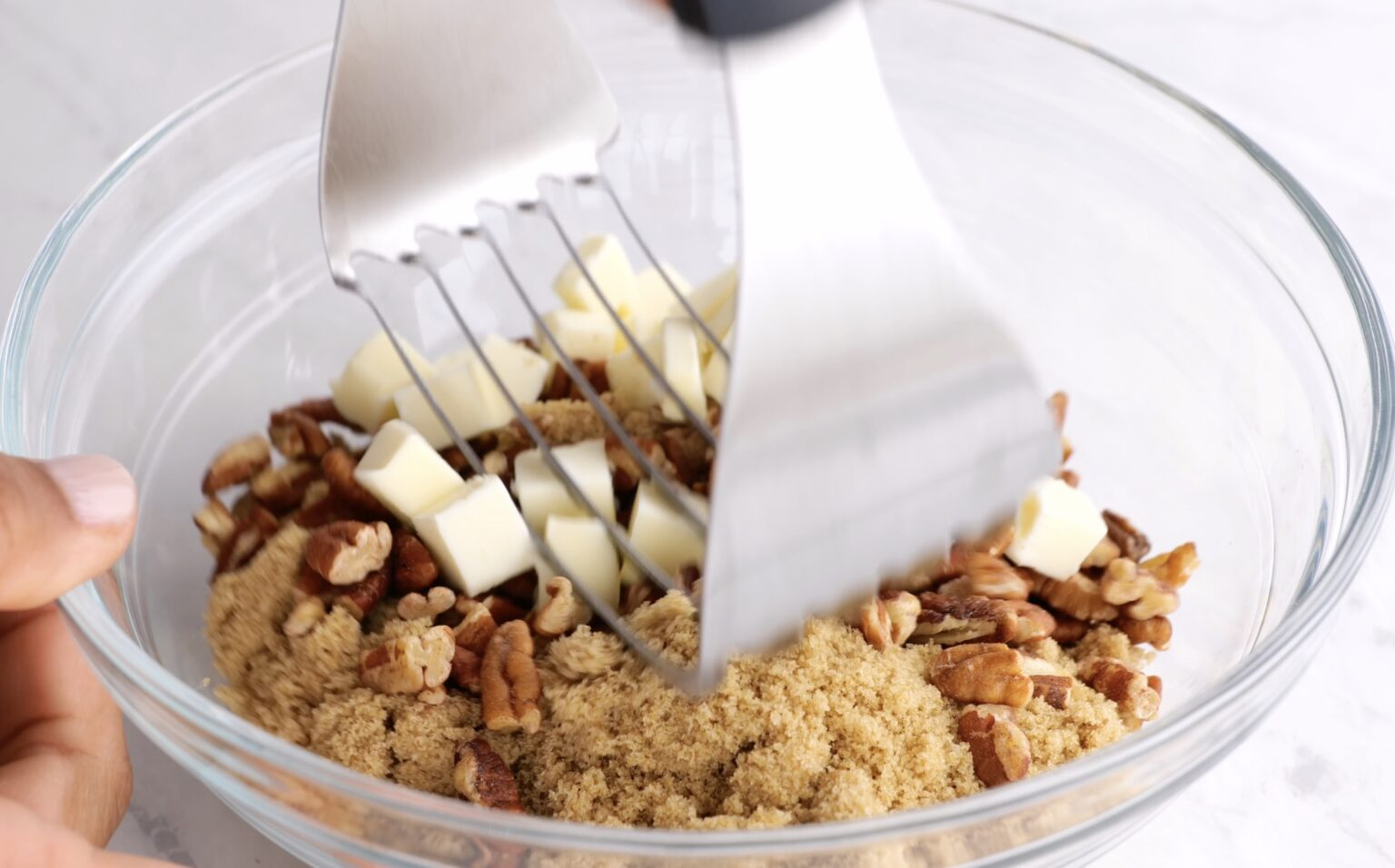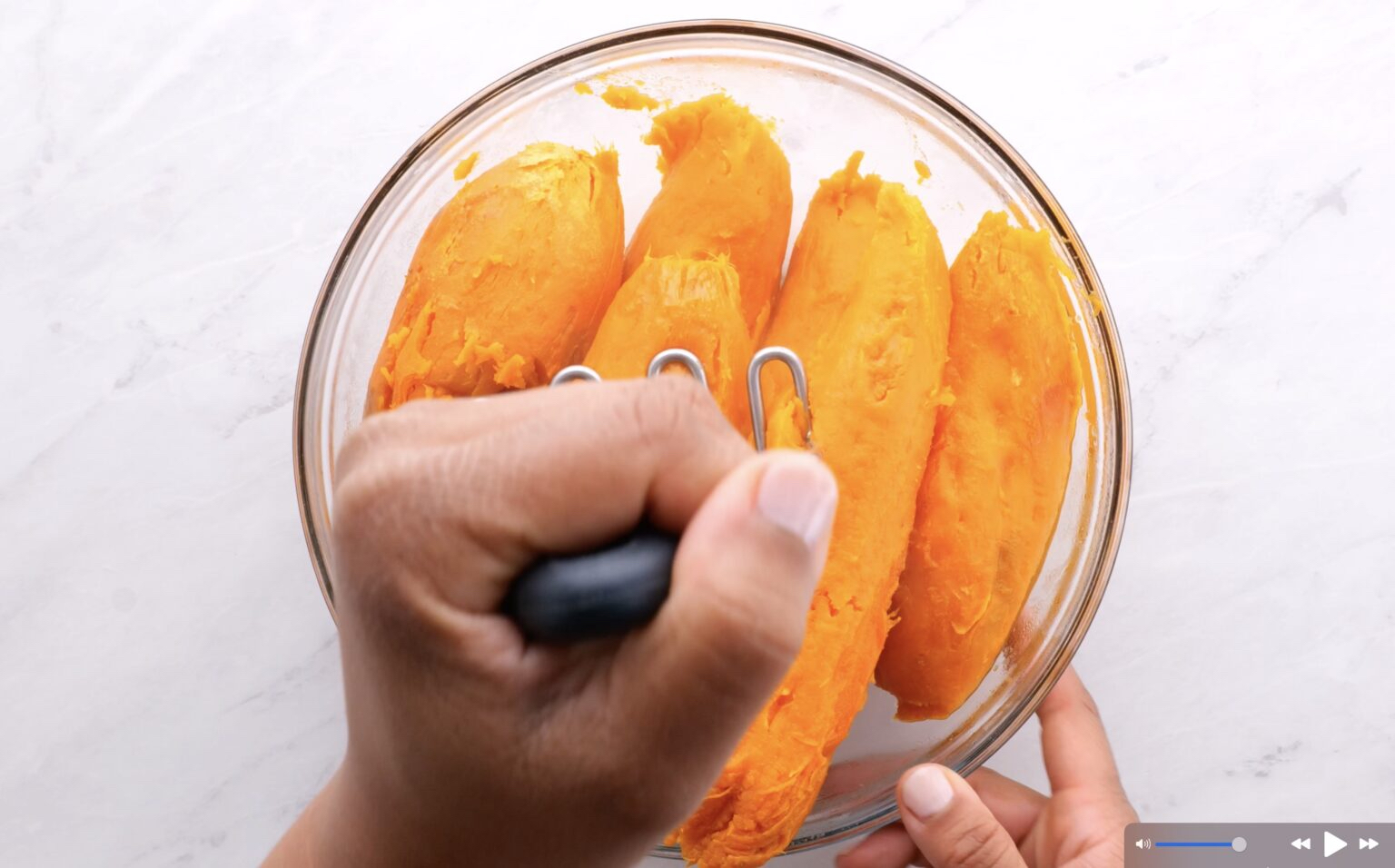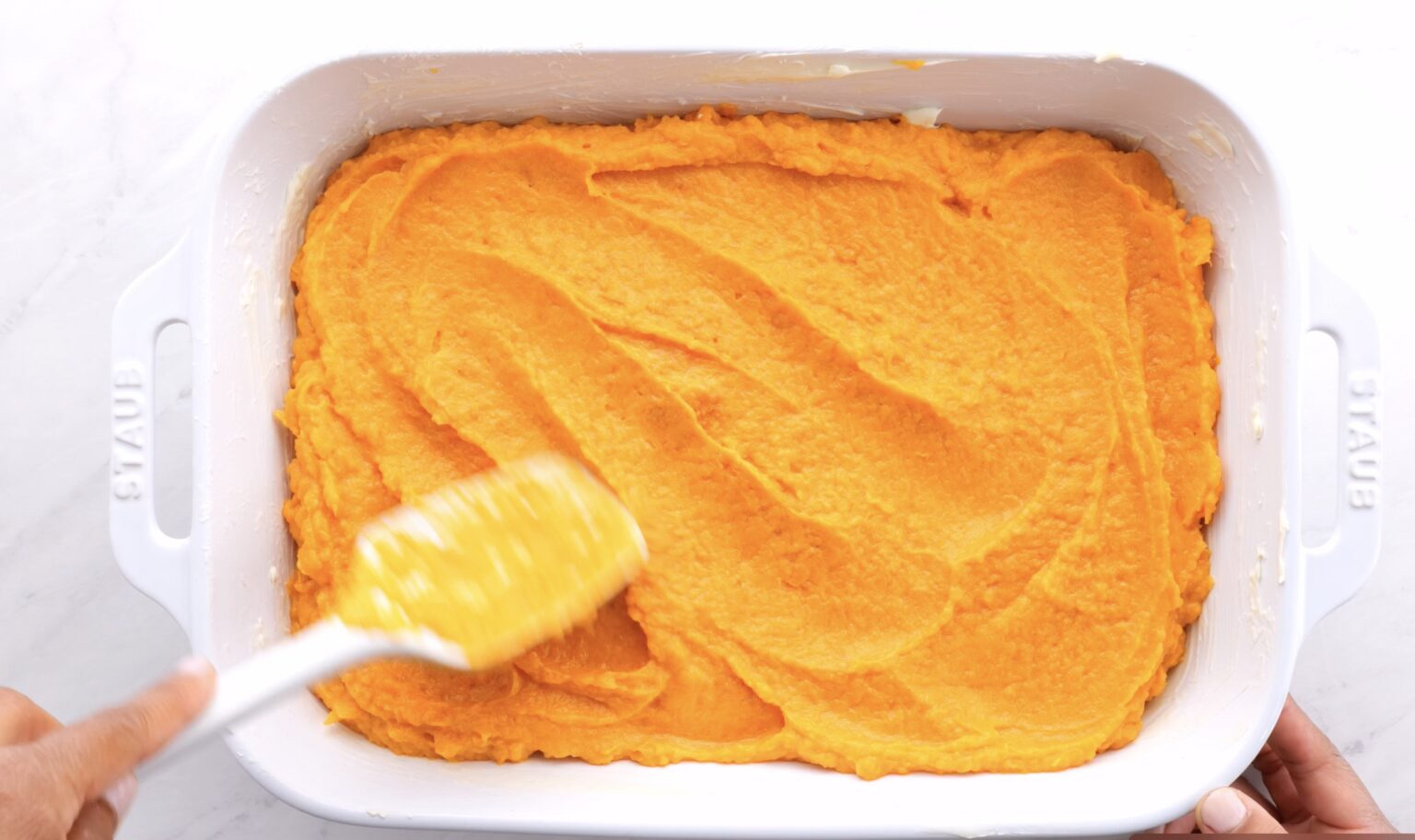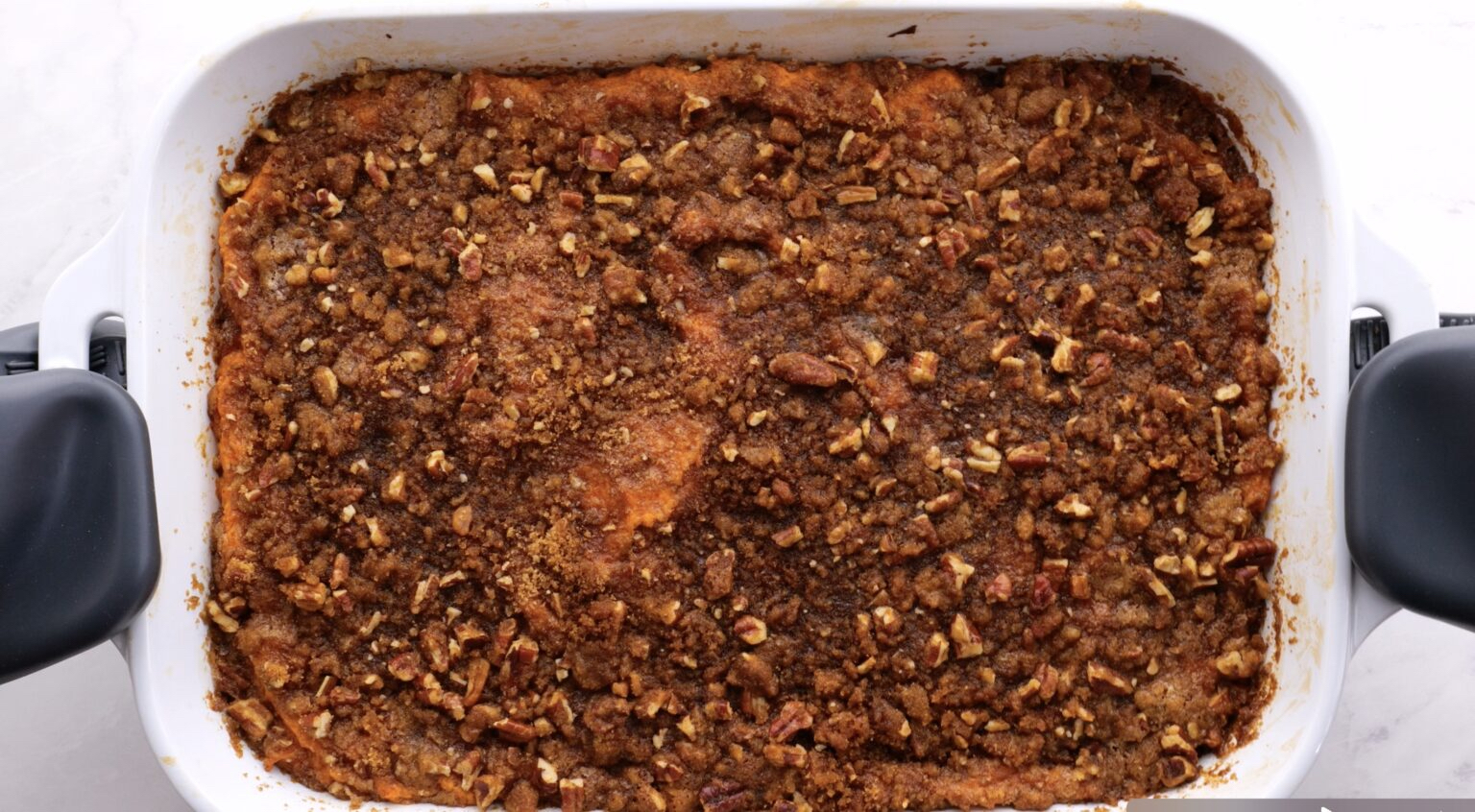 Assemble Everything The Night Before
The best low-stress tip is to totally be prepare this awesome sweet potato casserole the night before. It's a holiday lifesaver; just cover, chill, and bake the next day. On the day of the Big Meal, you can even bake it an hour or two ahead of dinner time and keep warm until ready to serve.
Leftovers are delicious the next day; we recommend heating it up in the oven uncovered so the topping can crisp up again. Or, if you've still got baking gusto left in you, try this sweet potato bread that specifically makes use of leftover sweet potato casserole so nothing goes to waste.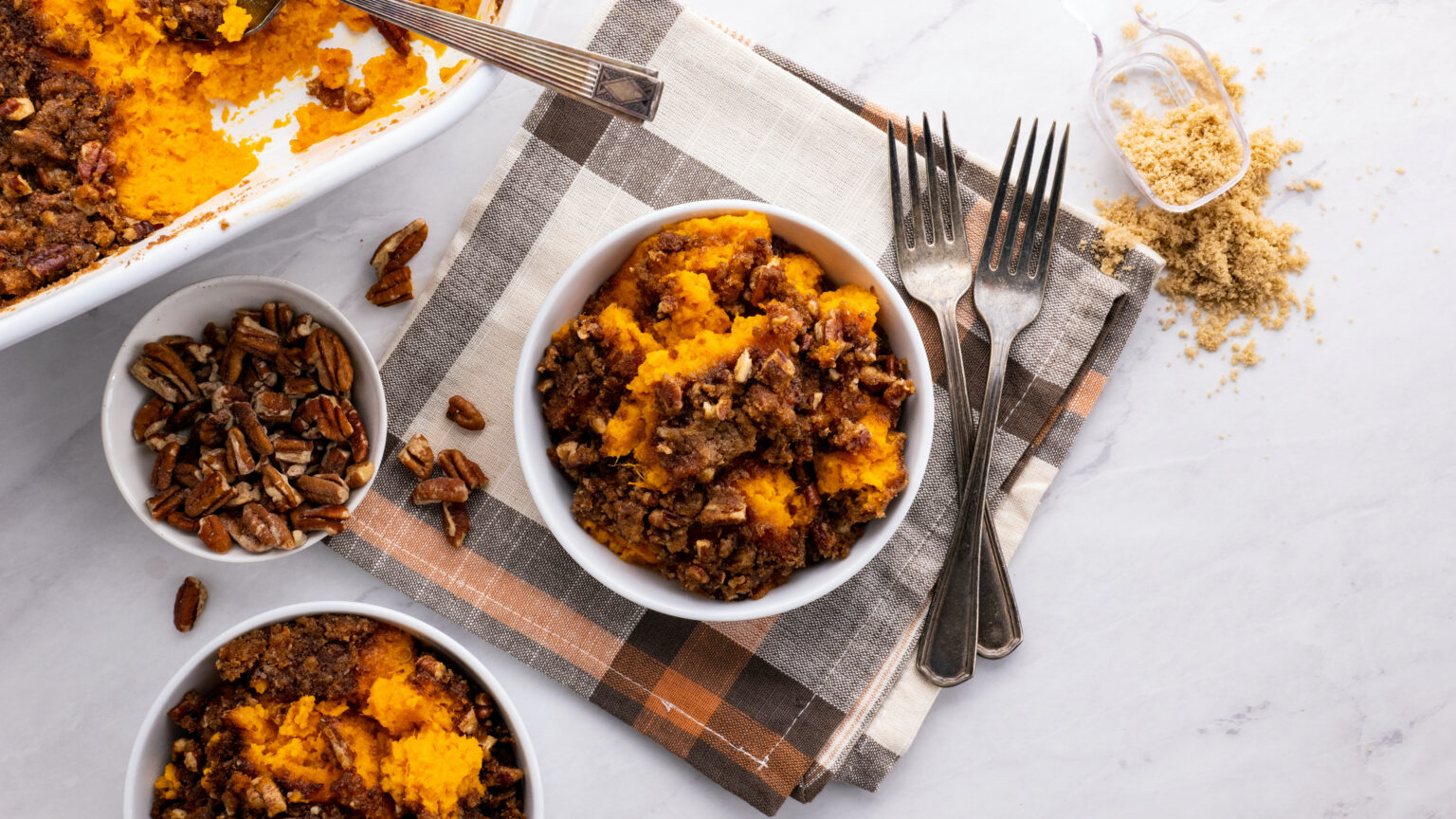 Sweet Potato Casserole Commonly Asked Questions
Are yams the same thing as sweet potatoes?
Yams and sweet potatoes are not the same. Most of the time, when you see produce labeled as yams, they are actually sweet potatoes. True yams originate from regions of Asia and Africa.
What kind of sweet potatoes should I use?
You may notice a few types of sweet potatoes, in varying shapes and colors, at your local grocery store or farmer's market. Choose the bright-orange fleshed variety. You can read more about sweet potato varieties here.
Are eggs used in sweet potato casserole?
Yes, eggs are an important binding agent in most sweet potato casseroles.
Should you boil or bake sweet potatoes for use in sweet potato casseroles?
You can actually boil or bake your sweet potatoes prior to adding in a casserole, as long as the sweet potatoes are cooked until very soft and stringy skin has been removed. That said, we are partial to roasting/baking sweet potatoes, as this imparts a much deeper flavor.
Can I make sweet potato casserole ahead of time?
You can assemble the entire casserole, minus the topping, a day ahead. Wrap tightly in cling wrap and chill until you're ready to sprinkle on the topping and bake.
What can I do with sweet potato casserole leftovers?
Aside from reheating and enjoying them again, we adore this sweet potato bread, which we created precisely for making the best use of leftovers!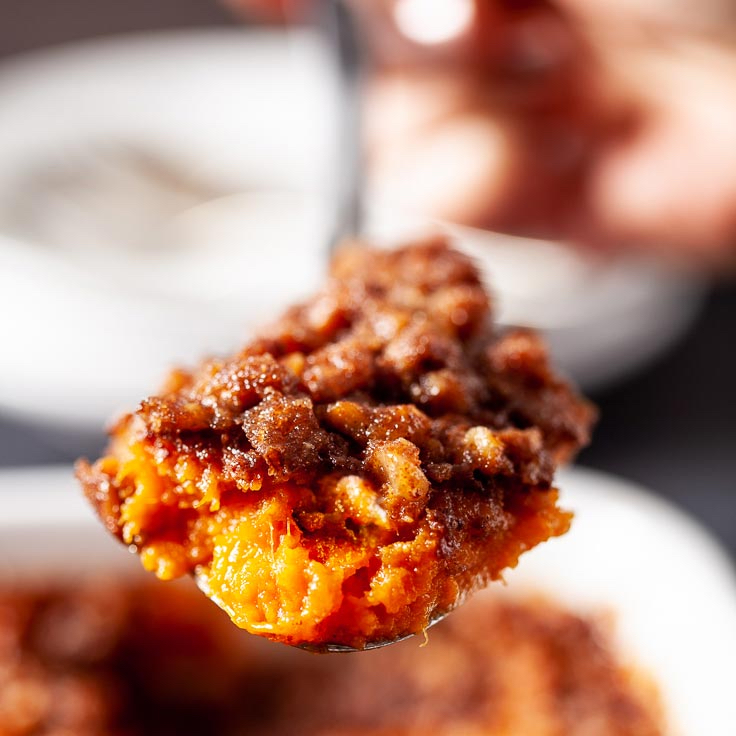 More To Eat
Sweet Potato Casserole With Pecan Topping
This Sweet Potato Casserole boasts a buttery, crunchy pecan topping that's jaw-dropping delicious.
Prep Time: 20 mins
Cook Time: 1 hr
Total Time: 1 hr 20 mins
Servings: 20
Ingredients
5 lb sweet potatoes, red skinned
4 large eggs
3 T pure maple syrup
2 T vanilla extract
1 T fresh lemon juice
2 tsp table salt
For Pecan Streusel Topping:
1 cup brown sugar, packed
½ cup pecans, chopped
¼ cup chilled butter, cut into pieces
2 tsp cinnamon
Instructions
Mix together brown sugar, chopped pecans, and cold butter in a small bowl until mixture is grainy and comes together. Cover and chill until ready to use.
Wrap each sweet potato in foil and roastat 400F for about 1 hour, or until potatoes are easily pierced by fork and very soft. Actual bake time depends on size of potatoes. Let cool enough to handle. Remove sweet potato skins, and mash potatoes well in a large bowl.
In a separate bowl, beat eggs, maple syrup, vanilla, lemon juice, and salt. Mix in the mashed sweet potatoes until smooth and incorporated.
Transfer sweet potato mixture to a buttered 9×13 dish. At this point, you can wrap tightly with cling wrap and put in fridge until ready to use.
Sprinkle pecan topping evenly over casserole. Bake at 350F until casserole is set and topping bubbles. About 1 hour. Serve warm, and enjoy!
Notes
*I always choose to roast sweet potatoes in the oven because I really like the deep flavor it creates. You can also cook peeled, cubed potatoes in boiling water until very tender.
* If you want, you can make extra crumble topping, for a thicker layer of crunch on top.
*Here's our favorite way to use leftovers: sweet potato bread!
Nutrition
Serving: 1g | Calories: 181kcal | Carbohydrates: 36g | Protein: 3g | Fat: 3g | Saturated Fat: 0.4g | Polyunsaturated Fat: 1g | Monounsaturated Fat: 1g | Trans Fat: 0.004g | Cholesterol: 33mg | Sodium: 78mg | Potassium: 429mg | Fiber: 4g | Sugar: 18g | Vitamin A: 16137IU | Vitamin C: 3mg | Calcium: 55mg | Iron: 1mg
This article was originally published on chewoutloud.com.
Follow on Instagram

link