The product recommendations in this post are recommendations by the writer and/or expert(s)
interviewed and do not contain affiliate links. Meaning: If you use these links to buy
something, we will not earn a commission.
Since breakfast is the most important meal of the day, it pays to invest in quality. Rather than order an omelet stuffed with enough meat to feed a pride of lions, this means seeking out breakfast restaurants that prioritize balance and quality ingredients.
Sure, there's always room for a decadent stack of pancakes or stuffed French toast now and again, but the breakfast chains that emphasize ingenuity and care are what differentiates them from "guilty pleasure" to "pleasure."
Aside from coffee-centric spots like Dunkin' and Starbucks, both of which have muscled their way into the breakfast market in recent years, and beyond  popular fast-food chains that serve breakfast, like Wendy's and McDonald's, America's best breakfast chains are ones that think outside the McBox.
Whether they're regional chains or nationwide behemoths, these restaurants offer more options, more innovation, more unique menu items, and ultimately more bang for your buck—which is of the utmost importance for the most important meal of the day.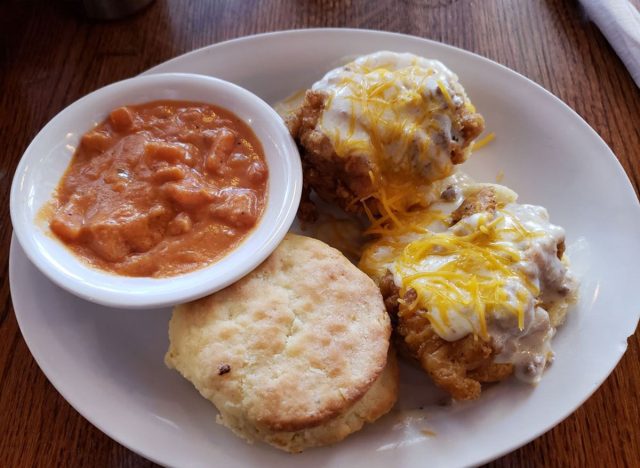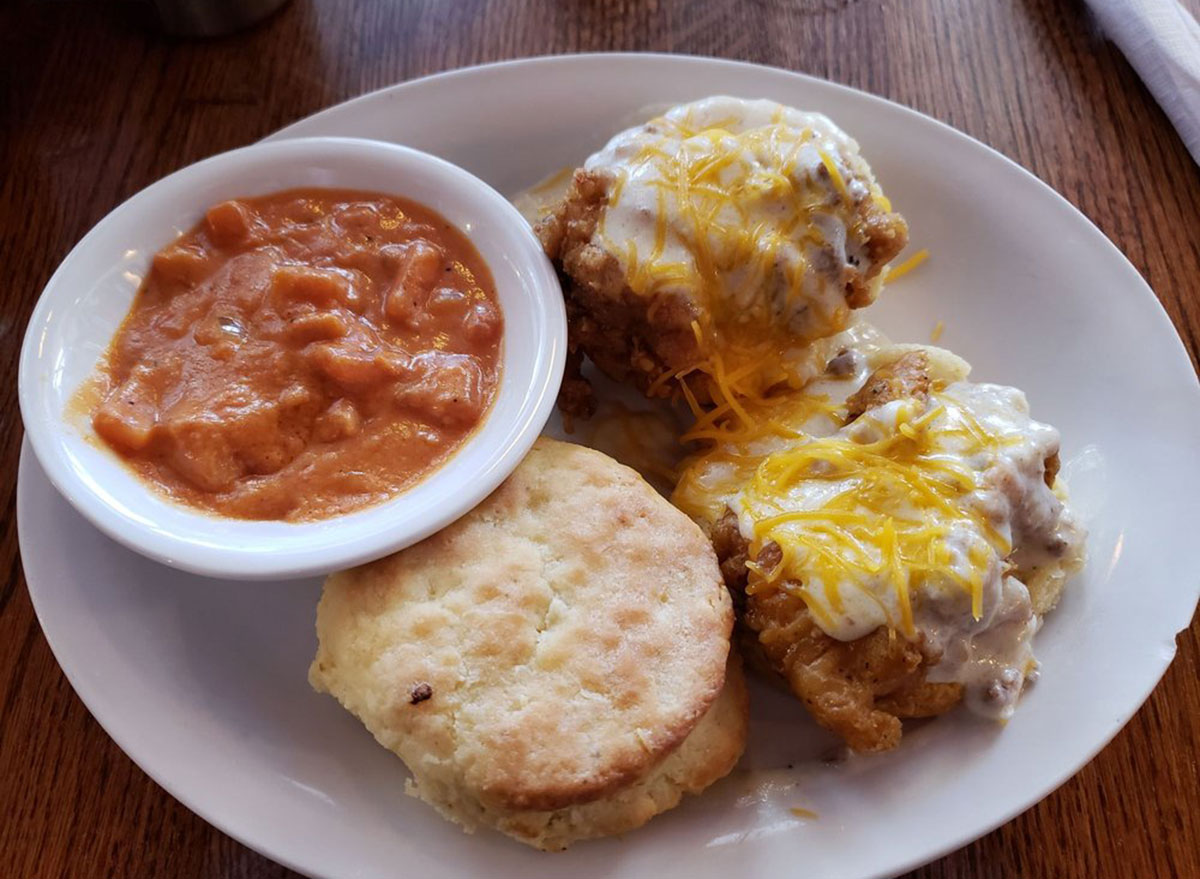 Any breakfast joint with a James Beard award-winning chef at the helm is bound to bode well. Indeed, Big Bad Breakfast, a growing Southern chain that got its start in Mississippi, prides itself on giving respect to the all-important daily meal. The chain was founded and operated by chef John Currence, who oversees his City Grocery Restaurant Group out of Oxford, Miss. Currence took his lifelong love for the morning meal and put it front and center in 2008. "At the time, nobody in the circle of chefs I traveled amongst had addressed breakfast in that manner," says Currence. "Everybody talked about how much they loved the meal, but nobody had put their name on it. No one had yet applied the same attention to quality of food product and service in a breakfast setting that we all just took for granted that you had to for lunch or dinner, if you wanted to survive."
For the inaugural Big Bad Breakfast, the template was set around a menu of scratch-made everything, from biscuits and jellies to bacon and sausage. Using custom-ground grits, heirloom meats, and different varieties of wheats for things like pancakes and waffles, the restaurant elevated breakfast into a new echelon, taking familiar flavors and giving them the diligence they deserve. Met with ravenous success, Big Bad Breakfast has since spread to locations throughout the South, including Alabama, the Carolinas, Arkansas, Tennessee, Florida, and Kentucky. It even spawned a cookbook from Currence, aptly titled Big Bad Breakfast: The Most Important Book of the Day.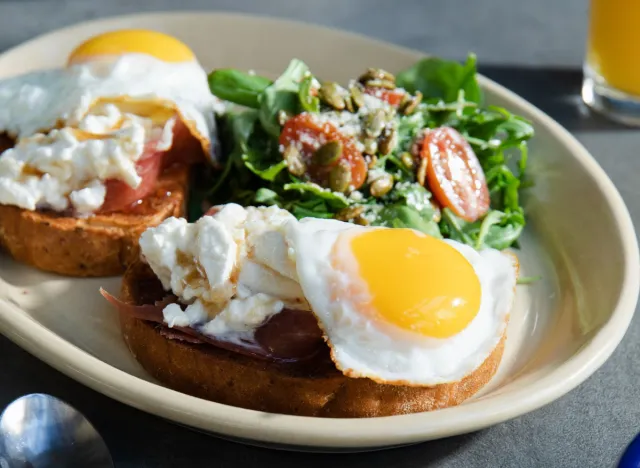 Another burgeoning chain that's putting its own stamp on breakfast is Denver-born Snooze A.M. Eatery. "Breakfast, but different" is the tagline here, a sentiment that's woven through its inventive dishes and its vibrant, funky decor. This also means that quality is a through line. "Every ingredient is responsibly sourced, thoughtfully prepared and must pass our Snooze Approved set of sourcing standards," explains Andrew Jaffe, the chain's chief marketing officer. "We want everything that goes into our breakfast to have a positive impact on the planet and our guests."
"Snooze-Approved Food" is an intensive set of standards that the chain employs for all of its sourcing and ingredients, which entails that suppliers are vetted for quality, animal welfare, fair labor practices, ethics, and social responsibility. So, customers can rest assured that no matter what they order—be it a familiar comfort food like eggs Benedict or an irreverent novelty like blueberry Danish pancakes—it's going to be wholesome in more ways than one. Snooze also proudly features rotating seasonal menus to highlight freshness. For fall, that means items like a sweet potato veggie "smash up" with asparagus, mushrooms, avocado, poached cage-free egg, and hemp seeds, topped with housemade Sriracha maple syrup. There are currently upwards of 60 Snooze locations across the country, from Austin and San Diego to Nashville and Atlanta.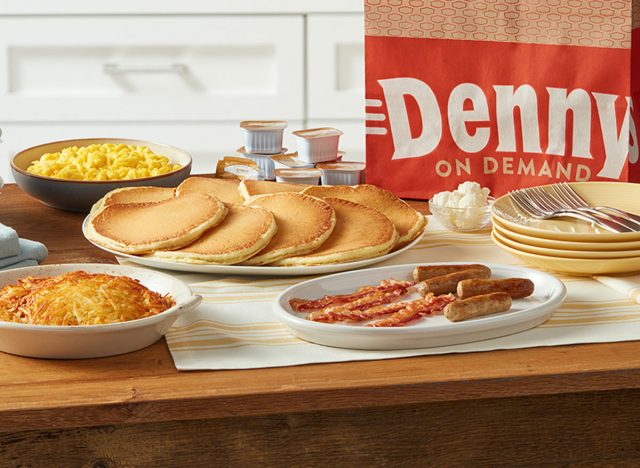 Any chain known for something called a "Grand Slam" may not be an obvious harbinger of of quality, but Denny's has proven to have a few tricks up its sleeve of late. The colossal breakfast chain, with more than 1,400 locations across the country, recently invested a whopping $25 million to upgrade and overhaul its kitchens, which helped boost the South Carolina-based brand into the top 10 best dine-in chains in America for 2023, across all meal categories.
It's a big deal for a chain with such humble roots, beginning as an Americana diner back in 1953. But that success is largely attested to Denny's steadfast commitment to those roots. "Since 1953, we've served quality food and healthy portions at a fair price," the company says on its website, emphasizing openness and inclusivity towards its staff and guests. "No matter where we are, our light is always on, inviting guests around the world into a place where everyone is welcome." The company also employs a Social Impact philosophy, with commitments to areas like family and community, food, diversity, people, and the environment.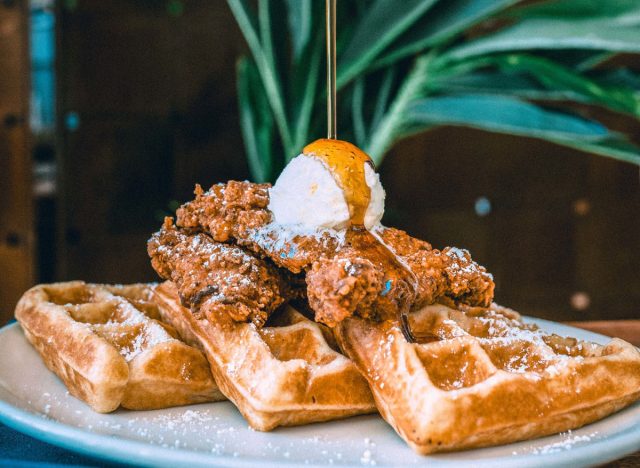 Apparently, there's just something about quality cooking in the South. Born and bred in Asheville, N.C., Tupelo Honey Cafe is a breakfast-centric mini-chain dedicated to sustainability, responsible sourcing, scratch-made cooking, and of course, quality. The company is passionate about its sourcing practices, purveyors, and quality control, boasting that its employees "strive to provide clean, thoughtfully-sourced and local ingredients as much as possible on our Southern menus." This starts with animal welfare, seasonality, and environmental impact. "It is of the utmost importance that animals are treated kindly and humanely, produce is harvested in-season, and that partners are considerate of the footprint they are leaving behind."
Thus, all meats used at Tupelo Honey Cafe are free range and also free of antibiotics and hormones. Similarly, seafood is all wild caught, and produce is plucked at peak seasonality. The food here skews hearty and indulgent, but knowing the care and commitment that goes into every dish, you can feel extra comfy while digging into comfort plates like pimento cheese dip, biscuits with blueberry jam, panko-crusted fried green tomatoes with heirloom grits, or honey-glazed chicken and waffles. Tupelo Honey Cafe now has more than 25 locations across the country, including states like Iowa, Wisconsin, Virginia, Texas, and Pennsylvania, with several more due in the coming months.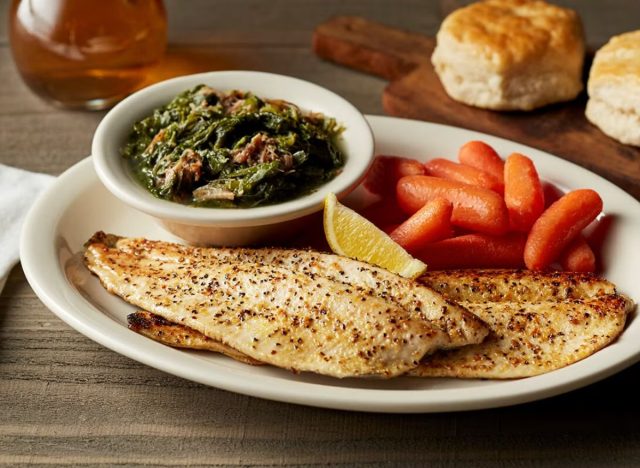 While many of the national headlines surrounding Cracker Barrel lately have been about losing customers, it's not all doom and gloom for this endearingly folksy chain out of Tennessee. Now with more than 600 locations nationwide, it's become one of the foremost breakfast-centric chains in the nation, known for its homey motif, rustic wares, and equally rustic cuisine, which does a convincing job of looking and tasting like something your grandma would make. But there are some hidden weapons here that some of those fleeing customers may want to think twice about, like the fact that its ingredients are sourced way more reputably than you might assume.
That's thanks to its "Food With Care" M.O., which prioritizes quality first and foremost. This philosophy espouses treating guests like family (as cliché as that sounds) and serving food that's homegrown as locally as possible—from potatoes and catfish to turnip greens and beef. It also means hand-rolling biscuits, making mashed potatoes and gravy from scratch every day, and slow-roasting beef for 18 hours. The company also adheres to a rigorous animal welfare policy, and it's committed to transitioning 100% of its egg supply to cage-free by the end of 2026. And some of its recipes and ingredients are downright heartwarming, like a mac and cheese recipe pulled from an 1848 family recipe, boneless rainbow trout filets from fresh spring water, and all-natural syrup that's 55% maple and 45% sugar cane, for the perfect ratio of Northeast-meets-South.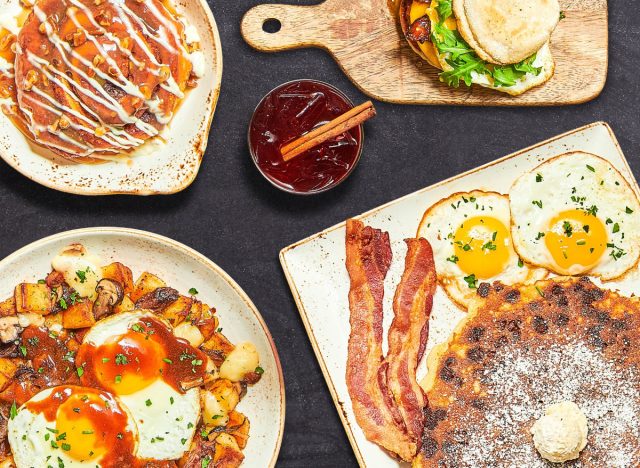 Quality comes first at First Watch, a Florida-based chain known for its offbeat dishes and vibrant ingredients that practically pop off the plate. "In sourcing our ingredients and creating menu items, First Watch 'follows the sun' to bring only the freshest produce to the table, from wherever and whenever they are in season," explains Shane Schaibly, senior vice president of culinary strategy for the breakfast brand. This includes serving fresh Florida strawberries on winter menus, Florida watermelon in the summer months, and Midwestern sweet corn in the fall.
From butternut squash bisque and chile chorizo omelets to Floridian French toast strewn with kiwi and strawberries, the menu at First Watch is exciting, fresh, and wholly original, with lots of focus on seasonality and sourcing. For instance, there's a full-fledged juice bar program that juices everything fresh to-order, deep-fryers are eschewed for healthier cooking techniques, and purveyors are vetted to align with the company's commitments to craft and quality. The restaurant is always forward-thinking and looking for interesting new additions, too, like a new partnership with Mike's Hot Honey to add some sweet-and-spicy menu options. It's clearly paying off, since the company now has nearly 500 restaurants in 29 states. Beyond Florida, this includes everywhere from Colorado and Ohio to Arizona and Oklahoma.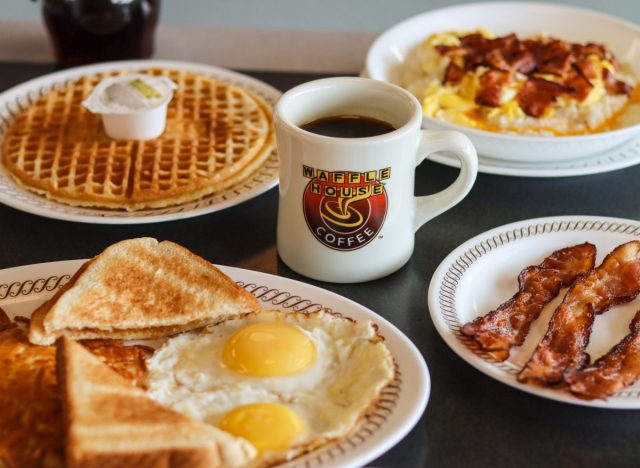 If one of America's most famed breakfast chains is good enough for pop singer Lana Del Rey, it's good enough for all of us. Quintessential Southern-fried Americana, Waffle House has a cult following—Del Rey included—for its gilded waffles, its nostalgic diner vibes, and its endless mugs of coffee. The chain has been deemed among the best for Southern food in general, and it's a preferred breakfast chain among chefs.
A lot of that adoration is due to Waffle House's enduring commitment to its roots, as a modest 24-hour diner that opened in Georgia in 1955. Nowadays, despite having more than 1,900 locations in 25 states, the chain adheres to that modesty and those familiar comforts. That's particularly evident in its namesake waffles, which still use top-grade flour from C.H. Guenther & Son in Texas, and combines it with farm-fresh eggs and half-and-half to produce the best possible batter, hand-mixed in small batches and cooked to order. There's good reason why the chain serves 300,000 waffles across the country per day.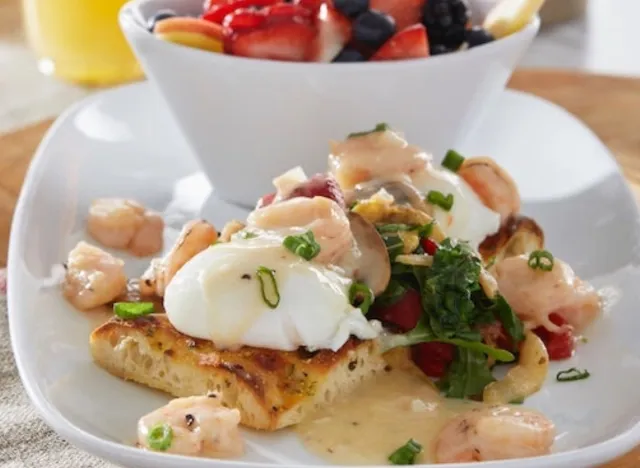 Among the healthiest breakfast chains on the market, Another Broken Egg Cafe is yet another Southern success story. Founded in Louisiana, and now with more than 70 locations nationwide, the chain has been experiencing strong growth and record revenue of late. That's due to the brand's focus on atypical breakfast and brunch fare, serving "Southern-inspired culinary innovation" and dishes that are "chef-inspired" and hand-crafted.6254a4d1642c605c54bf1cab17d50f1e
This results in a "traditional" menu that feels anything but, with dishes like cinnamon roll French toast, crab cake Benedict, and health-minded fare like a shrimp Benedict with velouté sauce on grilled focaccia, and a skinny omelet stuffed with goat cheese, asparagus, roasted red peppers, and garlic. True to its Louisiana origins, this is also a chain that features some singular specialties, like Bourbon Street pancakes slathered in rum butter sauce, and a Mardi Gras omelette with Louisiana crawfish, Gulf shrimp, andouille, and red peppers.
It's not just the pastries and artisan breads that rule at Corner Bakery. The Chicago-based chain, which now has nearly 200 locations across the country, made a name for itself with its wholesome, quality breakfast fare that spans both savories and sweets. Similar in atmosphere and style to Panera Bread, albeit far less ubiquitous, Corner Bakery boasts a cool and comfy aesthetic that sets it apart from other fast-casual models.
It's also known for its exciting menu innovations, resulting in dishes that are far from average, some healthy and some indulgent, like scrambled egg panini with avocado and bacon, chicken sausage wraps, overnight oats with apples and bananas, and cinnamon creme cake. And its lack of omnipresence may be intentional, as it allows for more quality control over sheer quantity, instead opting to hone its focus on customer loyalty.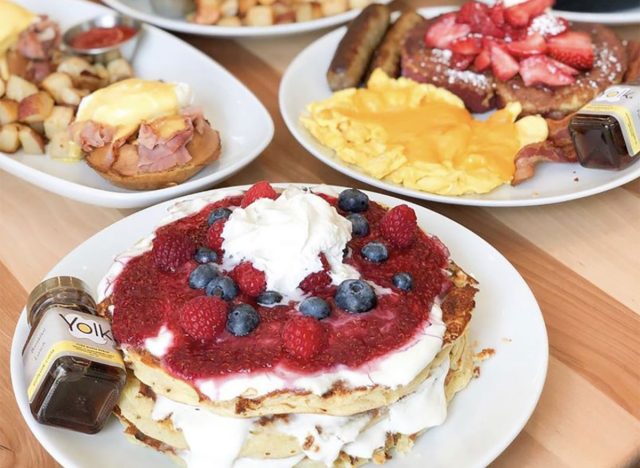 Another Chicago-born mini-chain that's cracked its way into the pantheon of reputable breakfast brands is Yolk, a sunny eatery that started in the South Loop before expanding throughout the city and into states like Indiana, Florida, and Texas. Upscale breakfast in a casual, cheery atmosphere is the name of the game here. The restaurant employs its own test kitchen to cook up innovative ideas and run a multi-roasted coffee bar for diehard java junkies. This is also where seasonal menu items are whipped up, utilizing the highest quality ingredients available. The results lead to some of the most interesting breakfast items out there, like a banana Foster latte, oat milk horchata cold-brew, kale and cauliflower scrambles, loaded baked potato cakes, and waffle Benedicts that use mini waffles in lieu of English muffins.
link