Breakfast. The meal of champions, caffeine's unofficial buddy, and a meal made a whole lot better when you're not the one making it. 
Sydney's streets are filled with all kinds of breakfast greatness—be it a takeaway toastie joint in the CBD, a waterside boatshed in Sydney's glistening Northern Beaches, or a laneway cafe boasting some of the best coffee in Sydney's west. The fact of the matter is, we're spoilt for choice. So, to help you navigate the wild world of Sydney's endless line-up of delicious breakfast, we've gone and found the best of the best.
Read on to find out where you can find the best breakfasts in Sydney.
The Best Breakfasts In Sydney's North 
Goodfields Eatery
Lindfield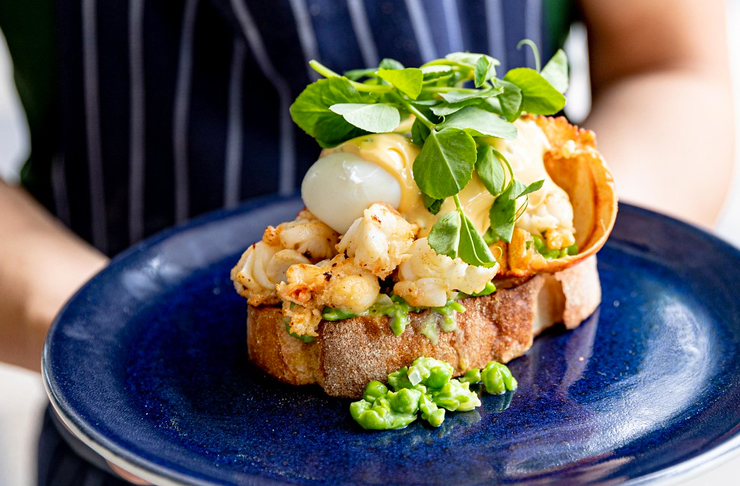 ​​We're a fan of the feel-good vibes and even better feel-good eats at this joint. Located in the heart of Lindfield, Goodfields Eatery is a local staple. Behind this leafy nook, you'll find the father and son duo George and Anthony Karnasiotis (ex-The Butcher's Block) who pretty much pulled together this gem of a place together so you can find a little escape from the bustle of Sydney. The most iconic breakfast dish here is easily the butter-roasted lobster tail on a seeded bagel, topped with poached eggs and housemade crustacean hollandaise. For something sweeter, you also can't go past the hotcakes with housemade passionfruit curd, blueberries, toasted coconut and vanilla bean-infused creme fraiche.
Cafe Once Upon A Time
West Ryde
There ain't no cafe as beautiful and as rustic as West Ryde's Cafe Once Upon A Time. This pet-friendly abode is covered in lush greenery, fairy lights, vintage furniture and sports an open courtyard that's hard to beat. This cafe is any breakfast aficionado's dream with an all-day itinerary packed with a loaded Belgian breakfast, pancakes, Monaco French toast (with pineapple, banana, passionfruit and maple syrup) and staples like good ol' eggs on toast, a bacon, egg and hash roll, and a gritty breakfast wrap swamped in tomato salsa and tomato relish.
Dachshund Coffee
Hunters Hill
Here's the deal, Daschund Coffee smacks up a breakfast roll so dang tasty you'll want to order two just to savour the moment all over again. King of whole food ingredients, plant-based feeds and stellar coffee, this breakfast haven is the holy trinity of any morning ritual. The breakfast roll looks like a halloumi, egg and chipotle creation with relish but you'll also want to get around the dedicated toast menu (with nut butter, feta and hummus, or miso-tahini has toppings) and even the "doggy" menu too. To wash everything down there's a good selection of smoothies and iced tea, as well kombucha and Simon Says cold-pressed juice as well.
Shot On Military
Cremorne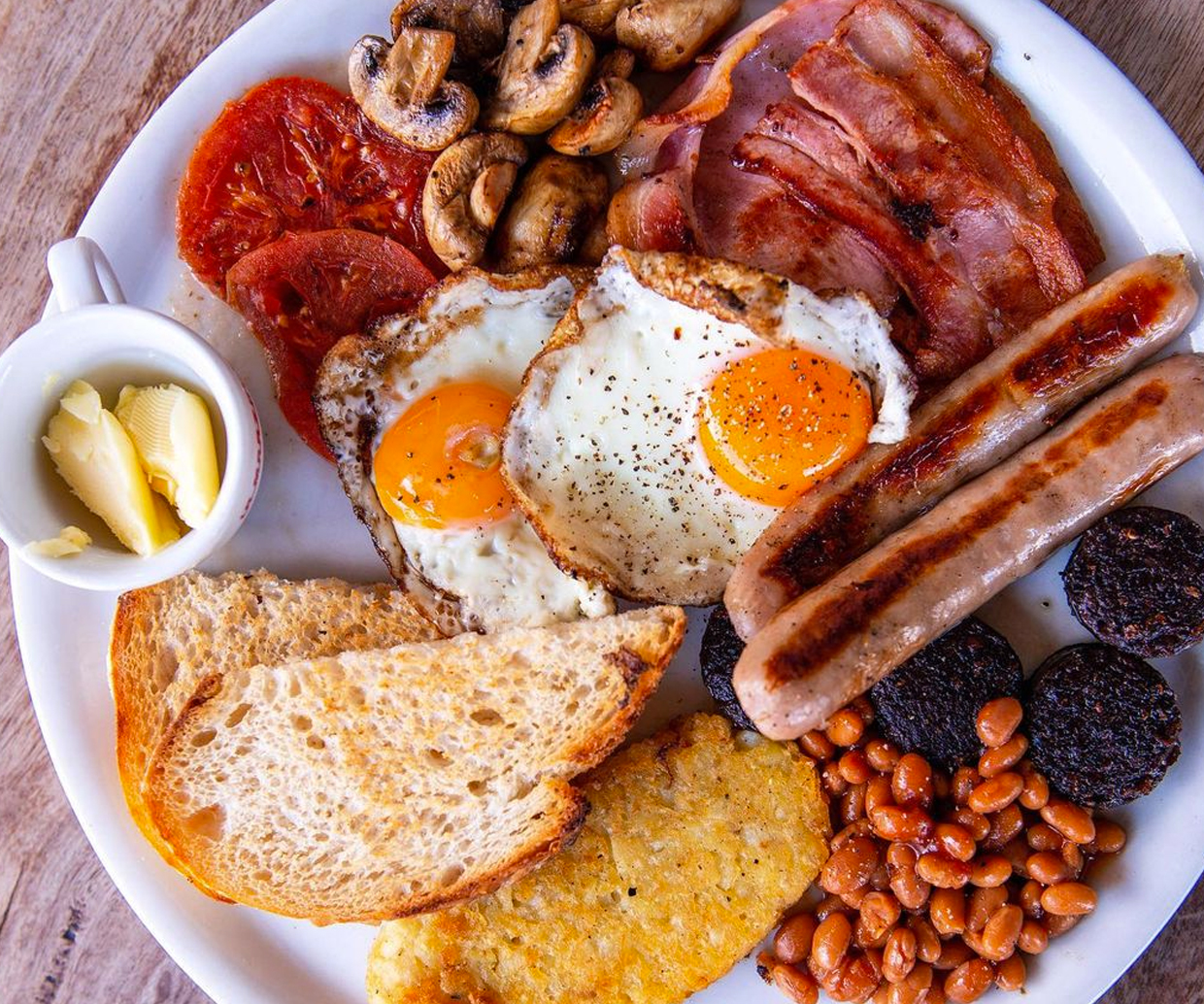 For the hungrier folk out there, Shot On Military just about scrapes in as one of the best cafes in Sydney to chow down on a big breakfast. The menu is anything but fussy but delivers on so many levels, loaded with French toast, eggs benedict, shakshuka and burritos stacked with scrambled eggs, avo and balsamic glaze too. As for the Irish breakfast, he's a whopping smorgasbord of bacon bits, sausage, black pudding, baked beans, a has brown, grilled tomato, mushroom, eggs, sourdough, and butter.
Gram Cafe And Pancakes
Chatswood
Gram Pancakes, the iconic chain credited with creating some of the best soufflé stacks in Tokyo, is a must when it comes to hunting down the best breakfasts in Sydney. These guys are serious about the cloud-level consistency of their pancakes, shipping the brand's executive chef to Sydney to teach the pancake's intricate, complex cooking technique. Its ultra-light to melt-in-your-mouth consistency is achieved with whipped egg white batter, that's then steamed under metal domes and cooked until golden. On the menu are matcha tiramisu pancakes and chocolate banana French toast. There's also a secret savoury option most people miss. Enter the Benedict pancakes. This three-strong pancake stack comes with two fried eggs, double-smoked bacon, cheese and a hollandaise sauce so good—you'll want to drink it like water.
The Best Breakfasts In Sydney's Northern Beaches
Girdlers
Dee Why, Warringah Mall, Manly, Avalon
From the beautiful interiors to the wholesome foodie creation, it really doesn't get much better than Girdlers. At the base of everything here is a sustainable consciousness—Girdlers' is a home for local suppliers, earth-friendly packaging and an all-around organic approach to its coffee blend (free from pesticides, herbicides and pretty much any nasty chemicals). The "Holy Avo" is the piece de resistance and clocks in avocado, crispy kale, grilled halloumi, fresh herbs, oragnic poached eggs and green sauce all on rye sourdough (you can also opt-in for gluten-free seeded brown bread).
Oceans Narrabeen
Narrabeen Beach
A stone's throw from the sparkly surf of Narrabeen Beach, Oceans Narrabeen is a very real thing you need to treat your soul to. This industrial cafe meets moody restaurant meets funky bar is the ultimate slashie and is decked out in big wooden tables, and Edison light bulbs, with plenty of outdoor seating for those who like to scoff down their breaky and get on with the day. Stocked with mega breakfast burgers, wraps, eggs rancheros, corn fritters, acai bowls and bircher muesli all taste buds can consider themselves catered for here.
The Waterfront Cafe & General Store
Church Point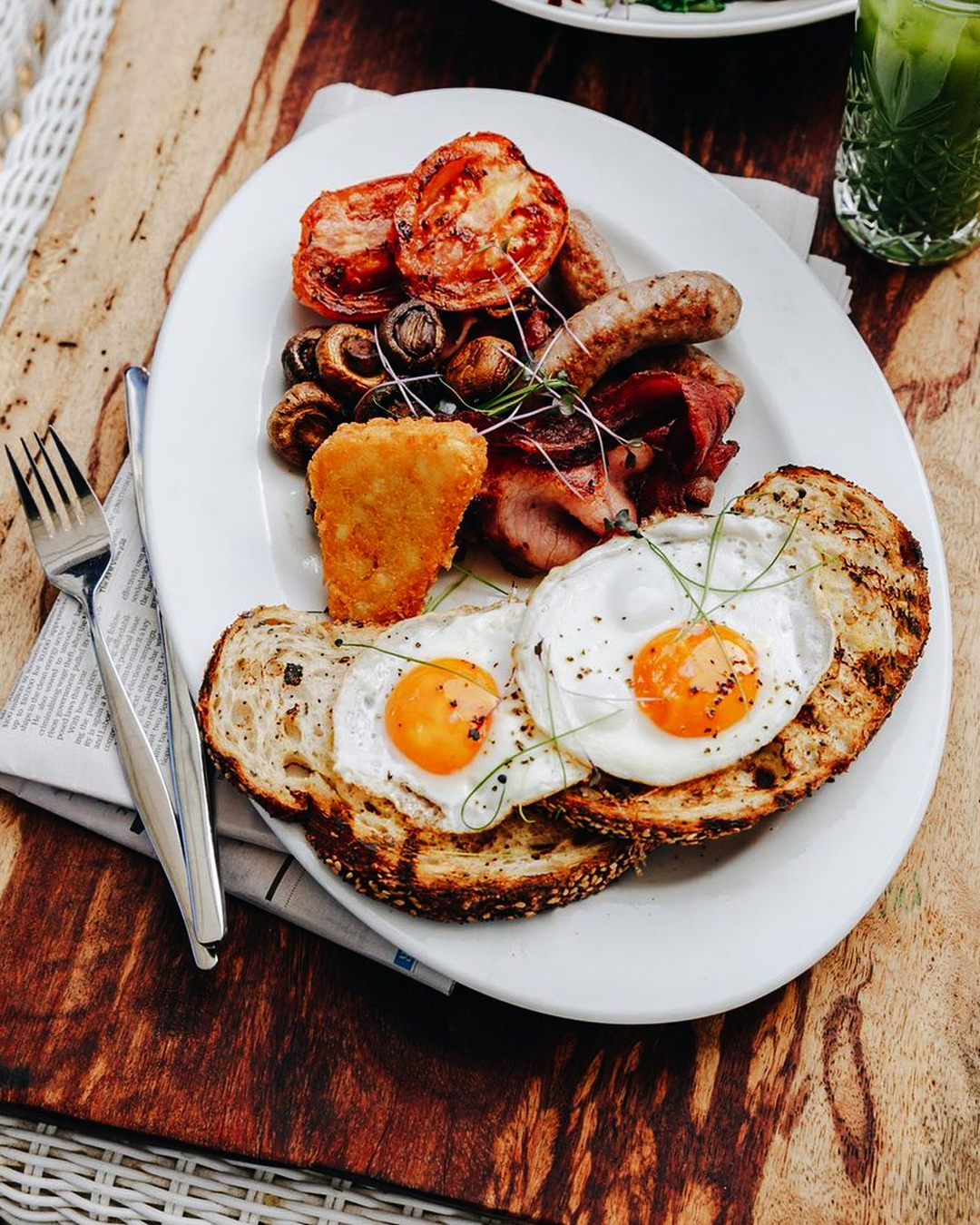 Eternal holiday vibes is a nice thing to own and when it comes to The Waterfront Cafe & General Store in Church Point, that's exactly what you can come to expect. This waterside emporium of fresh seafood and stunning views is easily one of the most beautiful places in Sydney to take your breakfast antics. The menu is nothing short of a breakfast bible, pitted with all kinds of dishes, baked goods, mocktails, cocktails, coffee and fresh juices. If we had to pick one item to go with though, you can't go past the breakfast tacos, a deconstructed plate-up of flour tortillas, scrambled organic eggs, corn and tomato salsa, avocado, grilled chorizo, tasty cheese and pickled jalapeno.
The Best Breakfasts In Sydney's Inner West
Bar Zini
Pyrmont
Cosy cafe by day and a relaxed Italian restaurant by night, Bar Zini, led by owner and chef Damian Krigstein, is a win on all fronts. For the early risers, you should know that Bar Zini is privy to one of the best bacon and egg rolls in Sydney, topped with sriracha mayo, cavolo nero and provolone and it's lip-smackingly good. Elsewhere on the menu, there are chorizo chilli scrambled eggs pummelled with more-than-holy Meredith's goat's cheese, fresh avocado and Sonoma sourdough.
The Tiny Giant
Petersham
It would just be sacrilegious to not include the home of cronuts, rainbow bagels and brioche toast. The age-old favourite at this corner cafe has always been brioche toast served with a bunch of strawberries, mixed berries, Canadian maple, salted caramel, mascarpone and Persian pashmak. There's also a slew of housemade muffins which get baked daily, toasties, bagels and a baked hot pot with slow-cooked tomato sugo, mushrooms, danish feta and two eggs in an iron pan.
Kurumac
Marrickville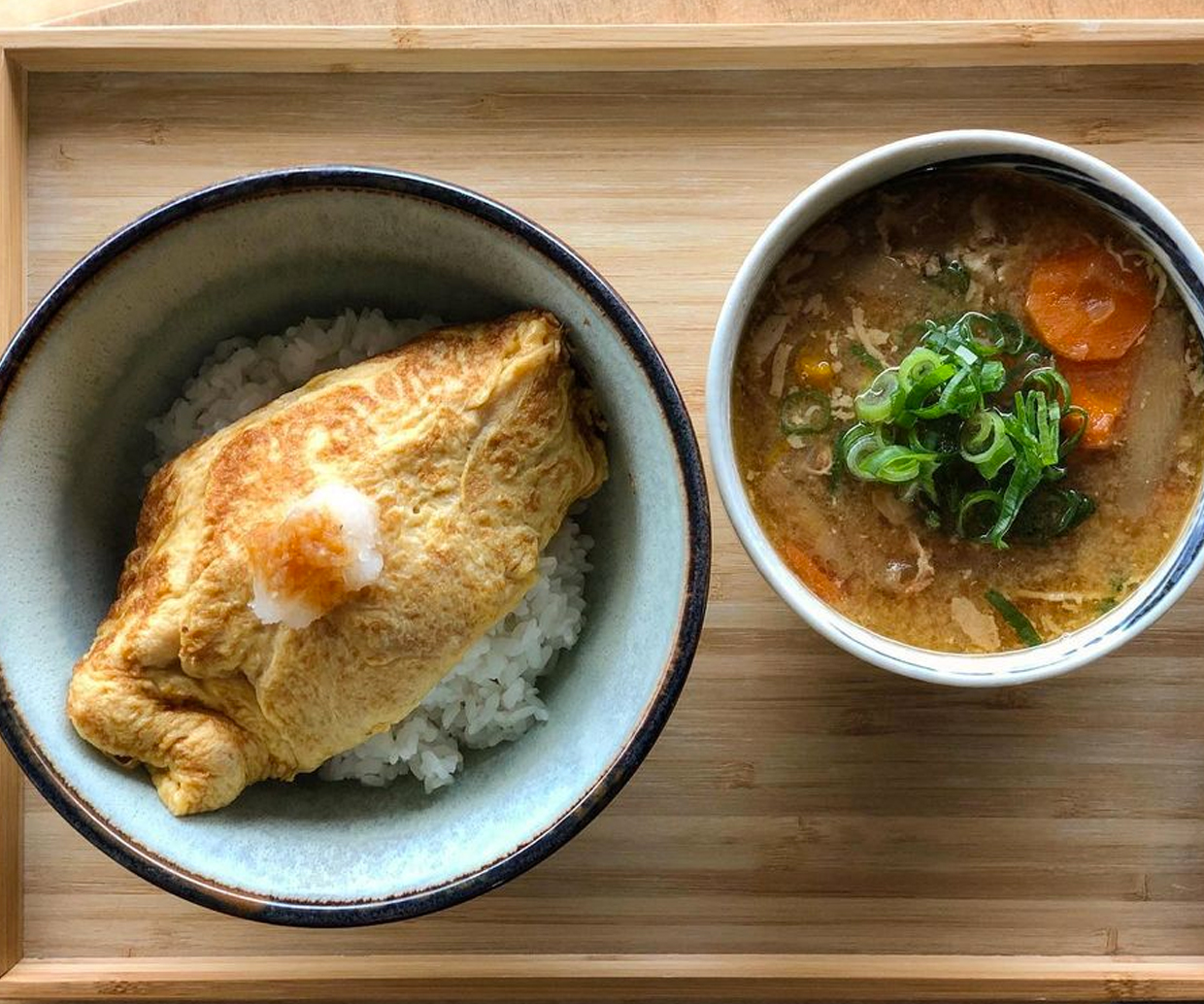 Open from 7am every day of the week, Kurumac is the type of little cafe you'll find slinging the likes of cod roe omelette and tonjiru soup for breakfast. The brief is Japanese comfort food and you'll be hard-pressed to find another venue in Sydney that makes a morning treat quite like the crew here. Grab Japanese style white toast with seaweed butter to go or relish in the moment with the grilled salmon congee. Coffee is courtesy of Kurumac's sister venue, Kirribilli's iconic Cool Mac Cafe.
Two Chaps 
Marrickville
This from-scratch cafe and bakery hardly needs to be introduced. Two Chaps has a lengthy pastry menu and its own sourdough bakery too. This garage-style joint whips up quinoa porridge with salted cinnamon dates, sticky apple toast with lemon myrtle and a mushroom broth with caramelised enoki and pickled shiitake. You'll also want to take note of the hash browns—they're served with cime de rapa, Brussel sprouts, two poached eggs and Two Chap's famous green goddess sauce.
The Best Breakfasts In Sydney's West
Caffe & Co
Kingswood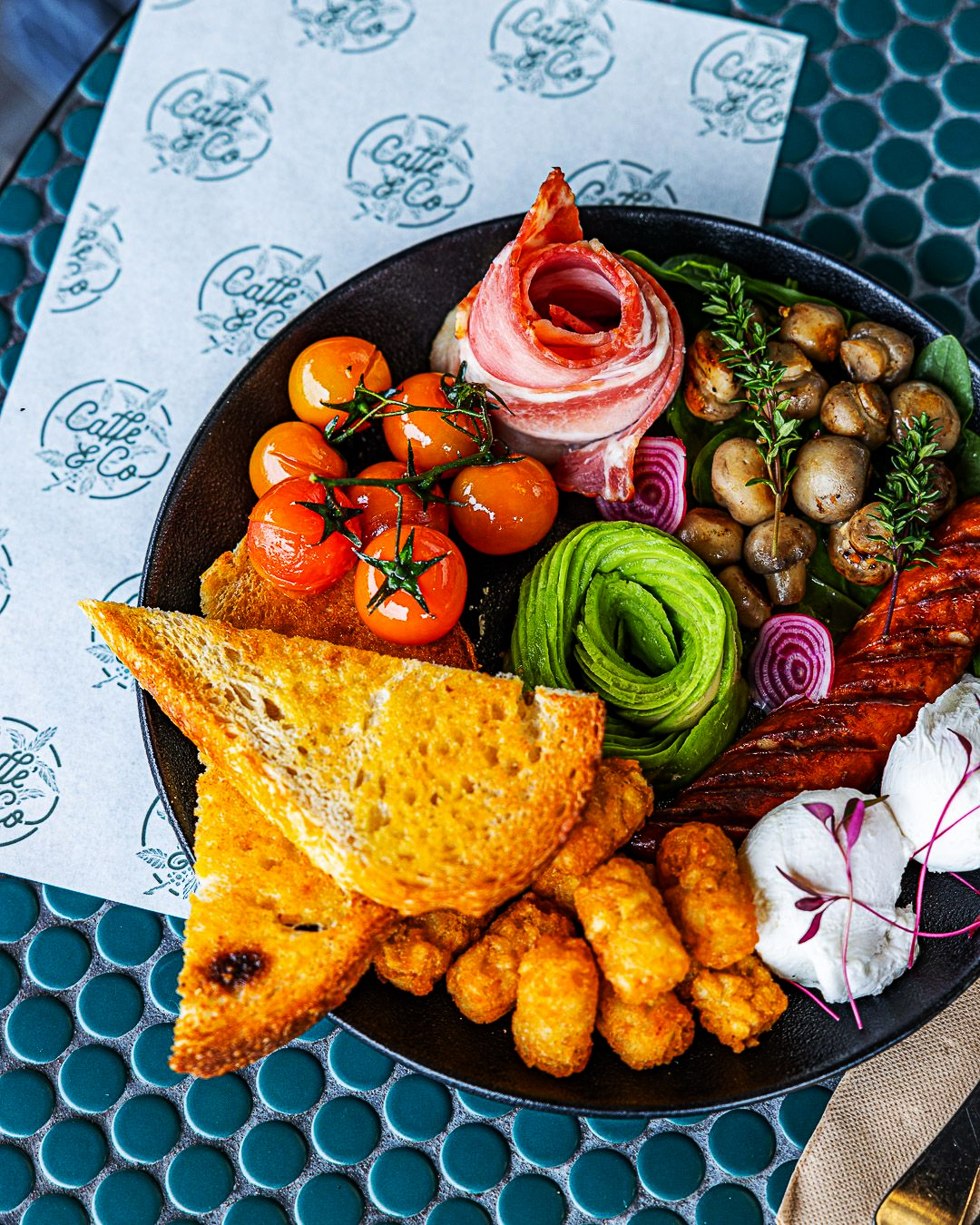 Home of Sydney's iconic three-tier Lotus Biscoff pancakes, let's just say the breakfast ethos here is "the bigger, the better". There is no dish that isn't turbocharged so you can expect to fill out your jeans quite nicely at this breakfast joint. Eat the rainbow and sink your teeth into a big breakfast with all the trimmings (avocado, bacon, chorizo, potato, mushrooms, spinach, tomato and sourdough) or swig back on the grandiose pancake tower lathered in melted Biscoff spread, warm milk, white chocolate and vanilla ice-cream, you know, just for good measure.
Circa Espresso 
Parramatta
It goes without saying that Circa Espresso is one of the best places in Sydney for breakfast. With a menu keenly steered by flavours of the Middle East, this quirky setting has been going strong since 2010, all thanks to the legend that is Aykut Sayan. The idea, back then, was that this cafe was to replicate the classic laneway styles of Melbourne, made from a heap of up-cycled material and goods. Now, Circa Espresso is famed for whipping up scrambled eggs with sujak, tomato and capsicum relish on homemade focaccia, as well as pan-fried chilli broccolini.
The Best Breakfasts In Sydney's Eastern Suburbs
Indigo
Double Bay
This leafy cafe in Double Bay has been curing hangovers, uniting old mates, and generally serving up good times for longer than we can remember. For 16 years, this institution has brought just a little slice of the Côte d'Azur to Sydney's Eastern Suburbs, bearing alfresco dining, daytime cocktails and a stringent menu dedicated to small boutique producers and local businesses and suppliers. The bread and baked goods are sourced from St Malo and Italpane and are made on-site, with plenty of gluten-free options on the shelf too. The shining star on the menu is the mushroom bruschetta which gets a delicious treatment of poached eggs, goat cheese, basil oil, fried shallots and parsley on white rustic toast.
The Little Kitchen
Coogee
Owned and operated by husband and wife duo Neil and Amy Thompson, The Little Kitchen is a family business serving up breakfasts made from produce sourced from local and organic growers. It's a local staple bearing big whole feeds and while the crew here are open at every main feeding affair, breakfast is where they keep a name for themselves. The hot-smoked king salmon is a crowd favourite wearing dill yoghurt, shaved fennel, pickled cucumber and two creamy scrambled eggs. The black pudding sausage is another winner on the menu served with potato bread, maple bacon jam, house ketchup and fried eggs.
Lox Stock And Barrel
Bondi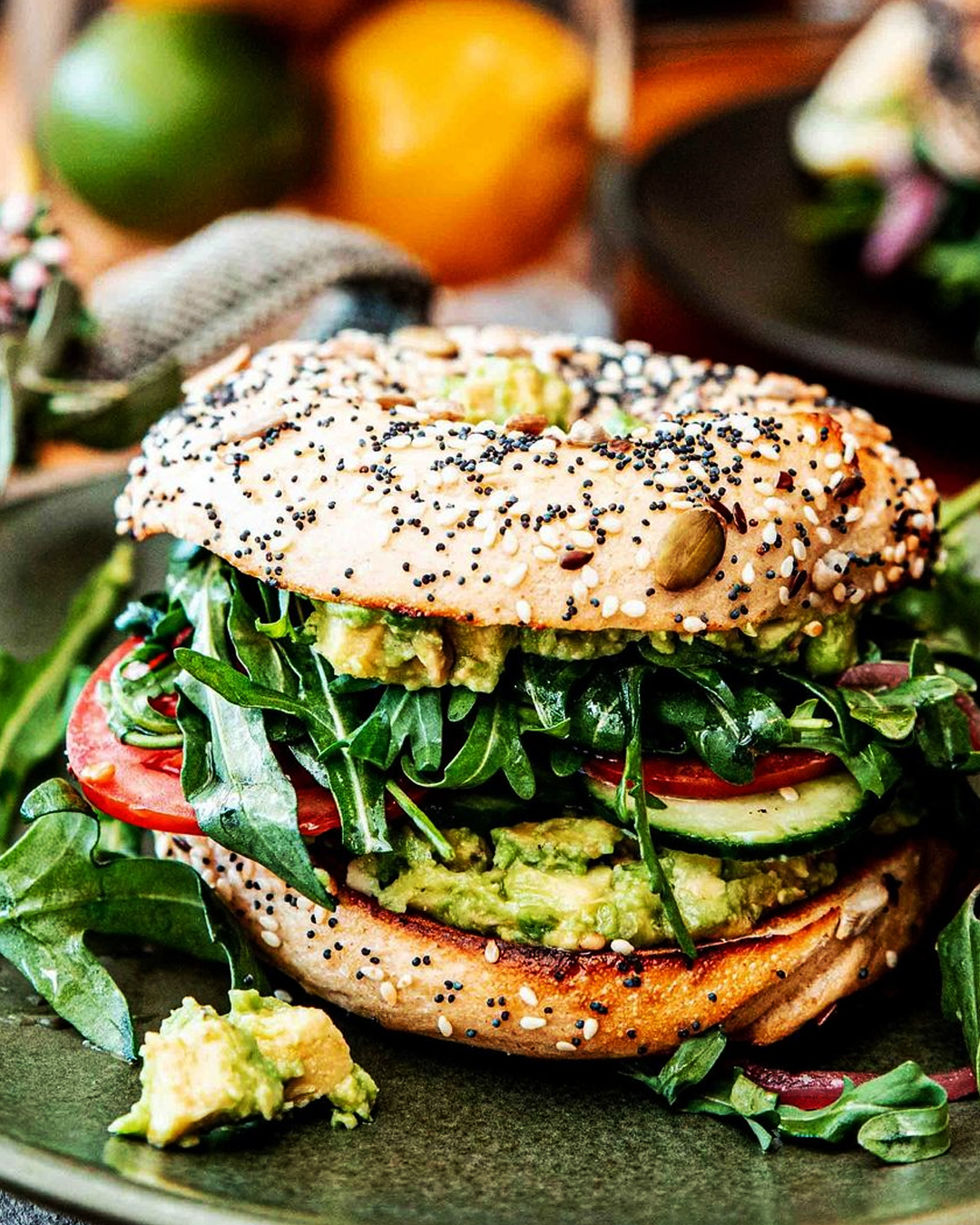 It seems a lifetime ago since Lox Stock And Barrel started baking, curing, slow-cooking and pickling in the backstreets of Bondi. The Euro-deli diner has been all about Jewish comfort food all made from using artisan skills and old-school techniques for 13 years now and when it comes to your morning snacking, the crew here know just how to tickle your tastebuds. From freshly baked bagels (egg and herb mayo, smoked lox, chopped liver and The Reuben) to power bowls with all the trimmings of sprouted falafel and jalapenos, let's just say you'll want to work your way through the entire menu.
Porch & Parlour
Bondi
There's no denying Porch & Parlour is a North Bondi icon. Led by locals Sammy Smith, Sarah Hendriks Smith, Ljuobo Milicevic, and Patrick Coleman, this beachside institution has stood proud on the sunny strip of Ramsgate Avenue for over a decade now. Bearing views of Sydney's Bondi Beach, Porch and Parlour feels not so much a cafe as it does an artist's studio. There's a lot to dig into here, including turmeric omelettes, pea pancakes, and kimchi toasties.
The Best Breakfasts In Sydney's Inner City
Creperie Suzette
The Rocks
If you're after a stellar petit déjeuner in Sydney, you can't go past the golden goodness at Creperie Suzette. The menu is sealed with a line-up of savoury and sweet crepes, and galettes inspired by the nostalgia of Parisian nights so, all in all, you're in for a pretty tasty affair. In the way of sweet crepes, it'd be remiss not to dive into the sucre citron (lemon and sugar) or the pomme cannelle (poached apple and cinnamon). For a flat cake with more grit, the classique is a fair call loaded with a gooey combo of ham, cheese and egg.
Sandoitchi
Darlinghurst
Sandoitchi is a neighbourhood sandwich and coffee bar in Darlinghurst whipping up street-style Japanese creations that are made fresh by using high-quality ingredients from Japan and sustainable local products from Australia. Famous for its epochal $150 Kobe wagyu sando and epic katsu sandwiches, there's also an egg hero worth getting around. This guy is filled with dashi, kombu butter, and silky scrambled eggs all on thickly-cut white bread.
Ricos Tacos
Chippendale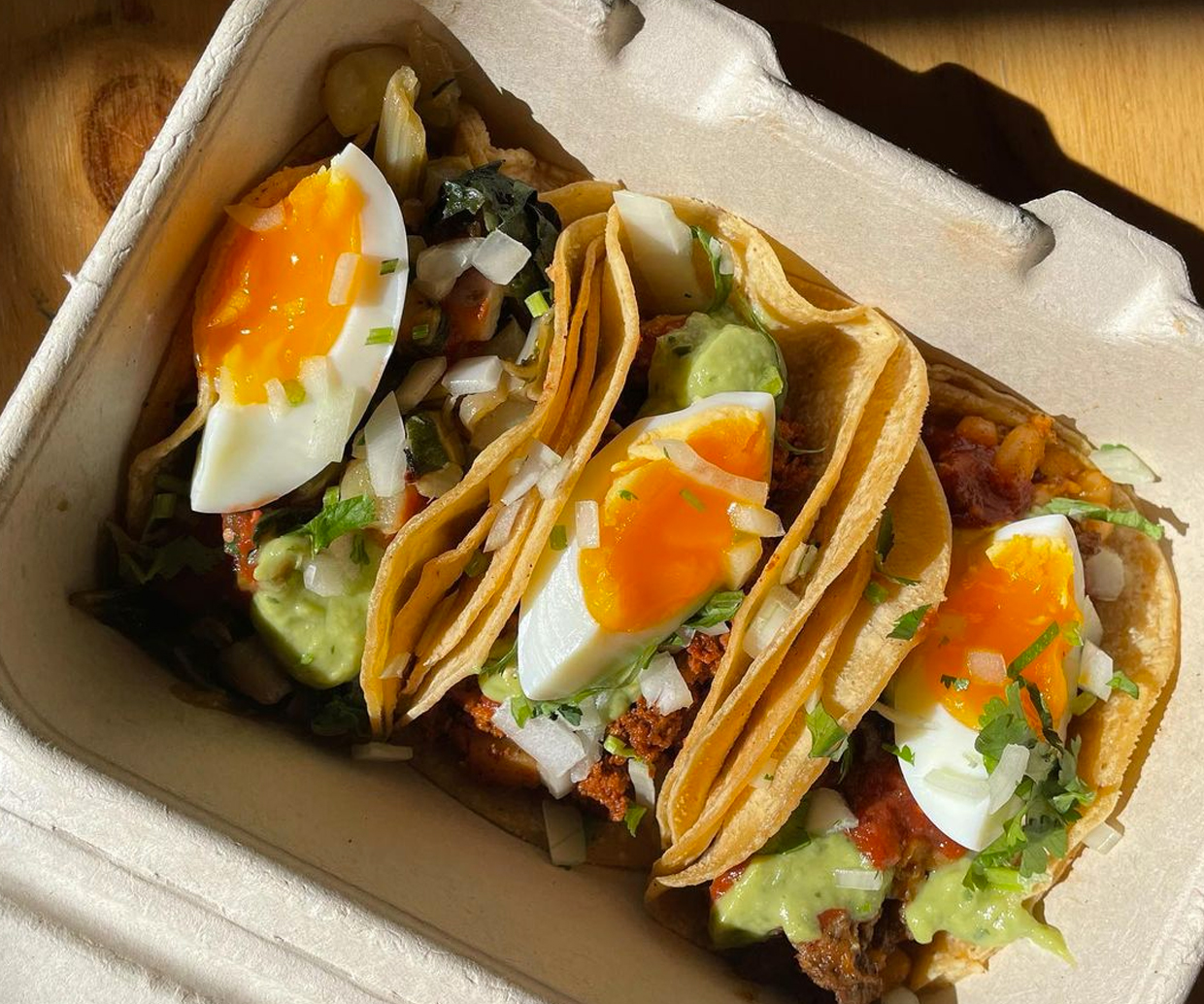 Like most good things in Sydney, Rico's Tacos started out as a food truck. When lockdown hit, the crew were able to source a window in Sydney worthy of its takeaway endeavours and thus, the Rico's Tacos takeaway shop was officially born. You'll find this window located at 15 Meagher Street in Chippendale churning out flavoursome breakfast tacos with hash browns from 8am, Thursday through to Sunday. Tacos look like chorizo and egg, greens and egg, and steak and egg combos and you can also order up filtered coffee and lemon myrtle iced tea too.
The Best Breakfasts In Sydney's South
Kosta's
Rockdale
If you were to drive past Kosta's, you'd probably miss it. This no-BS sandwich takeaway is hidden between an auto-repair shop and a paving business, and while it may look subtle in appearance, its menu is anything but. If you love sandos at all times of the day, Kosta's is your main guy. The crew here start on the coffee and feeds as early as 5am during the week (7am on Saturdays) and it's the perfect place to hit when you need to snack 'n' go. While sandwiches reign supreme here you'll also find English muffins stuffed with egg, cheese and BBQ sauce, spanakopitas, bacon and egg rolls, smashed avocado, smoothies, juices and Veneziano's cold brew coffee.
Blackwood Pantry
Cronulla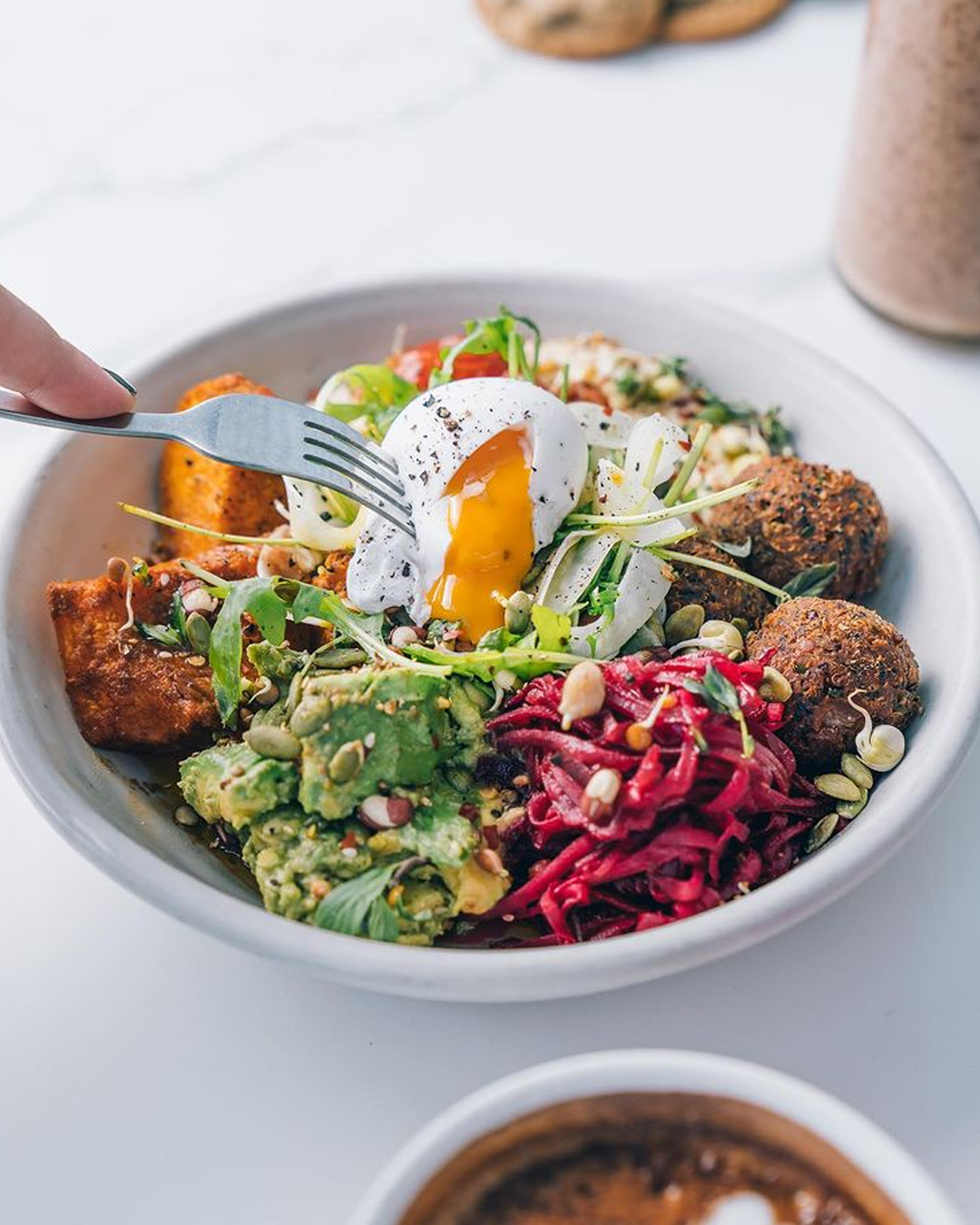 Blackwood Pantry is the food baby of three mates from the Shire, inspired by some of the world's best kitchens. Featuring our three favourite words—all-day menu—Chef Rob Lechowicz plates up quality produce for a range of tastes. Special shout-out goes to the truffled chilli scrambled eggs with mushy peas, lemon whipped goats cheese, cucumber mint and crispy shallots which is a spicy, crunchy explosion in your mouth.
Cafe Bella Dee
Sans Souci
This pancake-rich cafe is a short walk away from the water, plating up some absolute snap-worthy feeds. With an all-day brekkie menu (so pancakes in the late afternoon is definitely on the cards), as well as monster burgers and salads that'll leave your mouth-watering, this one is a must on your foodie bucket list. We suggest you go for the unicorn pancakes, complete with a fairy floss unicorn mane. For those set on all the staples, you'll want to hit up the acai bowl or the Florentine panini. 
The Best Breakfasts Across Sydney
bills
Darlinghurst, Bondi, Double Bay, and Surry Hills
bills is a brekkie institution. Here, the menu is fresh, seasonal and chock full of flavour. bills is the perfect place for a catch-up breakfast, long lunch or, at some locations, even a romantic dinner. But we maintain that the breakfast fare here is the winner. Classics like sweet corn fritters, perfectly scrambled eggs, grilled cheese and green kimchi toastie, and gravlax with cream cheese, beetroot and herb salad on sourdough are top picks. Got a sweet tooth? You can't go wrong with the decadent ricotta hotcakes with banana and honeycomb butter.
Butter
Surry Hills, Parramatta, Chatswood
Butter might be your go-to for fried chicken, sneakers and Hennessey cocktails, but some recent breaky specials have earned them a spot on this best breakfasts list. While not all heroes wear capes, we believe Butter's head chef, Julian Cincotta, is onto a breakfast feed so good, it should be criminal not to try it. His newest concoction, the aptly named "Egg Thot Muffin", is a thick stack of grease, salt, and butter inspired by Maccas iconic egg and sausage McMuffins. Available as a rotating special, the stack is currently made with smoked chicken sausage, silky scrambled eggs, sombu glazed onion jam, salted chilli mayo, cheese, and a This Is Us sourdough English muffin. We mean, how could you go wrong?
Devon Cafe
Barangaroo and North Sydney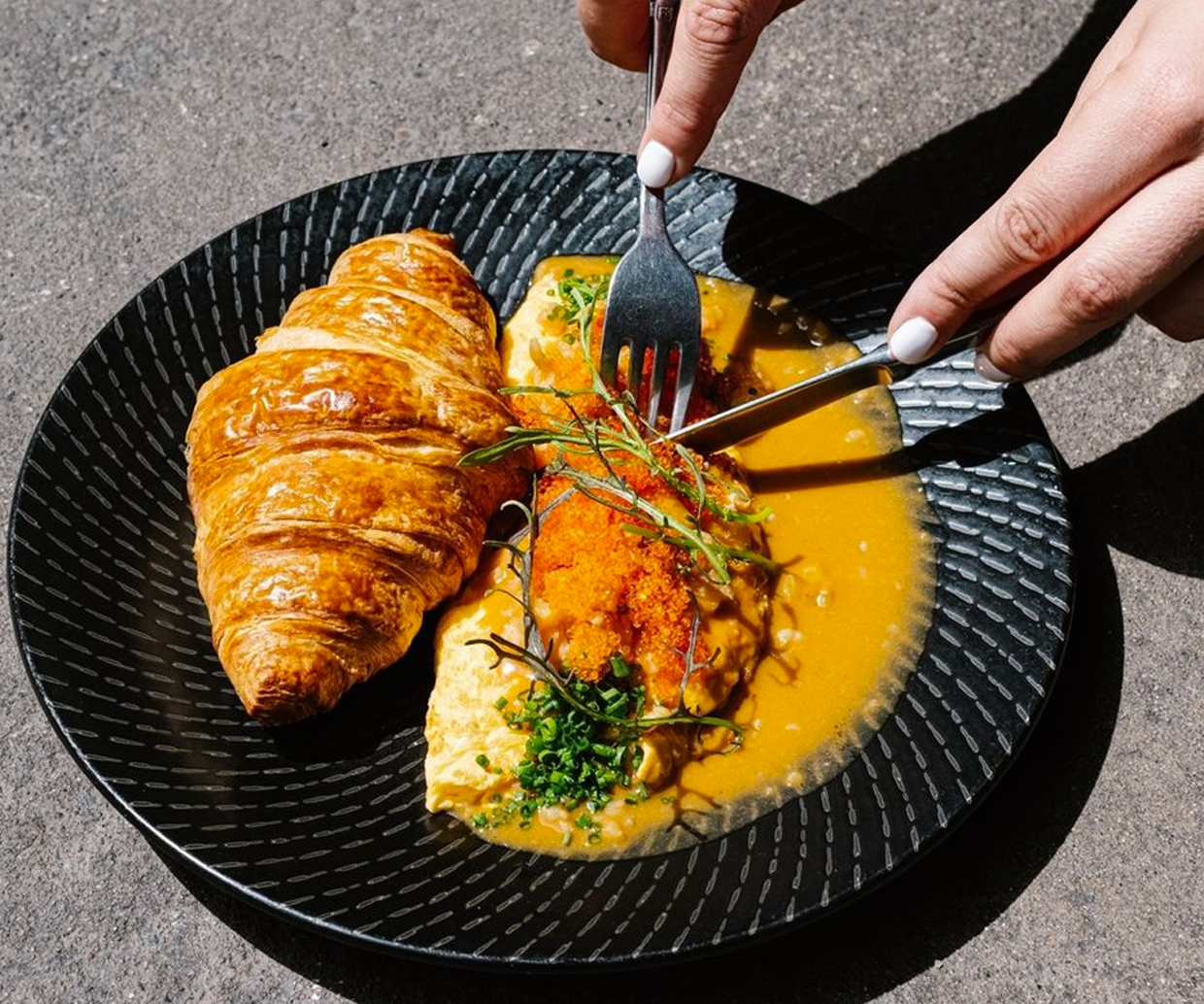 Devon Cafe has garnered a cult following for its unique spin on the classic toastie and an interior so bright and playful it's impossible to take a bad picture for the 'gram. Having started off in Sydney's foodie precinct of Surry Hills (now closed), Devon Cafe has now spread its smooth Japanese omelettes and coconut jam toast influence far and wide. The signature here has always been the ghetto-style omelette (their words, not ours) filled with lobster meat, bisque beurre blanc sauce, caviar, and fine herbs.
Shuk
Bondi, Elizabeth Bay, Chatswood, and Surry Hills
If there was an absolute no-brainer on the ultimate list of Sydney's best breakfasts, it has to go to Shuk. Helmed by Yoni Kalfus, Erez Beker, Ariel Hefer, and German Sanchez, the food affair is directly influenced by Middle Eastern and Mediterranean cuisines so you can brace yourself with Sydney's tastiest shakshuka (with a vegan option too). Along with this, you'll also find a hefty sabich bowl packed with a rainbow of goods including falafel, tahini, smoked eggplant, hard egg, Israeli salad, radish and pickled carrots. The teff pancakes are sweeter dip into breakfast and will see you knocking back a stack of the good stuff with ricotta, banana, berries, sweet dukkah, and maple syrup.
Three Blue Ducks
Bronte and Rosebery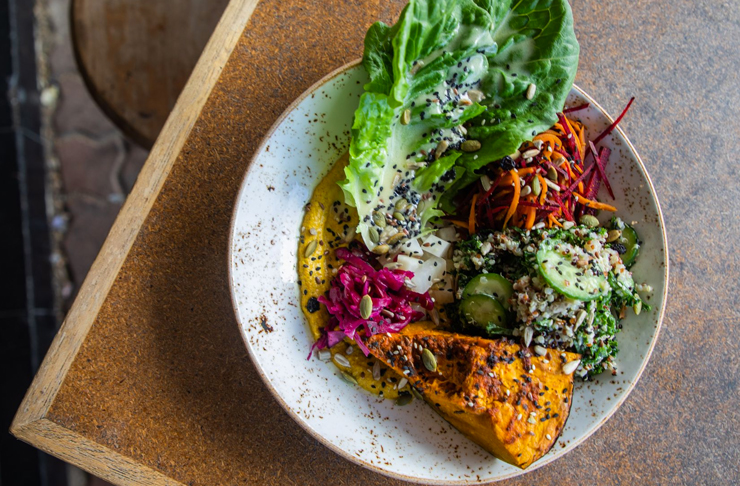 It's crazy to think what started as a humble cafe in Bronte eight years ago has now flourished into an industry-wide commitment to buying local and ethical farmed produce, making Three Blue Ducks the poster child of conscious consumption in the hospitality landscape. For breakfast, that means you're in for some pretty damn wholesome fuelling with toasted sourdough bread served with cultured butter, corn fritters with pumpkin hummus and braised cabbage, rainbow bowls and wattleseed organic oats covered with pecan praline. Our suggestion though has to be the spanner crab scramble, which looks like a glorious mix of papaya, bean shoot, housemade sriracha and cashews.
ASLAN Coffee Roasters
St Peters and The Rocks
If you're the kind of human who loves to start your day with a decent cup of Joe, you've probably heard about the caffeinated brilliance happening at ASLAN Coffee Roasters. Roasting since 2011 in St Peters, this coffee mecca goes deep on the bold flavours of coffee beans from various regions of the Indonesian archipelago (with a big focus on transparency throughout its supply chain). Here, the coffee beans get roasted every Saturday and sport a seven-day rest time so you can max out on the taste.
For more great ways to start your day, check out this mega list of Sydney's best cafes.
Image credit: Gram Pancakes, Goodfield's Eatery, Shot On Military, Kurumac, Caffe & Co, Mike Eggert, Lox Stock & Barrel, Rico's Tacos, Blackwood Pantry, Devon Cafe, Three Blue Ducks

link