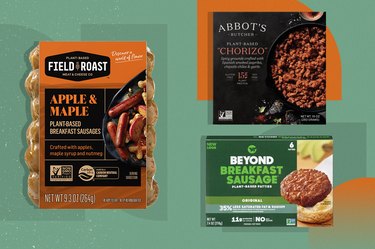 Carrot "bacon." Mushroom "jerky." These days, vegan meat substitutes abound. And it makes sense why.
Processed meats, which include morning meal staples like sausage and bacon, are categorized by the World Health Organization as class 1 carcinogens due to their ability to hike up colorectal cancer risk.
While fresh meat, in moderation, can be healthful, including more minimally processed plant proteins — such as beans, lentils, tofu, tempeh, nuts and seeds — is always encouraged. If you're interested in eating more plants but haven't boarded the tofu train just yet, consider starting with a vegan breakfast sausage alongside your usual scrambled eggs.
Below, registered dietitians highlight five vegan breakfast sausages worth trying, plus the nutritional pros and cons of the faux meats.
The Best Vegan Breakfast Sausages
We made our selections based on firsthand research. As a dietitian myself, I either personally taste-tested the products below — or leaned on the expertise of another registered dietitian who had.
The vegan breakfast sausage brands we chose were selected based on the following criteria:
Nutrition (in particular, protein and sodium content)
Flavor
Ingredients
1. Field Roast Apple and Maple Breakfast Sausages
‌Calories:‌ 110 calories (for 2 sausage links)
‌Protein:‌ 11 grams
‌Sodium:‌ 400 milligrams (17 percent of your daily value or DV)
Pros
Flavorful
High in protein
Cons
Not appropriate for people on a gluten-free diet
Field Roast ranks high for flavor. We love that these apple and maple breakfast sausages offer a subtle sweetness thanks to the inclusion of dried fruit, nutmeg and a touch of maple syrup in the recipe.
Just be aware that the protein content comes from wheat protein isolate, so these aren't on the table (get it?) for those following a gluten-free diet.
2. Hilary's Organic Apple Maple Veggie Sausage
‌Calories:‌ 100 calories (for 1 patty)
‌Protein:‌ 3 grams
‌Sodium:‌ 200 milligrams (9 percent DV)
Pros
Available in several flavors
Do not include ultra-processed ingredients
We're all about Hilary's straightforward formulation. Free from ultra-processed ingredients like soy protein isolates, these plant-based breakfast sausages are instead made from recognizable whole foods like millet, lentils and hemp and flax seeds.
Keep in mind these patties are significantly lower in protein than most of their peers, so it might not be your top choice if you're looking for a high-protein start to the day.
Choose the apple maple flavor for a sweet start or go for the brand's spicy veggie sausage patty for more of a savory kick.
3. Abbot's Butcher Plant-Based Chorizo
‌Calories:‌ 140 calories (for 1/2 cup)
‌Protein:‌ 15 grams
‌Sodium:‌ 570 milligrams (25 percent DV)
Pros
A good mimic of meat chorizo in texture and taste
High in protein
Cons
Higher in sodium than other options on the list
If you love a breakfast burrito, opt for this plant-based chorizo "sausage" from Abbot's Butcher. Though slightly drier than your average chorizo, the plant-based alternative offers a similar crumbly consistency.
Even more impressive is this product's surprisingly simple ingredients list. The "chorizo" is made from just water, pea protein, tomato paste, olive oil, red wine vinegar and a handful of anti-inflammatory spices. Speaking of, this vegan meat substitute packs some heat thanks to the inclusion of chili powder and chipotle peppers. Consider it your new favorite (vegan) taco filling.
4. Jack & Annie's Maple Breakfast Sausage
‌Calories:‌ 130 calories (for 3 links)
‌Protein:‌ 5 grams
‌Sodium:‌ 220 milligrams (10 percent DV)
Pros
Mimics the texture of meat sausage
Gluten-free
"The main thing I love about Jack & Annie's sausage patties is they have jackfruit as the first ingredient, meaning that there is more jackfruit than anything [else] in the product," says Rhyan Geiger, RDN, registered dietitian, founder of Phoenix Vegan Dietitian and the author of the book ‌Vegan Slow Cooking for Two‌.
Jackfruit is a tropical fruit that hails from the same plant family as figs, per the Cleveland Clinic. The potassium-rich fruit can taste sweet or savory depending on its level of ripeness. Unlike other staples in the plant-based meat category, jackfruit has a distinctly stringy texture that can mimic classic barbecued meats like pulled pork.
"The texture [of Jack & Annie's] is similar to a meat-based sausage and [works] perfectly in a breakfast sandwich," Geiger says.
Tip
When it comes to jackfruit, proceed with caution if you have latex or birch pollen allergies. Some people sensitive to these materials may also have adverse reactions to jackfruit, according to a December 2021 paper in ‌Allergy & Rhinology‌‌.‌
5. Beyond Meat Breakfast Sausage
‌Calories:‌ 180 calories (for 2 patties)
‌Protein:‌ 11 grams
‌Sodium:‌ 270 milligrams (12 percent DV)
If texture is important to you, opt for Beyond Meat's breakfast patties. Though not as flavorful as some of the other options on this list, these plant-based sausages will make you feel like you're actually eating pork thanks to their meaty mouthfeel.
We recommend bumping up the flavor profile by enjoying these on a breakfast sandwich along with some eggs and melted cheese — or scrambled tofu and avocado, if you're looking to keep it vegan.
What to Consider When Buying Vegan Breakfast Sausages
Here are a few things to keep in mind when it comes to buying vegan breakfast sausage.
Frozen and pre-made foods are generally higher in sodium and plant-based breakfast sausages are no exception, particularly because the recommended serving size (say, one or two links) is usually small.
The American Heart Association recommends healthy adults get about 2,300 milligrams or less of sodium daily. People with high blood pressure (aka hypertension) may need to eat even less sodium, about 1,500 milligrams or less per day.
What exactly qualifies as a high-sodium food then? For people with normal blood pressure, any food that contains more than 20 percent of the daily value (DV) of sodium ‌per serving‌ is considered a high-sodium food. On the flip side, foods that contain less than 5 percent of the DV per serving are considered low-sodium foods, per the U.S. Food and Drug Administration (FDA).
"Occasionally [eating] products that have higher sodium content is OK, but consistently having them can increase the risk of high blood pressure and heart disease," Geiger says. To drive down your sodium intake, Geiger recommends cooking at home more often and checking the sodium on nutrition labels to ensure you're within the 2,300 milligram-per-day ballpark (or 1,500 milligrams for those at higher risk).
Tip
Based on these sodium guidelines, the majority of the products featured in this roundup are technically high-sodium foods. For those of us who eat mostly homemade meals (which are generally lower in salt) and have healthy blood pressure levels, that's no big deal on occasion. Just know that breakfast sausages (both plant- and meat-based) tend to be salty, so they're best enjoyed in moderation.
While it's optimal to emphasize single-ingredient foods like fresh fruits and vegetables, including convenience foods in our diets is also an entirely necessary part of life.
Typically, though, the more ingredients a food contains, the more processed it is. Think about the number of ingredients in an apple (one) versus the ingredients in an apple Pop-Tart (closer to 20). The same goes for vegan breakfast sausages.
Take a peek at a product's ingredients list and see how many and what types of items are included. You may see words like soy protein isolate, maltodextrin and guar gum — these are all ingredients commonly added to processed foods to bump up the protein content or improve flavor and texture.
While there's nothing terribly wrong with these ingredients, they are only found in ultra-processed foods, so it's best to enjoy them — and the products they're found in — in moderation.
3. Your Reason for Buying Them
Whether or not vegan breakfast sausages are healthier than classic breakfast sausages depends on a few factors.
A pork sausage from your local farmer's market will likely have far fewer (and less processed) ingredients than the veggie-based links in your supermarket freezer. So if you're looking to reduce the amount of ultra-processed foods in your diet, sticking with a high-quality, standard sausage might actually make more sense for you.
However, "even with a shorter ingredient list, animal-based [sausages] come with other health concerns like cholesterol, saturated fats, environmental impacts and animal welfare concerns," Geiger says. In other words, if you eat pork sausage every morning and are struggling with high cholesterol levels, swapping in vegan sausages that are lower in saturated fat may help you manage your heart health.
That means the best breakfast sausage for you will depend on your individual health status, goals and values. There's likely room for both high-quality, authentic as well as plant-based breakfast sausages — in moderation. A balanced diet emphasizes mostly whole, plant foods and plenty of variety, so we don't recommend eating either type of sausage every day.
link